Board of Supervisors

Welcome to Nelson's E-News!

Welcome to my first newsletter of the New Year! I hope you had a safe holiday season and are ready to begin 2014. To start the year, I am excited to announce that the County's credit rating has been upgraded, please read below for more detail.

There are also a few entries about the great things going on in our wonderful community. Please see some information on upcoming events that you might be interested in attending in the Fourth District as well as a summary of other recent events, including the celebration of efforts to preserve President Nixon's former home and the Brea senior center Christmas luncheon.

The next regular Board meeting will be held Tuesday, January 14th at 9:30 am at the Hall of Administration in Santa Ana, 333 W. Santa Ana Blvd.

Again, happy new year!

Sincerely,
Shawn Nelson

Board Updates



Anaheim Agrees to Place Districts on Ballot

About 100 supporters, elected officials, their representatives, and members of the public attended a press conference marking the end of a nearly two-year lawsuit between the City of Anaheim and residents of the city seeking district elections.

The settlement agreed to on Tuesday by the Anaheim City Council will not guarantee single-member council districts. Instead, it requires the council to place on the November 2014 ballot a proposal to be decided by Anaheim voters, required by the City Charter. This action must occur by February 7.

If approved, this "by-district" system would have a candidate from a specific district of the city elected by voters within that same district, first occurring in the November 2016 election. The districts are proposed to be drawn by a three-member panel of retired judges residing in Anaheim.

Voters will also have the opportunity to expand the size of the council from four to six members, in addition to the mayor. The mayor will continue to be directly elected by voters and may live anywhere in the city.

For more information, including the settlement agreement and city press release, visit the City of Anaheim website.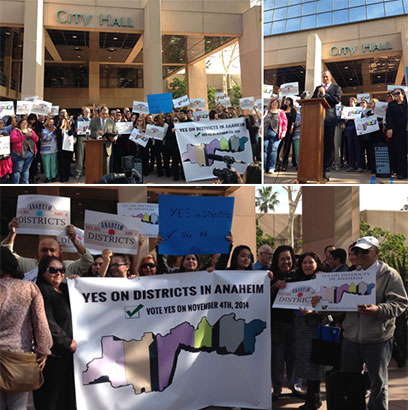 Professor Jose Moreno, a plaintiff in the lawsuit and an Anaheim City School District Board president, speaks to supporters; Mayor Tom Tait addresses the media and public; supporters hold signs in favor of district elections.

AOCW Approves New County Contract

The Alliance of Orange County Workers, representing operations and maintenance employees, is the latest bargaining union to approve a new labor agreement with the County.

The agreement was ratified last month by AOCW for a term extending from December 17, 2013, to June 11, 2015. AOCW represents 432 employees employed in 30 different classifications within the County, including airport maintenance workers, automotive mechanics, custodians, laborers, park maintenance workers and power/landfill equipment operators.

The previous contract for AOCW expired in 2012. In May 2012, the parties entered into lengthy negotiations culminated with several proposals exchanged throughout October and November.

The ratified agreement reflects the Board of Supervisors' desire to address escalating health-insurance costs with its employee groups. AOCW members already pay their full employee share toward their pensions. Additionally, new operations and maintenance workers will be hired under a lower pension benefit now in effect for all new hires, reflecting the stark fiscal realities facing the County.

"We're thankful to the AOCW for working with us to reach an agreement that recognizes the budgetary strain on the County as well as the hard work these employees provide to the public," Board of Supervisors Chairman Shawn Nelson said.

County's Credit Rating Upgraded

A recovering local economy and "very strong" management practices led to a recent upgrade to the County's creditworthiness by national rating agency Standard & Poor's.

The County's issuer credit rating went to 'AA' from 'AA-,' while its rating on outstanding general obligation debt went to 'AA-'from 'A+' in action taken late last month. The new ratings are within S&P's "high quality" range. Additionally, the agency noted that the County has no variable-rate debt.

The upgrades came despite continued concern about the County's budget flexibility and large pension obligation. The County must begin repaying $150 million in vehicle license fee revenues to the State beginning next fiscal year. The Orange County Employee Retirement System currently is 62.5% funded.

"This is a welcome acknowledgement of the hard work by County leadership to make the best of a bad situation," Board of Supervisors Chairman Shawn Nelson said. "Our financial challenge is serious but we are managing it."

The S&P ratings analysis said the County's outlook is stable and not expected to be revised within the next two years.

Social Service Agency Director Dr. Michael L. Riley Retires

Supervisor Nelson would like to recognize the service of Dr. Michael Riley, Director of the County of Orange Social Services Agency (SSA), who retired this week after more than four decades in public service.

In his most recent role as Director of the Social Services Agency he oversaw agency operations that was composed of nearly 4,000 employees who serve Orange County residents through SSA's Adult Services and Assistance Programs, Administrative Services, Children and Family Services, and Cal Works/Family Self-Sufficiency. Prior to his current position, Dr. Riley served County residents as the Social Services Agency's Chief Deputy Director and, previously, as the Director of Social Service's Children and Family Services (CFS) Division for over ten years. The CFS division oversaw Orange County's Child Protective Services, foster and group home placements, and Orangewood Children and Family Center, the County's emergency shelter-care facility for children who have been neglected and/or abused.

Dr. Riley worked with troubled children and families in crisis at Father Flanagan's Boys' Town in Omaha, Nebraska, and Southern California, prior to joining the County of Orange Social Services Agency. As Director of Boys' Town Southern California, Dr. Riley was responsible for establishing programs in Los Angeles and Orange Counties.

Dr. Riley received his Doctorate in Educational Psychology from the University of Nebraska. He was also awarded "Outstanding Teacher of the Year" by the Nebraska Council of Children with Behavior Disorders. His role as Social Services Agency director included service as a Commissioner on the Orange County Children and Families Commission, member of the Board of Directors for Cal Optima, and a member of the Children's Health Initiative of Orange County Advisory Board.

Before his long career in social work Dr. Riley served his country in the military and is a Vietnam Combat veteran, Long Range Reconnaissance Patrol (LRRP-Recondo) in 1967 & 1968.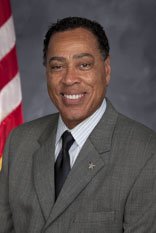 Dr. Michael Riley

OCTA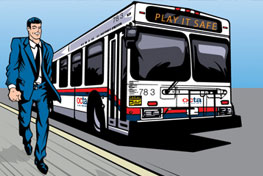 Integrated Bus Safety Promotions Engage Orange County Riders

Recognizing the importance of bus safety, OCTA recently launched a series of videos, contests and social media messaging designed to educate both new and experienced riders about this essential topic.

The program encourages riders to "Be A Safety Hero!" by watching four short bus safety videos and taking a quiz. Their responses are entered into a drawing that randomly awards one 30-day bus pass each week through Jan. 31.

The bus safety promotional campaign is integrated across all bus rider contact points through engaging comic-book style graphics and messaging. Distribution includes promotional advertisements on buses, promotional flyers provided to senior centers, city halls, libraries, employers, schools and transit centers, and digital channels such as the OCTA website, Facebook page, YouTube channel and Twitter accounts.

Produced by the OCTA Digital Communications team, the four videos are viewable on the OCTA website, Facebook, YouTube and at the OCTA Store. Topics include bus safety in terms of boarding, riding, riding with special needs, and exiting.

Riders are encouraged to take the quiz after watching each video and can enter the contest four times, once for each video. They can also "like" OCTA on Facebook to get weekly safety tips and access to other exciting content.

In the Community

Supervisors Recognize Nixon's Former Home

Yesterday, Supervisor Shawn Nelson's staffer Mark Lopez presented a resolution to Mr. Steven Klahorst for his efforts to preserve the home that the nation's 37th president resided in while attending his first year in high school. Richard Nixon lived with his Aunt Carrie Wildermuth from 1927-28 when he took classes at Fullerton Union High School.

The current homeowner, Mr. Klahorst, has lived in the home for the past 30 years, but only recently confirmed the details of the former president's stay due to investigative efforts by former Supervisor and Assembly Member Chris Norby, who planned "Nixon's Fullerton Home Commemoration" and is a longtime Fullerton resident himself. Mr. Klahorst also received a memorial plaque.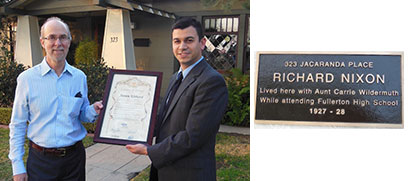 Deputy Chief of Staff Mark Lopez presents a resolution to Mr. Steven Klahorst outside his home in Fullerton.

Quad County HR & Focus CPA Group, Inc – Ribbon Cutting

The Fullerton Chamber of Commerce hosted a Ribbon Cutting on Thursday, January 9th for their newest member Quad County HR & Focus CPA Group, Inc. Located at 135 S. State College Blvd. in Brea, President/CEO Tami Wiersma established Quad-County Human Resources in 2008 and her goal is to support local small business owners with their personnel needs, freeing them up to create, to sell and to manage their business. Supervisor Nelson staffer Natalie Wieckert along with chamber representatives, fellow business owners and representatives from local elected official offices were on hand to congratulate Quad County HR & Focus CPA Group, Inc., and wish them the best of luck in the new venture. Quad County HR & Focus CPA Group, Inc., may be contacted at (562) 281-1040 or (888) 979-7247.

100 Years Celebrated by Mary Hicks

Congratulations filled the Buena Park Community Center on December 22nd where Mary Hicks was the guest of honor to hundreds of friends who celebrated her 100th birthday. Mary was born December 23, 1913 in Oxford, Kansas and went on to graduate from Bethany Nazarene College in 1936 with majors in Mathematics and English. After obtaining her teachers credentials, she went on to join the United States Army as a member of the Women's Army Corps where she worked in the Intelligence division of the Manhattan Project where the atomic bomb was developed. She met Jim Hicks, her future husband, married in 1945, moved to Buena Park where they had 5 children in Jimmy, Janet, Beth, Mary Ellen and Benny. Mary went back to work as a teacher for 26 years where she touched and influenced the lives of thousands of students, some of which attended her 100th birthday. A devout Christian, Mary donated countless hours to church charities and taught Sunday school at the First Church of the Nazarene in Buena Park. Besides her children and their spouses, the celebration included her 22 grandchildren, 54 great Grandchildren and one great-great grandchild along with numerous nieces and nephews and cousins. Supervisor Nelson was honored to recognize this beloved and highly respected American with his Centenarian Award for her 100th birthday and a framed photo of her daughter, Mayor Elizabeth Swift of Buena Park.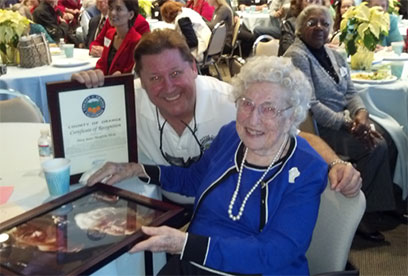 Policy Advisor Steve Spernak presented Mary Hicks with Supervisor Nelson's Centenarian Award at her birthday party.

Brea Senior Center Christmas Luncheon

Congratulations went out to Brea City Councilman Marty Simonoff who hosted the annual Brea Senior Center Christmas Luncheon. Supervisor Shawn Nelson's staff was proud to be part of the festivities that included the delivery of 100 OC Council on Aging senior guides renamed Answers for the 2014 edition to guests and staff. Answers provides families and seniors with hundreds of contacts, hospitals, professional caregivers and industry specialists who serve the medical, financial and quality of life issues for the 890,000 Seniors in OC.

Policy Advisor Steve Spernak delivered cans of Cool Whip dessert toppings with Councilman Simonoff during the 90 minute visit much to the joy of the 400 seniors who dined and danced at the Christmas reception. Pastor Dave Radar provided opening prayers and lots of laughs with his jokes and songs with two other clergy who make up the Singing Pastors entertainment team.

Policy Advisor Steve Spernak joins Scott Hupp, Cecilia Hupp and Councilman Marty Simonoff

Buena Park Knights of Columbus Christmas

Supervisor Shawn Nelson's staff extended their appreciation and support to John Muller and his team of heroes at the Knights of Columbus for delivering food, gifts and hope to hundreds of residents at their annual Christmas celebration. Hosted at the Buena Park VFW hall, Muller organized another monumental effort in not only securing donated food but doing the hours of preparation and baking to deliver meals for the homeless who lined up for their Christmas charity. Supervisor Nelson was so taken by Muller's efforts that he made it part of his community charities in 2010 and had Policy Advisor Steve Spernak make delivery of the dozen turkeys he donated to Muller. Muller, a retired Marine and Realtor, is active with the City at Silverado Days, runs the annual Christmas program at the VFW and delivered over 400 new wheelchairs to wounded and elderly Veterans at the Long Beach Veterans Hospital last Memorial Day.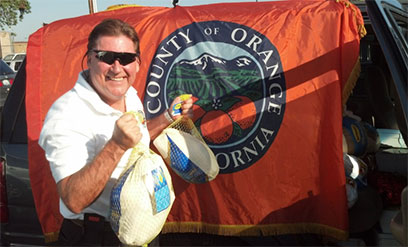 Policy Advisor Steve Spernak unloads fresh turkeys at VFW Center for Knights of Columbus Christmas

OC Parks


Mile Square Regional Park Archery Range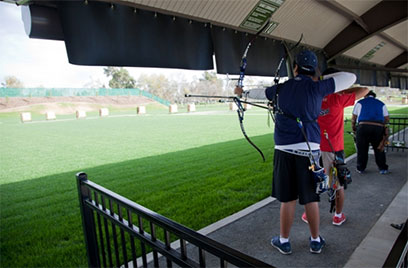 The archery range at Mile Square Regional Park is open to the public. Hours are 7 a.m. to sunset, daily.

The 6.71-acre redesigned range features 24 in-line shooting stations beneath a continuous metal shade canopy with 24 targets, bow racks, tables for servicing bows, perimeter fencing, north orientation and a 20-foot safety berm. The new range is the largest in Orange County.

The new archery range was designed in consideration of public input and archery dynamics. Much of the dirt used to construct the safety berm came from the nearby Haster Basin Project, in which OC Public Works relocated a portion of a flood-control outlet to add space for an open field and improve upon the existing park with increased recreation opportunities.

For more information about the archery range, call the park at (714) 973-6600. Read the range rules here.

Announcements

Aging as Art Photo Contest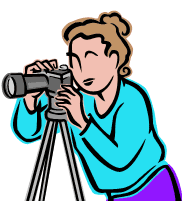 The Orange County Council on Aging continues to change the perceptions of aging with this terrific new project called Aging as Art. The contest is designed to have photographers from all over Southern California submit photos of active Seniors enjoying a thriving lifestyle of new careers, volunteering or physical feats of grandeur. The submitted photos will be evaluated by a panel of jurors who will Award entrants and contest winners with cash prizes and membership to Bowers Museum where the photos will be displayed.

Deadline for the photo contest is February 15th and up to 3 photos can be submitted on-line at www.coaoc.org

For details, contact Michelle Kogler at 714 479-0107 or click here for the pdf flyer.

County Commissions and Committees

The 4th District has vacant appointments on the following commissions or committees:


Oversight Board of the Successor to the City of Redevelopment Agency (Buena Park and Anaheim)
Waste Management Commission
If you are interested in serving on one of these Committees, please call Audra Fishel at (714) 834.3440

OC Animal Care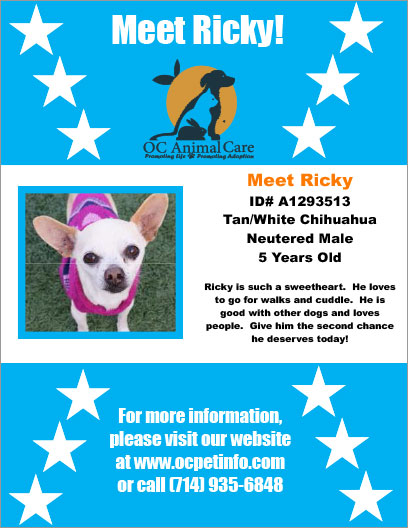 Click on the image above to view a larger version.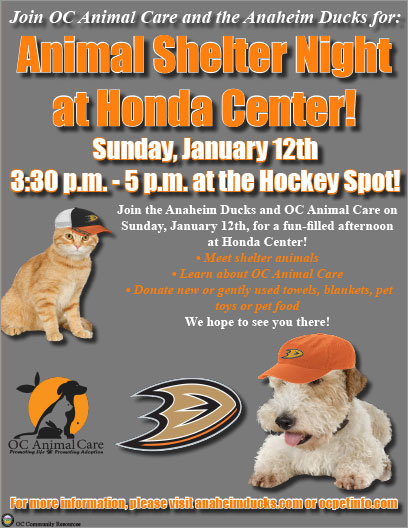 Click on the image above to view a larger version.

Events
Anaheim

What: Tinker Bell Half-Marathon
Where: Disneyland Resort
When: Sunday, January 19
Time: 5:00am

What: Downtown Sounds in Downtown Anaheim
Where: 205 Center St Promenade
When: Saturday, January 25
Time: 6:00pm-10:00pm

What: State of the City Luncheon
Where: The City National Grove of Anaheim-2200 E. Katella Ave
When: Tuesday, January 29
Time: 11:00am-2:00pm

Brea

What: Sneak Preview for Sixth Grade
Where: Teen Zone-695 East Madison Way
When: Friday, January 17
Time: 6:00pm-9:00pm

What: TRX Circuit Training
Where: Brea Community Center-695 East Madison Way
When: Saturday, January 11
Time: 9:30am-10:30am

What: Veterans Services
Where: Brea Family Resource Center-695 East Madison Way, Inside the Community Center
When: Wednesday, January 15
Time: 8:00am-5:00pm

Buena Park

What: Planning Commission
Where: 6650 Beach Boulevard
When: Wednesday, January 22
Time: 7:00pm

What: City Council Meeting
Where: 6650 Beach Boulevard
When: Tuesday, January 14
Time: 5:00pm

Fullerton

What: Euclid Corridor Beautification Project
Where: DMV, Fullerton-909 W. Valencia Dr. (Corner of Euclid St. & W. Valencia Dr.)
When: Saturday, January 11
Time: 8:00am-12:00pm

What: Rancho Fullerton Social Club Bingo
Where: 1201 W. Valencia Drive (west of Euclid)
When: Monday, January 13
Time: 5:00pm-8:00pm

What: Learn in Retirement! Spring Preview
Where: Cal State Fullerton, Ruby Gerontology Center
When: Saturday, January 18
Time: 10:00am-12:00pm

La Habra

What: Critter Encounters
Where: 201 E. La Habra Boulevard
When: Sunday, January 19
Time: 1:00pm-3:00pm

What: Free Art Fridays
Where: 301 South Euclid Street-Family Art Center
When: Thursday, January 16
Time: 12:00pm

Placentia

What: Financial Audit Oversight Committee Meeting
Where: 401 E. Chapman Ave.-City Hall Administration Conference Room
When: Monday, January 13
Time: 6:00pm-7:30pm

What: Planning Commission Meeting
Where: 401 E. Chapman Ave.-City Council Chambers
When: Tuesday, January 14
Time: 6:30pm-8:00pm



For questions or comments regarding Nelson's E-News
please contact the Supervisor's office staff:
Audra Fishel Ph: 714-834-3440 Email: Audra.Fishel@ocgov.com.