Board of Supervisors

Welcome to Nelson's E-News!

Thank you for reading this edition of my newsletter. I hope you find the information below very helpful. As always, I appreciate and look forward to your feedback.

The next Board of Supervisors meeting will be Tuesday, July 22 at 9:30am in the Hall of Administration – 333 W. Santa Ana Blvd., Santa Ana 92701. The agenda may be accessed here.

Sincerely,
Shawn Nelson

Board Updates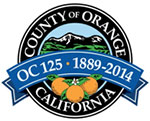 Homeless Shelter Approved

The Board approved moving forward with securing Orange County's first year-round homeless shelter, located in the City of Santa Ana. The purchase agreement includes a series of due diligence requirements and studies during a 90 day escrow period prior to the acquisition.

In effect, there are already de facto homeless shelters at armories in the cities of Fullerton and Santa Ana. Unfortunately, these facilities are seasonal and restricted in their hours of operation, which results in homeless individuals and families only being allowed entry during the winter months after 6:00pm and then facing eviction at 5:00 the following morning.

Each year, when the County's Armory Emergency Shelter Program closes for the season, Orange County immediately loses 400 emergency shelter beds. To address this issue, it is critical to transition the seasonal Armory Emergency Shelter Program to a year-round emergency shelter program.

The property consists of a one-story 23,220 square foot industrial warehouse building built in July 2000, currently used for storage and situated on approximately 56,942 square feet of land. There are 44 spaces in the parking lot, which is not shared with any adjacent property parcels.

The proposed location enables homeless children to experience a relatively stable environment and allows them to continue attending school while staying at the shelter. It would also provide a multi-service center to help individuals transition out of homelessness. Many non-profit organizations could partner to provide services, including training and supplying job interview wardrobe, at a central location.

Property Map

Year-Round Emergency Shelter Report

Board Supports FPPC Enforcement

To address concerns about enforcement of campaign violations, the Board unanimously voted to place an ordinance on the November 4 ballot to amend Orange County's campaign reform.

As an independent, nonpartisan State agency authorized to implement, interpret and enforce provisions of the Political Reform Act, the California Fair Political Practices Commission ensures stability and continuity that a local ethics commission could not provide. The Commission is comprised of a full-time chair appointed by the Governor and four part-time commissioners, who are assisted by full-time investigative and enforcement staff.

SB 1226

Ordinance

OCTA



Kraemer Boulevard Undercrossing Opens

Traffic and commute times just got a little easier with the second of seven grade separations in north Orange County opening this month. Part of the OC Bridges project, the Kramer Boulevard roadway was lowered just south of Chapman Avenue in Placentia to separate vehicle and railroad traffic, resulting in increased safety and emergency response times while reducing pollution and wait times at the crossing.

At the July 8, transportation staff, elected representatives and community members officially celebrated the opening of the $70 million project. All seven are expected to be completed by early 2018. For more information on the Kraemer undercrossing, click here.

Joining Supervisor Nelson at the podium to make a few remarks and receive congratulatory certificates on behalf of state legislative representatives were Placentia Mayor Scott Nelson and Anaheim Mayor Tom Tait.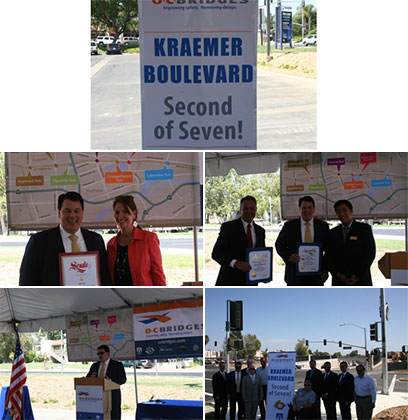 OCTA to Improve Bus Stops

The OCTA Board approved $1.2 million for upgrades at 51 of the busiest bus stops in the county. This includes several in the City of Anaheim in the Fourth District.

The upgrades are part of the Measure M Safe Transit Stops program. The program provides funding for passenger amenities at the 100 busiest bus stops in Orange County, which is determined by average daily weekday passenger boardings.

Cities throughout Orange County with the 100 busiest stops determined what upgrades were needed and then applied to OCTA for funding. All 51 project applications were approved. The remaining 49 locations did not need immediate improvements and will be reassessed in 2016.

Upgrades will include installing new transit shelters at locations where there are currently no shelters, replacing aging shelters, providing shade and repairing amenities that have become run down over time. Bike racks and trash receptacles also will be added at select stops. In addition to Anaheim, improvements will take place in the cities of Brea, Costa Mesa, Irvine, Orange, Santa Ana and Westminster.

While OCTA funds the projects, the cities will be responsible for designing, constructing and maintaining the bus stop improvements. The improvements are funded by Measure M, the half-cent sales tax for transportation improvements that was approved by voters in 2006.

In addition, the board approved $370,000 to expand and improve real-time bus schedule information through the regional text4next program.

The current system allows cell phone users to receive the next three scheduled arrival times via text message for a specific stop. The $370,000 approved will fund the software engineering needed to expand the text4next system. This will provide real-time arrival information for specific stop locations selected by the passenger. OCTA's goal is to complete the design and engineering for this text4next system enhancement within 18 months.

Please see below for a map and detailed list of the approved projects.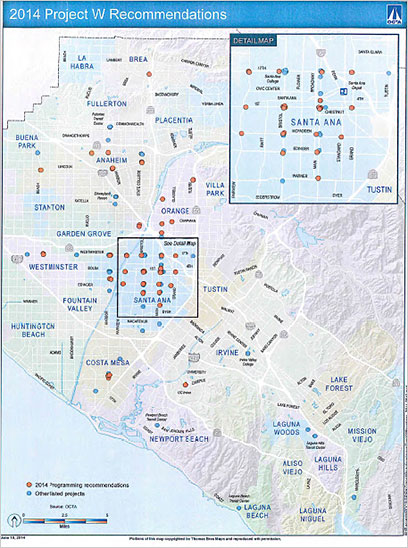 Click on the image above to view a larger version.

In the Community

Placentia Welcomes New Farmers Market

Members of the Placentia Chamber of Commerce, representatives from local elected offices, city councilmen, and Mayor Scott Nelson celebrated the grand opening ceremony of the Placentia Farmers Market on July 15. Small business owners in the Placentia Town Center, where the Farmers Market occurs weekly, are excited about the presence of the market. The property manager for the town center, Monika Armstrong, welcomed Richard A. Palas and his market to the town.

The market is in its fourth week of being open to the public, and will continue every Tuesday from 4:00 – 8:00 pm. Ten to fifteen local vendors participate, selling fresh produce and homemade products. It is located at the corner of Yorba Linda Blvd. and Kraemer Blvd. in the parking lot between Marie Calendar's and the Bank of America.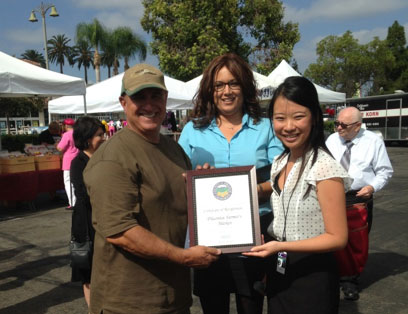 District Representative Joy Kim presents a certificate of recognition to Placentia Farmers Market owner Richard A. Palas and Placentia Town Center property manager Monika Armstrong.

Mr. BBQ Opens in Fullerton

To congratulate Mr. BBQ on its grand opening, the Fullerton Chamber of Commerce hosted a ribbon cutting ceremony on July 11. Mayor Doug Chaffee, representatives from local elected offices, and other small business owners joined to congratulate owner Jenny Chai on the success of her new business.

Mr. BBQ opened in February and offers premium all-you-can-eat Korean barbeque. Chai said she always wanted to open a Korean BBQ restaurant in Fullerton with a lively atmosphere, especially since it is a college town. Along with her general manager Andrew Do, Chai has begun renovating a coffee shop next door. Miss Coffee will open in a few months and will serve specialty desserts and coffee.

Located at 305 N. State College Blvd., Mr. BBQ is open Sunday – Thursday, 11 AM – 10 PM, and Friday – Saturday, 11 AM – 11 PM. They can be contacted at 714-441-0000.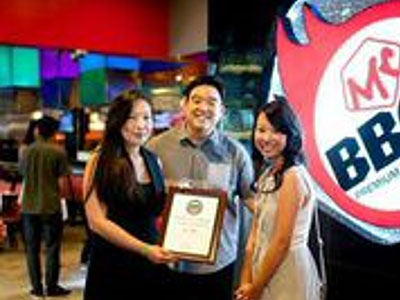 Owner Jenny Chai, General Manager Andrew Do, and District Representative Joy Kim commemorate the grand opening of Mr. BBQ.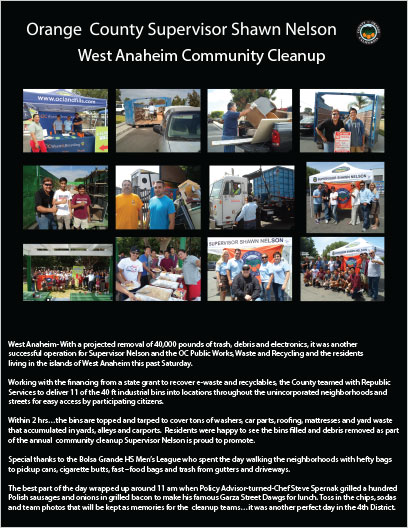 Click on the image above to view a larger version.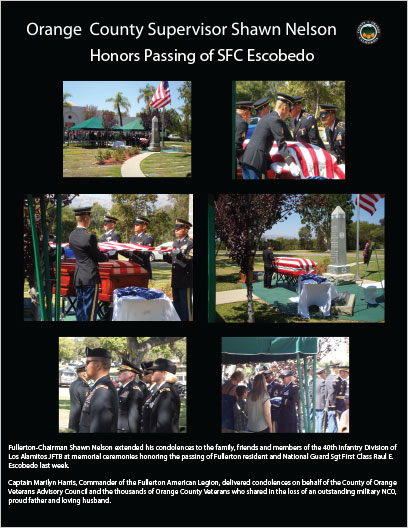 Click on the image above to view a larger version.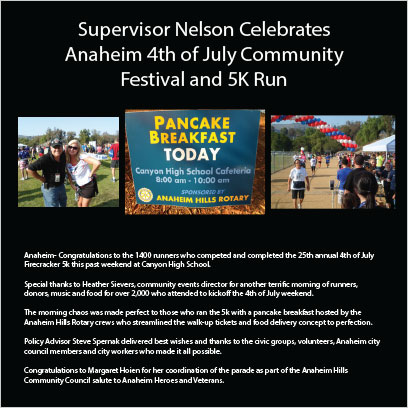 Click on the image above to view a larger version.

General Announcements
Do you know any hometown heroes?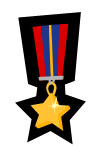 The Fourth District is accepting submissions to recognize unsung heroes in our community.

This may include public safety, first responders, or friends and neighbors who have gone above and beyond the call of duty in everyday life to enrich our community.

To share your story, please call or email Audra Fishel: Audra.Fishel@ocgov.com 714-834-3440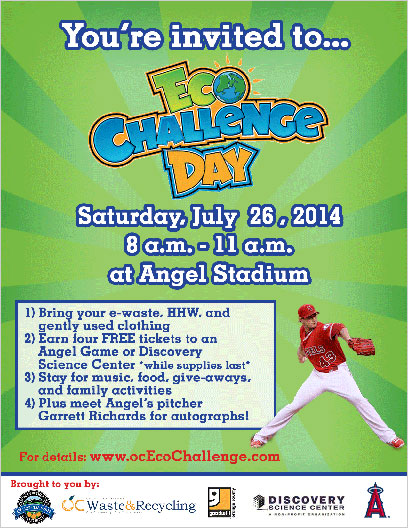 Click on the image above to view a larger version.

County Commissions and Committees

The 4th District has vacant appointments on the following commissions or committees:


Oversight Board of the Successor to the City of Redevelopment Agency (Buena Park and Anaheim)
Community Action Partnership of OC
Treasury Oversight Committee Member
If you are interested in serving on one of these Committees, please call Audra Fishel at (714) 834.3440

OC Animal Care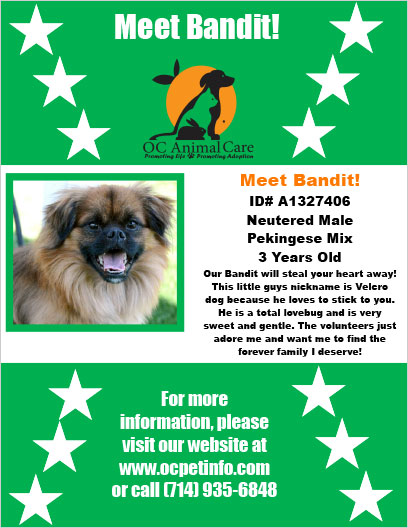 Click on the image above to view a larger version.

Events
Anaheim

What: City Council Meeting
Where: City Council Chambers – 200 S. Anaheim Blvd.
When: Tuesday, July 22
Time: 5:00 pm

What: Highwaymen
Where: Pearson Park Amphitheatre – 401 N. Lemon St.
When: Saturday, July 26
Time: 8:00 pm

What: Summer Nights
Where: Influence Center – 8163 E. Kraemer Blvd.
When: Sunday, July 27
Time: 6:00 – 8:00 pm

Brea

What: Concert in the Park
Where: City Hall Park
When: Wednesday, July 23, 30
Time: 6:30 pm – 8:30 pm

What: Family Films – Angels in the Outfield
Where: Arovista Park Amphitheatre
When: Friday, July 18
Time: 8:00 pm – 10:00 pm

What: Family Films – The Parent Trap
Where: Arovista Park Amphitheatre
When: Friday, July 25
Time: 8:00 pm – 10:00 pm

What: Line Dance Extravaganza
Where: 695 E. Madison Way
When: Friday, July 18
Time: 7:00 pm – 8:00 pm

Buena Park

What: City Council Meeting
Where: Council Chamber – 6650 Beach Blvd.
When: Tuesday, July 22
Time: 5:00 pm

What: Planning Commission
Where: Council Chamber – 6650 Beach Blvd.
When: Wednesday, July 23
Time: 7:00 pm

What: Senior Citizens Commission
Where: Council Chamber – 6650 Beach Blvd.
When: Thursday, July 24
Time: 9:00 am

What: Beautification-Environmental Commission Meeting
Where: Council Chamber – 6650 Beach Blvd.
When: Thursday, July 24
Time: 6:30 pm

Fullerton

What: Summer Concerts in the Park
Where: Fullerton Sports Complex – 560 E. Silver Pine
When: Wednesday, July 23, 30
Time: 6:30 pm – 8:30 pm

What: Farmers Market
Where: Independence Park – 801 W. Valencia Dr.
When: Wednesday, July 23, 30
Time: 8:00 am – 1:00 pm

What: Fullerton Downtown Farmers' Market
Where: Fullerton Museum Plaza – Wilshire and Pomona Avenue
When: Thursday, July 24, 3
Time: 4:30 pm – 8:30 pm

La Habra

What: Fitness Fridays
Where: Children's Museum
When: Friday, July 18, 25
Time: 10:30 - 11:00 am

What: Little Picassos
Where: Family Art Center
When: Wednesday, July 23, 30
Time: 11:00 am – 3:00 pm

What: Parent Workshop: Safety
Where: Children's Museum
When: Thursday, July 31
Time: 1:00 – 2:00 pm

Placentia

What: Concerts in the Park – The Beatless
Where: Tri-City Park
When: Thursday, July 24
Time: 6:30 pm

What: Movies in the Park – Despicable Me
Where: Placentia Champions Sports Complex – 505 Jefferson St.
When: Friday, July 25
Time: 7:30 pm

What: Traffic Safety Commission Meeting
Where: City Hall Meeting Room – 401 E. Chapman Ave.
When: Monday, July 21
Time: 7:00 pm – 8:30 pm



For questions or comments regarding Nelson's E-News
please contact the Supervisor's office staff:
Audra Fishel Ph: 714-834-3440 Email: Audra.Fishel@ocgov.com.