Board of Supervisors

Welcome to Nelson's E-News!

Thank you for reading this edition of my newsletter. I hope you find the information below very helpful. As always, I appreciate and look forward to your feedback.

The next Board of Supervisors meeting will be Tuesday, August 19 at 9:30am in the Hall of Administration – 333 W. Santa Ana Blvd., Santa Ana 92701. The agenda may be accessed here.

Sincerely,
Shawn Nelson

OCTA



Orange County First in State for Road Conditions

Street pavement is a critical part of life in Orange County that affects work commutes, the transportation of goods and driving to recreational activities.

A recent report indicated that in 2012, the latest year for which data is available, Orange County ranked best out of 58 counties in the state for street conditions. This qualified the county as one of only seven counties in the state rated as "good."

The streets and roads assessment includes a Pavement Condition Index (PCI), which measures statewide street conditions. Under this index, Orange County scored 77. For comparison, the statewide average is 66 and second-ranked Nevada County scored 72. The county has consistently scored at the top of the list, receiving second best scores in 2008 and 2010.

Measure M and M2, the county's half-cent sales tax for transportation projects, has contributed to keeping pavement conditions safe and usable. Thanks to the Orange County Transportation Authority in partnership with the cities on keeping our roadways safe. Building upon this on Monday, OCTA began a process to allocate up to $20 million for further preventative maintenance projects.

The full report of the "California Statewide Local Streets and Roads Needs Assessment" is available here.

OCTA Activates Human Trafficking Mission

The Orange County Transportation Authority hosted its Human Trafficking Campaign event on Wednesday, August 6, which featured a new bus presenting an anti-trafficking ad with data from the 2014 Human Trafficking Victim Report. On behalf of Supervisor Nelson, Policy Advisor Steve Spernak was proud to thank District Attorney Tony Rackauckas, his Chief of Staff Susan Kang Schroeder, and Sheriff Sandra Hutchens for their efforts to put offenders behind bars. One such effort is Schroeder's creation of the Human Exploitation and Trafficking (HEAT) investigation and prosecutions unit at the District Attorney's office.

The Human Trafficking Victim Report states that last year, 226 victims were reported in the county. The District Attorney convicted 48 of 50 suspects in trial. Another 50 cases are currently pending state prison sentences to those convicted of human trafficking.

To counter human trafficking, the OCTA will train its 1150 bus drivers to identify victims who utilize public transit and operate along the bus route. OCTA bus lines serve 1 million passengers weekly. Customers are encouraged to call the hotline at 888-3737-888 to report any person they believe to be a victim of the crime. Calls will then be directed to local police agencies.

Learn more here.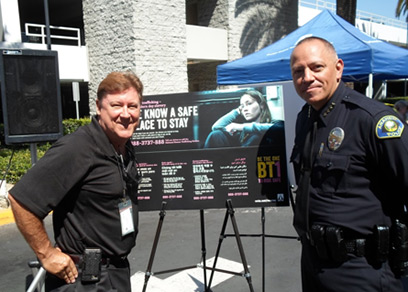 Policy Advisor Steve Spernak thanks Anaheim Police Chief Raul Quezada at the OCTA press conference for his department's initiatives to stop human trafficking.

Bike Loop Update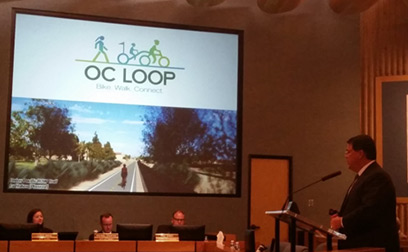 Supervisor Shawn Nelson addresses the Anaheim City Council and staff on Tuesday, August 12.
Supervisor Nelson visited Anaheim City Hall on Tuesday, August 12 to update council members and residents about the progress on the Orange County Bicycle Loop. This 66-mile trail for commuting and recreational activities is about 70% complete with only a few remaining gaps to fill along Pacific Coast Highway and the northern portion of the county.

Closing the gaps in the OC Loop would increase connectivity, expand transportation options and enhance recreational opportunities. OCTA and other stakeholders, including local cities, are working with the County of Orange on a feasibility study to close the remaining gaps. The study will provide the cities with grant-ready information to help them secure funding. Learn more about the OC Loop and the study here.

The OC Bike Loop plays a significant role in Orange County. Not only does it encourage a healthy lifestyle, but also it helps maintain and increase property values as a sought-after amenity for nearby residents. Throughout the summer, OCTA staff is presenting plans for the OC (Bike) Loop at meetings throughout Orange County.

Residing within one mile of the loop are approximately 650,000 people. In Orange County, there are more than three million residents, which creates one of the densest areas of the United States. The loop connects 200 parks, 180 schools and seventeen cities in north and west Orange County. It also provides first and last mile connections to numerous bus stops and three Metrolink stations. With minimal stops and crossings, the OC Loop is also a viable commuting route to the major employers in the area. Therefore, enhancing alternative transportation options will become increasingly necessary as the county grows.

For more information, go to www.octa.net/ocloop. Click here to view a video on the loop narrated by Supervisor Nelson. The full presentation is included below.

Please click here to view the presentation.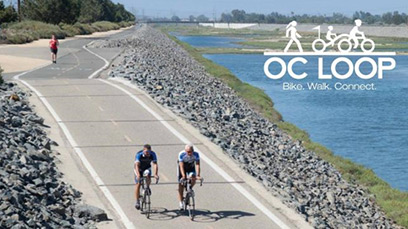 Fullerton Residents Experience BikeShare

On a recent Friday, residents of a Fullerton community experienced their first BikeShare outing with help from OCTA and local businesses and nonprofit agencies.

Members of the Woodbridge walking group had noticed some BikeShare bikes on one of their treks and contacted OCTA. To promote the bike sharing service and encourage active transportation, OCTA arranged rides for 10 Woodbridge residents from the Fullerton Transportation Center to the Arboretum at California State University, Fullerton.

The Woodcrest Bike Ride was hosted by local residents, Habitat for Humanity of Orange County (Habitat OC), and Neighborworks in collaboration with the city of Fullerton and the OCTA Bike Share program. Sprouts Market provided free lunches and Walmart donated bike helmets for the ride.

Bikesharing provides many benefits, including exercise. According to the Centers for Disease Control and Prevention (CDC), active transportation is associated with better health outcomes, and bikesharing programs can help communities increase use of active transportation.

Learn more about OCTA's Bike Share program here.

Lakeview Overcrossing Open House Provides Construction Overview

At a recent open house at Placentia Yorba Linda Unified School District, local residents learned what they could expect during construction of the Lakeview Avenue Overcrossing.

OCTA will reconstruct Lakeview Avenue to allow vehicles to pass over the BNSF Railway tracks. As part of the project, Lakeview Avenue will be raised to separate car traffic from train traffic. The overpass will be built from approximately 200 feet south of Orchard Drive to 150 feet south of Eisenhower Circle.

A ramp connecting Lakeview to Orangethorpe will be constructed, and North Bubach Street in the northeast corner of the project area will be rerouted to connect to the ramp with a new signalized intersection. A new frontage road will be built in the southeast corner of the project for local business access. A new road will also be built in the southwest corner to connect the new frontage road to Lakeview.

Access to the Lakeview Business Park will be maintained during the project with a single entry/exit at Eisenhower Circle, along with a new traffic signal.

The Lakeview Overcrossing is part of the O.C. Bridges Program, which is building underpasses and overpasses at seven local rail crossings. These bridges will eliminate the need for commuters and commercial vehicles to stop and wait at railroad crossings as freight trains pass.

Every day, nearly 70 BNSF trains use the Orangethorpe Corridor in Anaheim, Fullerton and Placentia, and that number is expected to increase to 130 by 2030. Train traffic causes delays, restricts emergency response vehicles and business access, and creates air pollution and noise. The O.C. Bridges Program is designed to improve safety and remove delays.

Learn more here.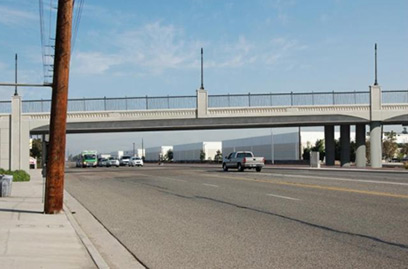 In the Community

Orange Lutheran Ribbon Cutting

On Monday, Supervisor Nelson attended the grand opening and ribbon cutting ceremony for the completed construction of new facilities at Orange Lutheran High School.

The $15 million expansion project at the 41-year-old campus, called "Beyond Expectations," involves increasing the size of the physical school by approximately one-third with 40,000 sq. ft. of new buildings, including an academic center, three new classrooms, student commons and new athletic facilities. The cafeteria will increase from 495 sq. ft. to 2,500 sq. ft. with an additional 12,900 sq. ft. providing a covered lunch area.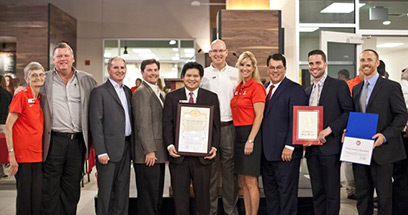 Pictured, from left to right: Nancy Paul, teacher; Councilmember Mark Murphy; Councilmember Denis Bilodeau; Councilmember Fred Whitaker; Supervisor Spitzer Policy Advisor Chris Nguyen; Todd Moritz, Executive Director; Leslie Smith, Principal; Supervisor Shawn Nelson; Ben Rejniak, District Representative for Senator Mimi Walters; and Kyle Slocum, District Representative for Congressman John Campbell.

Supervisor Nelson Rides in Corn Festival Parade

From Friday August 1 to Sunday, August 3, the City of La Habra and the La Habra Host Lions hosted their 66th annual Corn Festival. The festival's theme this year was "Feeling Groovy," and featured food, games, carnival rides, and music. Supervisor Nelson was honored to participate in the festival's parade on Saturday. He and his daughter Amanda rode in a 1953 Packard convertible as they greeted spectators down La Habra Boulevard. All money raised from the booths at the festival went to community programs and youth sports organizations.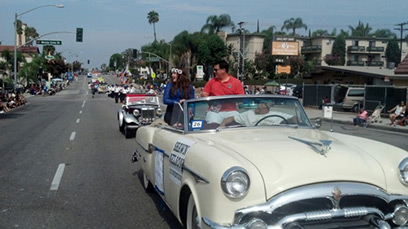 Chairman Nelson and his daughter Amanda enjoy their ride down La Habra Boulevard in the Corn Festival parade.

Celebrating Orange County's 125th Birthday

On August 1, the County of Orange celebrated its 125th birthday at the Orange County Fairgrounds in Costa Mesa. A slideshow of historic photos played in the background as Supervisor Moorlach of the Second District recounted a brief history of Orange County, which began in 1889 when legislation passed to create a separate county from Los Angeles. 125 years later, Orange County is thriving and has become a popular destination for its lifestyle and recreation. To commemorate the special day, attendees sang happy birthday and enjoyed cupcakes.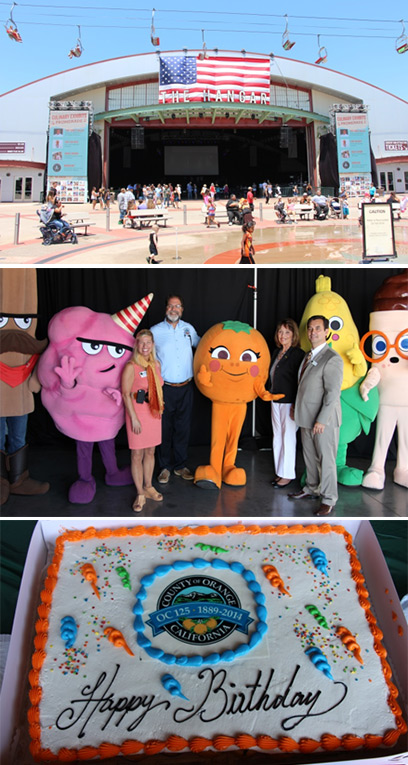 (Top) County employees and residents gathered at the OC Fairgrounds Hangar on August 1 to commemorate the county's quasquicentennial anniversary. (Middle) Treasurer-Tax Collector Shari Freidenrich, Supervisor John Moorlach, Supervisor Pat Bates, and Clerk-Recorder Hugh Nguyen celebrate with OC Fair characters. (Bottom) The County's birthday cake.

Celebrating Ignacia Rojas' 100th Birthday

With a luncheon at the Brea Senior Center, friends and family of Ignacia Rojas celebrated her 100th birthday on Friday, August 8. Policy Advisor Steve Spernak joined 50 well-wishers to celebrate Ignacia's life and presented a certificate on behalf of Supervisor Nelson. Those who attended heard Ignacia's life story, including her journey from her native land of Puerto Rico to New York to California. Three children and eight grandchildren later, Ignacia's daughter Virginia Garcia now works at the Brea Senior Center and was present for the celebration. Best wishes to Ignacia and her family.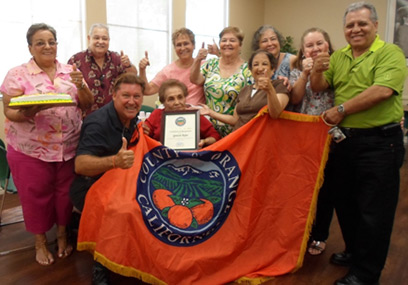 Policy Advisor Steve Spernak (lower left) joins family and friends of Ignacia Rojas (center), who celebrated her 100th birthday at the Brea Senior Center.

Brea Manufacturers Bank Opens for Business

Supervisor Nelson offers his congratulations to Manufacturers Bank, the newest member of the Brea Chamber of Commerce. The Chamber hosted a ribbon cutting ceremony on Friday, August 8 to celebrate the opening of the business. Located at 100 S. State College Blvd., Manufacturers Bank will offer personal management to businesses and corporate decision makers at an international level. The bank also provides its members with access to helpful information and introduces them to foreign business opportunities. Manufacturers Bank is committed to providing tailored service to each of their customers, whether they are a middle scale market or a business professional. For more information on how Manufacturers Bank can be your financial partner, contact them at 626-839-0506.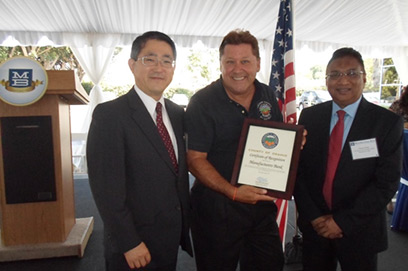 Policy Advisor Steve Spernak offers his best wishes to Chairman Mitsugu Serizawa (left) and President Sheth at the Brea Chamber ribbon-cutting for Manufacturers Bank.

General Announcement
Do you know any hometown heroes?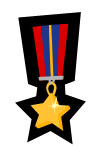 The Fourth District is accepting submissions to recognize unsung heroes in our community.

This may include public safety, first responders, or friends and neighbors who have gone above and beyond the call of duty in everyday life to enrich our community.

To share your story, please call or email Audra Fishel: Audra.Fishel@ocgov.com 714-834-3440

County Commissions and Committees

The 4th District has vacant appointments on the following commissions or committees:


Oversight Board of the Successor to the City of Redevelopment Agency (Buena Park and Anaheim)
Community Action Partnership of OC
Treasury Oversight Committee Member
If you are interested in serving on one of these Committees, please call Audra Fishel at (714) 834.3440

OC Animal Care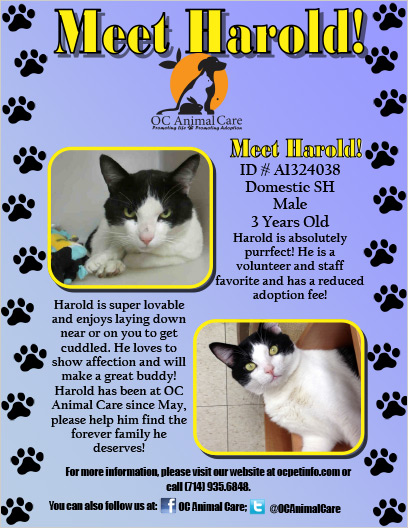 Click on the image above to view a larger version.

Library Corner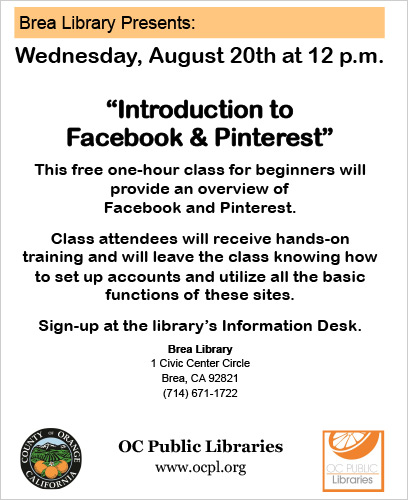 Click on the image above to view a larger version.

Events
Anaheim

What: City Council Meeting
Where: City Council Chambers – 200 S. Anaheim Blvd.
When: Tuesday, August 19
Time: 5:00 pm

What: Rock n Blues Fest
Where: City National Grove of Anaheim – 2220 E. Katella Ave.
When: Friday, August 22
Time: 8:00 pm

What: Free Dino-Sized Outdoor Movie Night
Where: Honda Center – 2695 E. Katella Ave.
When: Friday, August 22
Time: 6:00 pm – 10:00 pm

What: Anaheim Home and Garden Show
Where: Anaheim Convention Center – 800 W. Katella Ave.
When: Friday, August 22-24
Time: all day

Brea

What: City Council Meeting
Where: Council Chambers
When: Tuesday, August 19
Time: 7:00 pm – 9:00 pm

What: Concert in the Park
Where: City Hall Park
When: Wednesday, August 20
Time: 6:30 pm – 8:30 pm

What: Brea Fest
Where: Brea Civic and Cultural Center
When: Friday, August 22
Time: 6:30 pm – 10:00 pm

Buena Park

What: Ethan Alloway Opening Reception
Where: 6650 Beach Blvd.
When: Monday, August 25
Time: 6:00 pm – 8:00 pm

What: City Council Meeting
Where: Council Chamber – 6650 Beach Blvd.
When: Tuesday, August 26
Time: 5:00 pm

What: Planning Commission
Where: Council Chamber – 6650 Beach Blvd.
When: Wednesday, August 27
Time: 7:00 pm

Fullerton

What: Two New Exhibits
Where: Fullerton Museum Center
When: Saturday, August 16
Time: 6:00 pm – 9:00 pm

What: OC Guitar Orchestra
Where: Fullerton Library
When: Monday, August 18
Time: 7:00 pm

What: City Council / Successor Agency / Public Financing Authority Meeting
Where: Council Chambers
When: Tuesday, August 19
Time: 6:30 pm

What: Sunset Social
Where: The Bench – 3159 Yorba Linda Blvd.
When: Thursday, August 28
Time: 5:30 pm – 7:00 pm

La Habra

What: Meet Dr. William J. Havlicek
Where: La Habra Library
When: Sunday, August 17
Time: 2:30 pm

What: Book Club – Our Town
Where: La Habra Library Meeting Room
When: Wednesday, August 27
Time: 1:00 pm

What: Fitness Fridays
Where: Children's Museum
When: Friday, August 15
Time: 10:30 - 11:00 am

Placentia

What: Placentia Library Summer Reading Celebration
Where: Civic Center Plaza – 401 E. Chapman Ave.
When: Saturday, August 16
Time: 10:00 am – 1:00 pm

What: City Council Meeting
Where: 401 E. Chapman Ave.
When: Tuesday, August 19
Time: 7:00 pm – 9:00 pm

What: Movies in the Park – Frozen
Where: Placentia Champions Sports Complex
When: Friday, August 22
Time: 7:15 pm



For questions or comments regarding Nelson's E-News
please contact the Supervisor's office staff:
Audra Fishel Ph: 714-834-3440 Email: Audra.Fishel@ocgov.com.