Board of Supervisors

Welcome to Nelson's E-News!

This week, I presided over my first full meeting of both the County Board of Supervisors and the Orange County Transportation Authority.

In my first meeting as Chair of the Board of Supervisors, there were multiple crucial decisions made on county government, including personnel. The Board approved a first reading to combine the offices of District Attorney and Public Administrator. In addition, a new permanent Social Services Agency Director was unanimously selected. The next Board of Supervisors meeting is Tuesday, February 4th at 9:30am in the Hall of Administration, 333 W. Santa Ana Blvd., Santa Ana 92701.

At OCTA, I presented the Board's Strategic Initiatives for 2014 and oversaw a discussion to approve some administrative items, including committee assignments and the annual Board meeting calendar. The next OCTA Board of Directors meeting is scheduled for Monday, February 10 at 9:00am at the OCTA Headquarters, 600 S. Main Street, Orange 92868.

Sincerely,
Shawn Nelson

Board Updates



Chairman Nelson and Vice Chair Bates Will Serve for 2014

Board Chairman Shawn Nelson and Vice Chair Patricia Bates will remain in their leadership posts for another year, supervisors decided Tuesday.

Supervisor Nelson represents the Fourth District, including the cities of Brea, Fullerton, La Habra and Placentia, as well as about half of Anaheim and portions of Buena Park and unincorporated North Orange County. The Fourth District has 610,310 residents and encompasses 89 square miles.

Supervisor Nelson was elected to the Board of Supervisors in June 2010. Previously, he was a member of the Fullerton City Council, to which he was elected in 2002, and twice was the city's appointed mayor. He currently is chairman of the Orange County Transportation Authority Board of Directors.

Supervisor Bates was sworn in to her Board seat in January 2007 after serving in the state Assembly, where she was first elected in 1998. She also served on the Laguna Niguel City Council and was the city's first mayor after its incorporation in 1989.

Supervisor Bates represents the Fifth District, which includes the cities of Aliso Viejo, Dana Point, Laguna Beach, Laguna Hills, Laguna Niguel, Laguna Woods, Lake Forest, Mission Viejo, Rancho Santa Margarita, San Clemente and San Juan Capistrano, and a portion of Irvine. The Fifth District has 588,699 residents and stretches across 280 square miles.

Board of Supervisors Asks for Fire Funding Process Review

The Board of Supervisors voted Tuesday to formally respond to a lawsuit filed by the Orange County Fire Authority (OCFA) that seeks court validation of its plan to redirect excess tax money that the Authority claims is unneeded for fire protection.

The Board voted 4-to-1, with Supervisor Todd Spitzer opposed, to file a formal response to OCFA's "validation lawsuit." Any challenges to the lawsuit must be submitted by Monday. The Fire Authority's plan was approved last month by a 2/3rds vote of its members, which include 23 cities and the County.

Board of Supervisors Chairman Shawn Nelson said the County action is intended to "put the brakes" on immediate implementation of the plan. He said the County, which has responsibility for assuring fire protection countywide, is concerned that the Fire Authority's plan rests upon an improper procedure for evaluating the allocation of fire-fighting costs and potential reimbursements.

"It's not a proper process for the members of the Fire Authority to decide for themselves how the tax rolls should be allocated," Nelson said. "We admit this is coming about late, but it's never too late to be smart."

The Orange County Fire Authority was created in 1995 with money from the County General Fund that was allocated for fire protection. The County determined amounts for cities based on estimates for what fire services would cost, which over time has led to a surplus. The Authority's proposal would redirect those unneeded tax dollars. Some cities also pay the Fire Authority for firefighting from general city funds.

County Names Partner to Develop El Toro Property
Lowe Enterprises Has Extensive State and National Development Experience

The Orange County Board of Supervisors on Tuesday approved a comprehensive agreement with Lowe Enterprises to entitle and develop the County's 100+ acres of land at the former Marine Corps Air Station El Toro in Irvine.

The agreement outlines a three-phased approach to developing the property. The Board approved funding for the first phase and the business plan. Included will be a determination of which types of development will be allowed on the property and completion of the required environmental reviews. The first phase is estimated to take 24 months to complete, including creation of a corresponding master plan to maximize development flexibility and revenue potential.

For more than 40 years, Lowe Enterprises has developed an impressive list of projects and has been involved in several successful public-private partnerships. Lowe was selected after a competitive process that encouraged companies to submit bids through a Request for Proposal invitation. Lowe Senior Vice President Mike McNerney will lead the company's efforts on the project. He was responsible for the recent development of San Diego County's $500 million operations center. For information on the company, please visit www.loweenterprises.com.

Scott Mayer is the Chief Real Estate Officer for the County of Orange. The CEO Land Development team will manage the project. The second phase consists of development of the property's backbone infrastructure, such as roads and utilities; cost estimates will be refined and brought back to the Board of Supervisors for approval. The third phase is the construction of the envisioned office buildings, hotels, restaurants and other buildings that would then be leased to tenants.

The county has several development projects underway or on the horizon. For the latest project updates, please visit: http://www.ocreprojects.com.

Mike Ryan Unanimously Selected as Social Services Agency Director



Mike Ryan
Following the recent resignation of for Social Services Agency (SSA) Director Dr. Michael Riley the Board of Supervisors on Tuesday unanimously selected Chief Deputy Social Services Agency Director Mike Ryan as Dr. Riley's successor. There were initially 31 applicants for the position and through a deliberative process and panel review Mike Ryan emerged as the unanimous selection of both the interview panel and the Board of Supervisors. Ryan brings more than 3 decades of Social Services experience and has been a county staff member for 24 years. His education includes a Bachelor's degree in psychology from the University of Washington and a Masters in counseling psychology from Cal State University, San Bernardino. Supervisor Nelson wishes him sincere congratulations and the very best of luck in his new position and service to the county.

District Attorney-Public Administrator Consolidation

On a 3-2 vote, the Board opted to combine the vacant office of the Public Administrator with the District Attorney. Pending a second reading and adoption to be held on Tuesday, February 4th, the position will appear as a combined office on the June 3 primary election.

Based on State legislation, Orange County is precluded from combining three or more county offices. Therefore, the other three options (Clerk-Recorder, Sheriff-Coroner and Treasurer-Tax Collector), which have already combined two offices, prevents adding a third. Moreover, because the county charter is silent on the consolidation of county offices, Orange County is subject to California state law on the issue. More information on county offices consolidation may be viewed here and here.

The Office of the Orange County Public Administrator serves the public by managing the estates of Orange County residents who died without a will or without the appropriate person willing or able to act as executor. This includes the estates of persons who died and the next of kin cannot be located.

Please click here for the language of the proposed ordinance.

OCTA



OCTA Chairman Shawn Nelson Announces 2014 Board Initiatives


Orange County Transportation Authority Chairman Shawn Nelson unveiled the Board's Initiatives for the year ahead, placing the focus on delivering freeway projects, advancing active transportation programs and maximizing funding and regional opportunities.

Each of the eight initiatives outlines specific projects that is targeted for completion by the end of the year. "From enhancing transit service to improving freeways, streets and bikeways, OCTA has a tremendous amount of work planned this year designed to make it easier for residents to travel the county," said OCTA Chairman Shawn Nelson, also the Fourth District Supervisor. "I'm looking forward to working with the board and implementing these initiatives that will improve transportation and keep Orange County moving."

The strategic initiatives unveiled by Nelson include:

Delivering freeway improvements
Providing efficient, customer-friendly bus service
Optimizing the street system
Enhancing rail transportation
Advancing active transportation programs
Maximizing funding and regional opportunities
Developing sustainable transportation plans
Cultivating organizational excellence
Below is the complete list of the Board's Strategic Initiatives for 2014.

Please click here for Board Initiatives.

OCTA Committee Assignments

The Board of Directors approved the 2014 Committee Assignments. As Board Chair, Supervisor Nelson leads the Executive Committee, in addition to sitting on the Regional Planning and Highways, Transit and State Route 91 Advisory committees. He also serves as a regular representative to the Southern California Regional Rail Authority (Metrolink). See the full list of committee assignments below.

Please click here for OCTA committee Assignments.

Revised 2014 Board of Directors Calendar

A revised 2014 Board of Directors calendar was approved. The change moved the Friday, October 10 meeting to Columbus Day, Monday, October 13.

Please click here for board of Directors Calendar.

In the Community

Noble Ale Works Releases "Nelson Showers IPA"

Several months ago Anaheim Mayor Tom Tait engaged the Fourth District hoping the county can be a partner in making Anaheim "The Brew City" and attract more craft breweries to open and expand business in Anaheim. Since then Health Department staff and Anaheim city staff have been working collaboratively to help streamline guidelines and work with potential brewers to comply with regulations. The craft brewing community has been engaged in this process to explain their perspective on how to make this program a success. Supervisor Nelson is proud to announce that Fourth District craft breweries have been experiencing success and growth recently. This past Wednesday Noble Ale Works of Anaheim released their latest creation co-incidentally named "Nelson Showers Double IPA" though the beer is named for the Nelson Sauvin hops they are brewed with, Supervisor was pleased to hear of Noble's recent success sharing a name with him. To celebrate Noble Ale Works' continued success and to thank them for choosing the Fourth District to do business head brewer Evan Price was presented with a certificate of recognition from Supervisor Nelson.

To find out more about Anaheim's Brew City project you can read about it in Mayor Tait's State of the City address here.

To find out more about Noble Ale Works visit: http://www.noblealeworks.com/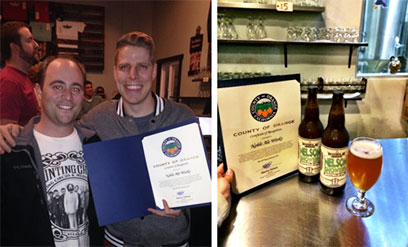 Policy Advisor Scott Carpenter presents certificate to head brewer Evan Price

OCFA Heroes Honored at Awards Ceremony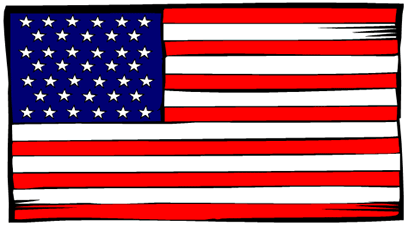 Supervisor Shawn Nelson was honored this year to recognize the outstanding Firefighters, Managers and Support Staff of the Orange County Firefighters Association at their annual 'Best and Bravest Awards Dinner". Hosted by the Exchange Club of Irvine, the OCFA gala at the Irvine Marriot was attended by 800 Firefighters, family and friends who enjoyed the annual night of recognition for Orange County's Bravest.

Nine members of the OCFA received Firefighter of the Year honors for their service and accomplishments in the nine battalions they were stationed at. Six members were recognized by their Battalions for Reserve Firefighter of the Year and Manager of the Year. Certificates were given to members at Business Services, Community Risk Reduction, Executive Services, Operations and Support Services. Professional Staff of the Year Awards were given to those same 5 divisions along with the Unsung Hero award that was given to the Service Center staff.

Supervisor Nelson gave special awards to John Zubas who received the Lifesaving Medal for the rescue of a firefighter in cardiac arrest, Wayne Chapman who received the Medal of Merit for his career achievements and six Firefighters/Flight Crews in the Aero Bureau who received the 2014 Unit Citation Award.

Click here to see the full list of 2014 honorees recognized by the OCFA.

Anaheim Mayor's State of the City 2014

Hosted by the Anaheim Chamber of Commerce at The Grove of Anaheim, some 800 business, civic leaders and residents enjoyed the two hour update by Mayor Tait on the positive changes the city is designing for 2014. Tait focused his comments on the development of the new Packing District for restaurants, microbreweries and the economic benefits and opportunities unique to Anaheim. Highlights of the Mayor's State of the City directives are available in the City of Anaheim News Release link at: SOC News Release.

The Mayor's speech covered the personality and incredible diversity of city businesses, pro sports, commerce and the future of what's to be including their visionary ARTIC transportation center under construction now at the 57 and Katella Ave. The Mayor's personal mission of delivering a million acts of kindness under his administration is well on its way. Included in the narrative of his speech was a video on how Ponderosa Elementary School was already into the kindness zone and that trips to the Principal's office was reduced by 50% because of the new attitude and humanity of kindness. Details of the kindness mission and other examples of employee accomplishments can be seen on the Mayor's speech available to read at: State of the City.

One of the highlights of the luncheon was the video of how the Make A Wish Foundation partnered with the Anaheim Police and Chief Raul Quezada to help a newly deputized Robin join with Batman to stop The Riddler, pirates and cowboys in the city. See the creativity of this magic by clicking http://www.youtube.com/watch?v=tXgi1Ph62FQ

Congratulations to the staff, Police Department and Mayor Tait for a terrific briefing and update on what the 341,000 residents love about the 50 square miles of their own magic kingdom called Anaheim!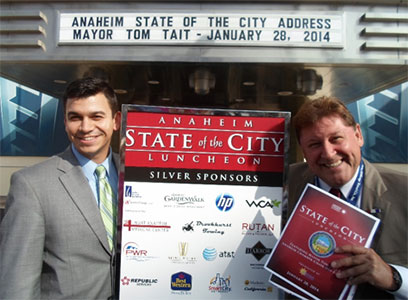 Deputy Chief of Staff Mark Lopez joined Policy Advisor Steve Spernak at Anaheim Mayor Tom Tait's State of the City 2014.

Announcements

Waste & Recycling Eco Challenge Day

OC Waste & Recycling, in collaboration with the Anaheim Ducks, is sponsoring an Eco Challenge Day on Saturday, February 1, from 8 a.m. to 11 a.m. in the parking lot of the Honda Center, 2695 E. Katella Avenue, Anaheim 92806. Visit http://www.ocEcoChallenge.com for more information.

Event Date and Information:


Date

Saturday, February 1, 2014

Location and Address

Honda Center – 2695 East Katella Ave., Anaheim 92806

Time
Collection Area

County will be collecting household hazardous waste
Goodwill of Orange County will be collecting electronic waste or gently-used clothing

Family Area

The County will have a booth for participants to redeem their giveaway and other give always. (See Press Release for specifics)
Ducks will have the hockey spot and bounce house
Discovery Science Center will have live music from 93.1 Jack FM
Whole Foods will have booth
Republic Services promote recycling programs and will have an interactive activity for a participant win a bike during the event

Access California Services New Location


Access California Services (AccessCal) celebrated its new location Friday, January 24 with a reception and open house. Although it has been at 631 S. Brookhurst Street, Suite #107, Anaheim 92804 for the past five months, this event allowed AccessCal to showcase the various vital services it provides to the community.

AccessCal, a culturally and linguistically sensitive human services organization, takes great pride in addressing the needs of the underserved Arab/Muslim-American, immigrant and refugee communities to enhance their quality of life by providing direct economic and social services. Our programs promote the well-being of individuals and families and connect them to resources and services through community engagement. AccessCal is non-sectarian serving people of all faiths and all ethnic backgrounds.

Access California Services Anniversary Gala

Chairman Nelson is pleased to attend and welcome attendees to AccessCal's 15th Anniversary Gala on Saturday, February 8 at 6:00pm. Please click here to see the flyer for more information.

OC Parks


Redwood Grove Hike
Carbon Canyon Regional Park – Brea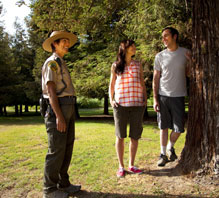 Join OC Parks' trained staff on an easy 1.1 mile hike to the park's Coastal Redwood grove. You will use your 5 senses to engage with nature as you stroll to the Redwoods. You will also have an opportunity to learn about our native plants along the way. The hike begins each Saturday and Sunday morning at 9:30 a.m. from the park's Nature Center. Don't forget to visit our Nature Center when you are there, too!

Participants should remember water, sunscreen, hat and hiking shoes.
All ages (small children may have to be carried).
Meet at Nature Center located at east end of park.
Cost: Free
Date: 2/1/2014
Time: 9:30am – 11:00am
Location: 4442 Carbon Canyon Road, Brea CA 92823

Reservations preferred: call (714) 973-3160 or email carboncanyon@ocparks.com

County Commissions and Committees

The 4th District has vacant appointments on the following commission or committee:


Oversight Board of the Successor to the City of Redevelopment Agency (Buena Park and Anaheim)
If you are interested in serving on this Committee, please call Audra Fishel at (714) 834.3440

OC Animal Care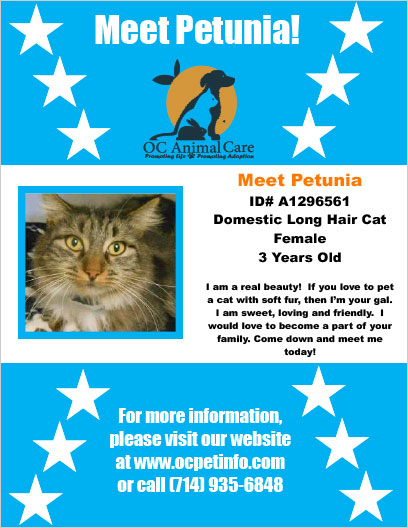 Click on the image above to view a larger version.

Events
Anaheim

What: Eco Challenge Day
Where: Honda Center
When: Saturday, February 1
Time: 11:00am

Brea

What: World Dance Master Class
Where: Brea Fitness Center-695 East Madison Way
When: Friday, February 21
Time: 6:30pm-7:30pm

Buena Park

What: Planning Commission
Where: 6650 Beach Boulevard
When: Wednesday, February 12
Time: 7:00pm

Fullerton

What: "The Orchid Thief's" Susan Orlean to Visit Fullerton Public Library
Where: Fullerton Public Library-353 West Commonwealth Ave.
When: Sunday, February 2
Time: 2:00pm

La Habra

What: Valentine Hats Craft
Where: La Habra Community Center-Family Art Center
When: Thursday, February 6
Time: 12:00pm

La Habra

What: RACES Meeting
Where: Placentia Civic Center-401 E. Chapman Ave.
When: Tuesday, February 11
Time: 7:00pm-8:45pm



For questions or comments regarding Nelson's E-News
please contact the Supervisor's office staff:
Audra Fishel Ph: 714-834-3440 Email: Audra.Fishel@ocgov.com.