Board of Supervisors

Welcome to Nelson's E-News!

The Fourth District has several significant, renowned amenities. I was pleased to comment on one of them, the Honda Center and Anaheim Ducks, who have partnered with our OC Waste & Recycling Department to educate children on the importance of recycling. Please continue reading for more information on my interview.

Our Board of Supervisors meeting last week had less than thirty items, but still took more than six hours to address. I have highlighted two of them below: an update on CalOptima's audit by the federal Centers for Medicare & Medicaid Services, and the consolidation of two County elected offices, the District Attorney and Public Administrator.

As Chair of the Orange County Transportation Authority, one of my first ceremonial roles was to congratulate the agency's three employees of the year for 2013 in each of their respective departments. Combined, these employees have nearly a century of OCTA experience and each was chosen by their colleagues.

As a reminder, the County of Orange will be closed Wednesday, February 12 in observance of Lincoln's birthday and Monday, February 17 in observance of Presidents Day. The Board of Supervisors will be dark until Tuesday, February 25 at 9:30am in the Hall of Administration, 333 W. Santa Ana Blvd., Santa Ana 92701.

Sincerely,
Shawn Nelson

Board Updates



Board of Supervisors Considering Options Regarding the Future of CalOptima

At Tuesday's board meeting the Board of Supervisors received an update from CalOptima CEO Michael Schrader. As has been covered in the OC Register, CalOptima recently received the results of a federal audit that included a number of findings which required immediate corrective action to bring CalOptima's services provided in it's OneCare Program up to par. The audit dictated that CalOptima cannot enroll new recipients nor advertise the OneCare program until the deficiencies are addressed and deemed adequately suited to continue operation. Included in the Centers for Medicare & Medicaid Services (CMS) audit was the revelations of services being denied to many OneCare recipients by CalOptima service providers. In his report to the Board of Supervisors, Schrader said CMS was critical of CalOptima's approach of treating contracted providers as a "friend and not a parent." Schrader then outlined the steps that are being taken to immediately correct the deficiencies and to ensure proper oversights are put in place so that services do not fall through the cracks. Schrader also mentioned that the compliance department at CalOptima has been completely revamped recently and will be tasked with much of the burden to address these concerns. As a result of the federal audit the Board of Supervisors will also take a look at the ordinance that restructured CalOptima's Board of Directors in 2011 and see if a change will be needed to provide more oversight of the health plan. The State Department of HealthCare Services also announced earlier this week that it will begin an audit of CalOptima. The discussion to explore options on the future of CalOptima is scheduled for the February 25th Board of Supervisors meeting.

To view the presentation given by Michael Schrader to the Board of Supervisors, please click here.

District Attorney-Public Administrator Consolidation

For the second week in a row, the Board voted 3-2 to combine the vacant office of the Public Administrator with the District Attorney. The consolidation is effective 30 days from the second reading adoption, which will be March 6 and will appear combined on the June 3 primary election ballot.

The Office of the Orange County Public Administrator serves the public by managing the estates of Orange County residents who died without a will or without the appropriate person willing or able to act as executor. This includes the estates of persons who died and the next of kin cannot be located.

Please click here for the language of the ordinance.

OCTA



OCTA Awards Employees of the Year

The Orange County Transportation Authority recently announced the 2013 Employees of the Year: Harry Marshall, Binh Do and Blanca Ibarra.

Tustin resident Harry Marshall was named Coach Operator of the Year for his excellent driving record, customer safety and attention to detail. Marshall works out of OCTA's Garden Grove bus base and has achieved 35 years of safe driving. Marshall consistently demonstrates OCTA's performance measurements of safety, courtesy and reliability in his daily duties. In addition, he is a safety captain and a vital member of Operations Teamwork at Garden Grove. He participates in roundtable meetings sharing his experience and coaching his fellow colleagues.

Anaheim resident Binh Do was named Maintenance Employee of the Year for his work as a body mechanic at OCTA's Santa Ana bus base. Do's dedication to his work is evident in his 18 years of perfect attendance. He demonstrates a high level of experience and skill and can always be counted on to complete his tasks. Do has been involved in many special projects over the years, most notably preparing and painting the Bravo buses for service in 2013.

Santa Ana resident Blanca Ibarra was named Administrative Employee of the Year for excelling in her duties as the Santa Ana operations base manager. Ibarra has worked at OCTA for 40 years and currently works in the transit department. Ibarra is an exceptional employee who displays a high level of professionalism and is a valued mentor of the operations department staff.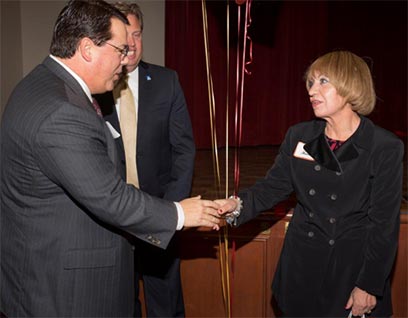 Supervisor Nelson congratulating Blanca Ibarra, who was named Employee of the Year

In the Community

Buena Park State of the City

Supervisor Nelson attended the Mayors State of the City at Knott's Resorts last week along with civic leaders and community service groups. The luncheon and briefing was kicked off by Buena Park Chamber of Commerce chairman Virginia Vaughn and quickly moved into a power-point presentation by City Manager Jim Vanderpool and Mayor Miller Oh. Highlights by Vanderpool included an update on the brand new 12 acre mixed use retail, restaurant and entertainment center called The Source. Designed with 2100 parking spots, a 150 room Hyatt Place Hotel and 700 residential units of apartments and condos in the last phase, this is going to a premier addition to the renovation of Beach Blvd. This project will complement the entertainment Blvd. that is being scoped for new venues, lighting and restaurants like Pirates Tavern, Smashburger, Odori's all you can eat sushi, along with Tice House and The Black Bear diner that will replace Hof's Hut. Also, Ehlers Plaza and the Senior Center renovations will bring $1.05 million dollars in improvements, upgrades, bathrooms, fire alarms and multi-purpose rooms. Mr. Vanderpool complimented city planners and staff for their work in delivering The Yards, a new housing project at Orangethorpe at Stanton. The complex will feature 128 townhomes and 70 rental unit apartments with 20% of the townhomes to be sold to moderate-income families on this Jamboree Housing company vision.

For more information on the City of Buena Park, please visit: https://www.buenapark.com/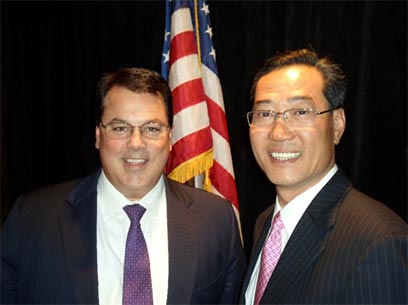 Supervisor Nelson joins Buena Park Mayor Miller Oh at State of the City Luncheon

Ducks Weekly Show to Feature Interview
with Chairman Shawn Nelson

Tune in to FOX Sports Prime Ticket on Sunday, March 2, 2014, following the hockey game between the Anaheim Ducks and Carolina Hurricanes. Ducks Weekly, a show that highlights Ducks' activities in the local community, will feature an interview with Board of Supervisors Chairman, Shawn Nelson. The show airs between 8:00 p.m. and 8:30 p.m.

Following last Saturday's Eco Challenge Day at the Honda Center, Chairman Nelson talked to Fox about the partnership between the Ducks and the County that is helping to promote the County-sponsored Eco Challenge exhibit at the Discovery Science Center.

The Eco Challenge Day at the Honda Center offered easy disposal of household hazardous waste, e-waste and used clothing. More than six and a half tons of hazardous waste, e-waste and reusable clothing were collected. All participants were given reusable bags and a free child admission coupon to visit the County's Eco Challenge exhibits at the Discovery Science Center.

The next Eco Challenge recycling event will take place on Saturday, April 5, 2014. Visit www.ocecochallenge.com. Details will be posted in March.

The County is the proud sponsor of the Eco Challenge exhibit. Partnerships like the one we have with the Anaheim Ducks really help to build awareness about the Eco Challenge, one of the most popular exhibits at the Discovery Science Center. Partnerships have brought more than 18,000 visitors to the exhibit in the past year, an outreach success.

The interactive Eco Challenge exhibit represents a ten-year investment by the County and represents an innovative way to educate school-aged children by DOING rather than TELLING. It is an exhibit that our children and grandchildren will look forward to visiting over and over again. Children's inspirations begin right here with the County's Eco Challenge exhibits.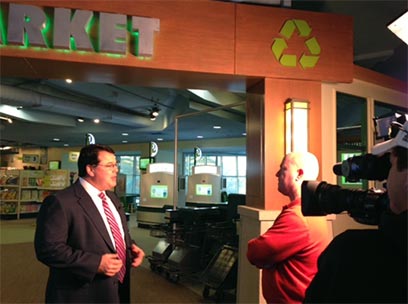 Supervisor Nelson and the Fox Sports West crew

OC Waste & Recycling Eco Challenge Day

Last Saturday, the County of Orange Waste & Recycling Department, in partnership with the Anaheim Ducks, hosted an Eco Challenge Day at the Honda Center. From 8am to 11am, hundreds of participants brought their e-waste and household hazardous materials to properly dispose and gently used clothing to donate, earning free Ducks giveaways, tickets and more.

OC Waste & Recycling and OC Public Works both had informational booths on hand to answer questions from the public. In addition, Jack FM provided musical entertainment and Whole Foods donated healthy breakfast options, including yogurt, granola and fruit.


(Left) OC Waste & Recycling Deputy Director Chip Monaco, left, poses with Deputy Chief of Staff Mark Lopez in front of the OC Waste & Recycling information booth. (Right) Isabel Rios, Recycling and Environmental Programs Manager, directs a driver on where to dispose of hazardous materials.

Arab American Civic Council

The Arab American Civic Council (AACC) held its inaugural roundtable meeting this week with elected officials, representatives and community stakeholders. The luncheon in Anaheim's "Little Arabia" was meant to bring more attention to West Anaheim residents and businesses, which include a large Middle Eastern population. Mayor Tom Tait delivered a keynote speech that incorporated his "Hi Neighbor" initiative, mentioned during his tenure as mayor of Orange County's largest city and last week's State of the City, to spread kindness and freedom throughout Anaheim and increase revenues by strengthening small businesses in the community.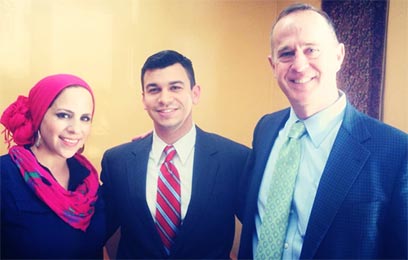 From left to right: AACC Co-founder/Director Rida Hamida, Deputy Chief of Staff Mark Lopez, Mayor Tom Tait.

Nelson Welcomes Southland Vapor to Fullerton

Congratulations to the new team and owners at Southland Vapor located at 124 W. Wilshire near Harbor Blvd in downtown Fullerton. The specialty shop has a friendly staff who will be glad to help you with your questions and selections of premium Electronic cigarettes such as EGO Batteries, Voltage E Cigarettes, Variable MOD's and electronic cigarette parts and accessories.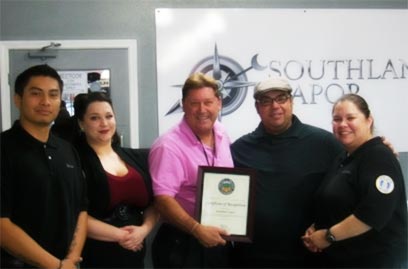 Policy Advisor Steve Spernak presents a Certificate of Recognition to Southland Vapor team at grand opening.

Human Trafficking Awareness Day

Crittenton Services for Children and Families recognized a national Human Trafficking Day last week to coincide with the White House's issue of a Presidential Proclamation declaring January 2014 as National Slavery and Human Trafficking Prevention Month.

The event featured a tour of the facilities for community leaders, elected officials and representatives from local, state and federal offices. The tour of the facilities included dorm-style rooms, counseling offices and medical services. Most poignantly, the day ended with testimonials from a few of the courageous young survivors of trafficking and a candle-light walk around the grounds.

Incorporated in 1966 as Florence Crittenton Services Orange County, the agency formed a Board of Directors and continued to raise funds until finally, in 1970, a home was purchased in Santa Ana. Within a year, the home was full with a waiting list. In the early seventies, the former Fullerton Cottage Hospital was purchased and renovated, becoming a home for up to 65 teens and babies.

As demand for services continued to increase, Crittenton purchased the Fullerton Community Hospital in 1988. After renovations, the campus opened in 1991 and housed 84 adolescent girls and up to 37 babies. The original campus was converted to a children's program. For more information about Crittenton, visit their website.


(Left) Deputy Chief of Staff Mark Lopez presents a resolution on behalf of Chairman Shawn Nelson and the entire Board of Supervisors to Lori Renteria, Therapeutic Behavior Specialist Coordinator at Crittenton. (Right) Mark Lopez Chairman Nelson's office, left, and David Monroy of Senator Bob Huff's office, center, present Director of Public Policy and Advocacy Stefanie Benvenuto with certificates of recognition.

OC's 34th annual Black History parade

Congratulations to Shedrick Collins and Cathy Woodward, Chairpersons of the 34th OC Black History Parade and Cultural Faire, for the 2014 edition of the Black History Parade they hosted in downtown Anaheim this weekend. Under absolutely majestic weather, the crowd of 2,000 attending enjoyed the parade of floats, musical units, drill teams, banner carriers and best depiction of parade theme marchers.

The event and parade was a culmination of a year's planning by the Orange County Heritage Council. Registration fees and a boulevard of canopies and tables of community groups filled the Center Street Promenade from 8 a.m. to 4 pm. Money collected went toward civic groups, bands, football teams, cheer and performance groups who sold BBQ and theme gifts.

Supervisor Nelson made the parade again as part of his support for the Orange County Heritage Council and promotion of the accomplishments of African-Americans in our nation's history.

For more information on supporting or participating in the 2015 celebrations, go to www.orangecountyheritagecouncil.org or call Cathy Woodward at 714 271 2251.


(Left) Miss Fullerton, Salisha Thomas, enjoys staging for the morning parade with Supervisor Nelson (Right) Supervisor Nelson finishes a fabulous morning enjoying warm friends and beautiful weather at the 34th Black History Parade and cultural gala in downtown Anaheim.

Youth Leadership America Graduation

Last week, Youth Leadership America (YLA) held its annual graduation of high school students who successfully complete 14 weeks filled with important networking and professional development workshops. A total of seventy-seven graduating associates received certificates of recognition for their hard work.

The entire four-hour event was hosted by the students and included video clips showcasing their progress over the past three and a half months, an awards ceremony for the community service projects that they initiated and presentations by students from YLAs in Los Angeles and the Bay area. Senator Lou Correa and Mayor Tom Tait also delivered brief addresses to the 150 attendees.

Youth Leadership America is the outgrowth of Youth Leadership Anaheim, a program that was founded in 2002 by a group of high school students in Anaheim. Inspired by the vision of founder John Nguyen, these youths created a leadership development program that was operated by high school students for high school students.

In January of 2006, with the support of its youth members, community partners and Youth Leadership Anaheim, Youth Leadership America was officially founded as its own 501(c)(3) not-for-profit organization.

For more information on YLA, please visit their website.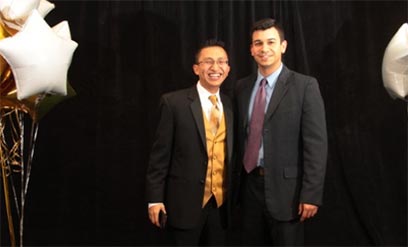 Youth Leadership America founder John Nguyen, left, with Deputy Chief of Staff Mark Lopez.

Announcements
Do you know any hometown heroes?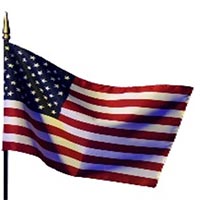 The Fourth District is accepting submissions to recognize unsung heroes in our community.

This may include public safety, first responders, or friends and neighbors who have gone above and beyond the call of duty in everyday life to enrich our community.

To share your story, please call or email Audra Fishel: Audra.Fishel@ocgov.com 714-834-3440

OC Parks


Wood Canyon Discovery Hike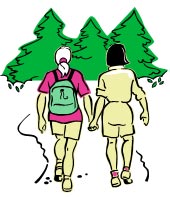 Explore beautiful Wood Canyon and discover its wildlife with Laguna Canyon Foundation volunteer naturalists on this moderate but steep, uneven and rocky, 5-mile hike (200-ft. elevation gain).

Aliso & Wood Canyons Wilderness Park, Canyon View Staging Area (from southbound Aliso Creek Rd, turn right on Glenwood [turns into Pacific Park] and right on Canyon Vistas. Meet at the entrance to Canyon View Park).
For questions, call (949) 497-8324
Donation: $2 per person
Parking: Free
Reservations Required Online (link below)
Location: Aliso and Wood Canyons Wilderness Park
Date: 2/14/2014
Time: 9:00am – 12:00pm
Contact: 949-497-8324

County Commissions and Committees

The 4th District has vacant appointments on the following commissions or committees:


Oversight Board of the Successor to the City of Redevelopment Agency (Buena Park and Anaheim)
Treasury Oversight Committee Member
If you are interested in serving on one of these Committees, please call Audra Fishel at (714) 834.3440

OC Animal Care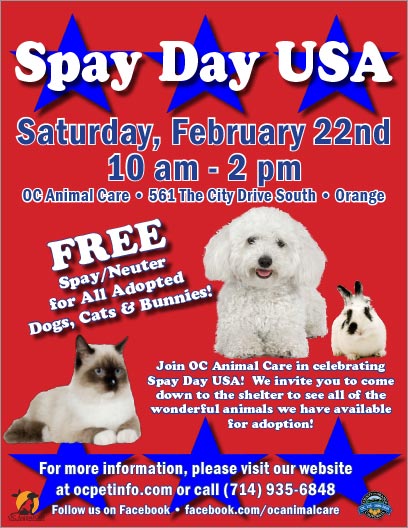 Click on the image above to view a larger version.

Library Corner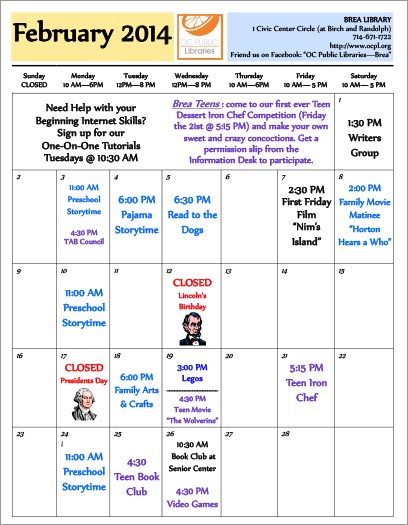 Click on the image above to view a larger version.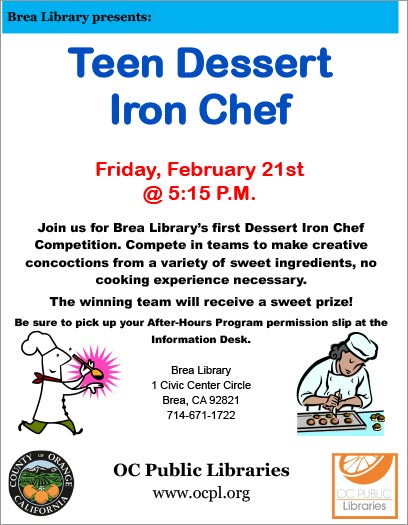 Click on the image above to view a larger version.

Events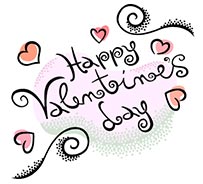 Anaheim

What: Anaheim Semper 5k
Where: Sycamore Park-9296 E Monte Vista Road, Anaheim Hills
When: Saturday, February 15
Time: 8:00am

What: Central District Neighborhood Council Meeting
Where: Gordon Hoyt Conference Room-201 S. Anaheim Blvd.
When: Wednesday, February 19
Time: 7:00pm

What: Little Peoples Park Community Meeting
Where: Anaheim Central Library, Multi-Purpose Room
When: Thursday, February 20
Time: 6:30pm-8:00pm

Brea

What: Walk/Run Club
Where: 695 East Madison Way
When: Tuesday, February 11
Time: 5:45pm-6:45pm

What: "Eating for Heart Health" Nutrition Master Class
Where: Brea Fitness Center-695 East Madison Way
When: Thursday, February 20
Time: 6:00pm-7:00pm

What: Brea 8K Classic
Where: Brea Mall-north east corner
When: Sunday, February 23
Time: 8:00am-11:00am

Buena Park

What: City Council Meeting
Where: Council Chamber-6650 Beach Boulevard
When: Tuesday, February 11
Time: 5:00pm

What: City Hall Closed
Where: 6650 Beach Boulevard
When: Friday, February 14
Time: All Day

Fullerton

What: "Singing Valentines"
Where: City of Fullerton
When: February 9, 10, 11, 12, 13, 14, 15
Time: 9:00am-9:00pm

What: Rancho Fullerton Social Club Bingo
Where: 1201 W. Valencia Drive (west of Euclid)
When: Monday, February 17
Time: Doors open at 4pm

What: Bicycle Users Subcommittee
Where: Fullerton City Hall, Council Chambers-303 W. Commonwealth Avenue
When: Thursday, February 20
Time: 5:00pm-6:00pm

La Habra

What: Handprint Heart Tree
Where: Family Art Center in the Children's Museum-301 South Euclid Street
When: Tuesday, February 11
Time: 11:00am-3:00pm

What: Free Art Fridays
Where: Family Art Center in the Children's Museum-301 South Euclid Street
When: Friday, February 14
Time: 11:00am-3:00pm

What: FAC: Little Picassos
Where: Family Art Center in the Children's Museum-301 South Euclid Street
When: Wednesday, February 12
Time: 12:00pm

La Habra

What: Recreation and Parks Commission Meeting
Where: Community Meeting Room-401 E. Chapman Ave.
When: Monday, February 10
Time: 7:00pm-8:00pm

What: Community Workshop-Budget Stabilization Plan
Where: Backs Community Building-201 N. Bradford Ave.
When: Wednesday, February 12
Time: 6:30pm

What: RACES Meeting
Where: Placentia Civic Center-401 E. Chapman Ave.
When: Tuesday, February 11
Time: 7:00pm-8:45pm

Nelson Supports Anaheim Semper 5K Run/Walk Feb 15th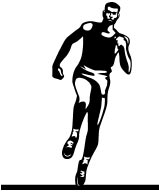 The Anaheim Marine Adoption Committee in partnership with the City of Anaheim announces its first annual Anaheim Semper 5K road race to benefit the members of the 13th Marine Expeditionary Unit (MEU) and their families at Camp Pendleton. The 5K run/walk on Saturday, February 15th, will start and finish at Sycamore Park in Anaheim Hills (near Santa Ana Canyon and Weir Canyon).

In addition to the road race, the event features a kid's fun run, a kid's obstacle course, a finish-line expo, and the Taste of Anaheim Hills Food Fest. Every participant in either the 5K or the kids run will receive a custom-designed dog tag finisher medal, an event t-shirt, and free entry into the food fest. Overall race winners and age-group placers will also receive awards.

The food fest, featuring culinary offerings from some of the area's most popular eateries, will be hosted at the park immediately following the 5K. All event proceeds will go to provide support to the marines and sailors of the "Fighting 13th" and their families. "The Anaheim Marine Adoption Committee is thrilled to be putting on this event," says Richard Farace, adoption committee treasurer and Anaheim Semper 5K race director cause.

For more information on the race or to learn about sponsorship opportunities, visit www.semper5K.org or contact Richard Farace directly at info@semper5k.org, 714.350.2886.

Please click here for the event flyer.

For questions or comments regarding Nelson's E-News
please contact the Supervisor's office staff:
Audra Fishel Ph: 714-834-3440 Email: Audra.Fishel@ocgov.com.