Board of Supervisors

Welcome to Nelson's E-News!

Traffic relief has arrived in North Orange County! The Placentia Avenue undercrossing, the first of seven grade separations, opened this week. I was privileged to participate in the ribbon cutting alongside members of the Placentia City Council and OCTA staff. Part of the OC Bridges project in the Fourth District, this street opening, which divides vehicle traffic from the railroad tracks, will ease congestion, reduce commute times and pollution, and improve emergency response times.

I was pleased to attend the monthly meeting of the West Island Neighbors community group last week. As the residents there have no city council, it was important for me to listen to their concerns as their direct local representative. This was a great opportunity to hear about the challenges in the neighborhood, including street sweeping, parking, and land use and development. This was a fruitful discussion, and I hope to continue the dialogue with progress on all the issues we addressed.

Please note that there is no scheduled meeting of the Board of Supervisors next Tuesday. The next regularly scheduled meeting is Tuesday, March 25 at 9:30am.

Sincerely,
Shawn Nelson

Board Updates



Supervisors Finalize CalOptima Board Restructure

The Board adopted an ordinance change, by a 4-1 vote again, to the CalOptima Board of Directors membership after its second reading on Tuesday, March 4. The primary adjustments are appointing two members of the Board of Supervisors, with one Supervisor in an alternate capacity, and moving the Orange County Social Services Director seat to a non-voting, ex-officio position. The amendments will take effect 30 days from adoption and in time for the Thursday, May 1 CalOptima Board meeting at 2:00pm. The regular and alternate member appointments will take place in April. For more information, please visit the CalOptima Board of Directors website or view the ordinance changes here.

OC Public Guardian/Asst. Public Administrator Retires

Orange County Public Guardian/Assistant Public Administrator Lucille Lyon will step down from the positions she has held since July 2011, part of a comprehensive reorganization of the two offices.

Lyon will retire after nearly 38 years in the mental health field. As Public Guardian, she was in charge of overseeing the County's conservatorship programs for those unable to care for themselves and their affairs; as Assistant Public Administrator, she managed the estates of those who died without legal heirs.

Supervisors combined the elected position of Public Administrator with District Attorney Tony Rackauckas, who will run in June for the combined elective offices. The office of the Public Guardian, an appointed position, will be folded into the Health Care Agency. Supervisors this week appointed Adult Mental Health Services manager Kevin Smith as Interim Public Guardian.

Orange County supervisors brought Lyon, a Los Angeles County resident, aboard after Public Administrator/Public Guardian John Williams resigned following allegations of mismanagement by the Orange County Grand Jury and a County investigation. Lyon had served as a division chief for Los Angeles County Office of the Public Guardian and spent 15 years as Chief Deputy Public Guardian for Riverside County.

"We're very thankful for Lucille's willingness to help Orange County during a troubled time and we wish her all the best in retirement," Board of Supervisors Chairman Shawn Nelson said.

Contact: Jean Pasco
(714) 834-7218
jean.pasco@ocgov.com

John Wayne Airport Announces Results of Economic Impact Study

John Wayne Airport (JWA) announces the results of an Economic Impact Study of Airport operations for calendar year 2012. The study, conducted by InterVISTAS Consulting LLC, measures the direct, indirect and induced economic impacts generated by JWA in Orange County and three neighboring counties (Los Angeles, Riverside and San Bernardino).

Key findings of the Economic Impact Study include:

Economic Output (Spending Impacts): $6 billion. The dollar value of industrial output produced; reflects spending by firms, organizations and individuals.


Employment: 43,000 jobs. Full time, part time and seasonal jobs.


Earnings: $1.7 billion. Wages, salaries and benefits associated with employment tied to the Airport.


Gross Domestic Product (GDP): $3.3 billion. A measure of the money value of final goods and services produced locally as a result of economic activity.
"This study confirms that John Wayne Airport is a powerful economic engine for Orange County," said Shawn Nelson, Chairman of the Orange County Board of Supervisors. "By connecting Orange County with destinations throughout the United States, Canada and Mexico, JWA connects local business and tourism with economic opportunity - and supports the prosperity of our entire community."

You can access JWA news releases at http://www.ocair.com/newsroom.

To view the study in its entirety, visit www.ocair.com.

John Wayne Airport (SNA) is owned by the County of Orange and is operated as a self-supporting enterprise that receives no general fund tax revenue. The Airport serves more than nine million passengers annually and reaches more than 20 nonstop destinations in the United States, Mexico and Canada.

Contact: Jenny Wedge
(949) 252-5182 (office)

Seven Confirmed Measles Cases in Orange County

The Orange County Health Care Agency has confirmed seven cases of measles in Orange County in 2014, which is consistent with an increase seen throughout California. The most recent cases spent time in public locations in Orange County while contagious.

"We expect to see additional measles cases in Orange County, increasing the likelihood that you and your family may be exposed to the disease," said Dr. Eric Handler, Public Health Officer for the County of Orange. "These new measles cases underscore the importance of making sure that you and your families are up to date with the MMR vaccination."

Potential exposure locations and times include:

St. Joseph Heritage Healthcare Medical Office, 4300 Rose Drive, Suite D, Yorba Linda, CA

Monday, March 3 from 9:30 – 11:00 am
Friday, March 7 from 1:30 – 3:00 pm

Panda Express 27602 Antonio Pkwy Ste G3, Ladera Ranch • (949) 365-0291

Tuesday, March 4 from 1:00 – 3:00 pm

Friends Christian Elementary School, 5151 Lakeview Avenue, Yorba Linda, CA

Wednesday, March 5 from 9:30 - 11:30 am

Robinson Ranch School, 21400 Lindsay Drive, Trabuco Canyon, CA

Thursday, March 6, 6:30 - 9:00 p.m.

Placentia Linda Hospital Emergency Department, 1301 North Rose, Yorba Linda, CA

Saturday, March 8 from 11:30 a.m. – 1:00 p.m.

Kids Doc, 27800 Medical Center Road, Mission Viejo, CA

Sunday, March 9 from 1:00 – 2:30 pm

Mission Hospital, Mission Viejo, Emergency Department, 27700 Medical Center Rd, Mission Viejo, CA 92691

Sunday, March 9 from 9:50 am to 3:45 pm
Monday, March 10 from 11:25 am to 12:30 pm

Mission Hospital, Mission Viejo, CHOC Pediatric Medical Surgical Department, 27700 Medical Center Rd, Mission Viejo, CA 92691

Monday, March 10 from 11:25 am to Tuesday, March 11 at 4:30 pm
Staff at the Health Care Agency has been working with these locations to contact people who may have had a prolonged exposure to a person infected with measles. The risk of developing infection after brief encounters with persons with measles is low, but as a precaution, people who were in these locations around the same time as the individual with measles should:

Review their vaccination history if they have not previously had the measles; people who have not had measles or the measles vaccine are at higher risk after an exposure, so they should talk with a health care provider about receiving MMR vaccination.


Monitor themselves for illness with fever and/or an unexplained rash from 7 days to 21 days after their exposure (the time period when symptoms may develop); if symptoms develop, contact a health care provider immediately
Measles is a highly contagious and potentially severe disease that causes fever, rash, cough, and red, watery eyes. Measles spreads very easily by air and by direct contact with an infected person. Measles is contagious from approximately four days before the rash appears through four days after the rash appears.

Measles is a rare disease in the United States and in regions of the world where vaccination coverage is high. Maintaining high vaccination rates is vital to preventing outbreaks of disease in our community.

To learn more about measles, visit the Centers for Disease Control and Prevention or the Orange County Health Care Agency

OCTA



Placentia Avenue Undercrossing Opens to Traffic

(Courtesy of OCTA)

The grade separation project is the first of seven in the OC Bridges program

Orange County Transportation Authority officials celebrated a major milestone in the O.C. Bridges Program when they became the first to drive Placentia Avenue under the BNSF rail line.

The Placentia Avenue undercrossing is the first grade-separation project to open in OCTA's $630 million O.C. Bridges Program, which is building seven such undercrossings or overcrossings to separate car traffic from rail traffic.

"This project translates into a better quality of life for residents and businesses in the area by speeding up commute times and eliminating the annoyance of having to wait at rail crossings for trains to pass by," said OCTA Chairman Shawn Nelson, also the county's Fourth District Supervisor. "It's a great milestone to open this first grade-separation project to the public."

Work on the Placentia Avenue project, in the cities of Placentia and Fullerton, began in January 2012. Since then, drivers have used a temporary road.

Today, two lanes in each direction along Placentia Avenue opened to the public. The contractor, Flatiron West, Inc. will continue working on finishing details to the project that are expected to be finished by June.

Nearly 70 trains each day travel along the BNSF rail line through Anaheim, Fullerton and Placentia and that number is expected to increase more than 45 percent by 2030.

The grade-separation projects enhance safety by separating car traffic from train traffic and also by reducing the risk of fire trucks, ambulances and other emergency vehicles getting stuck at a rail crossing. Cars no longer idling at rail crossings will save gas and reduce air pollution.

Work on the Placentia Avenue undercrossing, when complete, is anticipated to cost about $69 million, a savings over the original $78 million estimate.

Work is continuing on the six other grade separations in the O.C. Bridges Program, with the next milestone scheduled to be the opening of the Kraemer Avenue undercrossing later this year.

For more information, visit octa.net/ocbridges.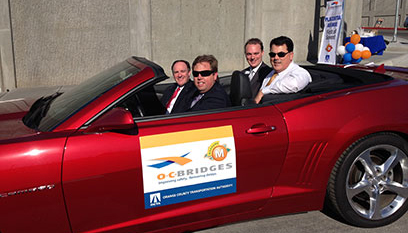 Chairman Honors OCTA Employees

As part of this duties as Chairman of the Orange County Transportation Authority, Supervisor Nelson was honored to present Employee of the Month awards to two of OCTA's finest this week. Michael Smith was recognized for his driving safety record, rapport with the public and professional performance with the Authority in bus operations. Secondly, Jerad Dejong is a mechanic and technician and was recognized for his professional performance and standards of excellence in keeping busses and shuttles as safe and comfortable carriers for thousands who use the transportation services throughout Orange County. Chairman Nelson voiced to the audience that Smith and Dejong were the pride of the OCTA for their commitment to both the agency and residents who count on them for efficient and economical transportation and safety.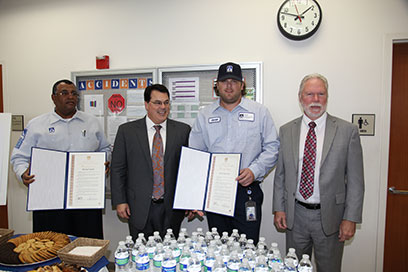 Supervisor Nelson, acting as Chairman of the OCTA, presents Employee of the Month awards to Michael Smith (left) and Jerad Dejong (center) with Deputy CEO of OCTA Ken Phipps (right).

AQMD

Future Clean Fuel Program

At last week's Air Quality Management District board meeting on March 7th Supervisor Nelson was sworn in to serve another 1 year term as the representative from the County of Orange. One of the important items that was discussed was the AQMD's future clean fuel program.

A report was given to the AQMD board about its research development demonstration and development program, also known as the clean fuel program. This is funded by a one dollar fee on your vehicle registration. You can click on a link to the power point presentation that was given to the board here. In it you will learn where vehicle fueling technology is going and what to expect in the future.

Please click here to view the power point presentation.

Supervisor Nelson being sworn in by Chairman Dr. William Burke

In the Community

State of the County 2014 – OC Public Affairs Association Meeting

Supervisor Nelson presented his State of the County PowerPoint last week at the Orange County Public Affairs Association Meeting. Employee pensions, the County budget and upcoming OCTA projects were among some of the issues addressed by Supervisor Nelson. The Orange County Public Affairs Association has grown to over 150 public affairs professionals, elected officials, corporate executives, and public policy-makers. Their various forums and networking events, along with our annual membership directory, have made our 16-year old organization an important focal point for Orange County's growing public affairs community. To learn more please visit www.ocpaa.org.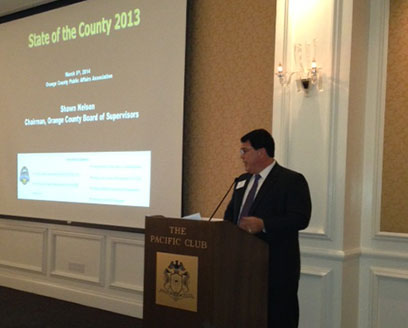 Supervisor Nelson addresses the Orange County Public Affairs Association

West Island Neighborhood Community Meeting - Anaheim

Supervisor Nelson attended his second community meeting in West Anaheim to address issues and challenges facing homeowners and residents. At the most recent briefing, hosted by WIN, the West Island Neighbors, at the Big Adventure Children's Center on Cerritos, Supervisor Nelson followed a community crime briefing and update on enforcement activities by the California Highway Patrol who have jurisdiction for traffic enforcement in the unincorporated area of Anaheim. CHP Officer Stacy Willits and her Captain listened to concerns about speeding traffic on Gilbert and parking challenges that congest the streets and prevent street-sweeping.

After Developer Jim Weber explained the proposed residential building, parking and planning project he is offering to design for the Cerritos Avenue community, Supervisor Nelson provided an explanation of what the County and his office can bring to enhance their quality of life, public safety and the street-parking crisis.

Supervisor Nelson closed the briefing by suggesting to residents they cooperate with their city council and the planning commission and partner with the developer to get an optimal project for the Cerritos residential complex.

For more information, please contact Policy Advisor Steve Spernak at (714) 834-3542 or email Steve.Spernak@ocgov.com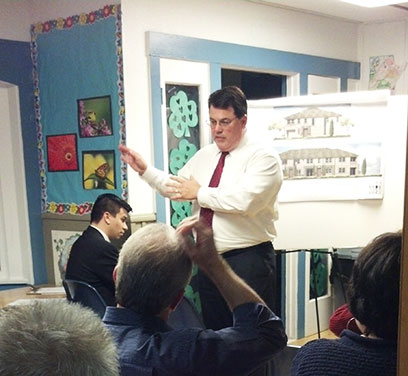 Supervisor Nelson answered questions and explained County policy and resources to members of WIN

A Tribute

Walt Ehlers Memorial

Beneath majestic skies and the attendance of over a thousand military personnel, Veterans, family and friends, Supervisor Nelson's office, representing the people of Orange County, paid final respects to Medal of Honor Recipient Walt Ehlers of Buena Park this week. Hosted at the Medal of Honor Monument at Riverside National Cemetery that Ehlers and then-Governor Pete Wilson designed and built, an audience of teary-eyed friends heard the legacy of an "American treasure" according to Army Lt. General Perry L. Wiggins who represented the President and Chiefs of Staff.

The declarations of courage and heroism was visited by Medal of Honor recipient Colonel Jay Vargas who explained that Walt's greatest moment was successfully running his squad across the beaches of Normandy on D-day and not suffering a casualty. Walt's daughter, Catherine Ehlers Metcalf, spoke of a lifetime of memories and his selfless dedication to the military and the protocols of being a Medal of Honor recipient for 50 years.

The memorial concluded with former California Governor Pete Wilson citing how Walt was instrumental and inspiring in helping to fund the National World War II Museum and Memorial in DC. Members of the First Infantry Division walked past 4th District representatives Steve Spernak and Mark Lopez as they carried Walt to his final resting place. A 21 gun salute and flag presentation to Walt's wife Dorothy concluded the honors for one of the last and legendary heroes of the greatest generation.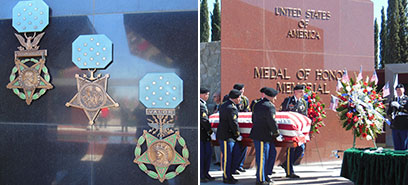 Walt Ehlers Memorial

Announcements

Do you know any hometown heroes?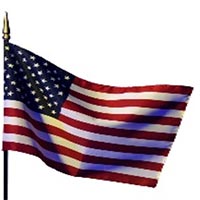 The Fourth District is accepting submissions to recognize unsung heroes in our community.

This may include public safety, first responders, or friends and neighbors who have gone above and beyond the call of duty in everyday life to enrich our community.

To share your story, please call or email Audra Fishel: Audra.Fishel@ocgov.com 714-834-3440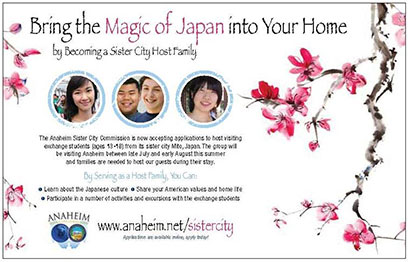 Click on the image above to view a larger version.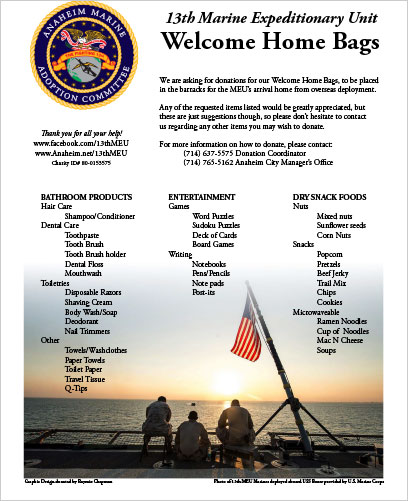 Click on the image above to view a larger version.

OC Parks


Historic Buildings Undergoing Renovation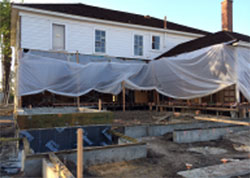 Some of the historic buildings at Irvine Ranch Historic Park are undergoing construction to preserve and adapt them as offices.

Last year, renovations began with construction to install and upgrade utilities to the buildings. The Campus Plan Improvements Project, approved by the Board of Supervisors in September 2013, broke ground in October 2013. The construction is expected to be completed in early 2015.

The project consists of refurbishing and adaptively reusing some of the vacant buildings to provide workspace for OC Parks staff who are currently working out of temporary buildings. Improvements involve reroofing, painting, restoration and/or replacement of damaged architectural elements. Interior work includes extensive structural retrofitting, and upgrades to plumbing, electrical, heating and air conditioning and communication infrastructure.

Other park improvements include work to address accessibility compliance and landscaping of existing barren areas. All of the work will be done in compliance with the State of California Historical Building Code and in compliance with the U.S. Secretary of Interior Standards for Rehabilitation of Historic Properties.

Irvine Ranch Historic Park is a 16.5 acre special use park established by the County in 1996 and serves as the headquarters for OC Parks. The park retains 24 original ranch structures that represent the proud agricultural history of Orange County and, specifically, the Irvine Ranch. It was once one of the world's greatest producers of Valencia oranges, and a leader in dry farming and livestock.

For more information please visit www.ocparks.com

County Commissions and Committees

The 4th District has vacant appointments on the following commissions or committees:


Oversight Board of the Successor to the City of Redevelopment Agency (Buena Park and Anaheim)
Community Action Partnership of OC
In Home Support Services Commission
Treasury Oversight Committee Member
If you are interested in serving on one of these Committees, please call Audra Fishel at (714) 834.3440

OC Animal Care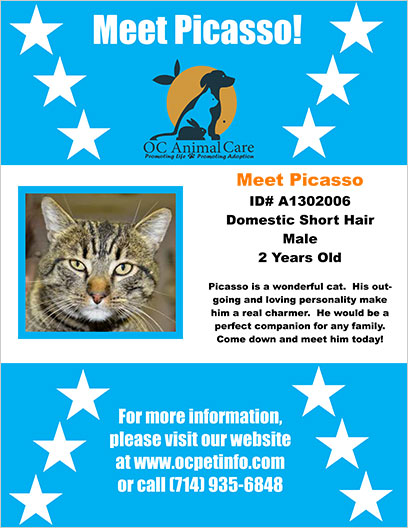 Click on the image above to view a larger version.

Events
Anaheim

What: Neighborhood Watch
Where: Esperanza High School-1830 Kellogg Dr.
When: Tuesday, March 18
Time: 6:30pm

What: St. Catherine's academy 125th Anniversary Celebration
Where: St. Catherine's Academy-215 N. Harbor Blvd.
When: Saturday, March 22
Time: 4:00pm

What: Coffee with a Cop
Where: Loara Elementary School-1601 W. Broadway
When: Wednesday, March 19
Time: 9:00am

Brea

What: Spring Craft Boutique
Where: Brea Community Center-695 East Madison Way
When: Saturday, March 15
Time: 9:00am-4:00pm

What: Veterans Services
Where: Brea Family Resource Center-695 E. Madison Way-Inside the Community Center
When: Wednesday, March 19
Time: 8:00am-5:00pm

What: Sneak Preview for Sixth Grade
Where: Teen Zone-695 East Madison Way
When: Friday, March 21
Time: 6:00pm-9:00pm

Buena Park

What: Fine Arts Commission Meeting
Where: 6650 Beach Blvd.
When: Wednesday, March 19
Time: 6:30pm

What: Senior Citizens Commission Meeting
Where: 6650 Beach Blvd.
When: Thursday, March 27
Time: 9:00am

What: Beautification-Environmental Commission Meeting
Where: 6650 Beach Blvd.
When: Thursday, March 27
Time: 6:30pm

Fullerton

What: City of Fullerton Arbor Day 2014
Where: Woodcrest Park-440 West Orangethorpe Avenue
When: Saturday, March 15
Time: 9:00am

What: Speaker Series at FMC: "An American Girl in Hitler's Germany"
Where: Fullerton Museum Center-301 N. Pomona Ave.
When: Saturday, March 22
Time: 2:00pm

What: Speaker Series at FMC: Life Aboard a Pacific Battleship
Where: Fullerton Museum Center-301 N. Pomona Ave.
When: Saturday, March 29
Time: 2:00pm

La Habra

What: Leprechaun Craft
Where: Family Art Center-201 E. La Habra Blvd.
When: Saturday, March 15
Time: 1:00pm

What: Rainbow Shakers Craft
Where: Family Art Center-201 E. La Habra Blvd.
When: Tuesday, March 18
Time: 1:00pm

What: FAC: Little Picassos
Where: Family Art Center-201 E. La Habra Blvd.
When: Wednesday, March 19
Time: 12:00pm

Placentia

What: Good Morning Placentia
Where: IHOP-131 N. Kraemer Blvd.
When: Wednesday, March 26
Time: 7:30am

What: Traffic Safety Commission Meeting
Where: City Hall Meeting Room-401 E. Chapman Ave.
When: Monday, March 17
Time; 7:00pm-8:30pm


For questions or comments regarding Nelson's E-News
please contact the Supervisor's office staff:
Audra Fishel Ph: 714-834-3440 Email: Audra.Fishel@ocgov.com.


Denis Bilodeau
Chief of Staff

Mark Lopez
Deputy Chief of Staff

Audra Fishel
Policy Advisor /
Communications Director

Steve Spernak
Policy Advisor

Scott Carpenter
Policy Advisor

Natalie Wieckert
Staff Aide



Stay Connected!