Board of Supervisors

Welcome to Nelson's E-News!

In Fullerton, I was honored to participate in the launch of OCTA's innovative bicycle sharing program located in the City of Fullerton, the first of its kind in Orange County. As our County's population continues to grow, alternate transportation options such as bicycling will become more common and necessary.

The County has again partnered with the Angels to invite the young Orange County residents to participate in the annual Eco Challenge poster contest. More information on this revolutionary program is available below.

The next Board of Supervisors meeting will be Tuesday, April 29 at 9:30am in the County Hall of Administration – 333 W. Santa Ana Blvd., Santa Ana 92701. The agenda may be accessed by clicking here.

Sincerely,
Shawn Nelson

OCTA



Bike Safety Workshop

More than 60 people attended OCTA's Bike Safety Workshop on April 14th at Irvine City Hall to discuss regional solutions for biking safety. Bicycle advocates, law enforcement, local jurisdictions, and other stakeholders joined OCTA Chairman Shawn Nelson, Vice Chairman Jeffrey Lalloway, Director Todd Spitzer, and CEO Darrell Johnson in beginning the process of developing workable, collaborative solutions to benefit the entire community.

Following comments by OCTA, cities, and agencies regarding plans to make cycling a viable and safe choice for commuting and recreational travel, an open discussion centered on the need for increased education, interjurisdictional coordination, and infrastructure improvements.

At the meeting, OCTA reported it was hiring an Active Transportation Coordinator to focus on bicycle and pedestrian programs and also introduced the "Bike Smart. Bike Safe." educational campaign.

For more information, please click here.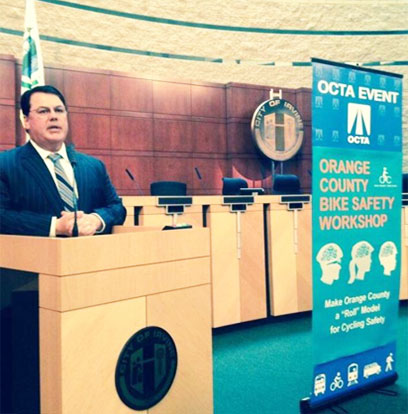 Supervisor Nelson addressing the crowd at Irvine City Hall

OCTA BikeShare Dedication

On April 22, the Orange County Transportation Authority hosted a BikeShare Dedication and Earth Day event in Fullerton to celebrate a greener way to travel.

The BikeShare launch is part of OCTA's continued efforts to improve mobility by offering quick, point-to-point trips as an alternative to traveling by car. Hopefully, residents, students and visitors will use the bike sharing program to link with transit services, closing the gap between commuters' starting points and their final destinations, often called the last-mile connection.

OCTA recently concluded a three-month beta test period and currently has more than 90 bikes in the eleven-station system. The remaining four stations should be installed by early summer. Together, the two-year BikeShare pilot project will ultimately have fifteen stations and 165 bikes located at key destinations in the city of Fullerton. A map of the current and future stations is below.

For more information on the event and the BikeShare program, visit octa.net/bikeshare.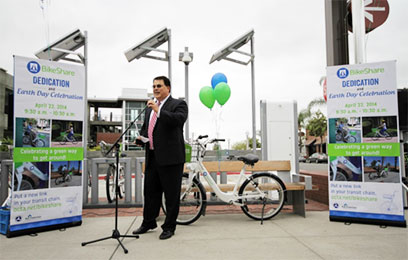 Supervisor Nelson kicking off the Bike Share dedication event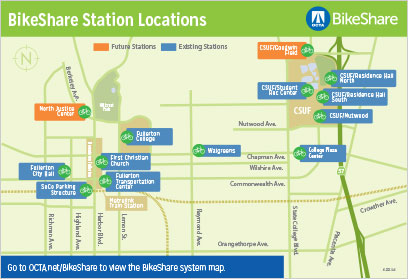 Click on the image above to view a larger version.

OCTA Seeks Help Planning For Transportation Future

The Orange County Transportation Authority is seeking public input to help plan for the county's transportation needs for the next 20 years.

A draft copy of the Long Range Transportation Plan, called Outlook 2035, was presented to the OCTA board at a recent meeting and is now up for public review and comment on the website at: www.octa.net/lrtpdraftplan.

A review period will follow with an open house to solicit more input on the plan scheduled for 5 to 7 p.m. on May 7 at OCTA Headquarters, 550 S. Main Street in Orange.

Every four years, the OCTA completes a Long Range Transportation Plan that examines the county's expected transportation needs, accounting for changes in demographics, the economy and available funding.

The plan also explores potential trends in the way people travel through the county as the population changes and looks at a multiple transportation modes, including buses, trains, freeways, city streets, bikeways and more.

During the next 20 years, Orange County's population is expected to grow by about 400,000 people, adding to the demand on the local transportation system.

The plan addresses key issues such as the fact that transportation demands are outpacing capacity, that existing infrastructure needs improvements and that funding is unpredictable.

The Measure M program, the county's half-cent sales tax for transportation, is the centerpiece of long-range planning. The Long Range Transportation Plan includes Measure M projects and looks beyond at additional needs throughout the county.

In comparison to transportation systems that existed as of 2010, the plan calls for the addition of:

New bus and streetcar service on key, high-demand streets
Enhanced bus routes to maintain on‐time performance
20 weekday Metrolink trains
650 miles of bikeways
820 lane miles on the Master Plan of Arterial Highways
200 freeway/carpool lane miles
242 tollway lane miles
450 vanpools and station vans
The draft plan includes many suggestions based on initial input from the public, including:

Optimize – Make better use of what we have by synchronizing traffic signals, widening major intersections, improving transit connections and improving conditions in carpool lanes.
Maintain – Preserve existing streets and roads, and fix potholes.
Educate – Inform the public about public transportation and non-motorized transportation options, and develop bicycle and pedestrian safety programs.
Innovate – Develop faster mass transit solutions and include innovative solutions, such as real-time passenger information and electronic ticketing to encourage transit use.
Collaborate – Communicate within and across county borders to develop regional solutions and connections.
After the public review period, which lasts through June 20, necessary revisions will be made to the draft plan. It is then expected to go before the OCTA board for approval in September. The Long Range Transportation Plan will then be submitted to the Southern California Association of Governments, where it will serve as Orange County's input into the Regional Transportation Plan. For more information, visit octa.net/lrtpdraftplan.

In the Community

Medal of Valor Awards

Joining the crowd of 952 Deputies, special officers and families, Supervisor Nelson was honored to recognize the accomplishments and incredible heroism of 47 members of the Orange County Sheriff's Department last week. Hosted at the Irvine Hotel, the 26th annual Medal of Valor Awards Luncheon was presented by the Sheriff's Advisory Council to recognize the outstanding members of the department and to raise money for special projects, equipment and training.

After the introduction and welcome by Steve Alford, the Sheriff's Advisory Council President, master of ceremonies, Ed Arnold, explained in vivid detail the Deputies courage in handling life-saving and life-threatening confrontations with criminals and victims.

Closing the litany of events, the presentation of the Medal for Lifesaving and Medal of Valor was given to Deputy Michael Higgins. On Sept 24th 2013, Deputy Higgins was assigned to back up another Deputy in Laguna Niguel responding to a mentally unstable 21 year old. When Deputy Lopez confronted the suspect he was immediately injured by a knife when the suspect ambushed him on his approach. Seeing that Deputy Lopez was in dire straits, Deputy Higgins used deadly force to stop the attacker and save Deputy Lopez's life. The citation presented by Supervisor Nelson read, "For your swift and courageous actions that saved the life of your partner, we are honored to present you with the Medal of Valor and Medal for Lifesaving in keeping with the highest traditions of Law Enforcement."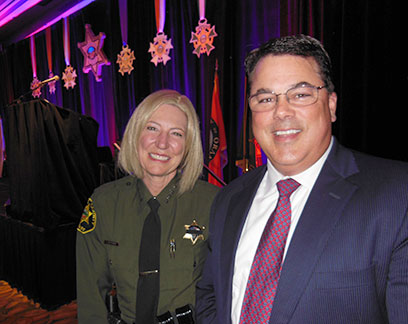 Sheriff Sandra Hutchens joined Supervisor Nelson honoring the heroism of 47 Deputies, staff and Special Officers at the Medal of Valor Luncheon

La Habra Citrus Fair

This year's La Habra Citrus Fair returned with the theme "Back to the Farm." It's four, fun filled days are jam packed with thrilling rides, exciting stage shows, delicious food and fabulous merchandise. The fair's Mascots Limon the Lemon, Val the Orange and Hass the Avocado were on hand to entertain the kids. The petting zoo and gold panning stations were also huge hit this year!

Fourth District representatives set up for a busy weekend of community outreach at the Festival. Over the course of the weekend, hundreds of attendees received Council on Aging Senior Guides, pens, whistles, and County informational brochures.

Each year the Citrus Fair is hosted by the La Habra Chamber of commerce, located at 321 E. La Habra Boulevard between Cypress and Euclid Streets.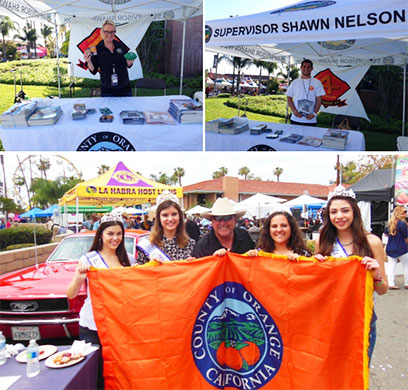 (Top Left) Supervisor Nelson Policy Advisor, Audra Fishel (Top Right) Supervisor Nelson Staffer Jesus Nodarse (Bottom) Supervisor Nelson Policy Advisor Steve Spernak joined by the pageant court

OC Hispanic Chamber Awards

Supervisor Nelson was proud to honor recipients of the annual 2014 Estrella Awards hosted by the Orange County Hispanic Chamber of Commerce on Saturday, April 12th, at the Disneyland Hotel Grand Hotel.

The event was attended by over 800 Chamber members, civic leaders, VIP and public officials who extended congratulations to the top community and business leaders of Orange County. Receiving honors from Supervisor Nelson for their contributions, volunteerism and corporate philanthropy were:

Corporate Responsibility: Southern California Edison
Education: Orange County School of the Arts
Business of the Year: RMI International
Community Based Organization: CASA of Orange County
Viola Myre OC Volunteer of the Year: Teresa Mercado-Cota
Ambassador of the Year: Maria Cervantes
Community Service: Ana Nogales, PHD
Community Partner: Orange County Black Chamber of Commerce
Lifetime Achievement Award: Rosario Marin
For more information on how you can be part of this premier collection of business and visionary community leaders please contact Jessica Salcedo: jsalcedo@ochcc.com

Policy Advisor Steve Spernak and Director of OC Hispanic Chamber Ruben Franco

Heritage Council Honors Supervisor's Support

Supervisor Nelson was honored this past week with a visit and presentation of a Certificate of Appreciation by the Orange County Heritage Council. Heritage Council President Dr. Devera Heard, joined by Pastor Leon Clark, extended their thanks for the Supervisor's promotion and third year walking in the 34th annual Black History Parade 2014. Hosted in downtown Anaheim, Supervisor Nelson walks the half mile parade route with family, friends and staff and enjoys re-connecting with friends, residents and local VIP who come out for the parade.

After the walk, families enjoy the downtown street fair, BBQ, clothing and commemorative sales booths along with inspirational speeches that honor the heritage and accomplishments of African-Americans throughout the USA and Orange County.

For more information on how you can be a part of the OC Heritage Council, please call: (714) 673-2468.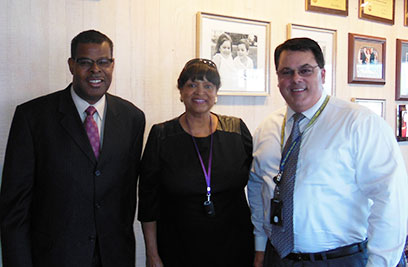 (Left to Right) Pastor Leon Clark joined with Dr. Devera Heard in honoring Supervisor Nelson for his support of the 2014 Heritage Council Black History Parade

OC Spirit of Volunteerism Awards

Supervisor Nelson was honored to be part of the recognition team that attended the 2014 OneOC Spirit of Volunteerism Awards hosted at the Disneyland Hotel this past week. Backed by the media and PowerPoint magic that only Disney can produce, each of the 375 volunteers and their associations and companies were honored through video depictions and commentary of a year's worth of accomplishments.

Over 1,000 attended the awards luncheon. Joining in the celebrations and extending the appreciation of both Supervisor Nelson and the people of Orange County were Policy Advisors Scott Carpenter and Steve Spernak. Both staff members deal directly with many of these agencies and volunteers in providing County resources and communications to thousands of residents who see their efforts at community festivals, military memorial events, charity runs like the Tinkerbelle 10k and most recently the 5k run to support the Ronald McDonald House.

Special congratulations to Cam Irons, owner of Nieuport 17 restaurant for his catering work with Veterans First and the Council on Aging. Also acknowledged was Officer John DeCaprio with the Fullerton Police Department and his work with the homeless through the Coast to Coast Foundation.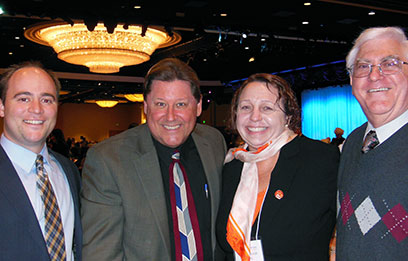 Policy Advisors Scott Carpenter (left) and Steve Spernak (center) helped celebrate volunteerism heroes at the Disneyland Hotel awards luncheon with Director Ursula Walsh and Volunteer Phil Orland.

Announcements
County of Orange and Angels Baseball Present the 2014 Eco Challenge Poster Contest

Young Orange County residents once again have the opportunity to participate in the 2014 Eco Challenge poster contest presented by the County of Orange and Angels Baseball.

This year's challenge invites boys and girls between the ages of eight and fourteen (8-14) to use their imagination and get creative in designing a unique eco-themed poster. In celebration of the 125th anniversary of the County of Orange, the County is looking for young artists to create artwork demonstrating what the next 125 years will look like if we take the Eco Challenge and work toward a sustainable future. Visit

Posters are due by Monday, June 30, 2014.They must be delivered in person or mailed to Discovery Science Center. Five lucky winners (one from each of Orange County's Supervisorial District) will be awarded the status of Honorary Bat Kid during one of five predetermined Angels Baseball home games in July, August or September 2014. Winners will also receive the following:

Four tickets to a predetermined Angels home game
Complimentary parking for the game
One Bat Kid uniform
One official baseball for autographs
One on-field credential for dugout access (for Bat Kid only)
Recognition on the video board during pre-game activities
One professional field photo
Eligibility
Contest is open to boys and girls who will be between the ages of eight (8) and fourteen (14) at some point during the Angels Baseball regular season.

Design Guidelines

Size: Minimum: 11" X 17" Maximum: 22" X 28"
Materials: Poster should be designed on a white background. Artwork should not be computer generated. Paints, crayons, chalks, markers, pencils, pens, etc. are allowed.
Content: Artists are allowed to incorporate text relevant to environmentally friendly message. The visual design of the poster must relate to one of the above themes. Poster should be vibrant and aesthetically appealing. Copyrighted characters or name brands (e.g., Coca-Cola, McDonald's, etc.) should NOT be used in artwork; use of such brands or characters will result in disqualification.
Please do not fold posters. Entries must be matted, flat or rolled, and not folded.
Name, address, age, phone number, and district must be written on the back of the poster.
Poster orientation: Portrait
Judging
Posters will be judged based on originality (20%), visual clarity (20%), relevance to theme (20%), artwork (20%), and effectiveness of message (20%). Winners will be selected by the County of Orange, Discovery Science Center and Angels Baseball leadership.

Deadline and Submission Process
Posters should be mailed or brought to Discovery Science Center at the address below by June 30, 2014. Limit one (1) entry per contestant. Winners will be notified by phone by July 31, 2014. Winners will have ten (10) days to claim their prize, after which the prize will be awarded to another winner. A completed Waiver Release Form must be submitted with your entry to be eligible to win.


Discovery Science Center
Attn: Bat Kid Contest
2500 N. Main St.
Santa Ana, CA 92705


Submittals should indicate on the poster the Supervisorial District in which the contestant resides:


| | |
| --- | --- |
| 1st District | Garden Grove, Midway City, Santa Ana, Westminster, Fountain Valley |
| 2nd District | Buena Park, Costa Mesa, Cypress, Fountain Valley, Huntington Beach, La Palma, Los Alamitos, Newport Beach, Seal Beach, Stanton, Rossmoor |
| 3rd District | Anaheim Hills, Irvine, Orange, Silverado Canyon, Modjeska Canyon, Tustin, Villa Park, Yorba Linda |
| 4th District | Anaheim, Brea, Buena Park, Fullerton, La Habra, Placentia |
| 5th District | Aliso Viejo, Coto de Caza, Dana Point, Irvine, Laguna Beach, Ladera Ranch, Laguna Hills, Laguna Niguel, Laguna Woods, Lake Forest, Las Flores, Mission Viejo, Rancho Santa Margarita, San Clemente, San Juan Capistrano, Crystal Cove, Emerald Bay |

Any posters not claimed by September 30, 2014 will be recycled. To claim your poster, please e-mail ocecochallenge@ocwr.ocgov.com.

Supervisor Nelson's Chief of Staff, Denis Bilodeau is joined by last year's poster contest winner from the Fourth District, ten-year-old Jack Taylor

Do you know any hometown heroes?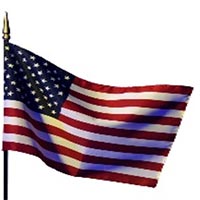 The Fourth District is accepting submissions to recognize unsung heroes in our community.

This may include public safety, first responders, or friends and neighbors who have gone above and beyond the call of duty in everyday life to enrich our community.

To share your story, please call or email Audra Fishel: Audra.Fishel@ocgov.com 714-834-3440

OC Parks


Rancho Days Fiesta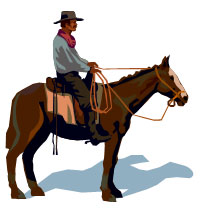 Come explore the rich history of Orange County's past from Native American tribes to the Rancho period through hands-on activities, crafts, music and dance.

Activities Include:

Early California ranching hands on activities
Butter churning, Candle dipping, and Piñata breaking
Crafts for children
Mid-Century music and dancing
Historic Buildings open, courtesy of Amigos de la Colina Docents
Location: Heritage Hill Historical Park
Date: Sunday, May 4, 11 a.m. to 3 p.m.

Admission $4.00 for adults and $3 for children (3-12)
Heritage Hill Historical Park
25151 Serrano Road
Lake Forest, CA 92630
(949) 923-2230
heritagehill@ocparks.com
http://ocparks.com/historic/heritage/

County Commissions and Committees

The 4th District has vacant appointments on the following commissions or committees:


Oversight Board of the Successor to the City of Redevelopment Agency (Buena Park and Anaheim)
Community Action Partnership of OC
In Home Support Services Commission
Treasury Oversight Committee Member
If you are interested in serving on one of these Committees, please call Audra Fishel at (714) 834.3440

OC Animal Care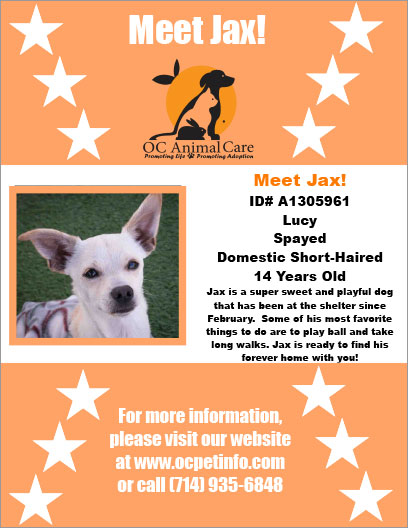 Click on the image above to view a larger version.

Events
Anaheim

What: Ribbon Cutting Habitat for Humanity of OC Restore
Where: Habitat for Humanity of OC Restore 1656 West Katella Ave. Anaheim, CA 92802
When: Saturday, April 26, 2014
Time: 11:00 AM – 2:00 PM

Fullerton

What: Community Center FREE Preventative Health Care
Where: St. Mary's Church, 400 W. Commonwealth Ave. Room 8B
When: Monday, April, 28, 2014 (The second and fourth Mondays of every month)
Time: 9:00AM -2:00 PM

What: Kiwanis Club of Fullerton
Where: Howard Johnson Hotel (formerly Wyndham Hotel), 222 W. Houston Ave, Fullerton, CA
When: April, 28, 2014 (Every Monday)
Time: 12:00 PM – 1:00 PM

Buena Park

What: Children's Art Festival
Where: 6688 Beach Boulevard, Buena Park, CA 90621
When: Saturday, April 26, 2014
Time: 12:00 PM – 5:00 PM

Brea

What: Congressman Ed Royce presents Military Academy Night
Where: Buena Park City Hall - Chamber Room
When: Tuesday, April 29, 2014
Time: 7:00 PM - 8:30 PM

What: LEAD$ Lunch: Brea's ultimate networking solution!
Where: Olive Garden Italian Restaurant 270 Brea Mall Way, Brea, CA 92821
When: Wednesday, April 30, 2014
Time: 11:45 AM - 1:15 PM

Placentia

What: Free Shredding, E-waste, and Pharmaceutical Collection Event
Where: Placentia Civic Center
When: Saturday, April 26, 2014
Time: 8:00 AM – 2:00 PM

What: Veterans Advisory Committee Meeting
Where: City Hall Meeting Room
When: Monday, May 5
Time: 6:30 PM – 8:00 PM

La Habra

What: Polo Buddies Water Polo Class
Where: Splash La Mirada 13806 La Mirada Blvd. La Mirada, CA 90638
When: Sunday, April 27, 2014
Time: 10:45 AM – Ongoing, year around

What: La Habra Mayor's Prayer Breakfast
Where: La Habra community Center 101 W. La Habra Blvd.
When: Thursday, May 1, 2014
Time: 6:15 AM - 8:15 AM

For questions or comments regarding Nelson's E-News
please contact the Supervisor's office staff:
Audra Fishel Ph: 714-834-3440 Email: Audra.Fishel@ocgov.com.


Denis Bilodeau
Chief of Staff

Mark Lopez
Deputy Chief of Staff

Audra Fishel
Policy Advisor /
Communications Director

Steve Spernak
Policy Advisor

Scott Carpenter
Policy Advisor

Natalie Wieckert
Staff Aide



Stay Connected!