Board of Supervisors

Welcome to Nelson's E-News!

Thank you for reading this edition of my newsletter. I hope you find the information below very helpful. As always, I appreciate and look forward to your feedback.

The Board of Supervisors held a meeting this week. Please see below for highlights. The next meeting will be Tuesday, January 27, 2015 at 9:30am in the Hall of Administration – 333 W. Santa Ana Blvd., Santa Ana 92701.

Please see photos and descriptions below of some of the events our office was able to attend in the community this week. If you were unable to attend, there are other events listed at the end of this newsletter.

Sincerely,
Shawn Nelson

Board Update


Supervisor Nelson takes Oath of Office for his second term

On Friday January 2nd Supervisor Nelson rang in the New Year by taking the Oath of Office for his second term on the Board of Supervisors. Supervisor Nelson was re-elected by the voters of the Fourth District in June with a large majority and avoided a runoff election in November. Board of Supervisors Clerk of the Board Susan Novak administered the oath to Supervisor Nelson at a private swearing-in in the Supervisors office. The new term will run through January of 2019.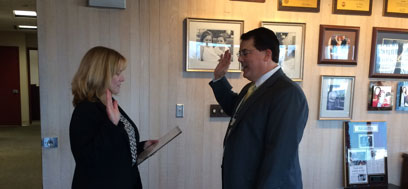 Clerk of the Board Susan Novak administering oath to Supervisor Shawn Nelson

Clerk-Recorder Hugh Nguyen takes oath of office

Hugh Nguyen was reelected as the Orange County Clerk-Recorder in the November general election and was sworn in at the County Hall of Administration on January 2, 2015.

Supervisor Todd Spitzer administered the oath of office to Hugh Nguyen, who enters a four-year term as Orange County Clerk-Recorder. Supervisor Shawn Nelson was the MC during the oath of office. Currently the only Vietnamese-American to hold a County office in the United States, Nguyen was originally appointed Clerk-Recorder in April 2013 by the Board of Supervisors.

A resident of Santa Ana, he began working in the Clerk-Recorder's office in 1993, rapidly rising through the ranks to become Chief Deputy Recorder in 1998. He continued serving in that capacity until 2006 when he became Assistant Clerk of the Board of Supervisors, a position he held until becoming Orange County Clerk-Recorder in 2013.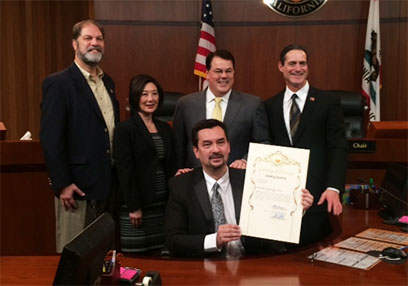 Hugh surrounded by Supervisor John Moorlach, Vice Chair Lisa Bartlett, Supervisor Shawn Nelson and Chairman Todd Spitzer

Supervisor Spitzer Will Serve as Board Chairman for 2015

Supervisor Todd Spitzer has been chosen unanimously by his colleagues to serve as Chairman of the Orange County Board of Supervisors for 2015. Supervisor Lisa Bartlett will serve as the Board's vice chair.

This is Supervisor Spitzer's second round on the Board, having served from 1997 to 2002, when he was elected to the State Assembly. He thanked his colleagues for supporting his chairmanship: "I'm grateful for the respect and confidence that my colleagues showed in me by selecting me as Chair."

With Orange County emerging from bankruptcy after 20 years, Spitzer talked about looking forward as a County to reestablish exemplary leadership and excellent stewardship of resources and assets. He said he also looks forward to leading the strategic planning effort for the County, which he hopes will include protecting public safety, growing the local economy, improving Orange County's infrastructure and securing fiscal solvency.

Supervisor Spitzer represents the Third District, which includes Anaheim Hills, Irvine, North Tustin, Orange, Orange Park Acres, Tustin, Villa Park, Yorba Linda, and the Canyons.

Supervisor Bartlett represents the Fifth District, which includes Aliso Viejo, Dana Point, Laguna Beach, Laguna Hills, Laguna Niguel, Laguna Woods, Lake Forest, Mission Viejo, Rancho Santa Margarita, San Clemente and San Juan Capistrano, and the unincorporated areas of Coto de Caza and Ladera Ranch.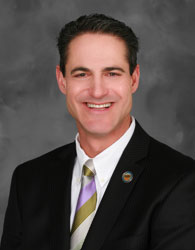 Chairman Todd Spitzer

Metrolink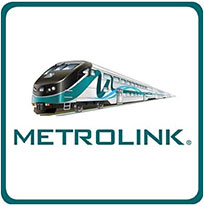 Shawn Nelson named Chairman of Metrolink

The Southern California Regional Rail Authority Board of Directors, the governing body of Metrolink, unanimously elected Orange County Transportation Authority (OCTA) representative Orange County Supervisor Shawn Nelson as its chair at its regular monthly meeting.

Riverside County Transportation Commission (RCTC) member and Perris Mayor Daryl Busch was elected first vice chair, while Ventura County Transportation Commission (VCTC) member and Moorpark Mayor Pro Tem Keith Millhouse was elected to be second vice chair.

The elections result in one-year terms, but the officers may serve a two-year term if re-elected.

Nelson, currently serving on the OCTA Board of Directors, was first elected to the Orange County Board of Supervisors in June 2010 and was recently re-elected for another four-year term. He began serving on the Metrolink Board of Directors as a voting member in January 2013.

For additional details on Metrolink, please visit www.metrolinktrains.com.

OCTA



Employee of the month presentations

Shawn Nelson joined OCTA's executive staff to honor three employees of the month at OCTA's Santa Ana bus terminal on January 7th. (1st photo) is William Steen, Coach Operator of the Month for December. (2nd photo) is Renauldo A. Matthews, Coach Operator of the Month for October. (3rd photo) is Scott Lake, Maintenance Employee of the Month for October. Scott is a Certified Journeyman Mechanic. (4th photo) is Calvin Truong who was presented a certificate on January 6th. Calvin was the Maintenance Employee of the Month for December. He is a Certified Journeyman Mechanic. Each employee exemplifies OCTA's core values of integrity and teamwork, congratulations to the recipients!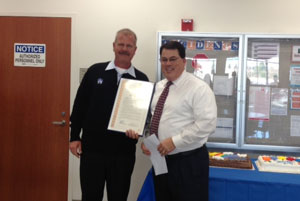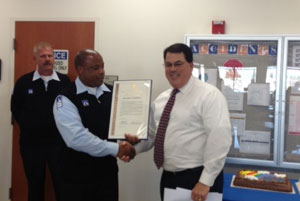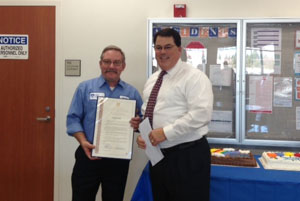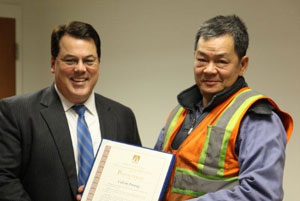 Irvine Mayor Pro Tem Lalloway Selected as OCTA Board Chairman

Irvine Mayor Pro Tem Jeffrey Lalloway was unanimously selected as the new chairman of the Orange County Transportation Authority Board of Directors.

Lalloway served as the OCTA board's vice chairman for the last year. He replaces outgoing Chairman Shawn Nelson, also the county's Fourth District Supervisor, who remains on the board.

Lalloway is a father, husband, attorney and businessman, who has served on the Irvine City Council since December 2010. He has served on the OCTA board since January 2013.

He started his law career in Pennsylvania, where he worked in the Philadelphia office of the U.S. Attorney. Later, Lalloway went into private practice and moved his offices to Irvine. He now practices family law in Orange County.

His commentaries on financial and economic issues have been featured in prominent newspapers and magazines, including Time, People and USA Today. He graduated with highest honors in 1986 from Rutgers University, with a bachelor's degree in political science. In 1989, he graduated at the top of his class with a law degree from Villanova Law School.

Lalloway and his wife, Laura, are the proud parents of two daughters, Regan, 11, and Sydney, 7. They also opened their home to two pugs, Rocky and Sammy.

Lalloway also serves on the board of directors for the Orange County Fire Authority. He is an active cyclist who helps raise funds for research to combat ALS, better known as Lou Gehrig's disease.

Replacing Lalloway as vice chairman is Director Lori Donchak, who is a member of the San Clemente City Council. She joined the OCTA board in January 2013.

Also sworn in today at the first board meeting of 2015 was Director Michelle Steel, also the county's Second District Supervisor.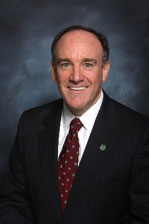 OCTA Chairman Jeff Lalloway

In the Community

Urban Table Grand Opening in Brea

On Thursday, January 8th, Tempo Urban Kitchen celebrated their grand opening with a ribbon cutting ceremony among family and friends. Orange County is now home to Tempo Urban Kitchen, a Chef-driven, farm-to-table dining experience unlike any other in the region. With a menu of fresh, sustainable ingredients presented in one-of-a-kind dishes, the new Brea restaurant brings a modern American dining experience to the region's vast culinary landscape. The mastermind behind Tempo Urban Kitchen is seasoned restaurant veteran Jorge Cueva, who has opened numerous concepts across the country. Tempo Urban Kitchen is located at 1070 E Imperial Hwy. and can be reached at (714) 529-2900. The Fourth District thanks you for your investment in the City of Brea and wishes you best of luck in all future endeavors.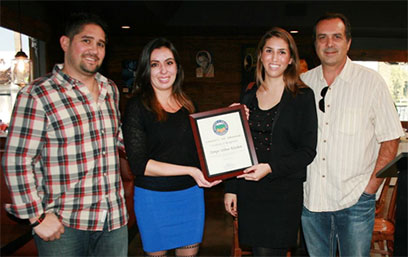 Jorge Cueva, Jackie Cueva, 4th District Staffer Natalie Wieckert and John Lascari

Consensys Property Management

On Tuesday, approximately 50 chamber of commerce members, elected officials, staff and well-wishers attended the 50th anniversary ribbon cutting of Consensys Property Management. Consensys is a family owned and operated company that has been in business locally for the last half-century providing premier property management services. These services include experienced property managers, cloud-based accounting and management software, and a full-time and dedicated maintenance team. It is also an Accredited Management Organization by the Institute of Real Estate management.

In 1965, Thomas and Louise Jones founded a small property management company with a lot of ambition and a goal to shoot for the stars. Through their business savvy and superior customer service, Consensys has grown into the strong and thriving business that it is today.

In January 2014, Tom and Louise's children took over the company from their parents. The aim of the company stays the same – to achieve excellence in property management and to meet the needs of its owners. Kevin Jones, Suzanne (Jones) Dunn, Jeff Jones, and Stephen Jones are confident that they will build on what Tom established and continue to grow a strong and prosperous Consensys.

Consensys Property Management fully understands the hassle of owning an investment property and not having the time to take care of it. Focusing on exemplary customer service, efficient and effective maintenance, and streamlined processes, Consensys strives to be the best in property management and to help owners maximize their investment potential with as little stress as possible.

Consensys would like to thank all of its owners, associates, and superb employees for joining the journey and for making Consensys what it is today. Supervisor Shawn Nelson congratulates them and wishes them another 50 years of success!

Please contact their broker, Laurel Dial, at 714-393-8003, for a quote or for more information or visit their website at www.consensyspm.com.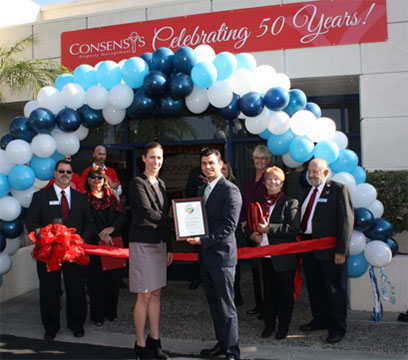 Deputy Chief of Staff Mark Lopez presenting the 4th District Certificate of Recognition to Suzanne Dunn.

Buena Park Knights of Columbus Christmas

Supervisor Nelson completed his 4th year supporting the Buena Park Knights of Columbus Christmas Rally with the donation of 16 full-size turkeys that were cooked and donated as part of the gift-bags for home-bound seniors. A total of 102 turkeys were donated and part of the 150 bags of food with canned goods, frozen chicken, fish and breads were given out on Christmas day. 400 children received gifts and one-ton of gently used clothing and 175 blankets were also distributed. Congratulations to VFW Chairman John Muller for another terrific humanitarian effort to deliver blessings to the needy in Buena Park.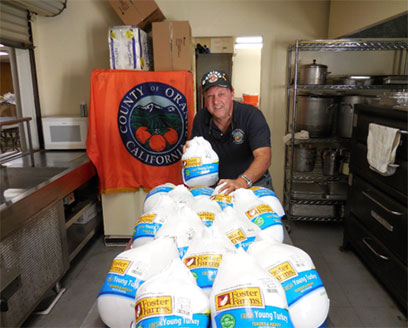 4th District Staffer Steve Spernak

Christmas at Independencia Center

Supervisor Nelson completed his 4th year supporting the seniors at the Independencia Center Christmas luncheon with the donation of full-size apple pies and chilled whip cream delivered by Policy Advisor Steve Spernak. Special thanks to Center director Rosa Renteria for coordinating the delivery and photo ops with the senior women at the Garza Street community center in West Anaheim.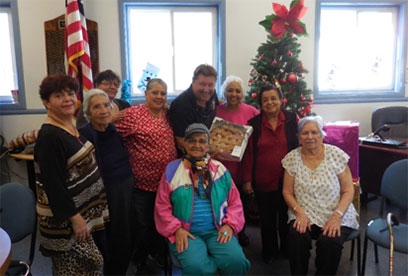 4th District Staffer Steve Spernak surrounded by his friends at the community center

Supervisor Honors Fullerton Police Officers

Supervisor Nelson was proud to honor two of Fullerton's Finest with Letters of Commendation to honor their professional performance and exemplary compassion for a family who had stopped to deliver their baby on the way to the hospital.

Last Tuesday night, just before midnight, Officer Joe Torres and Corporal Lloyd White were dispatched on a medical aid "9-11" call at Bastanchury and Euclid.

Arriving prior to Fullerton Fire Paramedics, the Officers took immediate care of the soon-to-be mom, secured warm clothes for the dad who'd given up his shirt to help his wife and, during the excitement, took cell-phone photos as a keepsake for the new parents.

The emergency handled, Officer White went so far as to personally drive the family car to St Jude's Hospital so they could have transportation readily available.

To read the Letters of Commendation proudly presented by Supervisor Nelson to Officer White and Corporal Torres, please click here.

Congratulations and best wishes to the Sanchez family with the arrival of their new son, Kru, and special thanks to Officer White and Corporal Torres for their exemplary performance during the medical aid and humanitarian thoughtfulness. As mentioned in the commendation, those combined gestures were in keeping in the highest traditions of law enforcement and complimented the daily efforts of the entire Fullerton Police Department to protect and serve the residents of Fullerton.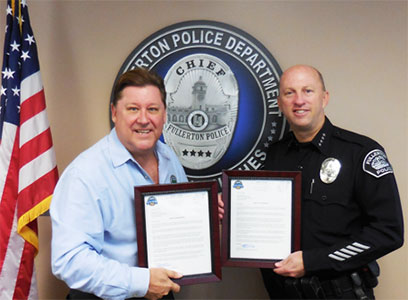 Policy Advisor Steve Spernak delivered Letters of Commendation from Supervisor Nelson to Fullerton Police Chief Dan Hughes to honor two Officers who assisted in the delivery of a baby last week.

Library Corner

The Mobile Hub, Bringing the heart of the library to San Clemente

Kids, teens and adults in San Clemente will once again have a library in their city thanks to OC Public Libraries and the Fullerton Public Library. A temporary Mobile Hub is coming to Vista Hermosa Sports Park. The Mobile Hub will provide best sellers, new nonfiction materials, and books on CD as well as new and popular children's materials. Limited computer service will be also be available. San Clemente library staff will be happy to assist customers with library requests and their information needs.

The Mobile Hub: a Reduce-Reuse-Recycle Project is a cooperative agreement between the City of Fullerton and the County of Orange. It is designed to bring a library presence into the City of San Clemente during their yearlong library construction closure.

The San Clemente Library located on Avenida Del Mar is currently undergoing an extensive remodeling and expansion project. It is scheduled to reopen this summer. Until then stop by and checkout the Mobile Hub. For updates and additional information, please visit the OC Public Libraries website www.ocpl.org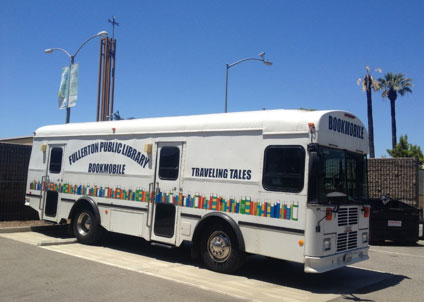 Bookmobile

County Commissions and Committees

The Fourth District has vacant appointments on the following commissions or committees:


Treasury Oversight Committee
Assessment Appeals Board
If you are interested in serving on one of these committees, please call Audra Fishel at (714) 834-3440.

OC Animal Care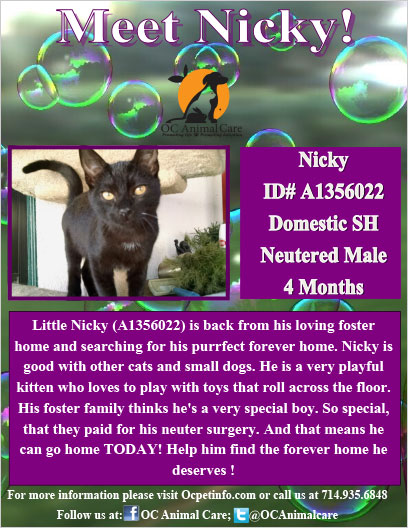 Click on the image above to view a larger version.

Events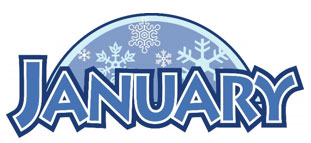 Anaheim

What: Anaheim Chamber Leads Lunch
When: January 28, 2015
Where: 2400 E. Katella Ave., Suite 725
Time: 11:30 AM - 1:00 PM

What: Ribbon Cutting - Silva Management Insurance Services-SMIS
When: January 29, 2015
Where: 1240 Lakeview Ave Suite #125
Time: 4:00 PM - 7:00 PM

Brea

What: Happy Hour!
When: January 16, 2015
Where: BJ's Restaurant & Brewhouse 600 Brea Mall Drive
Time: 4:30 PM - 6:30 PM

What: Grand Opening - Ribbon Cutting - Canyon Cleaners
When: January 22, 2015
Where: 170 Olinda Place
Time: 12:00 PM - 2:00 PM

Buena Park

What: Senior Citizens Commission Meeting
When: January 22, 2015
Where: 6650 Beach Blvd.
Time: 9:00 AM

What: Beautification-Environmental Commission Meeting
When: January 22, 2015
Where: 6650 Beach Blvd.
Time: 6:30 PM

Fullerton

What: Fullerton Arboretum Heritage House Tours
When: January 17, 2015
Where: Fullerton Arboretum, 1900 Associated Rd., Fullerton
Time: 2:00 PM - 3:00 PM

What: Kiwanis Club of Fullerton
When: January 19, 2015
Where: Howard Johnson Hotel (formerly Wyndham Hotel), 222 W. Houston Ave., Fullerton, CA
Time: 12:00 PM - 1:00 PM

La Habra

What: Futsal Festival Presented By Toque
When: January 17, 2015
Where: La Bonita Park (Futsal Field) 1211 Fahringer Way La Habra, CA 90631
Time: 11:00 AM - 4:00 PM

What: Lunch Mob at Mountain Mike's Pizza
When: January 21, 2015
Where: Mountain Mike's Pizza 1240 West Imperial Highway, Suite B
Time: 11:30 AM - 1:00 PM

Placentia

What: Martin Luther King Day - Timeless Melodies: African American Contributions to Popular Music
When: January 19, 2015
Where: Bradford Square Vintage Senior Living
Time: 2:30pm

What: Placentia Farmer's Market
When: January 20, 2015
Where: Placentia Town Center on the corner of Yorba Linda Blvd and Kraemer
Time: 4:00-8:00 PM



For questions or comments regarding Nelson's E-News
please contact the Supervisor's office staff:
Audra Fishel – Phone: (714) 834-3440, Email: Audra.Fishel@ocgov.com.