Board of Supervisors

Welcome to Nelson's E-News!

Thank you for reading this edition of my newsletter. I hope you find the information below very helpful. As always, I appreciate and look forward to your feedback.

The Board of Supervisors held a meeting this week. Please see below for highlights. The next meeting will be Tuesday, August 4, 2015 at 9:30am in the Hall of Administration – 333 W. Santa Ana Blvd., Santa Ana 92701.

Please see photos and descriptions below of some of the events our office was able to attend in the community this week. If you were unable to attend, there are other events listed at the end of this newsletter.

Sincerely,
Shawn Nelson

Board Updates



Orange County Launches Food Inspection App

The County of Orange Health Care Agency is pleased to announce its newest addition to the Public Notification System. In order to keep the public informed about food safety and sanitation at Orange County's restaurants and markets, the Environmental Health Food Safety Program has developed an app that will allow you to search for your favorite restaurant, see what's around you, see all current facilities that are currently closed and even have inspection reports emailed to you. Download the app by following the link here.

Board Permits Alcohol Consumption at Summer Concert Series

The Board of Supervisors recently discussed whether attendees of special OC Parks events can possess and consume alcohol at the site of the event. A Public Hearing was held at the July 21 Board Meeting, and a resolution was brought to the Special Board Meeting on July 24. The resolution allows possession and consumption of alcoholic beverages at the OC Parks 2015 Summer Concert Series. Vice Chair Bartlett and Supervisor Nelson were not present at the Special Board Meeting due to prior commitments, but the resolution passed unanimously among present Supervisors.

Click here to view the concert series event flyer.

OC Eco Challenge Brings Hundreds Out to Angel Stadium

Orange County residents arrive bright and early to earn prizes.

On Saturday, July 25th, Orange County residents began lining up at dawn at Angel Stadium with their cars delivering e-waste and household hazardous waste for proper disposal, along with paper for shredding and gently used clothing. The attraction? The Third Annual Eco Challenge Day Collection Event hosted by OC Waste & Recycling in partnership with Angels Baseball, Goodwill of Orange County, and Discovery Cube OC.

Cars began arriving as early as 5:30 a.m. on Saturday for a chance to win four tickets to an Angel's game or four Discovery Cube tickets. I was pleased to see so many people eager to take advantage of the opportunity organized by OC Waste & Recycling. Angels' second baseman, Johnny Giavotella was there to sign autographs, along with community organizations and their eco-friendly activities.

This successful event drew over 800 people to take the Eco Challenge on Saturday. The County invites residents to the next Eco Challenge Day, which will take place at Discovery Cube on August 22nd from 10 a.m. – 1p.m. For more information contact Melanie Tep at 714-834-4174 or visit ocecochallenge.com.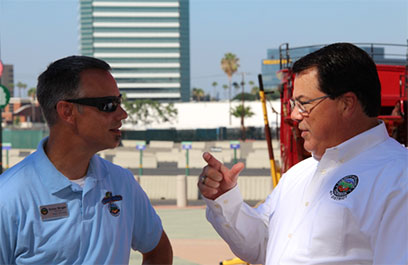 OC Waste and Recycling Director Dylan Wright and Supervisor Nelson

OCTA Update



OC Fair Express Bus Now in Service

(Courtesy of OCTA)

The Orange County Transportation Authority is getting people to the OC Fair quicker than ever with more frequent OC Fair Express bus service and an additional stop in Anaheim this year.

The OC Fair Express will provide non-stop weekend service from nine locations to the OC Fair from now until August 16. Buses will run every 20 minutes from Fullerton and Huntington Beach, every 30 minutes from Santa Ana and every 40 minutes from the two Anaheim stops, Irvine, Laguna Hills, Orange and San Juan Capistrano. Service runs between noon and midnight on Fridays and 10 a.m. and midnight on Saturdays and Sundays.

The bus service costs $2 each way and riders will receive a coupon valid for $3 admission to the fair — a savings of $9 off the regular ticket price.

In 2014, the OC Fair Express, which ran hourly, recorded nearly 77,000 boarding's, a 31 percent increase in ridership over the previous year.

To purchase tickets in advance, riders can download the OC Fair Express app, which also provides bus service schedules and routes. Download the app here.

Riders can catch an OC Fair Express from nine locations:

Anaheim: Anaheim Regional Transportation Intermodal Center, 2626 E. Katella Ave.
Anaheim Canyon: Anaheim Canyon Metrolink Station, 1039 N. Pacificenter Drive
Fullerton: Fullerton Park-and-Ride, 3000 W. Orangethorpe Ave.
Huntington Beach: Goldenwest Transportation Center, 7301 Center Ave.
Irvine: Irvine Metrolink Station, 15215 Barranca Parkway
Laguna Hills: Laguna Hills Transportation Center, 24282 Calle de los Caballeros
Orange: The Village at Orange, 1500 E. Village Way
Santa Ana: The Depot at Santa Ana, 1000 E. Santa Ana Blvd.
San Juan Capistrano: Junipero Serra Park-and-Ride, I-5 Freeway and Junipero Serra Road
The OC Fair Express is made possible in part by a grant provided by the Mobile Source Air Pollution Reduction Review Committee. The committee provides subsidies for cleaner transportation alternatives.

Metrolink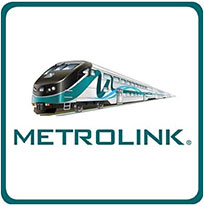 Dodger Great Ron Cey Takes Metrolink and Metro to the "Rail Series"

To kick-off this weekend's Rail Series between the Dodgers and Angels, Dodger great and former third baseman Ron Cey will ride with fans on Metrolink's Rail Series train from the Fullerton station to L.A. Union Station and then hop on the Dodger Stadium Express to Dodger Stadium in time for the first pitch Friday at 7:10 p.m.

Besides train service Friday night, Metrolink's Rail Series trains will also operate for the Saturday and Sunday games at 1:05 and 1:10 p.m. Fans with game tickets transfer for free at L.A. Union Station to the Dodger Stadium Express and dropped off at two convenient locations within the stadium parking lot. Dodger Stadium Express Buses take fans back to Union Station after the game. The Rail Series trains depart for Oceanside one hour after the final out.

Cey will board the 4:49 p.m. Rail Series train at the Fullerton Metrolink station and arrive at L.A. Union Station at 5:35 p.m. He will then walk to the Dodger Stadium Express boarding area near Alameda Street and take the next bus to Dodger Stadium.

Metrolink, Metro, the Los Angeles Dodgers, former Dodger Ron Cey, and Southern California Dodgers and Angels fans. Fans can visit metrolinktrains.com/railseries for more information.

In the Community

Shanghai Garden Opens Doors in Placentia

Shanghai Garden celebrated a grand opening ceremony with the Placentia Chamber of Commerce, local business owners, and representatives from elected offices on Tuesday, July 28. The Chinese restaurant, owned by Lucy Ge and Ian Rob, opened its doors in February. Diners can choose from a wide variety of Chinese dishes, and have the option of a Family Dinner Special for $13.95 per person in a party of at least two people. Delivery is also free with any order or $35.00 or more to locations within five miles of the restaurant.

The restaurant is located at 1448 N. Kraemer Blvd. in Placentia. Orders can be placed at 714-993-3788, and the menu is posted on shanghaigardenoc.com.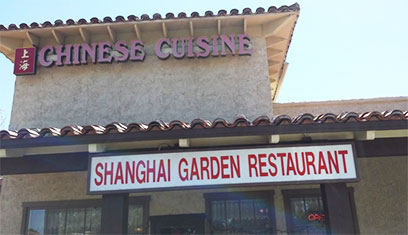 Shanghai Garden Restaurant

Supervisor Honors Top OC Volunteers

Supervisor Shawn Nelson was honored to deliver County commendations to the top volunteers who contributed their time and talents as community docents, public safety specialists and educational mentors at the annual One OC Awards Luncheon.

Honorees received commendations from each of the five Supervisors who were pleased to acknowledge the incredible efforts and time each of the volunteers commit to improving the safety and quality of life in their cities.

Special awards went to Dorothy Charles-Dix for her 30 years of service and volunteer work at the Orange Senior Center. Dorothy has been with OneOC since 1984 and volunteered 17,487 hours.

The other acknowledgement, delivered by Policy Advisor Steve Spernak, on behalf of the Board of Supervisors, went to Kenneth Katz, who has volunteered 22,682 hours working at the Huntington Beach and Fountain Valley Police Departments.

106 recipients received the Presidential commendation for donating over 4,000 hours to their communities. The combined donated hours delivered to the residents through OneOC is an astonishing 682,344 hours.

Congratulations and best wishes to the honorees!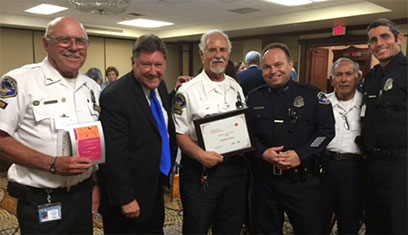 Policy Advisor Steve Spernak delivered commendations to 106 volunteers who donated over 4,000 hours to their communities at the One OC awards luncheon.

Brea Announcement

Brea City Council Votes Unanimously to Appoint Acting City Manager Bill Gallardo to the Permanent City Manager Position

At the last Brea City Council meeting Mayor Marty Simonoff announced that the Brea City Council unanimously voted to appoint Acting City Manager Bill Gallardo to fill the permanent City Manager position. The appointment is effective immediately.

The Brea City Council unanimously selected Bill for this assignment based on his 25 years of experience in Brea in various leadership roles. As part of Brea's management team, Bill has demonstrated a collaborative, communicative leadership style, conservative financial management and an ability to focus on the future while taking care of the daily business of the City.

Gallardo had been serving as the Acting City Manager since his City Council appointment June 16 as a result of the retirement of former City Manager Tim O'Donnell. At that time, the City Council also selected Mayor Marty Simonoff and Mayor Pro Tem Christine Marick to serve on an Ad Hoc Committee with City Attorney Jim Markman to consider an employment contract for the permanent position.

City of Buena Park announcement

"Draw the Future" for Buena Park

Community Workshops for City's New District-Based Voting System Begin August 3, 2015

The City of Buena Park is developing districts for use during future City Council elections. We now need your help to "Draw the Future" for Buena Park.

Beginning with the November 2016 election, Buena Park will elect council members from four individual districts instead of by a citywide vote. The Mayor will be elected by voters citywide.

This transition is necessary to comply with the California Voting Rights Act and to ensure fair representation for all geographic areas. To help ensure Council districts are drawn to reflect and unite Buena Park's vibrant and varied communities, we are asking for your input at the City's upcoming public workshops.

The City wants to know . . .

What do you consider to be your "community" within Buena Park? Is it the neighborhood around a local park? Around a local school? In a development or historic area? Please share your thoughts – the districts are up to you!

Community Workshops will be held on the following days:

Round 1 - Public Input on Communities of Interest and Citizen Participation Kits Released

August 3, 2015, at 6 p.m. Gordon H. Beatty Elementary School – Cafeteria
August 4, 2015, at 6 p.m. City Hall Council Chambers
August 5, 2015, at 6 p.m. Centralia School District Offices
September 1, 2015 - DEADLINE for public submission of initial round public participation kit plans.
Round 2 – Public Input on DRAFT PLANS
September 28, 2015, at 6 p.m. Gordon H. Beatty Elementary School – Cafeteria
September 29, 2015, at 6 p.m. City Hall Council Chambers
October 5, 2015, at 6 p.m. Centralia School District Offices
Round 1 of the community workshops is your chance to influence the City's future before the first pen is put to a map.Learn how to develop and submit your own district map, and make your voice heard as we "Draw the Future for Buena Park" together.

Round 2 will be your opportunity to provide input on the draft plans before they are presented to the City Council for selection of a final preferred plan.

Visit www.DrawBP.org for a complete schedule of workshops, as well as tools to draw and submit your own map proposal. For more information, please call City Clerk Shalice Tilton at (714) 562-3750. Para la traducción en español, por favor visite www.DrawBP.org.

County Commissions and Committees

The Fourth District has vacant appointments on the following commissions or committees:


OC Housing Authority Board of Commissioners
Treasury Oversight Committee
Assessment Appeals Board No.1
If you are interested in serving on one of these committees, please call Audra Fishel at (714) 834-3440.

OC Animal Care
OC Animal Care Staff Member receives CVMA Award

On June, 19th, OC Animal Care's Tammy Osborn was honored with a CVMA (California Veterinary Medical Association) Award for Meritorious Service for the work she does for OC Animal Care's Medical program. Tammy works tirelessly to save pets and give them the second chance that they deserve. In addition to being the Adoption Partner Coordinator for OC Animal Care, she began and oversees the Medical Pets Program, which provides medical and surgical care for seriously ill or injured animals who, if not for their injuries, would be wonderful companions and highly adoptable. Saving animals is a lifelong passion for Tammy, who identifies animals in need and works diligently to get them medical attention and secure their foster care and adoption. Noble Friends Foundation for OC Animal Care helps organize the funding for the pets in this program. Tammy has worked for OC Animal Care for over 20 years. Her tireless efforts to facilitate the care and placement of animals with medical needs make her very deserving of the CVMA Meritorious Service Award.

OC Animal Care's "Katy Cares about Responsible Pet Ownership" Program is a SAVVY Awards Finalist

OC Animal Care was recently notified that their "Katy Cares about Responsible Pet Ownership is a finalist to receive a 2015 Savvy Award. The award, presented by 3CMA (City-County Communications & Marketing Association recognizes outstanding local government achievements in communications, public-sector marketing and citizen-government relationships. The Savvies salute skilled and effective city, county, agency or district professionals who have creatively planned and carried out successful innovations in communications and marketing. "Katy Cares about Responsible Ownership" is a newly developed program that features two books, which tell the story of adopting a shelter pet and feature staff, animals and volunteers from the shelter. In addition, to the books, there are educational activities and a free smaller version of the book printed in both English and Spanish that the children can take home. This program is a finalist in the Printed Publications category and is being considered to receive one of three awards (Savvy, Silver Circle or Award of Excellence). Winners will be announced at the annual 3CMA conference on September 10th.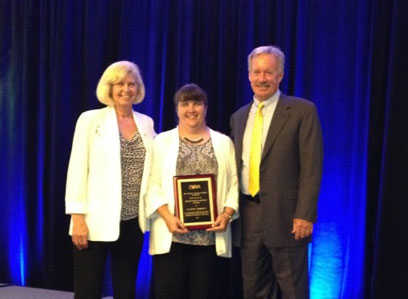 Tammy Osborn with outgoing CVMA President Dr. Dayna Wiedenkeller and Dr. Bill Grant.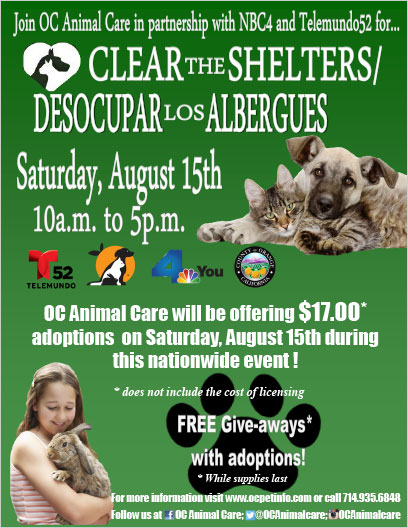 Click on the image above to view a larger version.

Events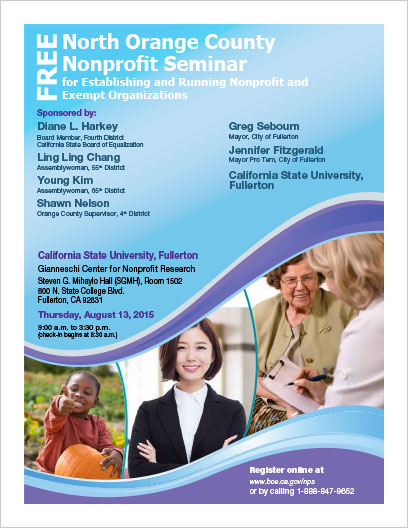 Click on the image above to view a larger version.

Anaheim

What: Summer Outdoor Movie & Food Truck
When: Friday, July 31
Where: 501 S. Western Ave.
Time 5:00 pm - 8:30 pm

What: Annual Folkloric Competition
When: Sunday, August 2
Where: 1440 S. Anaheim Blvd.
Time: TBD
What: City Council Meeting
When: Tuesday, August 4
Where: City Hall Council Chambers – 200 S. Anaheim Blvd.
Time: 5:00 pm

What: Downtown Anaheim Farmers Market
When: Thursday, August 6
Where: 201 W. Center Street
Time: 11:00 am - 4:00 pm

Brea

What: National Night Out
Where: Brea Market Place - 835 E. Birch St.
Time: 4 pm -7 pm

What: Open House hosted by Assemblywoman Ling Ling Chang
When: Tuesday, August 4
Where: 3 Pointe Drive, Suite 313
Time: 4:30 pm - 6:30 pm

What: City Council Meeting
When: Tuesday, August 4
Where: Brea Civic & Cultural Center Council Chamber – 1 Civic Center Dr.

What: Brea Farmers Market
When: Thursday, August 6
Where: 260 W. Birch St.
Time: 4:00 pm - 8:00 pm

Buena Park

What: City Council Meeting
When: Tuesday, August 11
Where: 6650 Beach Blvd.
Time 5:00 pm

What: Planning Commission
When Wednesday, August 12
Where: 6650 Beach Blvd.
Time: 7:00pm

Fullerton

What: Mad Science Camp: NASA Jr. Astronauts
When: Monday, August 3 – Friday, August 7
Where: 1155 N. Lemon
Time: 9:00 am - 12:00 pm

What: City Council Meeting
When: Tuesday, August 4
Where: City Hall Council Chambers – 303 W. Commonwealth Ave.
Time: 6:30 pm

What: Fullerton Downtown Market
When: Thursday, August 6
Where: Downtown Plaza on Wilshire Ave., between Harbor Blvd. and Pomona Ave.
Time: 4:00 pm - 8:30 pm

What: North Orange County Nonprofit Seminar
When: Thursday, August 13
Where: Steven G. Mihaylo Hall at CSUF, Room 1502 - 800 N. State College Blvd.
Time: 9:00 am to 3:30 pm

La Habra

What: Mysterium Theater Summer Youth Theater Camp
When: Friday, July 31
Where: 311 S. Euclid St.
Time: 9:00 am – 5:00 pm

What: Fiddler on the Roof
When: Thursday, August 6
Where: 311 S. Euclid St.
Time: 7:00 pm

What: Corn Festival
When: Friday, August 7 – Sunday, August 9
Where: 320 E. Erna Ave.
Time: 5:00 pm - 11:00 pm

Placentia

What: Movie in the Park
When Friday, July 31
Where 505 N. Jefferson
Time: 7:30 pm - 9:30 pm

What: City Council Meeting
When: Tuesday, August 4
Where: City Council Chambers – 401 E. Chapman Ave.
Time: 7:00 pm – 9:00 pm

What: Concert in the Park
When: Thursday, August 6
Where: 2301 N. Kraemer Blvd.
Time: 6:30 pm

What: Concert in the Park
When: Thursday, August 13
Where: 2301 N. Kraemer Blvd
Time: 4:00 pm



For questions or comments regarding Nelson's E-News
please contact the Supervisor's office staff:
Audra Fishel – Phone: (714) 834-3440, Email: Audra.Fishel@ocgov.com.