Board of Supervisors

Welcome to Nelson's E-News!

Thank you for reading this edition of my newsletter. I hope you find the information below very helpful. As always, I appreciate and look forward to your feedback.

The Board of Supervisors held a meeting this week. Please see below for highlights. The next meeting will be Tuesday, September 1, 2015 at 9:30am in the Hall of Administration – 333 W. Santa Ana Blvd., Santa Ana 92701.

Please see photos and descriptions below of some of the events our office was able to attend in the community this week. If you were unable to attend, there are other events listed at the end of this newsletter.

Sincerely,
Shawn Nelson

Board Updates



Board Approves Two Office of Independent Review-related Contracts

On a bifurcated vote, the Board voted 3-2 to contract with Michael Gennaco at $10,000 per month until December 31, 2015 and 4-1 to retain the current Executive Director, Stephen Connolly, at $17,500 per month plus car allowance also until the end of the year.

The contract with Mr. Gennaco took effect immediately on a monthly pro-rated basis and will provide for his assistance in developing the ordinances, policies and model for independent oversight of Orange County law enforcement agencies. To read the contract in full, click here. Separately, the current Executive Director's contract, due to expire August 31, 2015, was extended to December 31, 2015. The monthly salary and car allowance are $17,500 and $765, respectively, plus expense reimbursement.

In his dissent on both votes, Supervisor Nelson noted the inherent conflict in Mr. Gennaco working with the Orange County OIR Executive Director together at the OIR Group and serving as a reference for him while simultaneously critiquing the role and shortcomings of the OIR in Orange County since 2008. In addition, continuing to pay the Executive Director's salary for four more months provides no further transparency, accountability or value to the public or federal authorities.

The current mission of the OIR is to strengthen the response of the Orange County Sheriff's Department to its critical incidents and allegations of officer misconduct, and to increase the public's confidence in that response, by providing full-time civilian oversight. More information is available at ocoir.ocgov.com.

Supervisors Appoint Peter Hughes as Performance Audit Director

The Board of Supervisors has appointed Peter Hughes to a three- year term as the County's permanent performance audit director.

The performance audit position is responsible for conducting independent performance reviews of County operations to assess efficiency, effectiveness, accountability and compliance with state and federal laws, Board policy and industry best practices. Hughes will work directly with the Board of Supervisors and in consultation with the County Executive Office. His annual salary will be $192,000.

Since April, Hughes has been serving as the interim performance audit director following the departure of Philip Cheng. Previously Hughes was the County's director of internal audit, a position he held since being appointed by supervisors in July 1999.

Hughes is a Certified Public Accountant, licensed in California and Oregon, as well as a Certified Information Technology Professional, Certified Internal Auditor, and Certified Fraud Examiner.

OC Parks appoints Deputy Director

OC Parks is pleased to announce that they have appointed a new OC Parks Deputy Director, after a long and competitive recruitment process.

Jonathan Nicks will be joining OC Parks with fifteen years of local government experience, having most recently served as the Director of Community Services and Public Works in the City of Placentia. Prior to his tenure with Placentia, Jon presided as a regional operations manager for one of the OC SSA contractors providing welfare-to-work case management, and as a social services worker and recreation leader for the City of Norwalk. He has also served as the Executive Director of the Placentia Community Foundation – a 501(c)3 non-profit organization dedicated to raising funds for local community programs. Jon has extensive experience in facility and landscape maintenance, capital project management, contract administration, grant administration, public outreach, recreation, cultural arts, and social services. Additionally, he holds a Master of Public Administration from CSU Long Beach, a Bachelor of Arts in English from CSU Fullerton, and is an active member of the National Parks & Recreation Association, American Public Works Association, and California Parks & Recreation Society. During his free time, Jon enjoys traveling, Dodgers baseball, movies, and, most of all, spending time with his wife, four year-old daughter, and two year-old son.

In the Community

REI celebrates OC Parks grant

On Thursday, August 20th REI held a check presentation ceremony for SHARE Mountain Bike Club and OC Park staff. As mentioned in our previous newsletter, SHARE Mountain Bike Club of Orange County submitted an REI grant proposal of $30,000 on OC Parks behalf to advance the subsequent phases of the Craig Park Bike Facility project.

In early 2014, OC Parks initiated a study with the IMBA Trail Solutions program to determine the feasibility of hosting bike park activities in Orange County and to explore creating facilities within OC Parks. Several existing county regional park locations were considered in a draft study. Craig Regional Park was selected as the most feasible due to the proposed site location, size, topography, and proximity of amenities.

The proposed project involves creating a non-motorized bike facility for all ages, abilities, and skill level. The project area is approximately 10 acres and is located at the southernmost part of Craig Regional Park.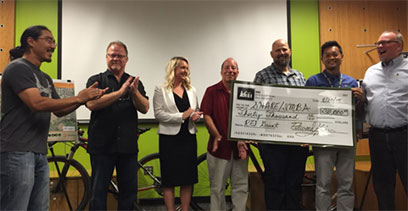 Policy Advisor Audra Fishel celebrates with REI and OC Parks staff

OCTA



Nearly $3 Million Awarded to Improve Water Quality

(Courtesy of OCTA)

The Orange County Transportation Authority board recently allocated nearly $3 million to improve water quality in Orange County.

The funds come from Measure M, a half-cent sales tax approved by Orange County voters in 2006 for transportation improvements. The ballot measure includes funding for an environmental cleanup program that awards money on a competitive basis to cities and the county for projects that reduce the impacts of water pollution related to transportation.

Protecting the county's natural resources, while at the same time improving the transportation network, is a key promise made to voters in Measure M.

After reviewing 26 applications from 20 cities and the County of Orange, the OCTA board approved to make $2.9 million available for 18 projects focused on removing visible pollutants, such as litter and debris, from roads before they reach waterways. These projects include purchasing or upgrading screens, filters and inserts for catch basins, as well as other devices designed to remove pollutants.

The following cities, along with the County of Orange, received funding: Fullerton, La Habra, Orange, Westminster, Mission Viejo, Tustin, Buena Park, Lake Forest, Fountain Valley, Placentia, Rancho Santa Margarita, Irvine, Cypress, Garden Grove, Anaheim, Brea and Laguna Hills.

The OCTA board has approved funding for 102 projects since the inception of this program in 2011, totaling just more than $11 million. An estimated half million cubic feet of trash has since been captured as a result of the installation of these devices.

For more information of the Measure M water quality program, visit octa.net/water.

Metrolink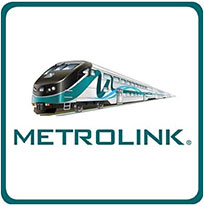 Take Metrolink to the Orange International Street Fair!

Every Labor Day weekend, the antique-and-restaurant-packed City of Orange hosts the Orange International Street Fair. Full of music, international food booths, and fun, the fair attracts visitors from all over SoCal. Parking will be scarce and expensive. Why not take Metrolink? No parking required! The Orange station is two short blocks from the fair.

OISF is a diversified event featuring:

15 ethnic streets with 42 food and alcohol booths. Food and alcohol booths are run by local non-profits with all proceeds going directly back to them.
Handmade Arts and Crafts section featuring local artists and their crafts.
Community Booth section showcasing local non-profits and the causes they support.
Commercial Section featuring local companies promoting their businesses.
A street dedicated to kids with crafts and games.
8 Stages of entertainment featuring local bands playing ethnic music and your favorite songs.
More info: http://www.orangestreetfair.org/

Location: Plaza Square Park, Old Towne Orange
Time: Sept 4-6, 2015

Directions

Ride Metrolink OC or IEOC line to the Orange station
Exit the Orange station and head west on Chapman Avenue
Walk two blocks toward Plaza Square Park
The fair is along Chapman Avenue and Glassel Street

County Commissions and Committees

The Fourth District has vacant appointments on the following commissions or committees:


Oversight Board of the Successor to the City of Redevelopment Agency (Buena Park and Anaheim)
OC Housing Authority Board of Commissioners
Treasury Oversight Committee
Assessment Appeals Board No.1
If you are interested in serving on one of these committees, please call Audra Fishel at (714) 834-3440.

Library Corner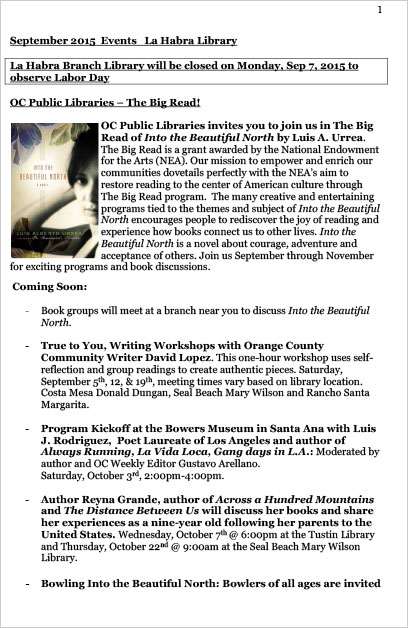 Click on the image above to view a larger version.

OC Animal Care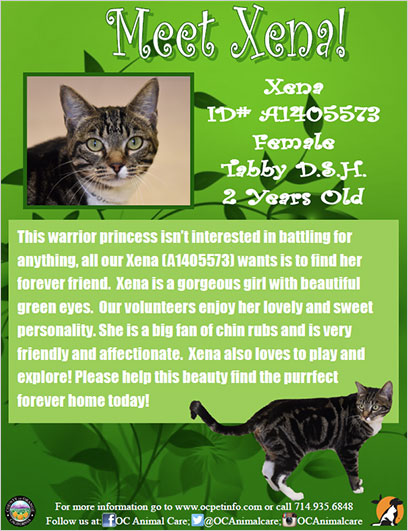 Click on the image above to view a larger version.

Events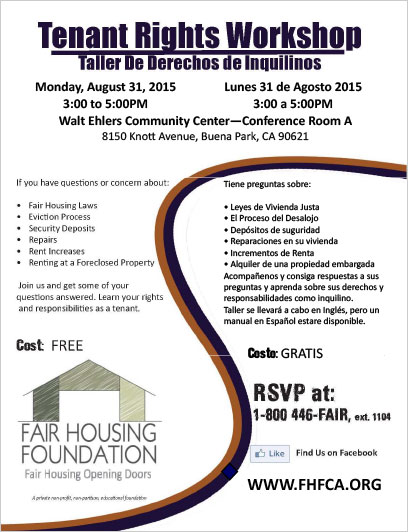 Click on the image above to view a larger version.

Anaheim

Name: Anaheim Chamber Leads Lunch- September 9, 2015
Date: September 9, 2015
Time: 11:30 AM - 1:00 PM
Location: Red Lion Hotel 1850 S. Harbor Blvd. Anaheim, CA 92802

Name: 2015 Business Links Networking Golf Tournament
Date: September 14, 2015
Time: 8:30 AM - 4:30 PM
Location: Anaheim Hills Golf Course 6501 E. Nohl Ranch Rd. Anaheim, CA 92807

Brea

Name: Spiritual Emphasis
Date: August 28, 2015
Time: 10:00 AM - 11:00 AM
Location: 500 Sievers Avenue Brea, CA 92821

Name: City Council meeting
Date: September 1, 2015
Time: 7:00 PM - 9:00 PM
Location: 1 Civic Center Circle plaza level, Brea

Buena Park

Name: Buena Park Senior Activity Center
Date: August 29, 2015
Time: 9 AM – 1 PM
Location: 8150 Knott Avenue Buena Park 90620-3159

Name: SUMMER CONCERTS IN THE PARK
Date: September 2, 2015
Time: 7 PM – 9 PM
Location: Boisseranc Park, 7520 Dale Street

Fullerton

Name: YWCA of North Orange County Youth Employment Services (Y.E.S.)
Date: August 31, 2015
Time: 12:00 PM - 5:00 PM
Location: Downtown Center, 250 Center Street, Anaheim, CA

Name: Fullerton Homeless Collaborative Meeting
Date: September 2, 2015
Time: 1:30 PM - 3:00 PM
Location: Maple Community Center: 701 S. Lemon in Fullerton-Located in Lemon Park behind Maple School

La Habra

Name: ConnectUp at Corner Bakery
Date: September 3, 2015
Time: 8:00 AM - 9:00 AM
Location: Corner Bakery in La Habra 1040 W. Imperial Highway (at Idaho St.) La Habra CA 90631

Name: Enterprise Team Thursday Meetings 9:30am
Date: September 3, 2015
Time: 9:30 AM - 10:30 AM
Location: La Habra Chamber of Commerce 321 E. La Habra Blvd La Habra CA 90631

Placentia

Name: NOCLA (North Orange County Legislative Alliance)
Date: September 2, 2015
Time: 7:30 a.m. - 9:00 a.m.
Location: Brea Civic Center Community Room - 2nd Floor 1 Civic Center Drive Brea, CA

Name: Placentia Chamber of Commerce Board of Directors Meeting
Date: September 3, 2015
Time: 9:00 a.m. - 11:00 a.m.
Location: Placentia Chamber of Commerce 117 No. Main Street Placentia



For questions or comments regarding Nelson's E-News
please contact the Supervisor's office staff:
Audra Fishel – Phone: (714) 834-3440, Email: Audra.Fishel@ocgov.com.


Denis Bilodeau
Chief of Staff

Mark Lopez
Deputy Chief of Staff

Audra Fishel
Policy Advisor /
Communications Director

Steve Spernak
Policy Advisor

Natalie Wieckert
Policy Advisor

Joy Kim
Staff Aide


Stay Connected!