Board of Supervisors

Welcome to Nelson's E-News!

Thank you for reading this edition of my newsletter. I hope you find the information below very helpful. As always, I appreciate and look forward to your feedback.

The Board of Supervisors held a meeting this week. Please see below for highlights. The next meeting will be Tuesday, September 22, 2015 at 9:30am in the Hall of Administration – 333 W. Santa Ana Blvd., Santa Ana 92701.

Please see photos and descriptions below of some of the events our office was able to attend in the community this week. If you were unable to attend, there are other events listed at the end of this newsletter.



NEVER FORGET 9.11.2001


Today marks the 14th anniversary of September 11, the worst terrorist attack on U.S. soil. It is with great honor to remember the 3,000 fallen heroes and victims lost on September 11, 2001. May our nation never forget and continue to move forward in the pursuit of happiness, and defense of liberty for all.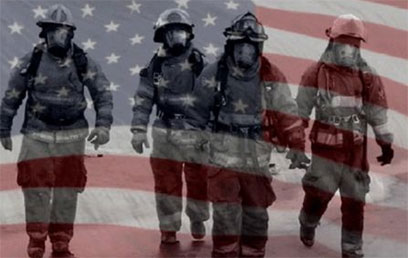 Sincerely,
Shawn Nelson

Board Updates



Orange County Applies for Active Transportation Grant

Last week, the Board of Supervisors voted to apply for grant funding to host Tactical Urbanism Pop Up Program events in several Orange County cities, which are temporary, low-cost improvements to local neighborhoods. They are intended to give residents the opportunity to see enhancements to Orange County's active transportation efforts of bicycling and walking before they become permanent.

In partnership with the Southern California Association of Governments (SCAG), OC Parks applied for the funding on September 3. There is no financial burden on the County as SCAG will use existing Active Transportation Program grant funding for the required 50% match of the approximately $400,000 program.

The funding is available through the Mobile Source Review Committee Local Government Match Program of the South Coast Air Quality Management District (AQMD). If awarded, OC Parks would transfer funding directly to SCAG to be incorporated into an existing contract to develop and host the Tactical Urbanism events.

These events will illustrate the impacts and benefits of active transportation friendly streets and infrastructure along specific corridors. SCAG will coordinate event logistics and work with local vendors and community organizations to provide booths for educational materials and giveaways.

These funds will also allow SCAG to conduct demonstration projects to raise public awareness of existing gaps/segments along the OC Loop and other Orange County regional bikeway routes. These demonstration projects may include reconfiguring streets to set up plazas, striping crosswalks or bike lanes with non-permanent paint, altering public spaces so stakeholders can see potential for improvement and understand benefits of innovative urban design and provide an opportunity to discuss these concepts with examples on the ground.

SCAG is planning to host these demonstration events in May 2016, October 2016 and Spring 2017. The public will be notified of the event locations and dates once determined. The award is expected to be made by early December. For more information, please CLICK HERE.

US Airways ticketing moves to terminal A at John Wayne Airport

Effective yesterday, the US Airways ticket counter at John Wayne Airport (JWA) will be located in Terminal A, next to American Airlines. Passengers being dropped off, checking in luggage and needing assistance from a ticket agent should proceed to Terminal A on the Departures (upper) Level of the Thomas F. Riley Terminal.

The move of the US Airways ticket counter from Terminal B to Terminal A brings the two airlines one step closer to operating as American Airlines. This move will be followed by a complete transition of all US Airways flights and services to American Airlines, scheduled to occur on October 17, 2015. Information about the merger can be viewed at aa.com/findyourway.

As always, John Wayne Airport passengers can check in and print boarding passes prior to coming to the Airport, or utilize one of the many self-service kiosks in the Riley Terminal lobbies to print boarding passes. Passengers checking luggage will still need to visit the appropriate airline ticket counter, however those with only carry-on luggage can proceed directly to security screening. Passengers can use any of JWA's three screening checkpoints to reach any gate in the Riley Terminal.

Toll Roads



Toll Roads Travel Tips

As summer comes to an end, The Toll Roads would like to remind drivers and visitors to avoid toll violations a few simple options.

Visitors driving through Orange County to and from the Inland Empire, San Diego and Los Angeles are encouraged to drive The Toll Roads (State Routes 73, 133, 241 and 261) as alternatives to the freeways.

The 73 Toll Road is a popular route for drivers traveling between Los Angeles and San Diego. The 241 Toll Road is a popular route to get to and from the Inland Empire, mountains and deserts to Orange County's beaches.

Travel Tips for Drivers and Visitors:

Temporarily Add a License Plate – Are you hosting out-of-town guests for the holiday or renting or borrowing a vehicle? Temporarily add a vehicle's license plate number to your ExpressAccount® or FasTrak® account to continue to pay electronically. Log in to your account at www.thetollroads.com and click on the "Vehicle Information" tab to easily add a vehicle for a temporary basis.


Pay Tolls Online Using One-Time-Toll – Visitors can pay tolls online or via The Toll Roads' free app using the One-Time-Toll® payment option. With One-Time-Toll, drivers have 5 days after their trip to make a One-Time-Toll payment to avoid receiving a Notice of Toll Evasion. To download the app, search "The Toll Roads" in the Apple App or Google Play Stores.


Calculate Tolls Online – Want to know what the cost is for a particular trip? Check out The Toll Roads' online toll calculator at www.thetollroads.com. To easily calculate your toll, select the road you will drive; your entry and exit points (choose "unknown" if you are not sure); how you will pay; and the number of axles your vehicle has. The toll calculator webpage also features a downloadable map and rate card.


Pack Your Fastrak Transponder – FasTrak is used to collect tolls electronically on all of California's tolled bridges, lanes and roads – including the 10/110 Metro ExpressLanes in Los Angeles; The Toll Roads and 91 Express Lanes in Orange County; the I-15 Express Lanes and 125 South Bay Expressway in San Diego; the I-680 Express Lanes in Alameda; the Golden Gate Bridge in San Francisco and various bridges in the Bay Area. Make sure the vehicle you will be driving is registered to your FasTrak account and tolls will be collected electronically.

In the Community

Supervisor Nelson Guest Speaks to CSUF Local Government Class

Supervisor Nelson had the opportunity once again to visit the Cal State University Fullerton campus last week as a guest speaker to discuss his background, the issues that accompany working at the County of Orange and how he manages all the different responsibilities.

The hour and a half discussion with approximately thirty students in the Introduction to Local Government class covered issues such as the County government structure, budget and its functions. Supervisor Nelson also mentioned some of his roles outside the County, including being Chair of the Metrolink Board of Directors and a member of the OCTA Board of Directors, and engaged in a brief question and answer session.

This is the third year in a row that Supervisor Nelson has been invited by Professor Chris Reese to share his experiences with CSUF students and is looking forward to next year!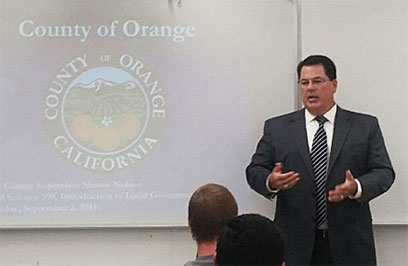 Supervisor Nelson speaking to CSUF students

3rd Annual Eco Challenge Poster Contest Winners Awarded at Angel Stadium

Five winners of the annual Eco Challenge Poster Contest were honored at a pre-game ceremony at Angel Stadium last Friday. Fourth District Deputy Chief of Staff Mark Lopez participated in the on-field ceremony and presented Fourth District winner Kianna De La Torre with a certificate of appreciation for her artwork depicting positive recycling habits. See photos here.

Only five winning posters were selected from a total of 300 entries submitted by contestants throughout Orange County. Posters were judged based on originality, visual clarity, relevance to theme, artwork, and effectiveness of message.

One winner was selected from each of the County's five supervisorial districts.



Congratulations to all the winners!

2015 Eco Challenge Poster Contest Winners are:

Alex Hawley, Garden Grove – First District

Andrew Han, Cypress – Second District

Elena Sherrill, Irvine – Third District

Kianna De La Torre, Anaheim – Fourth District

Cara Adams, Ladera Ranch – Fifth District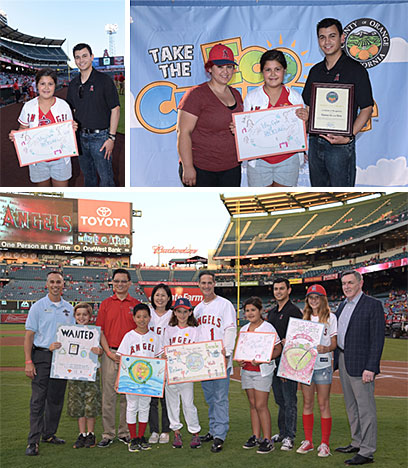 Eco Challenge Poster Contest Winners

Buena Park High School Awards

Supervisor Nelson was thrilled to receive the news from Buena Park High School Principal Jim Coombs who announced his school's students, staff and community supporters were the only k-12 academic center to have been awarded all four of the 2015 State-wide awards this Spring.

Honors included:

2015 California Gold Ribbon Award


2015 Exemplary ARTs Award


2015 Exemplary Career Technical Education (C.T.E.) Award


2015 Title 1 Academic Achievement Award
To complement the incredible achievements from California (listed above), Principal Coombs advised the Supervisor that his school also received national recognitions from scholastic reviews completed by the nation's top magazines.

Commendations included:

2015 California School Boards Association Golden Bell Award – EARLY College (4th in four years)


2015 US News and World Report Top 1000 US High Schools (5th in six years)


2015 Newsweek Top 500 US High School for Beating the Odds (5th in five straight years)
Research by these top magazines revealed an astonishing yearly progression of better test scores and college placement by the students at Buena Park High School which lived up to its motto as the home for scholars and champions.

It is because of the hard work of their students and staff that the entire school celebrates these accomplishments and Supervisor Nelson is proud and honored to acknowledge the incredible performance of the BPHS students who are champions in the classroom, champions on the field and champions in life.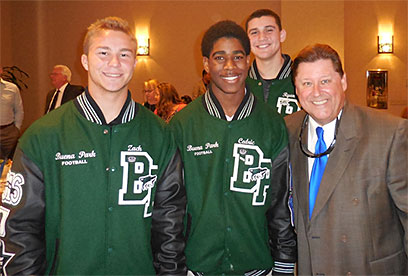 Policy Advisor Steve Spernak (right) talks with Varsity football stars about their statewide recognitions BPHS received for outstanding academic performance improvement.

The Fourth District Welcomes New Learning Center to Brea

Supervisor Nelson was proud to partner with the Brea Chamber of Commerce last week for the ribbon-cutting grand opening of the new No Limits Learning Center.

Located at 331 Thor Place, Brea, just south of Lambert and the 57 freeway, the modern day-care center is dedicated to the educational opportunities for adults with developmental disabilities.

Under the direction of their president and CEO Courtni English, the center that opened in February now has 35 active clients who are taught by a caring staff an array of daily life skills, health and fitness, dance and music routines and art therapy as part of their academic rigors.

For families looking to place an adult member with developmental disability challenges into this fantastic program, please call Courtni at (714) 674-0368 and check out their website at www.nolimitsc.org

Continued success and best wishes to the No Limits Learning Center.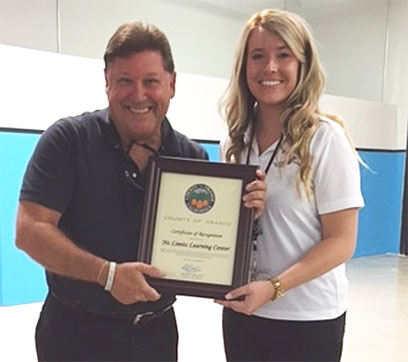 Policy Advisor Steve Spernak presented Supervisor Nelson's Certificate of Recognition to CEO Courtni English at the ribbon-cutting for No Limits Learning Center.

New Buena Park Library District Board Member Sworn In

The Buena Park Library District Board of Trustees welcomes its newest Board member, Irene Castaneda. Ms. Castaneda was appointed as a Library Trustee by the Orange County Board of Supervisors and was sworn in at the monthly Board meeting on Tuesday, September 1, 2015. Castaneda replaces Board Member Donna Miller, who resigned in July when she moved from the City. Castaneda will serve out Miller's term which ends in December 2016.

Irene is a lifelong resident of the City of Buena Park and is currently pursuing a major in Early Childhood Education at Fullerton College. She is a member of the Successful Families of Buena Park Community Organization advocating and helping to build a healthier community for the children of Buena Park. She volunteers at Gilbert Elementary School and Gilbert's Parent Teacher Organization (PTO). Irene is also a Peer to Peer Educator, educating families and the community on good health and nutrition choices. "As a mother, I understand the importance of reading at a very young age to increase a child's success throughout school. I want to ensure everyone in the Buena Park community has access to all that the Library offers to our young children and families", said Trustee Castaneda. "We are fortunate to have a well-qualified candidate who cares deeply about the community and the future of the Library," said Mary Fuhrman, Board president.

Library board members are elected officials who dedicate their time establishing library policies, setting the strategic vision, and assuring adequate funding for library services. Library Board meetings occur every month, on the first Tuesday, at 5:30 p.m. and are open to the public. For more information, please call the library at 714.826.4100 x125, or visit our virtual branch at www.buenaparklibrary.org. The Buena Park Library District is located at 7150 La Palma Ave, Buena Park, CA.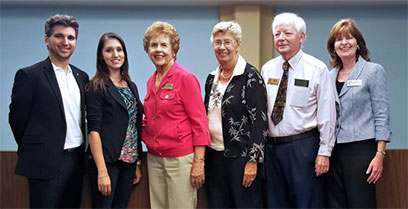 Trustee Al Salehi, Trustee Irene Castaneda, Board President Mary Fuhrman, Trustee Patricia Ganer, Trustee Dennis Salts, Library Director, Mary McCasland

Fourth District Resident Cliff Chaffee Turns 100

Supervisor Shawn Nelson was honored to recognize a living legend in Brea this week with birthday congratulations delivered to 100 year old Cliff Chaffee by Policy Advisor Steve Spernak at a reception hosted by Tim Takahashi and Andrea Nino at the Brea Senior Center.

Clifford A. Chaffee was born at Parsons, Kansas in 1915. As a boy, his family moved to Long Beach, California where he attended Franklin Junior High School and Poly High School before joining the United States Navy in 1933.

He served in World War II and Korea. During World War II he served in the Aircraft Service Unit at Roy Namur Island. He arrived there, landing on the beach with the Marines. His specialty was to lead a group of men to repair damaged planes from various aircraft carrier battle groups and send the repaired aircraft back into battle.

During his enlistment, Chief Chaffee was stationed at various duty stations. One was the aircraft carrier U.S.S. Essex during the Korean conflict.

After serving more than 21 years in the United States Navy, Chief Chaffee decided to stay in Long Beach where he has worked and lived for 61 years. He was married to his wife, Grace, for 75 years before her passing in March 2013. They have one daughter, Jeri, two grandchildren, and six great grandchildren.

Chief Chaffee's history of heroism extended beyond his years of military service. At the age of 70, he was presented the Carnegie Hero Medal for saving the life of a neighbor's four year old boy, rescuing the child from a house fire. In 2012, he was honored to participate in the Veterans History Project for the Library of Congress.

Chief Chaffee has been with the Fleet Reserve Association, Branch 43, continually for the past 74 years. He held every position, including Branch President, and he was instrumental in arranging for the funds and the artist for the Stature of the Lone Sailor that overlooks the ocean in Long Beach.

Congratulations to Cliff and his spirit of patriotism and love for life that has inspired thousands over the 100 years of his life's journey.

Supervisor Nelson honored WWII Navy Veteran Cliff Chaffee with his Century Award to honor his military service and life's journey to the age of 100

Orange County Says Goodbye to "Hoagy" Holquin

Orange County sadly said its last goodbye's to Hoagy Holquin at formal Catholic funeral ceremonies at St. Anthony Claret Catholic Church in Anaheim.

Representing Supervisor Nelson, Policy Advisor Steve Spernak delivered condolences to Mrs. Holquin, the family and about 400 friends who gathered to celebrate the remarkable life of this prominent civic leader who loved everything Anaheim.

Steve Spernak was joined by Mayor Tom Tait and Councilmember Lucille Kring along with the president of the Los Angeles Police Protective League who delivered a touching message to the family about how Hoagy was twice-named as their Citizen of the Year for his work helping LAPD athletics.

Hoagy's fundraising and contributions to the LAPD Baker-to-Vegas competition for 25+ years prompted the LAPD to change the name of their MVP trophy to the James "Hoagy" Holquin Award. Hoagy proudly served as a member of the Anaheim Police Officer Honorary Association.

Hoagy was dedicated to the children of Anaheim, helped Supervisor Nelson at the annual Flag Day honors, served as a Trustee with the Anaheim Union High School District and was on the advisory board of the CSUF Mihaylo College of Business.

Hoagy is survived by siblings Anthony, Sherrie, Michael, Carrie, Colleen, Claudia and Erica, as well as his 3 daughters. His beloved wife, Patty, offered him a second family, as her children became his along with the ten grandchildren who adored him as their teddy-bear of a Grandfather.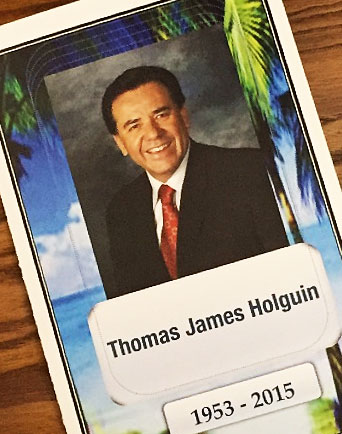 County Commissions and Committees

The Fourth District has vacant appointments on the following commissions or committees:


OC Housing Authority Board of Commissioners
Assessment Appeals Board No.1
If you are interested in serving on one of these committees, please call Audra Fishel at (714) 834-3440.

Library Corner
Adults creative book folding workshop – Buena Park

The Buena Park Library will be offering a workshop for adults on the creative art of book folding on Thursday, September 17th at 2:00pm in the Library's Board Room.

Book folding is an innovative way to upcycle and repurpose used books and turn them into objects of art. By folding the pages of books in a repetitive pattern, they become artistic pieces that can be displayed individually on shelves or in a grouping as a centerpiece. Choose from several simple book folding patterns and make your own decorative art piece. The final result is an eye-catching sculpture, whose shape is determined by the type of fold selected.

For more information, please call the library at 714.826.4100 x125, or visit our virtual branch at www.buenaparklibrary.org. The Buena Park Library is located at 7150 La Palma Ave. The Library is open Monday through Thursday, 10:00 a.m. – 8:00 p.m. and Friday and Saturday, 10:00 a.m. – 5:00 p.m.

OC Animal Care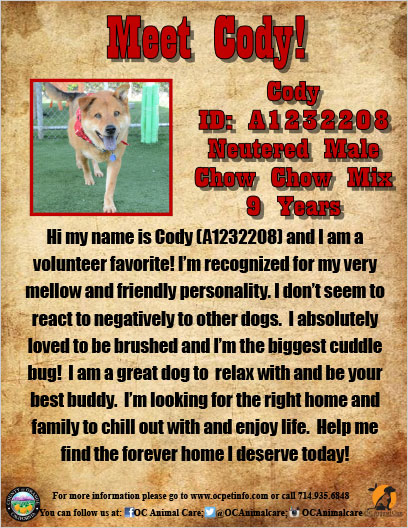 Click on the image above to view a larger version.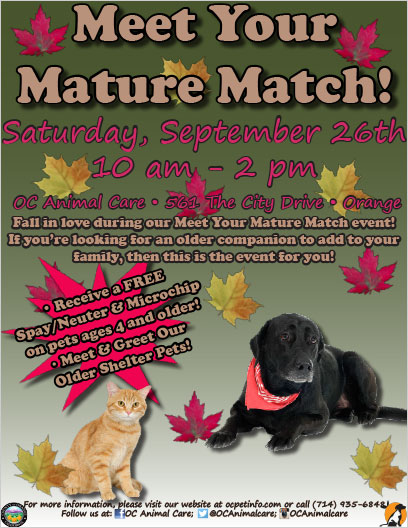 Click on the image above to view a larger version.

Events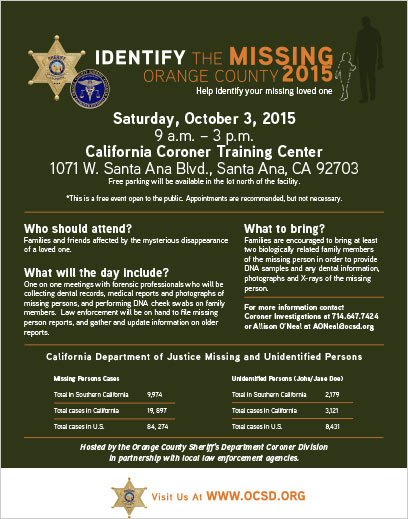 Click on the image above to view a larger version.

Anaheim

Name: AFTER GOLF MIXER
Date: September 14, 2015
Time: 5:00 PM - 7:30 PM
Location: Anaheim Hills Golf Course 6501 E. Nohl Ranch Rd. Anaheim, CA 92807

Name: 2015 Business Links Networking Golf Tournament
Date: September 14, 2015
Time: 8:30 AM - 4:30 PM
Location: Anaheim Hills Golf Course 6501 E. Nohl Ranch Rd. Anaheim, CA 92807

Brea

Name: 9th Annual Tee It Up For the Troops Golf Tournament
Date: September 14, 2015
Time: 8:30 AM - 7:00 PM
Location: Alta Vista County Club Placentia, CA

Name: Basic Sales & Tax for Small Business
Date: September 15, 2015
Time: 10:00 AM - 11:30 AM
Location: City of Brea Civic Center Second Floor Conference Center One Civic Center Circle Brea, CA 92821

Buena Park

Name: Deadwood Dick or a Game of Gold!
Date: September 11, 2015
Time: 8:00 PM - 10:00 PM
Location: 8150 Knott Avenue Buena Park 90620-3159

Name: Fine Arts Commission Meeting
Date: September 16, 2015
Time: 6:30 PM
Location: 6650 Beach Blvd. Buena Park, California 90621

Fullerton

Name: Community Center FREE Preventative Health Care
Date: September 14, 2015
Time: 9:00 AM - 2:00 PM
Location: St. Mary's Church, 400 W. Commonwealth Ave. Room 8B

Name: YWCA of North Orange County Youth Employment Services (Y.E.S.)
Date: September 14, 2015
Time: 12:00 PM - 5:00 PM
Location Downtown Center, 250 Center Street, Anaheim, CA

La Habra

Name: La Habra Highlander Car Show
Date: September 12, 2015
Time 9:00 AM - 2:00 PM
Location: La Habra High School Idaho x Highlander Ave.

Name: Flag Raising Ceremony at Chick-Fil-A
Date: September 16, 2015
Time: 7:30 AM - 7:30 AM
Location: Chick-Fil-A 1801 W Imperial Hwy La Habra, CA 90631

Placentia

Name: Connecting at Lunch
Date: September 16, 2015
Time: 11:30 a.m. - 1:00 p.m.
Location: Shanghai Garden 1148 No. Kraemer Boulevard Placentia

Name: Tony Robbins "Turning Action Into Results" seminar by Eli Wilhide
Date: September 17, 2015
Time: 5:30pm-7:00pm
Location: Bradford Square Vintage Senior Living 1180 Bradford Avenue, Placentia



For questions or comments regarding Nelson's E-News
please contact the Supervisor's office staff:
Audra Fishel – Phone: (714) 834-3440, Email: Audra.Fishel@ocgov.com.


Denis Bilodeau
Chief of Staff

Mark Lopez
Deputy Chief of Staff

Audra Fishel
Policy Advisor /
Communications Director

Steve Spernak
Policy Advisor

Natalie Wieckert
Policy Advisor

Joy Kim
Staff Aide


Stay Connected!