Board of Supervisors

Welcome to Nelson's E-News!

Thank you for reading this edition of my newsletter. I hope you find the information below very helpful. As always, I appreciate and look forward to your feedback.

The Board of Supervisors held a meeting this week. Please see below for highlights. The next meeting will be Tuesday, February 3, 2015 at 9:30am in the Hall of Administration – 333 W. Santa Ana Blvd., Santa Ana 92701.

Please see photos and descriptions below of some of the events our office was able to attend in the community this week. If you were unable to attend, there are other events listed at the end of this newsletter.

Sincerely,
Shawn Nelson

Board Update



OC Loop Wins Award!

Supervisor Shawn Nelson is proud to announce that the 4th district's Coyote Creek Class 1 Bikeway project was awarded Bikeways & Trails Project of the year from the Orange County Branch of the American Society of Civil Engineers! The Coyote Creek trail is a recreational path that runs near Beach Boulevard between Buena Park and La Mirada and is part of the larger OC Loop, a 66-mile long trail in north Orange County.

This completion represents a successful, collaborative effort among OC Parks, OC Public Works and OCTA. The award will be presented at the annual awards banquet on Wednesday, February 18, at the Center Club in Costa Mesa. On behalf of the County of Orange, OC Public Works engineers Phil Jones and Samantha Mackey will attend due to their longtime efforts and involvement in the project.

On September 18, 2014, Supervisor Nelson helped to cut a ceremonial ribbon to celebrate the opening of this important two-mile segment. Serving as a connection for bicyclists and pedestrians to travel throughout the county, the OC Loop connects 17 cities, 200 parks and 180 schools in Orange County. About 650,000 residents live within one mile of the OC Loop, which provides commuters with connections to several bus stops and three Metrolink stations, as well as major employment centers. The loop is now about 70% complete.

For more information, visit www.octa.net/OCLoop.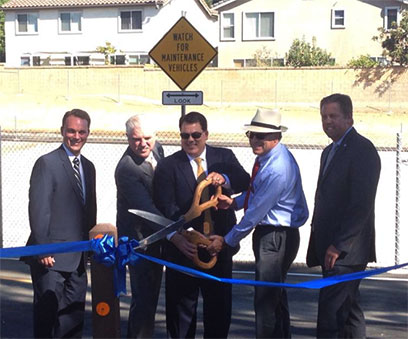 Supervisor Nelson (center) helps cut the ribbon on the two-mile segment of Coyote Creek on September 18, 2014.

Orange County's Point in Time Count of the Homeless

Fourth District staff Scott Carpenter and Steve Spernak arrived at 4:00 a.m. at Victory Baptist Church on Magnolia and watched as nearly 200 volunteers arrived to begin registration and staging for the mornings Point-in-Time count of the homeless in OC.

Approximately a thousand volunteers staged at 5 community centers then fanned out to locations throughout the 800 square miles of Orange County to count the homeless at parks, train depots, industrial parks, alleys and malls along with encampments along rivers and creek beds.

Volunteers were trained on how to contact the homeless, secure interviews on their issues and challenges with living on the streets, then provide those who cooperated with the interview with a small care-package of hygiene supplies, bus passes and nutrition samples.

Orange County was recently awarded 19.7 million dollars from the U.S. Department of Housing and Urban Development for homeless services. These services are coordinated through the county's Community Services Department and rely on providers such as 2-1-1 to collaborate with service providers. The Point-in-Time count is a federally mandated count of sheltered and unsheltered homeless populations conducted every January to give a picture of the crisis to policy and appropriations managers who then budget how to direct resources and benefits.

In 2013, the one-night county of homeless showed 4, 251. From those numbers, officials estimated 12, 707 were homeless. In 2011, the estimate was 18,325 homeless in OC.

Karen Williams of 2-1-1 said there may be an increase in homeless due to the early release of state prisons released due to overcrowding and higher rents in OC. A national focus on getting Veterans into housing, along with an improved economy, could result in a reduction.

For more information on the Point in Time Count visit: http://www.pointintimeoc.org/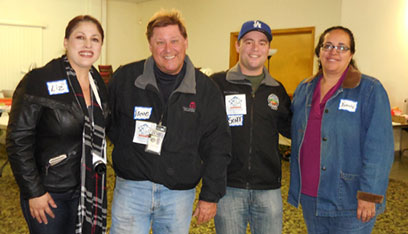 Policy Advisors Steve Spernak (left) and Scott Carpenter (right) are joined by Liz Rojas and Juanita Preciado of 211OC at the 4 a.m. roll-call of volunteers who counted homeless in a dozen locations in Anaheim and Fullerton.

Orange County Experiences an Outbreak of Measles

Over the past several weeks multiple cases of measles have been reported around the county. Health officials have advised that individuals check if they have been vaccinated and get vaccinated as soon as possible to prevent the spread of the highly contagious disease. The Orange County Health Care Agency has provided an informative one page flyer about measles you can view here.

For more information on measles and how it related to Orange County please visit: http://ochealthinfo.com/phs/about/dcepi/epi/disease/measles

County Awarded $19.5 Million in Grant Funding for Homeless Services

The U.S. Department of Housing and Urban Development (HUD) has awarded $19.5 million to the County of Orange and its community partners for homeless housing assistance and other programs under the 2014 Continuum of Care grant competition.

OC Community Services applies annually for grant funding to continue a host of critical homeless assistance programs, including the Shelter Plus Program administered by the Orange County Housing Authority and OC Health Care Agency. Shelter Plus provides rental assistance and supportive care to a targeted population that is both homeless and disabled, suffering from serious mental illness, chronic addictions or HIV/AIDS.

This year's funding is a direct result of the County's partnership with cities and homeless assistance organizations such as the Commission to End Homelessness and 211 Orange County, a nonprofit organization offering comprehensive information and referrals linking local residents to community health, human services and other support programs. This collaborative effort is part of a comprehensive plan aimed toward breaking the cycle of homelessness.

Since 1996, OC Community Services and its partners have successfully secured more than $206 million through the national homeless assistance grant competition. Among projects funded for 2014 include those operated by the County and 20 private non-profit organizations.

OCTA



Shawn Nelson to serve another four years at OCTA

Supervisor Shawn Nelson recently completed his chairmanship at OCTA and was just sworn in for a new 4 year term on the Board of Directors. The OCTA Board of Directors is comprised of 18 individuals that represent Orange County. For more information please visit www.octa.net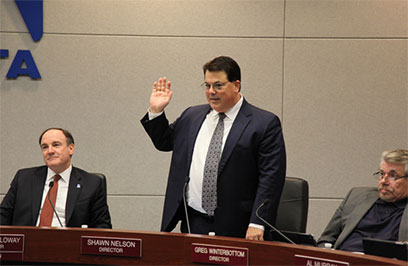 (Left to Right) Chairman Jeff Lalloway, Supervisor Nelson, Director Winterbottom)

Fullerton Cares Autism Foundation's "Mardi Gras for Autism" Event

OCTA has partnered with the Fullerton Cares Autism Foundation to cross-promote the Mardi Gras for Autism event while promoting bus service to get there. OCTA will be present at the event with reduced fare service information for persons with disabilities, as well as general bus, train, and active transportation information.

The purpose of this event is to support autism charities and special education. This event is sponsored by the Fullerton Cares Autism Coalition, and is free, family-friendly, and all abilities. It is designed to encourage families to enjoy the fun of Mardi Gras while raising money for Fullerton special education programs, featuring many activities appropriate for children of all ages and abilities.

To learn more about the speakers, attractions, performances, food, and booths, visit: www.fullertoncares.com/autism-events/mardi-gras-for-autism.

In the Community

Brea Opens New Senior Living Center

Supervisor Nelson was honored to recognize the grand re-opening of Brookdale Brea, the newly redesigned senior living center, at ceremonies this week in Brea.

Located at 285 W. Central Ave near State College Blvd, the renovated senior living apartments were upgraded with new lighting, woodworking, painted and restored to world-class level s much to the delight of their residents.

The Brea Chamber of Commerce hosted the ribbon-cutting with honors going to Chuck Eusey, Executive Director, who joined with a dozen Chamber members for the commemorative picture in front of the new lobby entrance.

One of the highlight of the reception was watching 85 year olds David and Lita Kalil tell the crowd attending how thrilled they were with the new upgrades at Brookdale. Lita and David closed to a rousing applause when they announced their 61st anniversary of a marriage made in heaven according to David.

For more information please call Sales Manager Lindsey Donfrio at 714 671-7898 or email Lindsey.Donfrio@Brookdale.com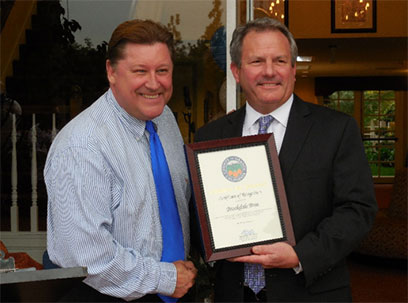 Policy Advisor Steve Spernak presented the Supervisor's Certificate of Recognition to Brookdale Executive Director Chuck Eusey at dedication ceremonies this week with the Brea Chamber.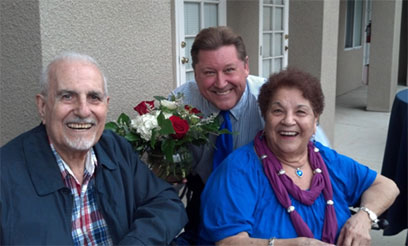 Steve Spernak shares a smile with David and Lita Kalil, three year residents at Brookdale, as they announced the celebration of 61 years of marriage to guests and VIP at opening ceremonies.

Fullerton Police Legend Retires

It was a fantastic showing of friends, family and fellow law enforcement last week as 300 people celebrated the retirement of a police legend at Roscoe's for Police Corporal John DeCaprio.

In a standing-room only packed main-room, hundreds of co-workers, city council, staff, dispatchers and community supporters crowded to hear former Mayor Doug Chaffee thank DeCaprio for his 30 years of service and sacrifices for the residents of Fullerton.

After honors were delivered by Chief Hughes that recognized Decaprio's life from rookie to retiree, Policy Advisor Steve Spernak delivered thanks and appreciation from Supervisor Nelson with a proclamation of text that outlined the years and assignments he served.

Steve Spernak also delivered a proclamation to DeCaprio on behalf of the hundreds of Officers, CHP, D.A., Court staff, Sheriff's and law enforcement community, active and retired, who served with DeCaprio and in some cases, depended on him, to save and protect their lives while working the Thin Blue Line for 30 years.

Sincere best wishes and congratulations to Corporal Decaprio and sincere appreciation for your service to the people of Fullerton and Orange County.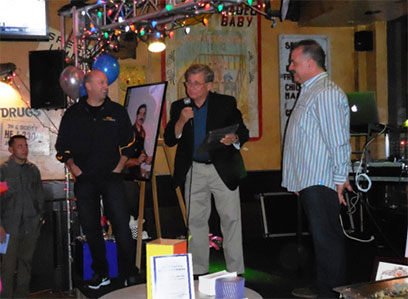 Former Mayor Doug Chaffee joined Police Chief Dan Hughes onstage for the ceremonies honoring the 30 years of service and professional performance of Corporal John DeCaprio (right).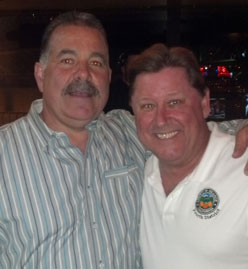 Corporal John DeCaprio extended his thanks to Steve Spernak who delivered regards from Supervisor Shawn Nelson and proclamations honoring DeCaprio's incredible career at Fullerton PD.

Library Corner

Pop-Up Valentine Cards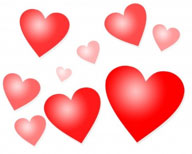 On Thursday, February 5th at 2:00 pm adults are invited to make a special Valentine's Day card for that special person in their life at the Buena Park Library. Several styles of pop-up cards will be available to make. All supplies will be provided. No sign-up is needed, just come to the Library and have a fun-filled time creating a special Valentine card.

For more information, please call the library at 714.826.4100 x125, or visit our virtual branch at www.buenaparklibrary.org. The Buena Park Library District is located at 7150 La Palma Ave, Buena Park, CA. The Library is open Monday through Thursday, 10:00 a.m. – 8:00 p.m. and Friday and Saturday, 10:00 a.m. – 5:00 p.m.

County Commissions and Committees

The Fourth District has vacant appointments on the following commissions or committees:


Treasury Oversight Committee
Assessment Appeals Board
If you are interested in serving on one of these committees, please call Audra Fishel at (714) 834-3440.

OC Animal Care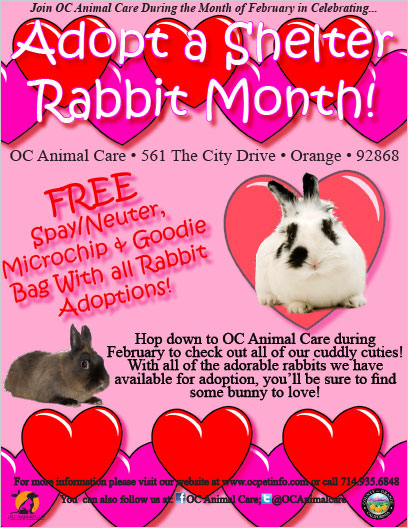 Click on the image above to view a larger version.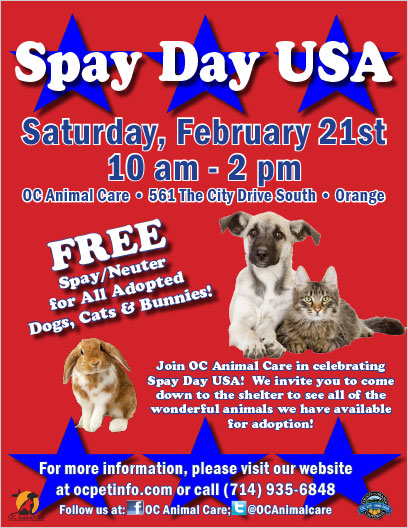 Click on the image above to view a larger version.

Events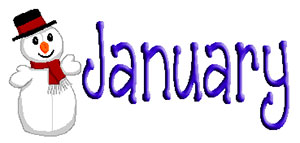 Placentia/miss Yorba Linda scholarship pageant
The pageant is the official preliminary to the Miss America pageant, the largest source of scholarship for young women in the world. This year they are awarding over $16,000 to 26 deserving young women!

Date: Saturday February 7
Location: Valencia high school: 500 Bradford Ave, Placentia
Contact: Kathibaldwin@aol.com

Anaheim

What: Good Morning Anaheim Breakfast
When: February 6, 2015
Where: Anabella Hotel 1030 W. Katella Ave.
Time: 7:30 AM - 9:00 AM

What: Anaheim Chamber Leads Lunch
When: February 11, 2015
Where: The Clubhouse at Anaheim Hills 6501 E. Nohl Ranch Rd.
Time: 11:30 AM - 1:00 PM

Buena Park

What: STATE OF THE CITY ADDRESS & LUNCHEON
When: Thursday, February 5
Where: Knott's Berry Farm Hotel 7675 Crescent Ave, Buena Park CA
Time: TBA

What: P-NUT BASEBALL REGISTRATION
When: February 2
Where: Community Center 6688 Beach Blvd. Buena Park CA
Time: 7:30 AM – 5:30 PM

Brea

What: City Council meeting
When: February 3, 2015
Where: COUNCIL CHAMBERS 1 Civic Center Circle plaza level, Brea CA
Time: 7:00 PM - 9:00 PM

What: North Orange County Legislative Alliance (NOCLA) meeting
When: February 4, 2015
Where: CIVIC CENTER COMMUNITY ROOM A 1 Civic Center Circle 2nd floor, Brea CA
Time: 7:30 AM - 9:00 AM

Fullerton

What: Ribbon Cutting - Sam's Club
When: February 5, 2015
Where: Sam's Club 629 S. Placentia
Time: 9:00 AM - 10:00 AM

What: Fullerton Arboretum Heritage House Tours
When: January 31, 2015
Where: Fullerton Arboretum, 1900 Associated Rd., Fullerton
Time: 2:00 PM - 3:00 PM

La Habra

What: ConnectUp at Corner Bakery - Thursday Mornings
When: February 5, 2015
Where: Corner Bakery Cafe 1040 W. Imperial Highway La Habra CA 90631
Time: 8:00 AM - 9:00 AM

Placentia

What: Placentia Farmer's Market
When: February 3, 2015
Where: Placentia Town Center on the corner of Yorba Linda Blvd and Kraemer
Time: 4:00-8:00PM

What: Sam's Club Ribbon Cutting and Grand Opening
When: February 5, 2015
Where: Sam's Club Store 603 S. Placentia Avenue, Fullerton
Time: 9:00-10:00AM



For questions or comments regarding Nelson's E-News
please contact the Supervisor's office staff:
Audra Fishel – Phone: (714) 834-3440, Email: Audra.Fishel@ocgov.com.