Board of Supervisors

Welcome to Nelson's E-News!

Thank you for reading this edition of my newsletter. I hope you find the information below very helpful. As always, I appreciate and look forward to your feedback.

The Board of Supervisors held a meeting this week. Please see below for highlights. The next meeting will be Tuesday, January 12, 2015 at 9:30am in the Hall of Administration – 333 W. Santa Ana Blvd., Santa Ana 92701.

Please see photos and descriptions below of some of the events our office was able to attend in the community this week. If you were unable to attend, there are other events listed at the end of this newsletter.

Sincerely,
Shawn Nelson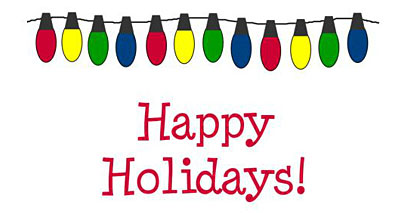 Board Updates



Supervisors Approve Land Swap for New OC Animal Shelter

A new Orange County Animal Shelter will be built on 10 acres of land at the former Tustin Marine base currently earmarked for the South Orange County Community College District under a concept approved unanimously Tuesday by the Board of Supervisors.

Supervisors approved in concept a letter of intent with the college district to expedite a swap of its property for a similarly sized parcel of nearby base land slated for eventual ownership by the County. The college district Board of Trustees approved the letter of intent on Monday.

The arrangement will allow the County to swiftly begin development plans for a new facility to replace the aging Orange County Animal Shelter in Orange, built in 1941. Supervisors always intended to build a new shelter at the Tustin base but negotiations with the Navy, which owns the property, dragged on for years. The base closed in 1999.

A new OC Animal Shelter is expected to cost about $25 million, with the bulk of the funds to come from the 18 cities that contract with the County for animal care services in Anaheim, Brea, Cypress, Fountain Valley, Fullerton, Garden Grove, Huntington Beach, Laguna Hills, Lake Forest, Orange, Placentia, Rancho Santa Margarita, San Juan Capistrano, Santa Ana, Stanton, Tustin, Villa Park and Yorba Linda. The County will contribute the land and $4.4 million.

Please click here for the Tustin Animal Shelter Conceptual Layout.

New Interim Public Defender

Sharon Petrosino is the Chief Deputy of the Orange County Public Defender's Office and has been an attorney with that office since 1985. As a deputy public defender, she represented indigent clients in the criminal justice system in a wide variety of cases, including homicides, capital cases, and appellate work throughout the Orange County Courts and Court of Appeal. In her capacity as manager, she has been instrumental in helping develop Office policies and procedures, and remains involved in client case management and court representation. She received her Juris Doctor from Southwestern School of Law and her undergraduate degree from Rutgers University. She has been a lecturer and a member of the California Public Defender's Association.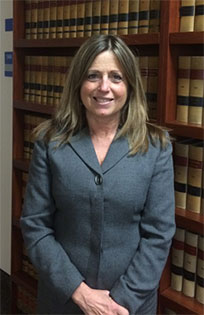 Sharon Petrosino

Board of Supervisors Awards $102 Million Contract for Thomas F. Riley Terminal Improvements

The Board of Supervisors has awarded a multi-year design-build contract to Swinerton Builders for $101,837,386 to complete a series of improvements to Terminals A and B at John Wayne Airport.

The upgrades focus on safety, code compliance, comfort, convenience and aesthetics to bring the airport's two older terminals in line with similar enhancements designed into Terminal C and Parking Structure C, which opened in 2011. Terminals A and B opened in 1990.

Construction is expected to begin in 2016 and will continue through 2019. The work includes carpet replacement, lighting renovation, restroom refurbishment and seismic retrofitting for the 25-year-old facilities. The planned improvements will enhance efficiency, provide tenants and visitors with a uniform level of quality and service throughout Riley Terminals A, B and C and extend the useful life of the terminal.

Funding for the project will come from passenger fees and operating funds, and is included in the Fiscal Year 2015-2016 airport budget, as well as provided for in future budgets. The project will be completed under the leadership of new John Wayne Airport Director Barry Rondinella.

Board Resolution List

The Board of Supervisors approved its resolution list for the coming year. The list was amended prior to approval to include Prescription Drug Take-Back Day in April and Older Americans Month in May.

Please click here for the Board Resolution List.

Board of Supervisors 2016 Meeting Schedule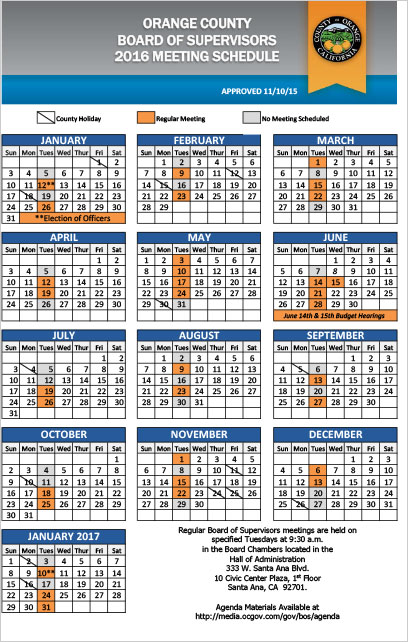 Click on the image above to view a larger version.

AQMD

Supervisor Nelson carries measure that helps balance the environment and economy

With the help of his colleagues at the South Coast AQMD, Supervisor Nelson brokered a win-win for the economy and the environment at the board meeting last Friday. Petroleum refineries are now required to reduce their emissions of Nitric Oxide (NOx) by 12 tons a day. This was an effort to meet EPA mandates and bring our air basin into conformity. Please read the story below from the OC Register for more information: http://www.ocregister.com/articles/air-694955-pollution-district.html

In the Community

Supervisor Nelson congratulates Mayor Tom Tait

Supervisor Nelson recognized Anaheim Mayor Tom Tait for his outstanding service and leadership this last year. Following his four-year term that began in November 2010, Mayor Tait was re-elected to serve as Mayor of Anaheim in November 2014. He brings considerable experience to California's tenth largest city by having served on the Anaheim Planning Commission, the Anaheim Budget Advisory Commission, and as a member of the Anaheim Community Block Grant Foundation. Supervisor Nelson thanks Mayor Tait for his dedication to the Anaheim community and looks forward to working with him in the future.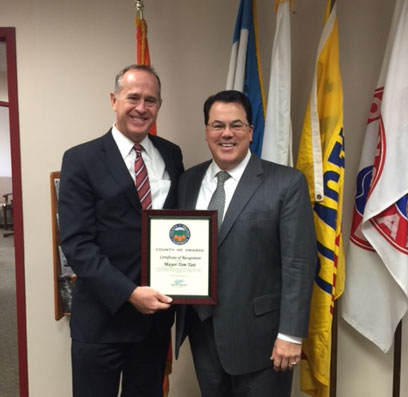 Mayor Tait and Supervisor Nelson at the Fourth District Office

Tamale Festival 2015

Congratulations to Rosalina Davis, the director of the Santa Fe Merchants Association, for another fantastic night of food and family fun at the Las Posadas / Tamale Festival 2015 hosted in Old Town Placentia.

With 2 blocks of downtown blocked off by City staff and volunteers, the traditional night of magic began at 4 pm with a half dozen restaurants and caterers opening for business with fresh Mexican foods, desserts and, of course, more tamales than you can count going on sale.

Hosted by the City, Chamber of Commerce and Santa Fe Merchants, some 15,000 residents and attending who travel from all over OC to buy the premier tamales for their coming Christmas feasts, enjoyed a perfect night of short-sleeve weather and a free concert by the world-acclaimed Mariachi Divas.

Funds raised at this event go to support local businesses and charities, the chamber of commerce and downtown merchants who served hundreds of plates steaming tamales followed by ice cold beer sold at the gala by volunteers and chamber members.

Best wishes and blessings to all who put on this remarkable civic venture in Placentia.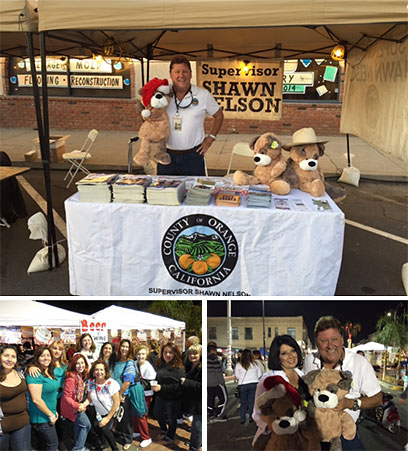 Policy Advisor Steve Spernak worked the Supervisor's info booth, met for a fun-photo with Chamber Director Karen Pena, took a 'team photo' of the Tamale Festival Girls and enjoyed a perfect night with 15,000 revelers in Old Towne

Supervisor Supports 13th MEU Toys for Christmas

Policy Advisor Steve Spernak delivered Supervisor Nelson's traditional donation of a dozen stuffed dogs to the City of Anaheim 13th MEU Adoption committee this past week to show his support for the active-duty Marines and their families at Camp Pendleton.

Wendall and Carolyn Walters head up a 12 person team of former Marines and their wives who raise money for Christmas toys, help host the Marine Corps Ball, donate college scholarships, birthday baskets and a year-long agenda of activities to help the 2400 Marines of the 13th Marine Expeditionary Unit.

Supervisor Nelson is an ex-officio member and proudly makes the donation of stuffed animals to compliment the donated bikes, games, clothing and Christmas dinner the Marines and Adoption team put on each year.

Sincere thanks to the 13th MEU Marines for defending our freedom and safety in OC and all of the United States with their deployments and commitment to democracy.


Policy Advisor Steve Spernak delivered toys to 13th MEU Director Wendall Walters for Christmas 2015 at Camp Pendleton after their photo-ops on the Supervisor's desk.

Buena Park Mayor Art Brown Honored

Supervisor Nelson was honored to recognize Buena Park Mayor Art Brown during change-of-command ceremonies at the Buena Park city council meeting last week.

Policy Advisor Steve Spernak delivered the certificate of recognition and told the audience the back-story of Art Brown's lifetime achievements in service and sacrifice to help his country, community and county.

Brown began his services to America as a United States Marine until he was accepted to serve as a Deputy Sheriff with the County of Los Angeles.

Once retired, he and his wife, Chris, remained active politics and civic projects where Art has been on the council for 20+ years and served 3 times as Mayor. He and his wife are pillars of leadership in Buena Park helping with the Heritage Society and hosting Silverado Days with the Lions Club where 100,000 attend the 3 day city gala.

Art and Chris were instrumental in helping the World Elder Abuse project hosted at the BP Senior Center this summer and working behind the scenes to get "The Wall that Heals' Vietnam memorial to the city for Memorial Day.

Best wishes and continued success to the Brown family of Buena Park!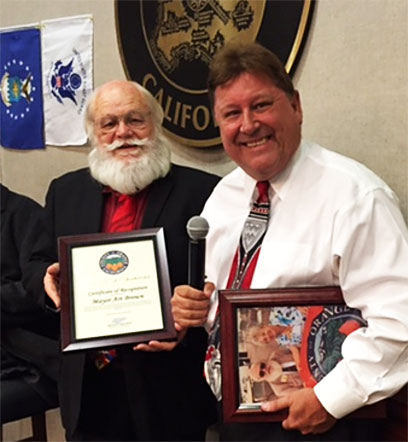 Policy Advisor Steve Spernak delivered commendations to Buena Park Mayor Art Brown.

County Commissions and Committees

The Fourth District has vacant appointments on the following commissions or committees:


Assessment Appeals Board No.1
If you are interested in serving on one of these committees, please call Audra Fishel at (714) 834-3440.

OC Animal Care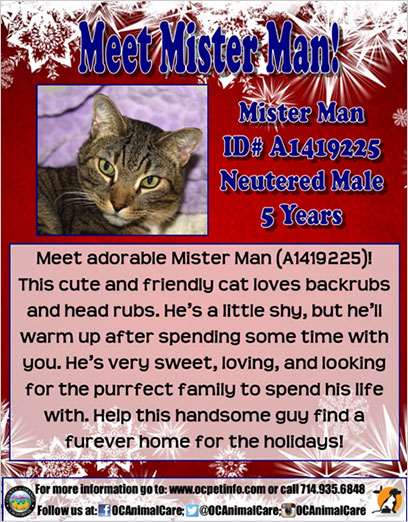 Click on the image above to view a larger version.

Events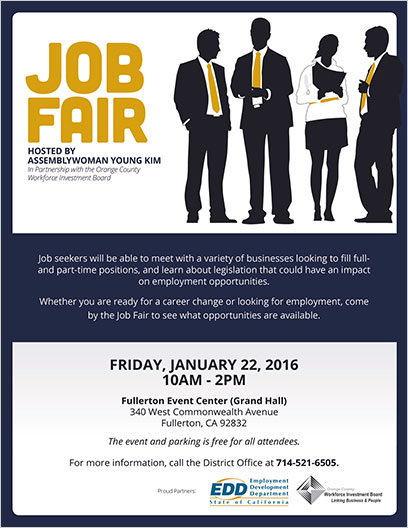 Click on the image above to view a larger version.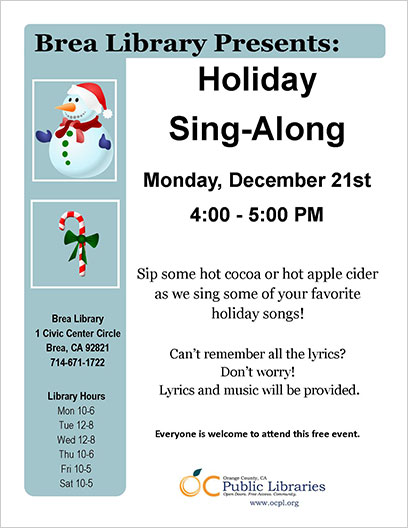 Click on the image above to view a larger version.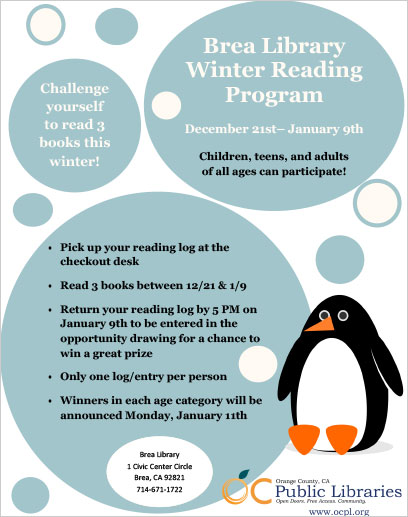 Click on the image above to view a larger version.

Anaheim

Name: Anaheim Chamber Leads Lunch
Date: Wednesday, January 13
Time: 11:30am-1:00pm
Location: Anaheim Chamber of Commerce-2400 E. Katella Ave, Suite 725, Anaheim

Name: Farmers Market & Craft Fair
Date: Thursday, January 7
Time: 11:00am-4:00pm
Location: 205 W Center Street Promenade, Anaheim

Brea

Name: Charles Phoenix's Retro Holiday Slideshow
Date: Saturday, December 19
Time: 8:00pm-10:00pm
Location: 1 Civic Center Circle, Brea 92821

Name: Parks, Recreation & Human Service Commission Meeting
Date: Monday, December 28
Time: 6:00pm
Location: Executive Conference Room Civic & Cultural Center, Brea

Fullerton

Name: First Night Fullerton-A Megastar Spectacular
Date: Thursday, December 31
Time: 7:00pm
Location: Varying locations in historic downtown Fullerton

Name: Parks and Recreation Commission
Date: Monday, January 11
Time:6:30pm
Location: 303 W. Commonwealth Ave, Fullerton

La Habra

Name: ConnectUp
Date: December 24, 2015
Time: 8:00am
Location: 1040 W. Imperial Highway, La Habra CA 90631

Name: Enterprise Team
Date: December 31, 2015
Time: 9:30am
Location: 321 E. La Habra Blvd, La Habra CA 90631

Placentia

Name: City Council Meeting
Date: Tuesday, January 5
Time: 7:00pm
Location: Placentia City Council Chambers

Name: Martin Luther King, Jr. Day-City Facilities Closed
Date: Monday, January 18
Time: All Day
Location: Placentia

Buena Park

Deadline is December 20th to submit for 2015 Buena Park Holiday Decoration Awards

The Beautification/Environmental Committee invites everyone to nominate their favorite holiday decorated homes in Buena Park. Nominations will be accepted until December 14, 2015. Please nominate any deserving homes in the City. This year the committee will recognize three homes for their holiday spirit and civic pride, at the January 12, 2016, council meeting. Please submit your nominations to the Public Works Department. If you have any questions please contact Public Works at (714) 562-3655.



For questions or comments regarding Nelson's E-News
please contact the Supervisor's office staff:
Audra Fishel – Phone: (714) 834-3440, Email: Audra.Fishel@ocgov.com.