Board of Supervisors

Welcome to Nelson's E-News!

Thank you for reading this edition of my newsletter. I hope you find the information below very helpful. As always, I appreciate and look forward to your feedback.

The Board of Supervisors held a meeting this week. Please see below for highlights. The next meeting will be Tuesday, March 24, 2015 at 9:30am in the Hall of Administration – 333 W. Santa Ana Blvd., Santa Ana 92701.

Please see photos and descriptions below of some of the events our office was able to attend in the community this week. If you were unable to attend, there are other events listed at the end of this newsletter.

Sincerely,
Shawn Nelson

Board Updates



Process Approved for Transportation Network Companies to Serve John Wayne Airport

The Orange County Board of Supervisors approved an operating permit that will allow Transportation Network Companies (TNCs), which include ridesharing services such as Uber and Lyft, to begin serving John Wayne Airport.

Under regulations set by the California Public Utilities Commission, TNCs may not operate at airports unless specifically authorized by the airport authority. Board approval of the TNC permit process will lead to TNC drivers being able to pick up and drop off passengers who have arranged for rides.

John Wayne Airport staff will review all ground transportation operating permit applications to ensure applicants are in compliance with state and local regulations before issuing an operating permit. TNC drivers are not authorized to pick up passengers at the airport until the company receives a permit.

OC Loop Gets More Funding

The Board approved receipt of two grant awards for the OC Loop recreational trail that the County initially applied for in May 2014. The milestone comes at a time when many of the gaps in the 66-mile loop are being filled, including a two-mile portion along Coyote Creek last September. Eventually, bicyclists and other outdoor enthusiasts will be able to ride continuously around the entire loop uninterrupted.

Segment D was approved for $266,000 with the funding to be used for preliminary engineering to complete the environmental phase of the OC Loop portion located along the Carbon Creek Channel in portions of Brea, Placentia and Yorba Linda.

The grant for Segments F and H was approved for $465,000 also to be used for preliminary engineering to complete the environmental phase of the segments, which run along the Yorba Linda Recreational Trail / El Cajon Bikeway in Yorba Linda, Anaheim and unincorporated County land.

Both of these grant awards represent the full grant application amounts with County matching funds of $34,000 and $60,000, respectively. The map of Segment D and Segments F and H is below, along with a map of the entire OC Loop.

The next call for projects, for the construction and specifications phase, will open later this month with a deadline at the end of May. Importantly, the County need not have completed the current phase in order to apply for the next. In addition, the award of these grants enhances the County's probability of receiving future grants to complete the missing sections.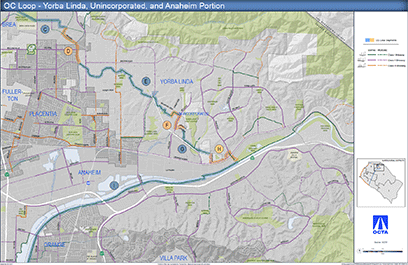 Click on the image above to view a larger version.

Metrolink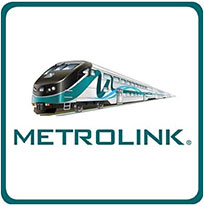 Leahy to Become Metrolink CEO

The Metrolink Board of Directors today announced Art Leahy will become the agency's next CEO effective April 20, 2015. The motion and contract was unanimously approved. "When the position became available at Metrolink, I was immediately intrigued," Leahy said. "Having had the opportunity to work at both Metro and Orange County Transportation Authority (OCTA), I have witnessed first-hand the incredible diligence of the Metrolink staff, and I'm excited to have the opportunity to further grow and enhance Southern California's six-county rail system."

The Southern California Regional Rail Authority (SCRRA), the agency that governs Metrolink, is made up of an 11-member board representing the transportation commissions of Los Angeles, Orange, Riverside, San Bernardino and Ventura counties. In addition to those counties, Metrolink provides service into northern San Diego County.

"As a board, we could not be more excited about Art deciding to take the helm of Metrolink," said Orange County Supervisor Shawn Nelson, chair of the Metrolink Board of Directors. "Given Art's leadership at Metro, along with his previous stewardship of OCTA, he brings a unique perspective of leadership at the highest levels of transportation that will be of tremendous value to Metrolink."

One of the nation's leading transit officials, Leahy served as chief executive officer of Metro for six years. During that time, he guided implementation of one of the largest public works programs in United States history, securing billions in federal and state dollars to help finance construction of dozens of transit and highway projects.

He led the completion of numerous projects funded by Los Angeles County's Measure R. Metro has transit and highway projects valued at more than $14 billion, eclipsing that of any other transportation agency in the nation. This includes an unprecedented five new rail projects under construction, including phase 2 of the Expo Line extension to Santa Monica and the Metro Gold Line Foothill Extension to Azusa, as well as the Crenshaw/LAX Transit Project, the Regional Connector in downtown Los Angeles, and the first phase of the Westside Purple Line subway extension to Wilshire and La Cienega.

Leahy also launched a $1.2-billion overhaul of the Metro Blue Line and guided the purchase of a new fleet of rail cars. And he helped transform the iconic Union Station into the hub of the region's expanding bus and rail transit network and led the agency's acquisition of the 75-year-old iconic facility.

Though Metrolink is a separate transportation agency from Metro, the two agencies work collaboratively to provide effective and efficient public transportation options for people throughout the region. For example, Metrolink and Metro worked together closely to ensure that Metrolink riders would continue to transfer seamlessly to all Metro subway, light rail and bus lines following implementation of the Metro TAP initiative.
Metrolink offers connections to nearly 30 other public transportation providers throughout Southern California at no additional cost. Other Metrolink transportation connections include the OCTA bus system, Riverside Transit Agency (RTA), Omnitrans in San Bernardino County and Ventura Intercity Service Transit Authority (VISTA). In addition, the Rail 2 Rail® program allows Metrolink Monthly Pass holders along the Orange and Ventura County corridors to travel on Amtrak Pacific Surfliner trains within the station pairs of their pass at no additional charge.

Prior to his tenure as Metro CEO, Leahy led OCTA (2001-2009) and served as the general manager of Metro Transit (1997-2001) in Minneapolis-St. Paul.

While at OCTA, Leahy led efforts to secure reauthorization of the $12 billion Measure M sales tax proposal, which gained 70 percent approval from Orange County voters in November 2006. Measure M led to the expansion of the county's rail and bus systems, along with numerous enhancements of streets, highways, and traffic management systems.

Growing up Highland Park, both of Leahy's parents worked in transit and he followed in their footsteps. He started as a bus operator for the Southern California Rapid Transit District (SCRTD) in Los Angeles in 1971 and rose through the ranks to become chief operations officer before taking the position in Minneapolis. Prior to earning a Masters of Public Administration degree from the University of Southern California in 1982, Leahy completed a Bachelor of Arts degree from California State University, Los Angeles in political science (1974) and certificate in transportation management (1973) from UCLA.

For additional details on Metrolink, please visit www.metrolinktrains.com.

ABOUT METROLINK
Metrolink is Southern California's regional commuter rail service in its 23rd year of operation. The Southern California Regional Rail Authority (SCRRA), a joint powers authority made up of an 11-member board representing the transportation commissions of Los Angeles, Orange, Riverside, San Bernardino and Ventura counties, governs the service. Metrolink operates over seven routes through a six-county, 512 route-mile network, which includes a portion of northern San Diego County. Metrolink is the third largest commuter rail agency in the United States based on directional route miles and the eighth largest based on annual ridership.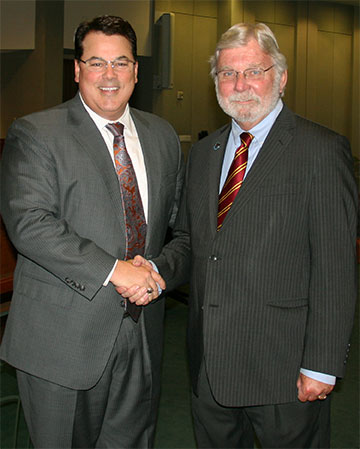 Orange County Supervisor Shawn Nelson (left), chair of the Metrolink Board of Directors, congratulates Art Leahy on March 13, 2015 after the board unanimously approved Leahy to become the agency's next CEO at a regualr board meeting in
Los Angeles.

OCTA Update



OCTA Seeks Applicants for Measure M Taxpayer Oversight Committee

The Orange County Transportation Authority (OCTA) is seeking qualified volunteers to serve on the Measure M Taxpayer Oversight Committee (TOC).

The eleven-member committee monitors OCTA's use of Measure M funds and ensures that all revenue collected from both Measure M1 (M1) and the Renewed Measure M2 (M2) is spent on voter-approved transportation projects. The independent committee was formed after the passage in 1990 of Measure M, a half-cent sales tax to fund transportation improvements in Orange County.

Applications for the 2015-2018 term will be accepted through May 4, 2015 to fill four positions; one each in the First, Second, Fourth and Fifth Supervisorial Districts. Orange County residents residing in these areas are eligible to apply. Candidates must be 18 years of age, reside in one of the districts named above and be willing to participate for a three-year term. Potential committee members should also demonstrate a history of participating in community activities and knowledge of public transportation.

The Grand Jurors Association of Orange County is conducting the recruitment program and will recommend qualified candidates for membership. For additional information or to request an application, call the selection panel at (714) 970-9329 or visit OCTA's website at www.octa.net/toc.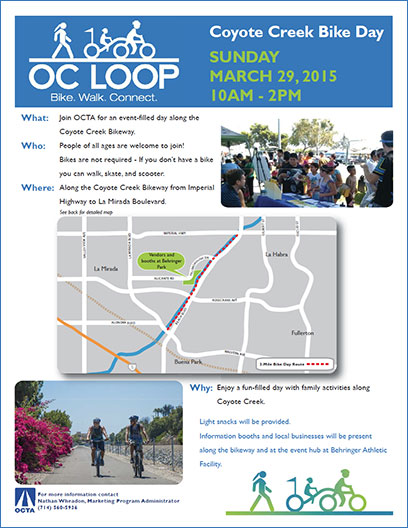 Click on the image above to view a larger version.

In the Community

Kristina Simpson Agency Ribbon Cutting

Approximately 50 members of the Placentia chamber and elected representatives' offices welcomed State Farm Insurance, Kristina Simpson Agency to the community last month. The agency is now one of the newest proud members of the Placentia Chamber of Commerce and just moved into our new location at 151 N Kraemer Blvd., Suite 125 in Placentia.

Kristina started this journey in early 2014 with a career change into insurance and financial services. Often asked, "why the change?," she simply answers that she sells what matters most – security and peace of mind. She has the pleasure of meeting people every day and asking what is important to them and how can she facilitate their peace of mind. Every individual has a different answer, whether it is a new driver getting their first car, a couple with a newborn baby who is looking to create a legacy for their child or someone who just changed jobs and is looking to rollover their hard earned 401K into a mutual fund that works for them.

The Kristina Simpson team works to build enduring relationships with clients and within the community by offering extended hours and doing whatever is necessary to make changes easy, whether that be late night or weekend appointments or going to their clients so they don't have to leave work or their families. No two days are the same and the Kristina Simpson team loves that! They look forward to a long and lasting relationship with the City of Placentia and to growing the business one client at a time.

For more information, please visit Kristina Simpson at 151 N. Kraemer Blvd., Suite 125 or call (714) 577-9800.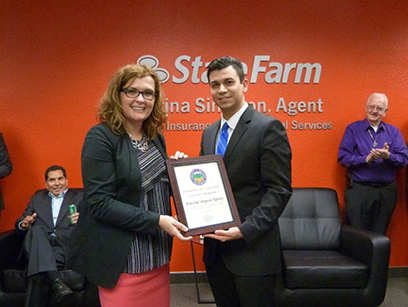 Deputy Chief of Staff Mark Lopez presents a certificate of recognition to Kristina Simpson at the ribbon cutting ceremony of her business.

Placentia State of the City

Supervisor Nelson expressed his special thanks to the Placentia Chamber of Commerce for hosting the 2015 Placentia State of the City luncheon at the Alta Vista Golf Club this past week.

With over 200 residents, business owners and city employees in attendance, MC Jenna Sprague presented the audience with a paced program of speeches by Mary Ann Railey, chief business officer of the Placentia –Linda Hospital and the 21st century health-care programs and professional care they offer Placentia families.

Following Ms. Railey, Placentia Mayor Chad Wanke walked the audience through a power-point of historical notes, addresses and archived photos dating back to the 1800's when the city was a train depot for Valencia oranges that were sent across America.

Jumping forward 100 years, the Mayor explained that a new Economic Development logo will soon grace the city, along with the much anticipated Metrolink station to provide park once and walk opportunities for shoppers, students, diners and commuters to enjoy in Old Town.

Chamber member Rosalina Davis, owner of the legendary Tlaquepaque restaurant, explained how the new train station depot will bring customers to downtown and add to the new reputation they are designing for the city by 2016. Rosalina will celebrate the 50th anniversary of the restaurant this year.

The Mayor was thrilled to showcase the new Performing Arts Center at El Dorado High School that seats 634 in a fantastic venue for stage and musical arts performances along with the Placentia Town Center Farmer's market experience. He also was proud to explain the new residential housing project that will see 78 new single-family homes at the old Schaner Ranch property along with the new Hindu Temple on Bradford just north of Valencia High School.

Lastly, the Valencia High jazz combo of students and alumni called The Hats closed the luncheon with jazz and swing classics as part of their award –winning act. For info on The Hats and how you can hire them for your events, email livemuse09@yahoo.com.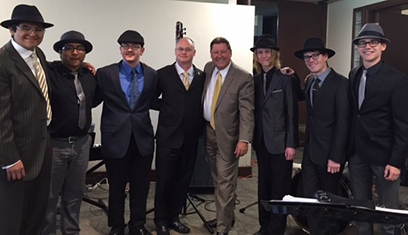 Policy Advisor Steve Spernak joins Mayor Chad Wanke in thanking The Hats jazz combo

Mayor Blazey Recaps La Habra Accomplishments for 2015

In front of a packed ballroom at the Westridge Golf Course, La Habra Mayor Michael Blazey delivered a power-point presentation of accomplishments and future-planning concepts of City projects and community events for attending community leaders and chamber members to enjoy.

Mayor Blazey explained the prime directives he and the City Council will navigate with staff to make La Habra one of the premier cities in Orange County in 2015.

Highlights included:

Completing the updates on the City's General Plan.
Finished 76 miles of re-paving residential streets at a cost of $19 million dollars in six years.
Renewal of the cost-saving Fire Services contract with the Los Angeles County Fire Department.
Reduction of Part 1 violent crimes reduced by the Police Department by 7%.
Kaboom park renovations and sports equipment at Descanso and San Miguel de Allende Parks.
La Habra Express Bus Service initiated thru OCTA for optimal transportation to St. Jude and CSUF.
La Habra Tamale Festival hugely successful with congrats to city staffers Sal Failla and Dave de Leon.
Northgate Market renovations and upgrades to improve traffic flow and parking.
Residential projects to be located on former site of Don Steves Chevrolet with 32 new homes in the $880,000 range.
New residential development and homes at La Habra Blvd and Idaho St.
Kaiser Permanente Medical Office project at the site of the former HD Supply at 600 E. Imperial Hwy.
Development of the 10 member Emergency Preparedness Council with LA County Fire CERT training.
La Habra Citrus fair is ready to go and the Corn Festival remains a huge draw for families and community heritage fun.

For more information the Mayor's address, chamber of commerce or City programs, please feel free to call the Community Services Department at 562-383-4200.

County Commissions and Committees

The Fourth District has vacant appointments on the following commissions or committees:


Treasury Oversight Committee
Assessment Appeals Board
If you are interested in serving on one of these committees, please call Audra Fishel at (714) 834-3440.

Library Corner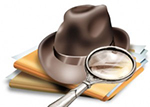 "Crime & Science" Award-Winning Authors Coming to the Fullerton Public Library

Crime & Science Award-winning novelist and short story writer, Jan Burke along with award-winning author, lecturer, and consultant D.P. Lyle, M.D. will host a free lecture on Sunday, March 29 at the Fullerton Public Library at 353 W. Commonwealth Ave, Fullerton.

Burke and Lyle are co-hosts of the Crime and Science Radio program found at http://crimeandscienceradio.com/. Burke and Lyle will engage with the audience on topics such as: How do forensic scientists solve crimes? And how does Hollywood get it wrong?

For more information about this free lecture, please contact the Fullerton Public Library at (714) 738-6326.

OC Parks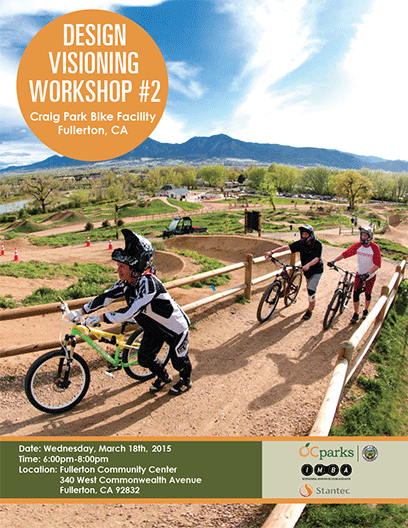 Click on the image above to view a larger version.

OC Animal Care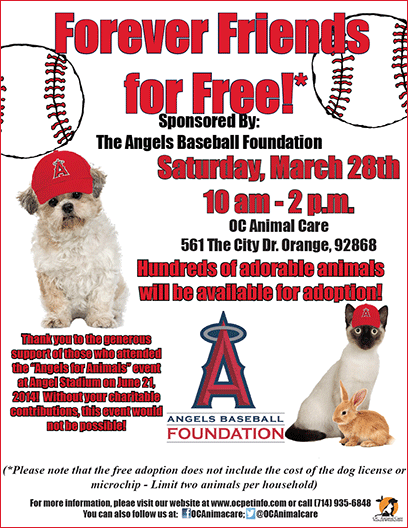 Click on the image above to view a larger version.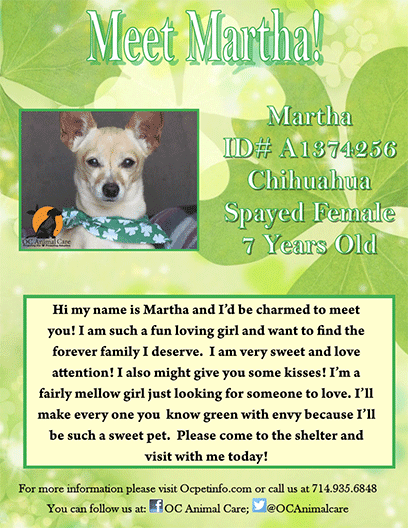 Click on the image above to view a larger version.

Events

Anaheim Semper 5k Run/Walk Event

Supervisor Nelson was honored to lend his name and staff support to the 13th MEU committee and was pleased to see that over $10,000 dollars was raised at the inaugural run last year.

Funds raised by the runners entrance fees and silent auction all go into the operational fund for the committee who then use the donations and income to help Marines and Navy personnel assigned to the 13th Marine Expeditionary Unit at Camp Pendleton.

If you're attending on Saturday March 21, plan your arrival just before 8 am for parking and registration. Trophies, t-shirts and participation logos will be given out that morning.

For additional information on this family fun event that benefits the Marines, please contact Richard Farace, Semper 5k Director, at 714 350-2886 or email him at info@semper5k.org or email Steve.Spernak@ocgov.com at Supervisor Nelson's office.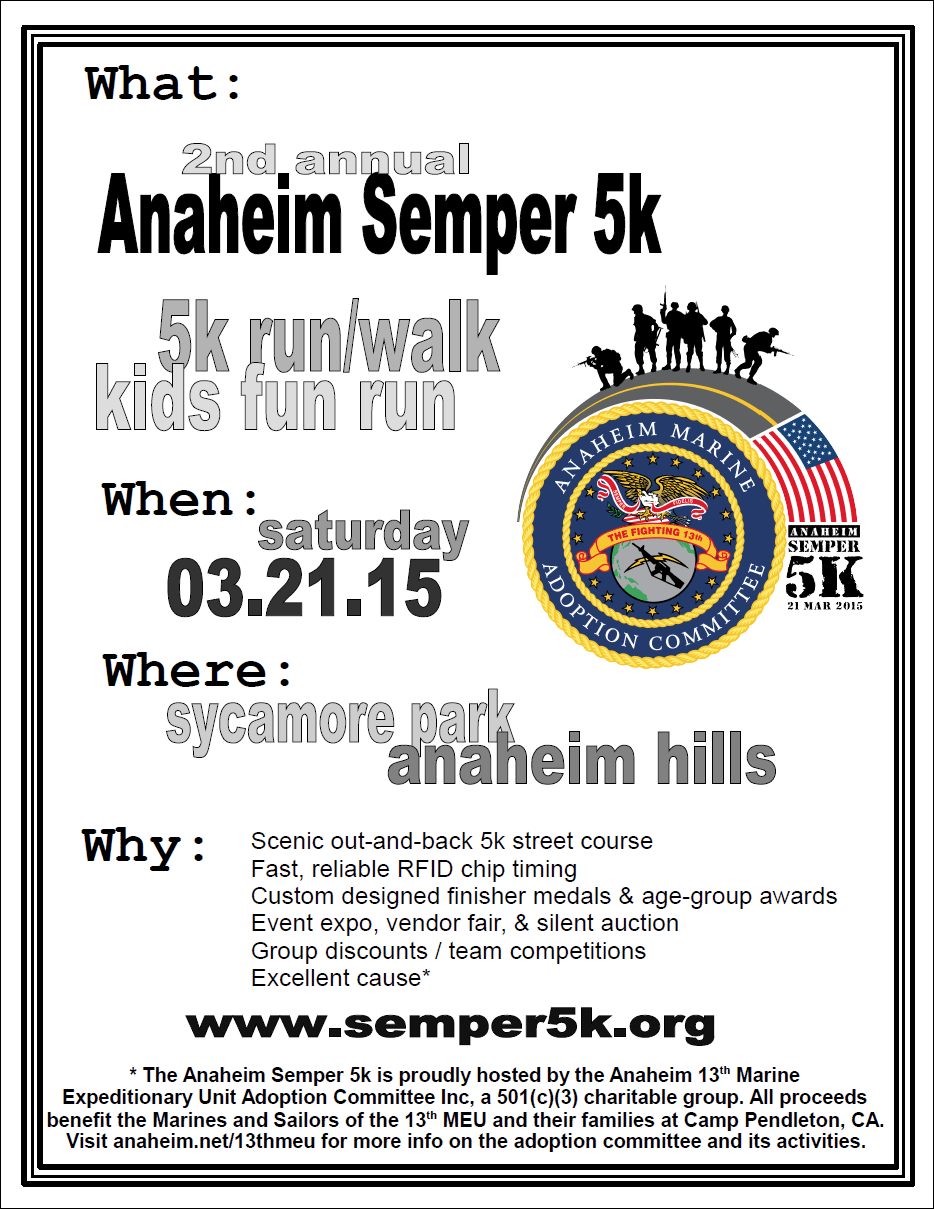 Click on the image above to view a larger version.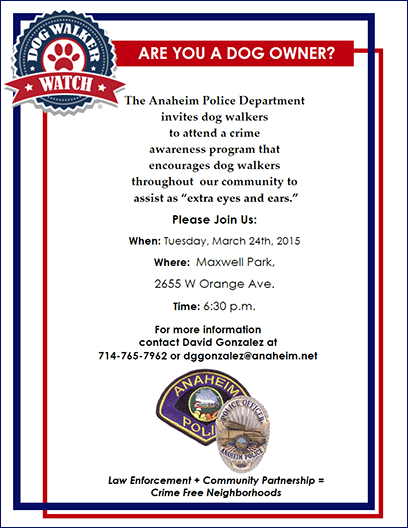 Click on the image above to view a larger version.

Michael Ramirez, noted editorial cartoonist, to be keynote speaker at the Fullerton Republican Women Federated Membership Celebration Tea on March 28th!

Some of his cartoons will make you laugh, some will make you cry. But all of them will make you think. Michael Ramirez's artistic skill, biting humor, and penetrating analysis shine through and shed light on what's really going on in the world today. Mr. Ramirez is Senior Editor and editorial cartoonist for Investor's Business Daily, and a two-time winner of the prestigious Pulitzer Prize.

Mr. Ramirez will be the keynote speaker at the annual Membership Celebration Tea of the Fullerton Republican Women, Federated on Saturday, March 28th at the Los Coyotes Country Club at 8888 Los Coyotes Drive in Buena Park. The program begins with check-in, social and silent auction browsing time at 11 a.m., the general meeting and tea buffet at 11:45 a.m., with the speaker at 1:30 p.m.

Please make reservations by March 20 by sending a check for $30 per person, payable to FRWF. Mail to: Marilyn Bolcer, 1530 Avolencia Drive, Fullerton, CA 92835. For more information, call Pat Shuff (714) 441-2590 or Cynthia Thacker (714) 670-6915. Valet parking is complimentary.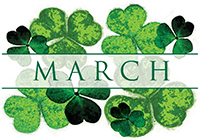 Anaheim

What: Anaheim Chamber after Hours Mixer
When: Thursday March 19, 2015
Where: 6362 E Santa Ana Canyon Rd Anaheim, CA 92807
Time: 5:30 PM - 7:30 PM

What: Legislative Committee Meeting
When: Friday March 20, 2015
Where: 2400 E. Katella Ave. Suite 725 Anaheim, CA 92806
Time: 12:00 PM - 1:30 PM

Buena Park

What: Fine Arts Commission Meeting
When: Wednesday March 18, 2015
Where: 6650 Beach Blvd. Buena Park, CA 90621
Time: 7:00 PM

What: Senior Citizen Commission Meeting
When: Thursday March 26, 2015
Where: 6650 Beach Blvd. Buena Park, CA 90621
Time: 9:00 AM

Brea

What: Happy Hour
When: Friday March 13, 2015
Where: Macallans Public House 330 W. Birch Street Brea, CA 92821
Time: 4:30 PM - 6:30 PM

What: City Council meeting
When: Tuesday March 17, 2015
Where: 1 Civic Center Circle plaza level, Brea
Time: 7:00 PM - 9:00 PM

Fullerton

What: Luck of the Irish" Leon Owens Bingo Event
When: Saturday March 14, 2015
Where: Hotel Fullerton; 1500 S. Raymond Ave., Fullerton
Time: 6:00 PM - 9:00 PM

What: Soroptimist International of Fullerton Luncheon
When: Monday March 16, 2015
Where: Howard Johnson Hotel (formerly Anaheim Park Hotel), 222 W. Houston Way, Fullerton
Time: 12:15 PM - 1:15 PM

La Habra

What: Flag Raising Ceremony at Chick-Fil-A
When: Wednesday March 18, 2015
Where: Chick-Fil-A 1801 W Imperial Hwy La Habra, CA 90631
Time: 7:30 AM - 7:30 AM

What: Connect Up at Corner Bakery - Thursday Mornings
When: Thursday March 19, 2015
Where: Corner Bakery Cafe 1040 W. Imperial Highway La Habra CA 90631
Time: 8:00 AM - 9:00 AM

Placentia

What: Parenting in Blended Families
When: Saturday, March 14, 2015
Where: Placentia Library 411 E. Chapman Avenue, Placentia
Time: 10:00 AM -11:30 AM

What: ShamRock'n Run – R.E.A.C.H Foundation
When: Sunday, March 15, 2015
Where: Yorba Regional Park 7600 E. La Palma Avenue
Time: 7:00 AM - 11:00 AM

For questions or comments regarding Nelson's E-News
please contact the Supervisor's office staff:
Audra Fishel – Phone: (714) 834-3440, Email: Audra.Fishel@ocgov.com.


Denis Bilodeau
Chief of Staff

Mark Lopez
Deputy Chief of Staff

Audra Fishel
Policy Advisor /
Communications Director

Steve Spernak
Policy Advisor

Scott Carpenter
Policy Advisor

Natalie Wieckert
Staff Aide



Stay Connected!