Board of Supervisors

Welcome to Nelson's E-News!

Thank you for reading this edition of my newsletter. I hope you find the information below very helpful. As always, I appreciate and look forward to your feedback.

The Board of Supervisors held a meeting this week. Please see below for highlights. The next meeting will be Tuesday, April 14, 2015 at 9:30am in the Hall of Administration – 333 W. Santa Ana Blvd., Santa Ana 92701.

Please see photos and descriptions below of some of the events our office was able to attend in the community this week. If you were unable to attend, there are other events listed at the end of this newsletter.

Sincerely,
Shawn Nelson

Board Updates



Board Moves to Explore Site in Anaheim for Permanent Emergency Homeless Shelter

On Tuesday the Board of Supervisors formally directed County Real Estate staff to explore the feasibility of acquiring a building on North Kraemer Place for the purpose of establishing the county's first permanent multi-service center and emergency shelter. For decades the county has utilized the armories in Santa Ana and Fullerton as emergency shelters during cold weather months, however several years ago multiple studies by separate agencies showed a that multi-service centers with a full time shelter is a most cost effective and efficient model. Despite two proposals previously pursued by the board in recent years, one in Fullerton and one in Santa Ana, both times the host city balked at supporting the county in its effort and the proposals fell flat. The new site in Anaheim may be the answer to finally replacing the armory pending the county real estate office's review.

The Orange County Register covered this story in this article: http://www.ocregister.com/articles/county-655518-site-supervisors.html

OC Loop Receives American Society of Civil Engineers Award

On Wednesday, February 18, 2015, ASCE OC celebrated their annual awards night at the Center Club in Costa Mesa. Over 200 people attended to honor outstanding individuals and projects for 2014. A total of 35 awards were distributed, including 21 project awards and 14 individual awards.

The Bikeways & Trails Project of the Year went to the Coyote Creek Class I Bikeway along the Fourth District. The two-mile bikeway is located between La Mirada Boulevard and Hillsborough Drive in the cities of Buena Park, Fullerton, and La Mirada. It is a $1.5 million cooperative project between the County of Orange, OCTA, OCFCD, Caltrans, and FHWA that is an extension of the existing bikeway to the north and one of the missing links in the 66-mile OC Loop. The OC Loop is a vision of seamless connections throughout inland and coastal Orange County and is currently over 70% complete, with efforts underway to complete the remaining segments.

Residents are able to enjoy the recreational and transportation benefits offered by this fully-paved, signed, and striped bikeway that runs between Malvern Avenue/La Mirada Boulevard and Hillsborough Drive. The bikeway includes ADA accessibility, direct access to Behringer Athletic Facility, and sustainable water quality features such as a vegetated swale.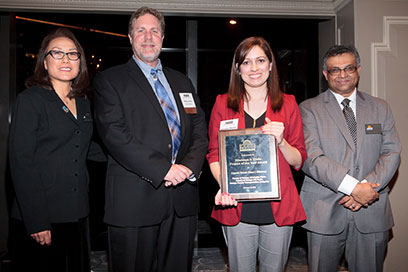 From left to right are: Penny Lew (Past President of the ASCE Orange County Branch), Phil Jones (OC Public Works, Design Division Manager), Samantha Mackey (OC Public Works, Project Manager/Project Engineer for the Bikeway), and Tapas Dutta (ASCE Past-Past President, Orange County Branch).

OCTA



Grant Will Help Search for O.C. Sidewalk Gaps

The Orange County Transportation Authority has been awarded $163,333 in Active Transportation Program grant funds to complete the Orange County Sidewalk Inventory Project.

The grant is from the Southern California Association of Governments, in partnership with the California Department of Transportation. It allows OCTA to establish a countywide inventory of sidewalks that will identify the gaps, obstructions and amenities that may block pedestrian activity and access.

The study will take about 12 months to complete and will cover 1,620 miles of roadways, major transit corridors and sidewalks within a half-mile radius of all 11 Metrolink rail stations and all six transportation centers in Orange County.

Once completed, the study will provide a database of useful, accurate and easily accessible information regarding the locations of countywide sidewalks. It will generate geographically accurate information needed for OCTA and its local agency partners to develop effective active transportation plans. It also will pave the way for the implementing improvements, including the planning and design of complete streets and promoting first- and last-mile transit connections.

The state's Active Transportation Program was created in 2013 to encourage the increased use of active modes of transportation including biking and walking. It merged a variety of transportation programs, including the federal Transportation Alternatives Program, state Bicycle Transportation Account and federal and state Safe Routes to School, into a single program to encourage increased use of active transportation modes.

The grant requires an 11 percent local match contribution – $21,162 – which will come from State Transportation Improvement Program funds set aside by the OCTA board for planning studies. The total project study cost is $184,495.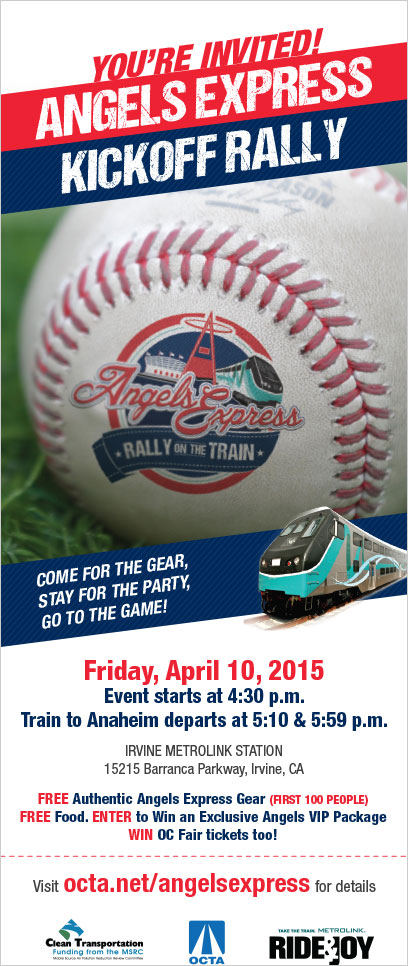 Click on the image above to view a larger version.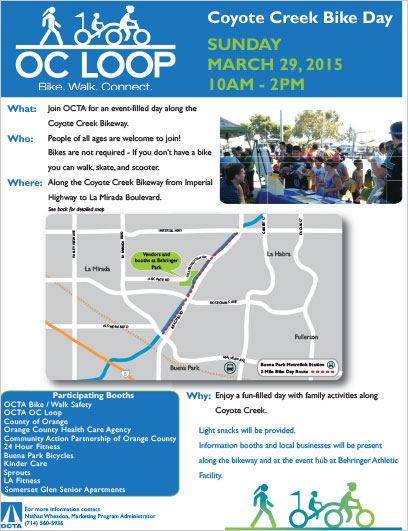 Click on the image above to view a larger version.

In the Community

Supervisor Honors Eagle Scouts

Supervisor Nelson enjoyed an evening of friends, family and fun during presentations of the Eagle Scout award ceremonies held at Rose Drive Friends Church. Awards from the Supervisor were presented to each Scout and commendations were presented to each of their parents to recognize the time, energy and efforts they delivered to accomplish the most prestigious honor in Scouting.

Hosted at the Rose Drive Friends Church in Yorba Linda, the ceremonies were extra special for the Supervisor who was part Master of Ceremonies and part "Uncle Shawn' for his nephew and newly-minted Eagle Scout, Spencer Swift.

Spencer is the son of Steve and Joy Swift, who is also Shawn's sister. The collection of family members made it all the more enjoyable as the Supervisor recounted the incredible litany of accomplishments it took to earn the Eagle Scout title.

Not only must a Scout perform skill-sets and outdoor performance rigors, but each has to display leadership, mentoring capabilities to younger members and complete a civic project.

Spencer Swift not only delivered that Scouting litany, but successfully navigated the demands of Varsity Football and Volleyball at Whittier Christian High School, ASB, 12 years of Scouting and for academic fun, made Scholar Athlete and National Honor Society. Swift is as good in the outdoors as he is in the classroom, having completed 60 nights camping, garnered 33 Merit Badges and held the title of Senior Patrol Leader.

Also receiving Eagle Scout commendations that night were Austin Charles Gray, Kenneth Edwin Schemmer III and Russell Cooper Cecil. Congratulation and best wishes to these young men, their families and the remarkable Boy Scouts of Troop 1775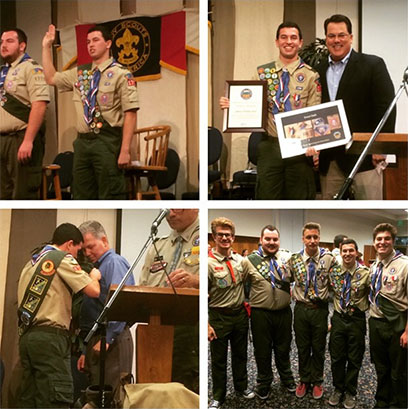 Troup 1775

Lady Bugs Environmental Termite & Pest

It was a delight for Lady Bugs Environmental to welcome close to 100 people to a three-chamber ribbon cutting representing the cities of La Habra, Fullerton and Whittier. Earlier this month, Lady Bugs celebrated the opening of their new location at 481 E. Whittier Blvd, Suite A in La Habra, with this June marking their fifth year anniversary. To conclude the event, owner Diego Hernandez and Marketing Manager Kim Praster released 1,500 live lady bugs into the air.

Lady Bugs Environmental Termite & Pest Control offers a variety of services: wood destroying termites, wood repair, rodent control, rodent proofing, bird control, bee emergency and insect control. One-time, monthly, bi-monthly, quarterly and yearly services are available. Lady Bugs leads the industry in environmental services on many of the pest control problems. Employees are all licensed, bonded, insured, and they must pass a county and state exam in order to identify or apply any materials.

Lady Bugs is very passionate about helping in the communities and giving back. Diego Hernandez is the incoming Board Chair of the La Habra Chamber of Commerce, and chairs the La Habra High School MBA Program (Marketing Business Associates). Kim (The Lady Bug) enjoys being an Ambassador for La Habra, Fullerton and Whittier chambers, and will be joining the Whittier Chamber Board of Directors in April. Meals on Wheels, La Habra Host Lions, Elks, and School Literacy Programs are just a few organizations where you will find Lady Bugs lending a hand.

All inspections are free and service is available in the greater Orange County area. For assistance, please call (855) 452-3928, visit www.ladybugsinc.net, and Like them on Facebook.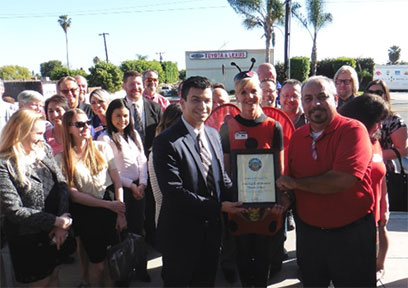 Deputy Chief of Staff Mark Lopez presents a certificate of recognition to owner Diego Hernandez during the ribbon cutting ceremony for Lady Bugs Environmental Termite & Pest.

Fullerton State of the City Highlights City's Achievements

(Courtesy of Fullerton Chamber)

During his State of the City address on March 19, Fullerton Mayor Greg Sebourn addressed a sold-out audience of more than 300 attendees comprised of business leaders and elected officials serving Fullerton and the North Orange County region.

During the 15th annual State of the City luncheon, sponsored by the Fullerton Chamber of Commerce, and hosted at the Fullerton Community Center, Mayor Sebourn shared his observations of the city's current status and his core initiatives – fundamental services, infrastructure improvement and maintenance, building on neighborhood strengths and unique offerings, and business development.

Accompanying his discussion were video segments featuring key city officials and business leaders. The videos provided details of city projects including works with the Orange County Transit Authority on two major grade separations aimed at alleviating traffic delays due to train activity across State College Blvd. and Raymond Ave., and seven miles of repaved roads in the last year. Mayor Sebourn also pointed out some of characteristics that make Fullerton an ideal community in which to live including the city's 52 parks and 28 miles of recreation trails, it's nationally ranked schools, and exceptional neighborhoods.

Equally vital to the city's success, he said, is the ability to attract and keep business in Fullerton. He added that with nearly 1,500 new business registrations in 2013, and an eight percent increase in new business registrations in 2014, business is growing in Fullerton. He went on to say that collaboration with entities such as the Fullerton Economic Development Commission and the Fullerton Chamber of Commerce is a key factor to helping the nearly 12,000 registered Fullerton businesses succeed.

Also speaking at the event were Lee Penrose, president and CEO of St. Jude Medical Center; and from California State University, Fullerton, Lori Gentles, vice president of Human Resources, Diversity and Inclusion, and Chris Reese, director of State and Community Relations. Reese, who also serves as chair of board of directors at the Fullerton Chamber, indicated some positive changes are on the horizon for the organization ¬¬– the largest business association in North Orange County – as it nears the end of its 120th anniversary.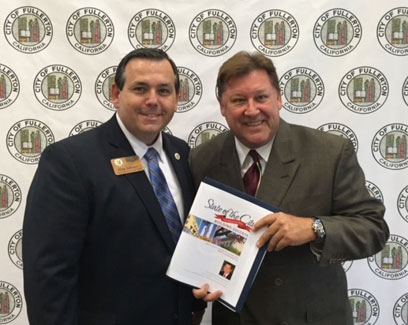 Mayor Sebourn and Steve Spernak

Supervisor Honors Top OC MADD Officers and Prosecutors

Supervisor Nelson's staff participated in their 5th year of showing support for Police Officers and Prosecutors at this week's MADD 2015 Awards Luncheon hosted at the Marconi Auto Museum in Tustin.

With approximately 800 attending, MADD honored the top 150 Officers, Deputies and CHP who were responsible for 7,222 of the 13,000 arrests made for drunk driving in Orange County last year.

During the presentations delivered by the California Office of Traffic Safety, emphasis was put on the need for Officers to get advanced training in drug-recognition which is becoming the new crisis in impaired driving.

Policy Advisor Steve Spernak delivered congratulations from the Supervisor to Fullerton Police Chief Dan Hughes who has dedicated drug-recognition training to his DUI and Traffic Division members to deter some of the 1169 DUI fatalities that took place in California last year.

For more details on how you can get drunk driving prevention information, please contact Steve.Spernak@ocgov.com or call him at (714) 834-3542.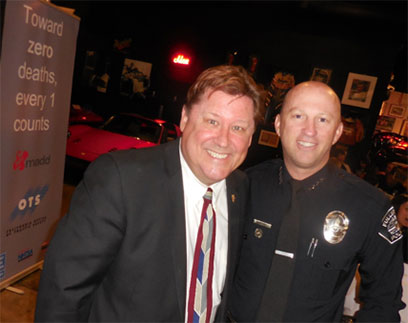 Steve Spernak with Fullerton Chief Hughes

County Commissions and Committees

The Fourth District has vacant appointments on the following commissions or committees:


Human Relations Commission
Waste Management Commission
Treasury Oversight Committee
Assessment Appeals Board
If you are interested in serving on one of these committees, please call Audra Fishel at (714) 834-3440.

OC Animal Care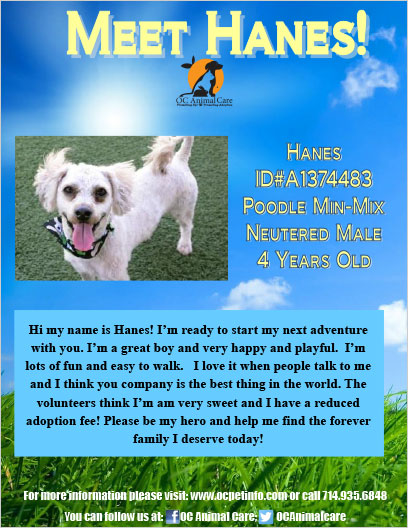 Click on the image above to view a larger version.

Announcements

3rd Annual Eco Challenge Angels Baseball Poster Contest
Batting Clean Up For Team Planet!

We are excited to announce the 3rd Annual Eco Challenge Poster Contest. Enter the County of Orange poster contest for the chance to be an Honorary Bat Kid at an Angels baseball game this year by creating a poster that clearly demonstrates how you personally 'Take the Eco Challenge'.

Design a poster which shows examples of projects or activities that you have developed or engaged in that promote recycling, reusing, or reducing in your school, home or community. The poster should focus on your personal plan of action. Posters will be judged based on originality, visual clarity, relevance to theme, artwork, and effectiveness of message. Winners will be selected by the County of Orange, Discovery Cube of Orange County and Angels Baseball representatives.

Bring or mail your entry to Discovery Cube or OC Waste & Recycling Headquarters by June 30, 2015. One lucky winner from each of Orange County's five Supervisorial Districts will be awarded the status of Honorary Bat Kid during an Angels home game and receive other fabulous prizes. For contest details please visit ocEcoChallenge.com/batkid or by phone at (714) 834-4174.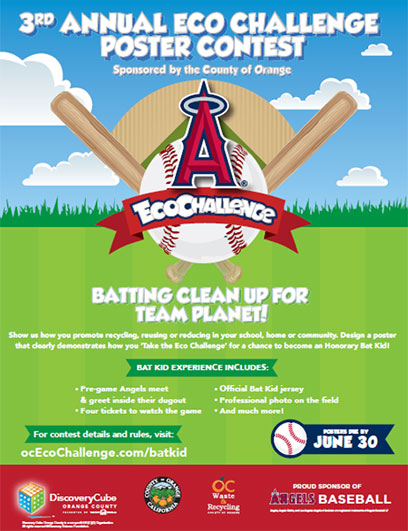 Events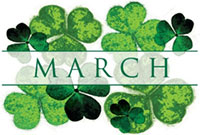 Anaheim

What: Good Morning Anaheim Breakfast - April 3rd, 2015
When: April 3, 2015
Where: Clarion Hotel 616 Convention Way Anaheim, CA 92802
Time: 7:30 AM - 9:00 AM

What: Anaheim Chamber Leads Lunch
When: April 8, 2015
Where: 1545 Disneyland Dr. Anaheim, CA 92802
Time: 11:30 AM - 1:00 PM

Brea

What: The Business Connection Brea
When: March 31, 2015
Where: The Corner Bakery Cafe 103 W Imperial Hwy, Brea, CA 92821
Time: 7:30 AM - 8:30 AM

What: North Orange County Legislative Alliance (NOCLA) meeting
When: April 1, 2015
Where: 1 Civic Center Circle 1st floor, Brea
Time: 7:30 AM - 9:00 AM

What: "It's Your Money" Free 8-wk Series
When: Tuesday April 7-May 26, 2015
Where: Brea Senior Center 500 S. Sievers Ave, Brea, CA 92821
Time: 1:30 PM - 3:00 PM

Buena Park

What: 5th Annual Relay for Life Golf Tournament
When: April 6, 2015
Where: 8888 Los Coyotes Drive, Buena Park CA, 90621
Time: 8:30 AM – 5:00 PM

What: Planning Commission
When: April 8, 2015
Where: 6650 Beach Boulevard
Time: 7:00 PM

Fullerton

What: Ribbon Cutting: OC Upper Cervical
When: March 27, 2015
Where: 1023 E. Chapman Ave., Fullerton
Time: 4:00 PM -5:00 PM

What: Congressman Ed Royce Women's Conference
When: March 28, 2015
Where: 800 North State College Blvd., Fullerton, CA 92834
Time: 8:30 AM -12:30 PM

La Habra

What: Annual Easter Pancake Lions Club
When: March 28, 2015
Where: El Centro Lions Park 320 E Erna Ave, La Habra, CA 90631
Time: 12:00 PM - 12:00 PM

What: Mysterium Theater Grand Opening, for their show Pirates of Penzance.
When: March 28, 2015
Where: 311 South Euclid Street La Habra, CA 90631
Time: 4:00 PM - 5:00 PM

Placentia

What: Easter Eggcitement & Spring Carnival
When: March 28, 2015
Where: Kraemer Park 201 N. Bradford Ave. Placentia, CA 92870
Time: 9:00 AM – 1:00 PM

What: Foodie Friday at Meat up BBQ
When: April 3, 2015
Where: 1450 N. Kraemer Blvd, Placentia
Time: 11:00 AM - 9:00 PM



For questions or comments regarding Nelson's E-News
please contact the Supervisor's office staff:
Audra Fishel – Phone: (714) 834-3440, Email: Audra.Fishel@ocgov.com.


Denis Bilodeau
Chief of Staff

Mark Lopez
Deputy Chief of Staff

Audra Fishel
Policy Advisor /
Communications Director

Steve Spernak
Policy Advisor

Scott Carpenter
Policy Advisor

Natalie Wieckert
Staff Aide



Stay Connected!