Board of Supervisors

Welcome to Nelson's E-News!

Thank you for reading this edition of my newsletter. I hope you find the information below very helpful. As always, I appreciate and look forward to your feedback.

The Board of Supervisors held a meeting this week. Please see below for highlights. The next meeting will be Tuesday, May 12, 2015 at 9:30am in the Hall of Administration – 333 W. Santa Ana Blvd., Santa Ana 92701.

Please see photos and descriptions below of some of the events our office was able to attend in the community this week. If you were unable to attend, there are other events listed at the end of this newsletter.

Sincerely,
Shawn Nelson

Board Updates



Frank Kim Selected as Incoming
OC County Executive Officer Effective May 12

Mike Giancola Honored for His Leadership and Service
(Courtesy of CEO Communication's office)

The Orange County Board of Supervisors announced that Chief Financial Officer Frank Kim will assume the duties of County Executive Officer, effective May 12, following the Board's ratification of Mr. Kim's contract.

Kim was named the County's top financial officer in May 2013, and previously served as County Budget Director for more than five years.

The Board also announced that, on May 12, the Board will consider releasing current County Executive Officer Michael Giancola from his employment agreement. If approved by the Board, this action will permit Giancola to retire after more than 30 years as a County employee, including two years as CEO after rising through the ranks to become Director of OC Waste & Recycling.

Giancola, who assumed the top job in May 2013, restructured County departments and the executive office, including creating a new chief real estate officer. He set a more business-focused vision for agencies and departments, including standardizing County practices, and enhanced formal training for County workers. He began his County career as a park attendant in 1976, leaving only for a five-year stint in the U.S. Navy. During 27 years with OC Waste & Recycling, he served in a number of management positions, including as the first manager of the County's recycling program and as a deputy director.

The unanimous decision by the Board to appoint Kim follows the announcement last month that the CEO intended to retire earlier than planned due to health reasons. Chairman Spitzer said Tuesday that the Board didn't need to look far to find an outstanding replacement, which is a testament to the County's commitment to developing more robust succession planning and creating opportunities for internal advancement.

Since joining the County in 1995, Kim has served in a number of capacities with agencies including the County Executive Office, Auditor-Controller Department, OC Waste & Recycling and the Probation Department. Before starting his career with the County, Kim worked as an internal auditor for American Restaurant Group and as a tax accountant for Arthur Anderson & Co.

Kim's annual salary will be included in the contract that will be ratified by the Board of Supervisors at the public meeting on May 12. He currently earns $192,379.20 a year. In the event the Board on May 12 approves the action to terminate Giancola's contract, Giancola will receive a severance payment from the County equal to 90 days' salary. His salary is $248,060.80 annually.

Board Approves Third Quarter Budget Report

Staff presented Third Quarter Budget Report, ending March 31, 2015. Revenues were reported to be slightly increased, including the property tax revenue that comprises approximately 90% of the County's general purpose, or discretionary, revenue.

The County's strengthened fiscal condition is also due in part to the County's commitment to encouraging responsible budgeting. Staff noted that at the beginning of each fiscal year, the County tends not to fully fund every department's request, which motivates innovation and stewardship while carrying out operations.

Other notable items included an additional $7 million in waste importation revenue following an agreement with the L.A. County Sanitation District and a savings of $2.4 million in capital projects that came in under budget. To address a previous concern about de minimis retroactive agreements being presented to the Board, Supervisors agreed to allow departments to administratively approve them from $500 to $10,000. Those under $500 were already permitted.

The Board deleted 15 vacant positions, ten from Probation and five from Child Support Services. This reduced the number of budgeted positions in the County from 18,150 to 18,135. For more information, please see the PowerPoint presentation here.

County Applies for Fourth District Sidewalk Improvements

The Board of Supervisors unanimously approved an application for $4,750,000 in grant funding for several sidewalk improvements in the unincorporated Southwest Anaheim area.

These funds would cover the project costs needed to construct sidewalks on various local streets in the. The project involves reconstructing driveways; curbs and gutters; curb ramps; and cross-gutters to provide connection to the existing sidewalks in the area that connect to several schools.

Adding these sidewalks to the community will improve the safety and convenience of walking and biking for neighborhood children and adults and will encourage the use of walking and biking as an alternative to driving.

The money is provided by the State through its Active Transportation Program (ATP), which has an application deadline of June 1. Importantly, no matching funds are required of the County. Please see the map below for the proposed improvement locations.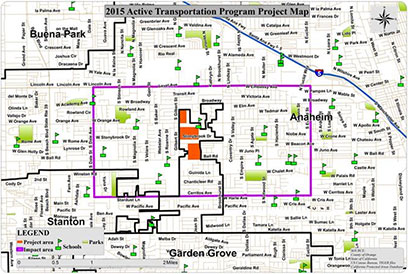 Click on the image above to view a larger version.

OCTA



OC Streetcar Project Celebrates Milestones

(Courtesy of OCTA)

Officials from the Orange County Transportation Authority, Santa Ana and Garden Grove will mark important milestones leading toward the construction of the OC Streetcar. Elected leaders and stakeholders will be recognized for their ongoing support of the project and updates will be provided.

The four-mile long streetcar is planned to run from the Santa Ana Regional Transportation Center through Downtown Santa Ana and the Civic Center, operating through important employment, restaurant and retail centers along Fourth Street and Santa Ana Boulevard. It will also travel to a new multimodal transit hub at Harbor Boulevard and Westminster Avenue in Garden Grove. The project is planned to be operational by the end of 2019.


WHEN:
1:30 p.m., Monday, May 11
WHERE:
Santa Ana Regional Transportation Center, 1000 E. Santa Ana Blvd, Santa Ana, CA 92701
WHO:
Scheduled speakers include:


OCTA Chairman Jeffrey Lalloway, also Mayor Pro Tem of Irvine
OCTA Director, Miguel Pulido, also Mayor of Santa Ana
Metrolink Chairman Shawn Nelson, also an OCTA director
OCTA CEO Darrell Johnson
Reuben Franco, president O.C. Hispanic Chamber of Commerce
Ryan Chase, president of Downtown Inc.

The project, long talked about, is now on track to be designed and built. OCTA has taken over as the lead agency to build the OC Streetcar and the environmental plans have received approvals from both cities and from the Federal Transit Administration. OC Streetcar has been accepted into the project development phase of the New Starts federal grant program. The streetcar, estimated to cost $250 million to build, is planned to be the first such project in Orange County. It's expected to provide a convenient last-mile connection between Santa Ana's train station and business and employment centers.

In the Community

Orange County Visitors Association Tourism Conference

The Orange County Visitors Association (OCVA) hosted their annual Tourism Conference "Celebrating OC Tourism Traditions" at Disney's Grand Californian Hotel on May 6th. The OC Tourism Conference is held each year in conjunction with National Travel & Tourism Week in recognition of the important role tourism plays in the local, regional and national economy.

Supervisor Nelson kicked off the event by presenting a proclamation supporting May 2nd through 10th as "Travel and Tourism Week in Orange County". This year's theme highlighted the celebration of Disneyland's 60th anniversary along with other key milestones in the OC: Knott's 95 years; UCI 50 years; OC Fair Grounds 125 years; Nixon Library 25 years; Hilton Waterfront Beach Resort; and Huntington Beach 25 years.

Supervisor Nelson's wife, Sharon Nelson currently serves on the Orange County Tourism Council as an ex-officio member and Fourth District representative since March 2011. The council is a non-profit agency that represents a wide variety of local tourism-related organizations including accommodations, arts & culture venues, attractions, chambers of commerce, convention & visitor bureaus, retail & shopping center and visitor services.

For more information please visit http://visittheoc.com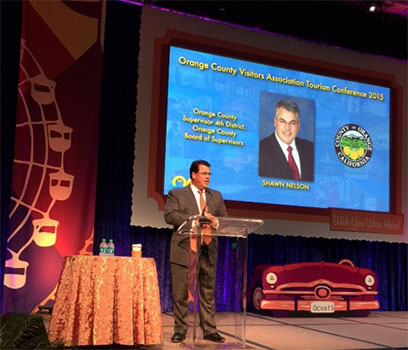 Supervisor Nelson speaking to the crowd at the 2015 Tourism Conference

Citrus Fair 2015

This year's La Habra Citrus Fair was a huge success with the theme "Back to the Farm II." This year's fair featured a new livestock exhibit and auction, gem and mineral show, and a horticulture competition!

Fourth District representatives Steve Spernak and Natalie Wieckert set up for a busy weekend of community outreach at the Festival. Over the course of the weekend, hundreds of attendees received Senior Guides, pens, whistles, and County informational brochures.
The Citrus Fair is hosted by the La Habra Chamber of commerce, located at 321 E. La Habra Boulevard.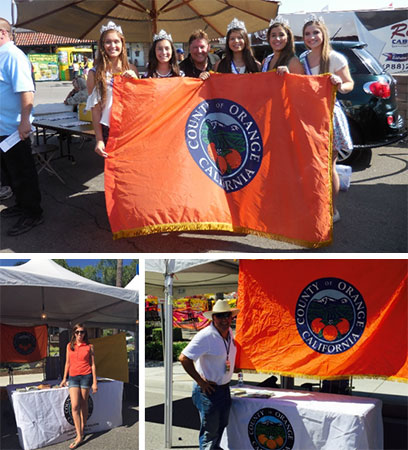 (Top) Policy Advisor Steve Spernak and the La Habra court

(Bottom) Policy Advisor Natalie Wieckert and Steve Spernak manning the County informational booth

Donate Life 2015

Completing his legacy of supporting the life-giving charity founded by Kathleen and Craig Hostert, Supervisor Nelson was honored to help with the opening ceremonies and welcome over 15,000 friends of Donate Life at Cal State Fullerton.

The communications effort to showcase the Donate Life mission of organ transplant and tissue recovery began at 8 a.m. with welcomes and warm-up music along with inspirational stories of how lives were saved from the generosity given from lives that were lost.

This year, Supervisor Nelson was honored to recognize the California Department of Motor Vehicles and their team of representatives for their state-wide support of the organ donate mission that registers drivers who want to donate their organs in the event of their traffic-collision fatality.

Through the tears and hugs, special thanks went out to the Hastert's who pulled together their 13th rally with the prayers that held off the rain so thousands could enjoy the morning honoring the donors and recipients of transplants in 2015.

Walking this year to honor the dad who passed before he could get a heart-transplant were the entire Nelson family who joined with the Armstrong family to create Jason's Angels.

Tiffany Armstrong, best friends with Katherine Nelson, lead the Jason's Angels effort with team shirts and end-of-the-day photos to honor the memory of her dad.

For more information on how you can be a sponsor, donor, vendor or recipient of this life-giving program, please contact Kathleen Hostert of Donate Life at 761 W. Kimberly Ave, Placentia, Ca, 92870, (714) 961-1356 or check their website at www.donateliferunwalk.org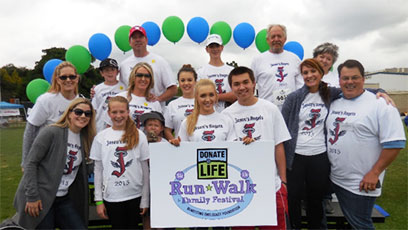 Supervisor Nelson with donate life supporters

Supervisor Honors Alzheimer's Pioneer at Council on Aging

Supervisor Nelson was honored to partner again with the Council on Aging as they presented special recognitions and awards to their top supporters and patrons at this year's Engage in Life luncheon.

Hosted at the Irvine Marriott, the 10th annual fundraising luncheon raised thousands of dollars from benevolent patrons, staff and sponsors that goes to support all the incredible programs coordinated by Lisa Wright-Jenkins and her team at the Council on Aging.

Steve Spernak, Policy Advisor from the Fourth District, delivered thanks to Charlotte Finklea who coordinated the luncheon and program as well as a special Lifetime Achievement award to Dr. William Shankle who was the keynote speaker on Alzheimer's disease.

The crowd of seniors and caregivers were fascinated by the presentation by Dr. Shankle who is the clinical director for the Alzheimer's Research Clinic at UCI and Chair of the Voltmer Memory and Cognitive Disorders Center at Hoag Hospital.

Dr. Shankle covered the good news about seniors getting a memory checkup annually so doctors can identify onset of dementia or other brain issues that pre-empt the tragedy of Alzheimer's Disease.

Positive steps to slow the brain deterioration included exercise to work blood into the brain, proper diet, moderate consumption of wine that contains anti-aging elements and minor consumption of chocolate where bioflavonoids work to deter aging and brain lapses.

Shankle said consuming olive oil on a regular basis along with finding a hobby or passion that requires you to focus and process memory helps stimulate the brain and stretch the memory loss window normally associated with aging as much as 20 years.

For more information on how you can deter dementia and Alzheimer's disease, please contact the Shankle Clinic in Newport Beach at www.Shankleclinic.com or call (949) 478-8858.

For critical and extensive information on how world research is investigating Alzheimer's through biogen treatment and prevention, get a copy of this week's Fortune Magazine or go to Fortune.com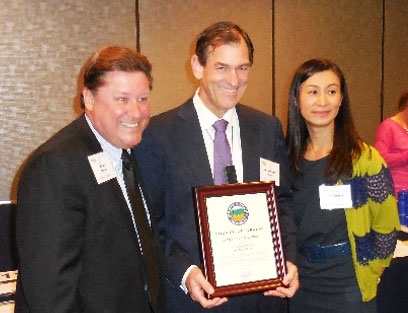 Policy Advisor Steve Spernak delivers Lifetime Achievement Award to Dr. Shankle at Council on Aging Luncheon

Library Corner
Country Music Star Trace Adkins visits La Habra Library
Country Singer Trace Adkins made a special appearance on Tuesday, May 5, 2015 at La Habra Library as a direct result of a card that was sent by a 7-year old girl from the La Habra Library. Trace was performing for the troops with USO for Charlie Co. in Afghanistan when the cards and boxes of cookies from La Habra was received. He and a lieutenant decided to pick a card at random to write back to and picked Jessica's. They thought she was a Girl Scout because of the cookies. She was actually one of the homework help students at La Habra Library.

To read more, please click on the OC Register story below:
http://www.ocregister.com/articles/habra-660675-adkins-star.html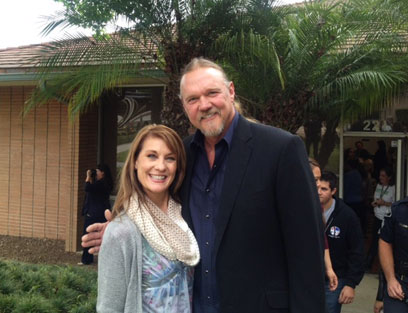 Sharon Nelson (Supervisor Nelson's lovely wife) and Country Star Trace Adkins

Announcement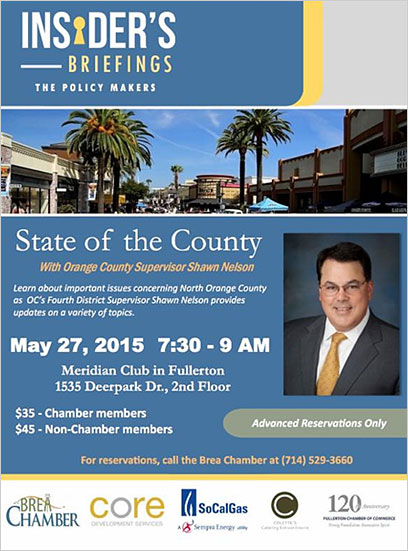 OC Parks
Ralph B. Clark Regional Park
Proudly Announces….

OUR NEW ARRIVAL!
Lisa, the park's paleontologist, is welcoming "Harlan", our newest resident, to the museum. Harlan arrived on April 29. He is a Harlan Ground Sloth (Paramylodon harlani).

Harlans Ground Sloths are extinct. They were a midsized sloth standing about 6 feet tall and weighing up to 3,500 lbs. Like modern sloths, Harlans were plant eaters. Their large claws were most likely used to dig up plant roots.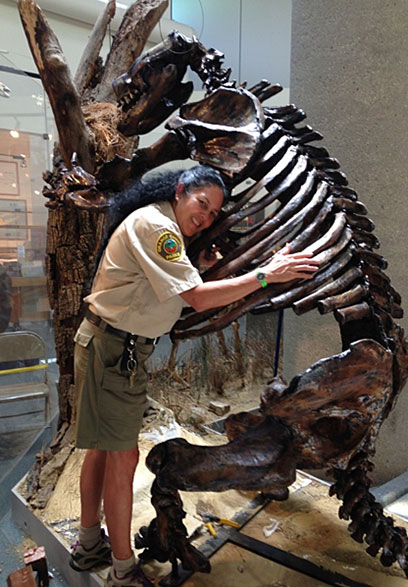 County Commissions and Committees

The Fourth District has vacant appointments on the following commissions or committees:


Waste Management Commission
Treasury Oversight Committee
Assessment Appeals Board
If you are interested in serving on one of these committees, please call Audra Fishel at (714) 834-3440.

OC Animal Care


Click on the image above to view a larger version.

Events
What: Chamber of Commerce Tailgate at CSUF
When: May 8, 2015
Where: CSU Fullerton, 800 N. State College Blvd., Lot A, Fullerton CA 92832
Time: 6:00 PM -7:00 PM

What: Community Center FREE Preventative Health Care
When: May 11, 2015
Where: St. Mary's Church, 400 W. Commonwealth Ave., Room 8B, Fullerton CA 92832
Time: 9:00 AM - 2:00 PM

What: Anaheim Chamber Leads Lunch
When: May 13, 2015
Where: Clarion Hotel 616 Convention Way Anaheim, CA 92802
Time: 11:30 AM - 1:00 PM

What: Ribbon Cutting - Western Medical Center Anaheim
When: May 20, 2015
Where: 1025 South Anaheim Blvd. Anaheim, CA 92805
Time: 12:30 PM - 1:30 PM

What: The Business Connection Brea
When: May 12, 2015
Where: The Corner Bakery Cafe 103 W Imperial Hwy, Brea, CA 92821
Time: 7:30 AM - 8:30 AM

What: Planning Commission
When: May 13, 2015
Where: 6650 Beach Blvd, Buena Park CA 90620
Time: 7:00 PM

What: Buena Park Police Open House
When: May 16, 2015
Where: 6650 Beach Blvd, Buena Park CA 90621
Time: 11:00 AM – 2:00 PM

What: Five Love Languages in Parenting
When: May 9, 2015
Where: Placentia Library 411 E. Chapman Avenue, Placentia CA
Time: 10:00AM -11:30AM

What: Placentia Round Table Women's Club Spring Garden Tour
When: May 9, 2015
Where: 901 N. Bradford Ave, Placentia CA
Time: 9:00 AM – 8:00 PM

What: ConnectUp at Corner Bakery
When: May 14, 2015
Where: Corner Bakery Cafe 1040 W. Imperial Highway La Habra CA 90631
Time: 8:00 AM - 9:00 AM

What: Economic Development Ad Hoc Committee
When: May 14, 2015
Where: La Habra Area Chamber of Commerce 321 E. La Habra Blvd La Habra CA 90631
Time: 1:30 PM - 3:00 PM



For questions or comments regarding Nelson's E-News
please contact the Supervisor's office staff:
Audra Fishel – Phone: (714) 834-3440, Email: Audra.Fishel@ocgov.com.


Denis Bilodeau
Chief of Staff

Mark Lopez
Deputy Chief of Staff

Audra Fishel
Policy Advisor /
Communications Director

Steve Spernak
Policy Advisor

Natalie Wieckert
Policy Advisor

Joy Kim
Staff Aide



Stay Connected!