Board of Supervisors

Welcome to Nelson's E-News!

Thank you for reading this edition of my newsletter. I hope you find the information below very helpful. As always, I appreciate and look forward to your feedback.

The next board meeting will be Tuesday, March 14th at 9:30am in the Hall of Administration – 333 W. Santa Ana Blvd., Santa Ana 92701. The agenda may be accessed here.

Please see photos and descriptions below of some of the events our office attended in the community this week. If you were unable to attend, there are other events listed at the end of this newsletter.

Sincerely,
Shawn Nelson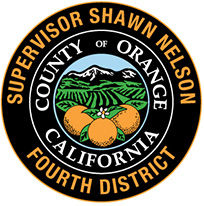 Board Updates

Drowning Prevention Campaign Approved

With summer on the horizon, many residents will soon head to the beach or swimming pools. In an effort to ensure the public health and safety during this season and year-round, the Board of Supervisors approved a multilingual drowning prevention awareness campaign.

Drowning is one of the top five causes of unintentional injury in Orange County, according to Immersion Incidents and Drownings in OC. Each year in Orange County, approximately 100 immersion incidents are serious enough to involve medical attention. Since 2010, there have been 295 fatal drownings.

The cost for this program will be a maximum of $275,000, with half of the funding anticipated to come from donations and sponsorships. Services will include developing materials such as graphic design, photoshoots and translations as well as media buys for outdoor (bus ads/bus shelters) and digital ads.

Board Protects Real Property Records

The Orange County Clerk-Recorder is responsible for recording, filing and maintaining all real property transactions occurring within the County of Orange. For each official record recorded between January 1, 1980, and December 31, 2008, the Clerk-Recorder is required by state law to create a truncated electronic "public record" for each official record.

In keeping with its mandated responsibility to provide this record, the Clerk-Recorder must first redact individuals' social security numbers from the recorded real property documents prior to being made available to the public. Therefore, the Board of Supervisors approved an agreement to allow the Clerk-Recorder to comply with this law to achieve transparency with the public and safeguard the identity of those doing business in the county.

For the approximately 5.5 million pages maintained by the Clerk-Recorder that require redaction from this time period, the cost is not to exceed $180,080.68. Funding is provided entirely by Clerk-Recorder fees.

Flood Control Channel Maintenance and Security Project

The County of Orange Public Works department (OCPW) is working on a Flood Control Channel Maintenance and Security Project along the Santa Ana River. Please click here to see answers to some of the most commonly asked questions about the project as well as how the project impacts homeless encampments in the area.

If you would like an answer to a question not listed or want to provide feedback regarding the project, please email the County Executive Office at ceocom@ocgov.com.

Waste Not OC Update

On May 10, 2016, the Board of Supervisors approved the distribution of information to food facility operators to educate them on food donation. The Healthcare Agency is the first point of contact for food facilities and during their routine inspections they will educate those facilities on the necessary steps to properly donate excess food. This service provides a linkage between food facilities with excess food and those that are hungry.

Now area hospitals, including Kaiser, St. Joseph Hospital, St. Jude Medical Center and Children's Hospital of Orange County, have joined the fight to end hunger. Thanks to their participation, those who are hungry will have access to nutritious, high quality meals, benefitting all. This is exactly the type of public/private partnership Supervisor Nelson advocated for when the agenda item was originally passed by the Board of Supervisors nearly a year ago. For more information, visit http://www.wastenotoc.org/.

OCTA Update



State Route 55 Freeway Improvement Project Proposal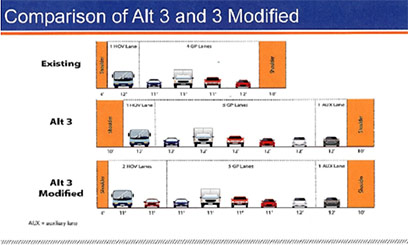 For those who live in the Fourth District, but work in the Irvine/John Wayne Airport area, relief is on the way! The Orange County Transportation Authority (OCTA) is studying a freeway improvement project that would add several lanes of roadway to State Route 55 (Costa Mesa Freeway) from the Interstate 405 (San Diego Freeway) to Interstate 5 (Santa Ana Freeway). The project proposal, known as Project F in Measure M2, would add one HOV lane, one general purpose lane and one auxiliary lane in each direction. The new lanes would be constructed within the existing right of way.

The proposal known at Alt 3 Modified (depicted above) is currently in the technical study phase following an environmental review late last year. OCTA projects that over the next decade and into the future the average daily trips on the SR 55 will increase by approximately 10% or more than 315,000 vehicles per day. The next step following the technical review stage is seeking additional public comments before the project proposal is considered by the OCTA Board of Directors in June, 2017.

Daylight Saving Time Begins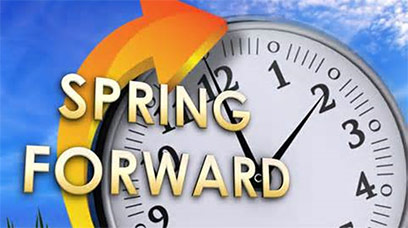 The sun will be out much longer after this weekend. Don't forget to "Spring Forward" before going to sleep this Saturday night as Daylight Saving Time begins Sunday, March 12 at 2:00am.

Property Taxes Due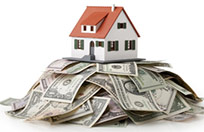 The second installment for 2016-17 property taxes is due by Monday, April 10, 2017. Mailed payments must have a USPS postmark on or before this date to avoid delinquent penalties. Pay early and online by eCheck at NO COST!

For more information on payment options, visit www.ocgov.com/octaxbill or call (714) 834-3411.

In the Community

Supervisor Welcomes Porto's Bakery to Buena Park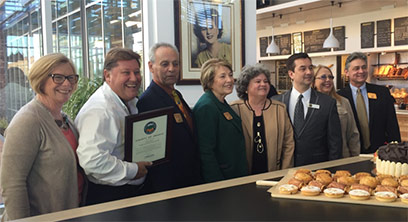 Policy Advisor Steve Spernak delivered a welcoming address and Certificate of Appreciation to the Porto family at the grand opening.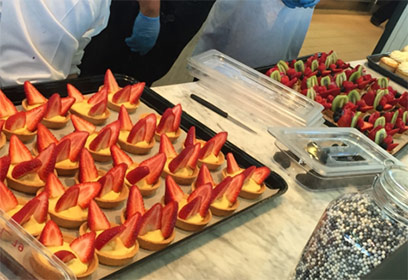 Porto's Bakery Buena Park offers the most amazing selection of fresh pastries, cakes, and Cuban hospitality in Orange County.
Supervisor Shawn Nelson was honored to partner with the Buena Park City Council and the North Orange County Chambers of Commerce in welcoming one of the most prestigious names in bakeries to OC!

Located at 7640 Beach Blvd, next to Medieval Times, the 17,000 square foot restaurant is a three-acre monument to fine cooking, culinary masterpieces, terrific service and delivers the taste of freedom every day as the fifth family restaurant to open in the United States.

The Porto restaurant concept started in Cuba after the revolution. Following the family's immigration to the U.S., the Portos moved to L.A. where they developed a huge following of friends and grew in reputation as THE place to go for quinceanera cakes, guave pastries, chicken empanadas, meat pies and their famous 98 cent potato balls.

Policy Advisor Steve Spernak delivered a welcome from the Supervisor to over 2,000 hungry guests who stood in line since daybreak to enjoy the fresh coffees, lunch sandwiches and world-class pastries buffet.

Once the crowds slow down, give yourself or the family a food adventure and go to Porto's Bakery Buena Park for the experience of international flavors and incredible edibles!

Events
La Habra State of the Community Address

State of the Community Address and Luncheon with:
Mayor Rose Espinoza at the New City Hall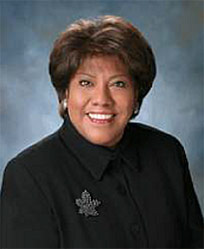 Mayor Espinoza welcomes you to the new City Hall. Because of the smaller space, we can only seat 125. Normally we accommodate 150 attendees. Please register online today.

The address will cover several topics related to progress in our community and the work that continues. A report from our local Chamber-supported High School programs: Agriculture and MBA - Marketing and Business Academy. An interactive video presentation from Washington Middle School.

Thank you to our sponsors Jones & Mayer, Northgate Markets and St. Jude in Fullerton.
Please note this is not an interactive address. You are welcome to speak to the Mayor before and after the event if time allows.

Register and Pay Online here

Date: March 24, 2017
Time: Doors open 11:00 AM - 01:15 PM PDT
Location: New - La Habra City Hall
110 E. La Habra Blvd
La Habra, CA 90631
Contact: Marie Laveaga (562) 697-1704
Email: marie@lahabrachamber.com

Date/Time Details: March 24, 2017
Details: Doors open at 11 am
Lunch served 11:20 am
Program 12 noon to 1:00 pm

Fees/Admission: $38 per person
Includes a buffet lunch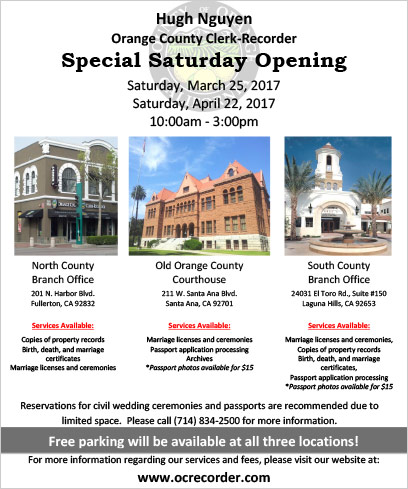 Click on the image above to view a larger version.

Anaheim Neighborhood Services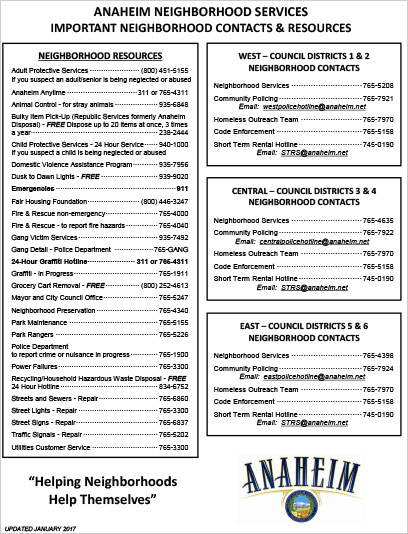 Click on the image above to view a larger version.

County Commissions and Committees

The Fourth District has vacant appointments on the following commissions or committees:


Assessment Appeals Board No.1
Orange County Parks Commission
Orange County Visitors Association
Senior Citizens Advisory Committee
If you are interested in serving on one of these committees, please call George Cardenas at (714) 834-3440.

Saint "Paw-tricks" Day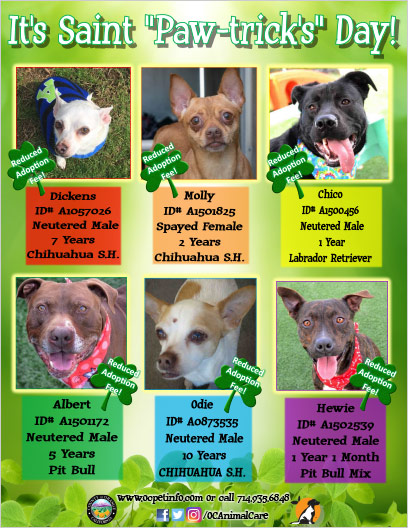 Click on the image above to view a larger version.

Library Corner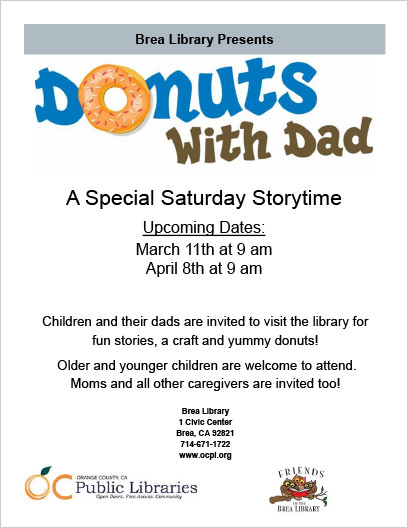 Click on the image above to view a larger version.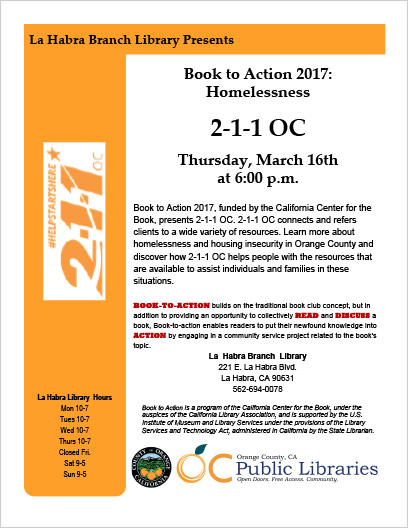 Click on the image above to view a larger version.

City of Anaheim Events

What: Margo Rey Live
When: March 10, 2017
Where: 2200 E Katella Ave, Anaheim, CA 92806
Time: 8:00 PM - 11:00 PM

What: Legislative Committee Meeting
When: March 17, 2017
Where: 2400 E. Katella Ave. Suite 725 Anaheim, CA 92806
Time: 12:00pm-1:30pm

City of Brea Events

What: Second Saturday Divorce Workshop North Orange County
When: March 11, 2017
Where: Room A 695 E. Madison Way (Randolph Ave and Madison Way) Brea, California 92821
Time: 9:00 AM - 12:00 PM

What: LEAD$ Lunch: Brea's ultimate networking solution!
When: March 15, 2017
Where: Olive Garden 270 Brea Mall Brea, CA 92821
Time: 11:45 AM - 1:15 PM

City of Buena Park Events

What: Cultural & Fine Arts Commission Meeting
When: March 15, 2017
Where: 6650 Beach Blvd Buena Park, CA 90621
Time: 7:00 PM

What: Park & Recreation Commission Meeting
When: March 16, 2017
Where: 6650 Beach Blvd Buena Park, CA 90621
Time: 7:00 PM

City of Fullerton Events

What: NOC Chamber Public Policy Committee
When: March 17, 2017
Where: 444 N. Harbor Blvd. Suite 200 Fullerton, CA 92832
Time: 8:30 AM - 9:30 AM

What: Soroptimist International of Fullerton Luncheon
When: March 20, 2017
Where: 110 E Santa Fe Ave. Fullerton, CA 92832
Time: 11:45 PM - 1:00 PM

City of La Habra Events

What: Connect Up at Corner Bakery
When: March 16, 2017
Where: 1040 W. Imperial Highway (at Idaho St.) La Habra CA 90631
Time: 8:00 AM - 9:00 AM

What: Coffee with a Cop
When: March 16, 2017
Where: 1040 W. Imperial Hwy at Idaho St. La Habra CA 90631
Time: 8:00 AM - 10:00 AM

City of Placentia Events

What: Certified Farmers Market
When: March 14, 2017
Where: SW Corner of Yorba Linda and Kraemer Blvd.
Time: 4:00 PM - 8:00 PM

What: Principal for a Day
When: March 15, 2017
Where: Placentia/Yorba Linda Unified School District
Time: 8:30 AM - 1:30 PM



For questions or comments regarding Nelson's E-News
please contact the Supervisor's office staff:
Mark Lopez – Phone: (714) 834-3440, Email: Mark.Lopez@ocgov.com.