Board of Supervisors

Welcome to Nelson's E-News!

Thank you for reading this edition of my newsletter. I hope you find the information below very helpful. As always, I appreciate and look forward to your feedback.

The next board meeting will be Tuesday, November 6, 2018 9:30am in the Hall of Administration – 333 W. Santa Ana Blvd., Santa Ana 92701. The agenda may be accessed here.

Please see photos and descriptions below of some of the events our office attended in the community this week. If you were unable to attend, there are other events listed at the end of this newsletter.

Sincerely,
Shawn Nelson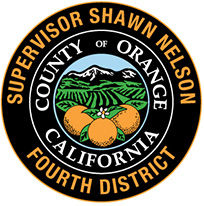 County Updates

White House Conference

On October 23rd Supervisor Nelson was invited by the White House Office of Intergovernmental Affairs to attend a conference with local leaders from Alaska, California and Hawaii. Supervisor Nelson had discussions with key administration officials and policymakers on pertinent issues impacting the State of California. The conference was held in the Eisenhower Executive Office Building with several guest speakers including assistant to the president and senior counselor Kellyanne Conway.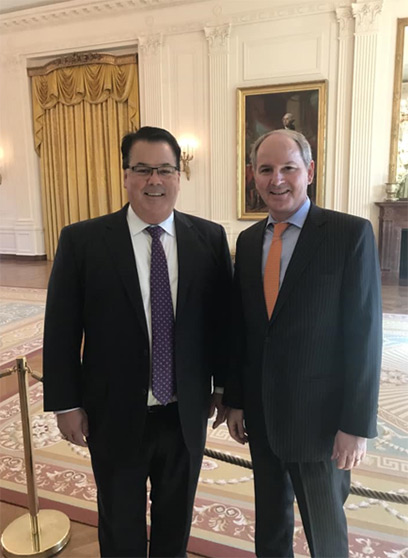 Supervisor Shawn Nelson and his Chief of Staff Denis Bilodeau at the White House

Conditions of Children in Orange County Report Shows Improving Outcomes for County Youth

The 24th Annual Conditions of Children in Orange County report was released yesterday, offering a comprehensive assessment of the health, economic well-being, education and safety of the County's children.

The following areas have shown improvement for the lives and well-being of Orange County's youth:

Good Health: Orange County children remain in good health with an uninsured rate of 2.5 percent; teen birth rates and infant mortality rates are at their lowest in 10 years.


Academic Improvement: Students continue to show academic improvement, especially children in migrant education and children who are economically disadvantaged.


Economic Well-Being / Child Support: The rate of current child support distributed to Orange County families has increased by 27 percent in ten years, higher than the rate in California. These improvements signify increased financial support for parents to provide for the basic needs of their children.


Safe Homes and Communities / Permanency: The percentage of children and youth entering foster care and placed in a permanent home within 12 months has shown significant improvement and is now higher than the rate in -the first time in six years.
In addition to the positive outcomes previously highlighted, the rate of women in Orange County receiving early prenatal care is higher than the national rate, immunizations for our kindergarteners are at the highest level in 10 years and the Orange County high school dropout rate has decreased to 5.3%; lower than state and national rates.

Fourth District Boards, Committees and Commissions Vacancies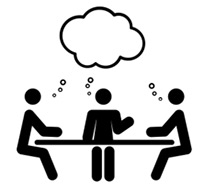 The fourth district has several vacancies on our County Commissions. If you or someone that you know would be a good fit to serve on one of our County Commissions, please send your resume to audra.fishel@ocgov.com

Audit Oversight Committee
OC Waste Management Commission
Assessment Appeals Board No.1
Assessment Appeals Board No.2
Orange County Visitors Association
OC Veterans Advisory Council
OC Mental Health Board
Senior Citizens Advisory Council
OC Historical Commission NEW

In the Community

Veterans Village – Placentia

Congratulations and hugs of appreciation were abound at ceremonies hosted this week as the city of Placentia completed ground-breaking ceremonies for their new Veterans Village transitional living complex.

The complex will host 50 units and provide homeless Veterans with on-site resident services and individualized case management. The supportive living services include health and wellness management, substance abuse counseling, transportation planning and events with workshops for job prep and placement. Co-developer New Directions for Veterans will be the administrators with the Sun Country Builders delivering the architect dreams of TCA Architects. Funding came from 10 sources and the final product looks to go operational in the summer of 2020.

City Administrator Damian Arrula pioneered the concept from the Veterans Village he saw in LA and had the outline ready for city council approval last year.

The navigation path and planning was put into a white paper that outlines all the steps and networking essential to successfully putting this concept from rough-draft to reality. The 'white paper' was so well done that Policy Advisor Steve Spernak mailed a copy, along with the event invite, to every city manager in OC's 34 cities.

Photos of the day's event and renditions of the complex can be found by opening the link here: https://photos.app.goo.gl/6dB6ShCDxpSBh8xR7

For more information on how your city can have this incredible program to return the favor to America's military, please email Damian Arrula at the city of Placentia darrula@placentia.org or contact steve.spernak@ocgov.com in the offices of Supervisor Shawn Nelson.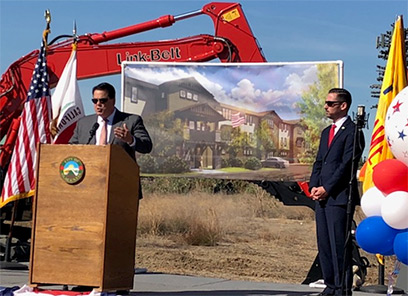 Supervisor Nelson greets the crowd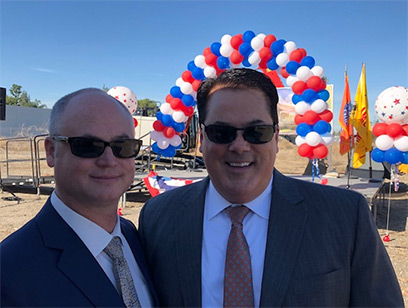 Mayor Chad Wanke and Supervisor Nelson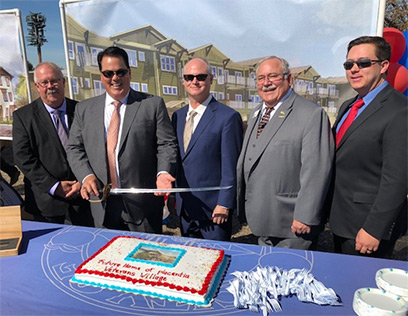 Supervisor Nelson with the Placentia City Council

Drug Take Back Day a huge success!

Supervisor Nelson along with the DEA and the Sheriff's department hosted another prescription drug take back day on Saturday October 27th from 10am – 2pm in unincorporated Anaheim at the Independcia community center. Hundreds of Orange County residents dropped of unused and expired prescription medications. Our event was anonymous and free.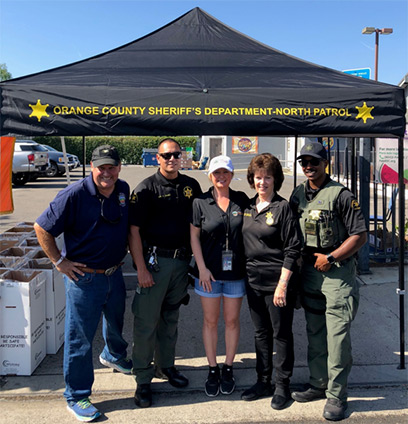 Policy advisors Steve Spernak and Audra Fishel stand with OC Sheriff Deputies and OC Sheriff Advisory Council Executive Director Marilyn McDougall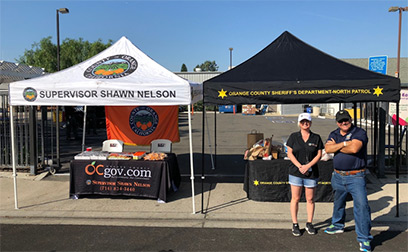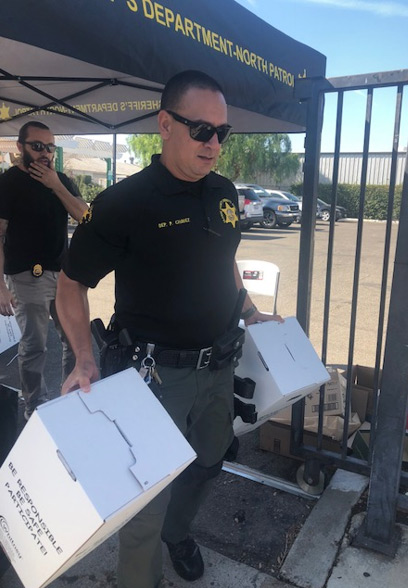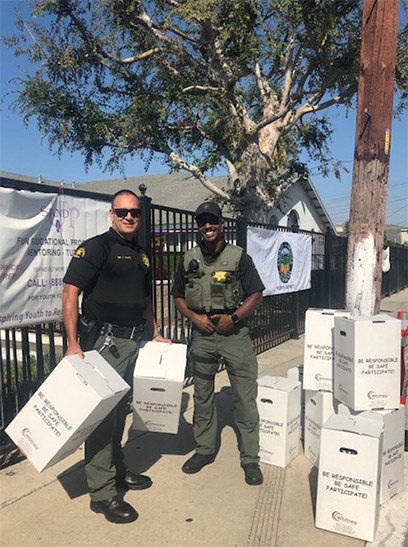 Placentia Heritage Days

Congratulations to the City of Placentia and the thousands who braved the wind and rain but still rallied to enjoy a fun day as they celebrated the traditional Heritage Days this past Saturday.

City crews did another terrific effort to layout the vendors and BBQ grills inside Tri-City Park for the brave residents who risked getting soaked in the morning rain.

The car show, which is typically one of the best in OC, was down to a handful of cars covered with canopies and the crowds of kids who marched in the parade was down to a handful. The rain soaks their wool uniforms and isn't good on instruments or convertibles.

The Heritage Days has a history of weather challenges. This year was the rain and two years ago it hit 104 degrees on Kraemer Blvd causing the city to shut down the parade and an early ending at the festival. Supervisor Nelson was happy to participate and staff made the best of it handing out Veteran info and candy to kids of all ages.

Next fun event in Placentia will be the year-end Tamale Festival in Old Town hosted by Rosalina Davis and her merchants association. See you there for incredible tamales , mariachi music and Santa!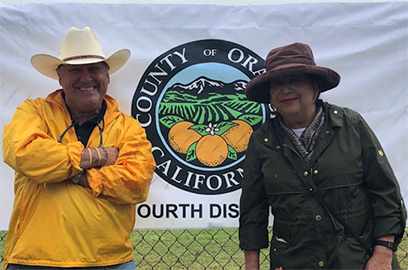 Policy Advisor Steve Spernak and Rosalina Davis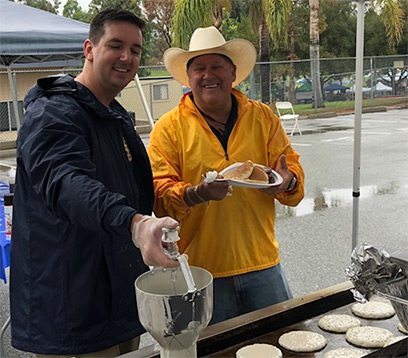 Policy Advisor Steve Spernak enjoying some pancakces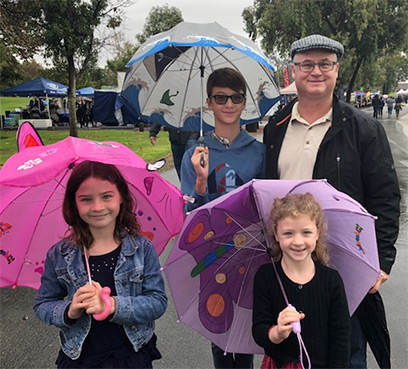 Mayor Chad Wanke and his family

Silverado Days

Congratulations to Lions Club director and Silverado Days Chairman Pat Donnelly for delivering another fantastic weekend as Buena Park celebrated their 62nd annual Silverado Days fiesta.

Hosted at William Peak Park, the entire city rolls out their finest western wear and boots to the themes of food and family fun.

The carnival midway and 5k run are part of the lineup by sponsors who work all year on marketing and planning for the October fun. Hysterical fun is obvious when the hairy legs contest takes center stage, along with cutest baby and the always-fun pie eating contest.

Policy Advisor Steve Spernak enjoyed the weekend along with staffers Jim Francis and Jesus Nodarse who handout out candy, veterans info, county services guides and Parks information from Friday till Sunday night. Special thanks to all the vendors, cooking teams, charities, Police and Fire display members, BP Noon Lions Club and legendary character Pat Donnelly who completed his 45th year working Silverado Days !!!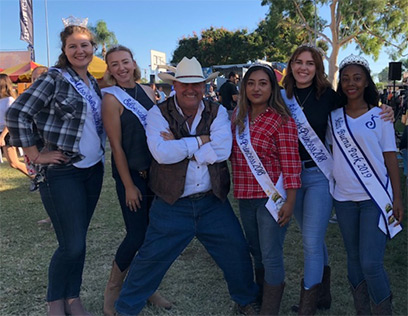 Policy Advisor Steve Spernak stopped to thank the Miss Buena Park and her Court for their work on the car raffle.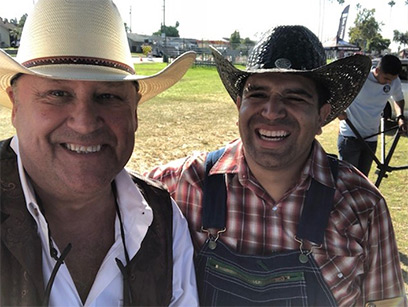 Buena Park Senior Center Director Mark Saucedo joins Steve Spernak backstage at the hairy legs contest.

Pet of the Week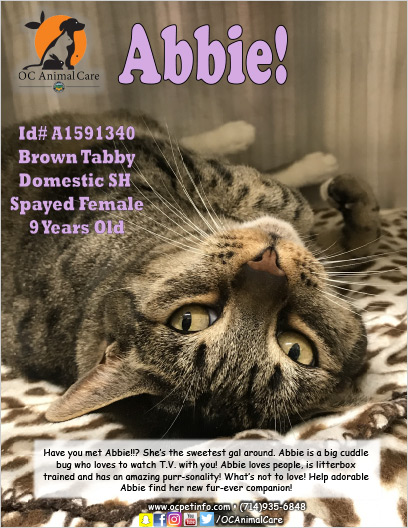 Click on the image above to view a larger version.

Events
Veterans Day 2018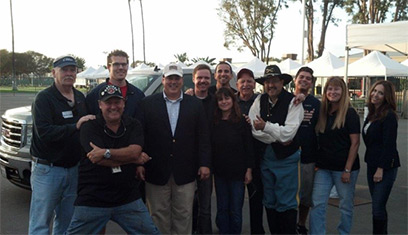 The Veterans+Labor: Partners in Service Veterans Day Celebration began in 2013 as a way to bring much needed recognition to Veterans issues including homelessness and hunger. We were amazed to learn that so many of our military men and women – and their families – don't have enough to eat. That's where the Veterans Day Food Drive comes in.

Last year, Supervisor Nelson joined with the Partners in Service campaign and collected a record 9.7 tons of non-perishables and other items for organizations serving veterans. The Labor Movement conceived an annual event to also provide information and services that Veterans need. You have been a big part of that. Supervisor Nelson and Policy Advisor Steve Spernak will be handing out free cigars to any Veteran who stops by and also deliver guidebooks and contact information related to benefits and services we provide at the Veterans Service Office.

For more information on this terrific event please connect into the following links:

Social media pages:

Facebook: https://www.facebook.com/events/743643439344161/
https://ocfair.com/heroes-hall/events/

Instagram: https://www.instagram.com/oceastrong/

Website: http://www.ocea.org/assets/files/event-fliers/2018-veterans-day.pdf
https://ocfair.com/events-calendar/salute-to-veterans-free-community-celebration/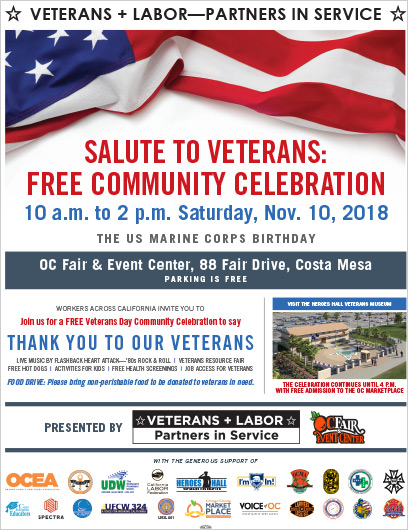 Click on the image above to view a larger version.

City of Anaheim Events

What: Anaheim Chamber Leads Lunch
When: November 14
Where: Embassy Suites South, 11767 S Harbor Blvd, Garden Grove
Time: 11:30am-1:00pm

What: Government Affairs Committee Meeting
When: November 16
Where: Anaheim Chamber of Commerce, 2099 S State College Blvd #650, Anaheim
Time: 12:00pm-1:30pm

City of Brea Events

What: Lead$ Lunch
When: November 7
Where: Embassy Suites, 900 E Birch St, Brea
Time: 11:45am-1:15pm

What: City of Brea Veteran's Day Ceremony
When: November 12
Where: Brea War Memorial Brea Civic & Cultural Center
Time: 10:00am-10:45am

City of Buena Park Events

What: Veterans Honor Walk
When: November 7
Where: Ehlers Event Center, 8150 Knott Ave, Buena Park
Time: 5:00pm-6:00pm

What: City Council Meeting
When: November 13
Where: Buena Park City Hall, 6650 Beach Blvd, Buena Park
Time: 5:00pm

City of Fullerton Events

What: OC United Partners with Rotary for 2nd Annual Pumpkin Run
When: November 3
Where: Juanita Cooke & Hilscher Trails Park, 1275 N Berkeley Ave, Fullerton
Time: 6:30am-12:00pm

What: CSUF-Augie Garrido Celebration of Life
When: November 9
Where: CSUF Titan Gym, 800 N State College Blvd, Fullerton
Time: 3:30pm-5:00pm

City of La Habra Events

What: Mark Sturdevant's Bon Voyage Party
When: November 8
Where: La Barcade Jalisco Restaurant, 151 W Whittier Blvd, La Habra
Time: 5:30pm-10:00pm

What: Connectup at Corner Bakery-La Habra Chamber of Commerce
When: November 15
Where: Corner Bakery, 1040 W Imperial Hwy, La Habra
Time: 8:00am-9:00am

City of Placentia Events

What: Certified Farmers Market
When: November 6
Where: SW Corner of Yorba Linda & Kraemer Blvds, Placentia
Time: 4:00pm-8:00pm

What: Networking at Noon
When: November 9
Where: Rem's Vegas Sports Lounge, 909 Yorba Linda Blvd, Placentia
Time: 11:30am-1:00pm



For questions or comments regarding Nelson's E-News
please contact the Supervisor's office staff:
Audra Fishel – Phone: (714) 834-3440, Email: Audra.Fishel@ocgov.com.