November 20, 2009


Welcome to this edition of the Fifth District Report, an electronic newsletter keeping you updated about the events taking place in Orange County and in the Fifth District. It is my hope that you find this distribution informative and I would encourage you to contact me regarding any thoughts, comments, or concerns you may have.
---
IN THIS ISSUE...
1. BOARD BULLETIN BOARD

2. FIFTH DISTRICT HOLIDAY OPEN HOUSE

3. TRANSPORTATION INFORMATION

4. COUNTY CONNECTIONS

5. SOUTH COUNTY NEWS

6. FIFTH DISTRICT SPOTLIGHT

7. HEALTH HERALD

8. CRITTER CHRONICLES

9. NOTES FROM THE FIELD

10. SOUTH COUNTY CALENDAR

11. FIFTH DISTRICT WRAP-UP

---
OUR STAFF...
Chip Monaco:
Chief of Staff
Don Hughes:
Policy Advisor
Sergio Prince:
Policy Advisor
Kristen Thornton:
Policy Advisor
Ray Grangoff:
Policy Advisor
Sabrina Ross:
Policy Assistant
Katie Angotti:
Policy Assistant
Ruth Strachan:
Office Manager
Click here to subscribe.

Click here to unsubscribe

---
BOARD BULLETIN BOARD
No Board Meeting this week

There was no regularly scheduled meeting of the Board of Supervisors this week.

Our next Board meeting will be held Tuesday, November 23. For Agenda & Meeting Information, please click here.

Live Internet broadcasts of Board of Supervisors meetings are available and archived as video-on-demand. To view live and/or past Board meetings, please click here.


FIFTH DISTRICT HOLIDAY OPEN HOUSE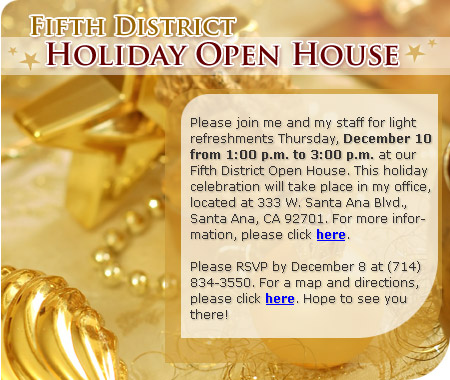 TRANSPORTATION INFORMATION
La Pata Gap Closure, Extension of Camino del Rio project

On December 2, the County of Orange will host a public meeting in San Clemente to garner community input and offer the public a chance to raise any issues about potential environmental impacts associated with the proposed La Pata Gap Closure project between Ortega Highway, just outside of San Juan Capistrano, and Calle Saluda in San Clemente. The project includes extending Camino del Rio to the proposed La Pata extension. The project, as planned, is intended to reduce traffic congestion and minimize environmental impacts.

The scoping meeting will take place at 7:00 p.m. at the San Clemente Community Center located at 100 N. Calle Seville. The public has until December 10 to offer comments. After the comment period, technical studies and a draft Environmental Impact Report (EIR) will be prepared and circulated for public review before a final EIR is certified.

For more information regarding the proposed project, please click here or email LaPataProject@ocpw.ocgov.com.

Second Phase of Avery Parkway/I-5 Construction Project

Work began this week on the second phase of the widening of Avery Parkway, a project that is meant to ease traffic congestion in the area.

The City of Laguna Niguel is the lead agency on this project that calls for widening Avery Parkway under the freeway bridge and adding an additional travel lane on Avery between the I-5 on-ramps and off-ramps. The lane reconfiguration will provide a new freeway access lane eastbound between Camino Capistrano and the I-5 northbound on-ramp; and a new freeway access lane westbound between Marguerite Parkway and the I-5 southbound on-ramp.

This week, concrete barriers were moved to the north side of Avery under the freeway to begin the second phase of construction. With work nearly complete on the south side of Avery Parkway under the freeway bridge, the I-5 freeway southbound off-ramp will have the dual left-turn lanes onto eastbound Avery Parkway restored. The second left-turn lane should provide some traffic congestion relief.

According to the City of Laguna Niguel, the project is expected to be completed by January.

Non-Emergency Medical Transportation Available for Seniors

South County Senior Services' non-emergency medical transportation program offers rides for seniors to and from their non-emergency medical appointments.

Eligible trips include non-emergency medical appointments such as physical therapy, dialysis, chemotherapy, radiation, dentistry, x-rays, prescription pickup and regular physicians' checkups. The program is available to qualified participants for a fee of $2 per one-way trip.

To use the service, participants must be at least 60 years of age, ineligible for Orange County Transportation Authority's ACCESS Services and reside within the South Orange County designated service area. This includes the cities of Aliso Viejo, Dana Point, Irvine, Laguna Woods, Laguna Niguel, Laguna Hills, Laguna Beach, Lake Forest, Foothill Ranch, Mission Viejo, Ladera Ranch, Newport Beach, Rancho Santa Margarita, San Clemente, San Juan Capistrano and Capistrano Beach.

For more information about this program, please click here.

Travel Tips for the Thanksgiving Holiday

In anticipation of the nation's most heavily traveled holiday period, John Wayne Airport offers the following information to help travelers prepare for a safe and enjoyable holiday air travel experience.

The busiest travel days are expected to be Wednesday, November 25 and Sunday, November 29. Because JWA is under construction, passengers should plan to arrive at the Airport one and a half to two hours ahead of their scheduled flight departure to give themselves plenty of time to find parking, check in with their airline and go through the security screening process.

Additionally, because the Airport Improvement Program is currently in full swing with major construction of a new Terminal C, Parking Structure C and the Central Utility Plant, passengers and visitors this holiday season will notice a significant amount of construction activity in and around the Riley Terminal. While the Airport is making every effort to minimize construction impacts, drivers using the Airport roadways should exercise caution due to ongoing construction activities and periodic lane closures. Speed limits have been reduced to 15 mph and are being strictly enforced. For more information, please click here.


COUNTY CONNECTIONS
New OC Public Works Director

Congratulations to Mr. Jess Carbajal who has been appointed Director of OC Public Works by the County's Chief Executive Officer. The Orange County Public Works Department includes the County's Facilities, Planning and Engineering divisions.

Jess Carbajal has served in management positions with the County of Orange for ten years and has served as Chief Deputy Director for OC Public Works for the past ten months. He also previously served the County as Director of Administration for the Social Services Agency and Deputy Director of the former Housing and Community Services Department.

A graduate of California State University, Los Angeles with a Bachelor's Degree in Public Administration, Carbajal earned his Masters in Public Administration from the University of Southern California. I am confident Jess' experience and leadership will serve the County well in his new role.

Holiday Donation and Volunteer Opportunities

Adding one more gift to your shopping list can make holiday dreams come true for a needy child or teen, an impoverished senior citizen or a low-income family. Click on the following links for volunteer and donor opportunities that are available this holiday season:
SOUTH COUNTY NEWS
Fire Contained Near Ortega Highway

After three days, firefighters were able to fully contain a fire Wednesday that burned 145 acres of dry brush near Ortega Highway and Verdugo Canyon Road. The fire, which began around 11:30 a.m. on Monday, never threatened any homes.

According to OC Fire Authority officials, the fire was accidentally caused when a tractor crashed into a power line pole, which caused downed power lines to land in dry brush resulting in ignition.

This incident reminds us that we must remain ever vigilant of the threat of fires year round. Recently my office, in conjunction with OC Parks and OCFA, launched an initiative called OC Fire Watch to involve citizens in fire prevention efforts in their community. I encourage all who are interested to click here to learn more about volunteer opportunities.

Laguna Beach Library Re-Opening

The Laguna Beach Library will re-open Monday, December 14 after being closed since August to undergo long-awaited improvements. The $266,000 renovation ($75,000 of which was donated by Friends of Laguna Beach Library) includes new carpeting, new interior paint, refurbishment of the circulation and services desks, upgraded outdoor lighting, new indoor lighting, a book security system and minor roofing repair. For more information, please click here.

AlertOC Test

The County is conducting its annual test of the AlertOC System on November 24 between 4:00 p.m. and 5:00 p.m. for residences of the County's unincorporated areas. During this time, a test call will be sent to all household landlines within the 5th District's unincorporated areas including Coto de Caza, Ladera Ranch, Las Flores and Wagon Wheel. In addition to landline phone numbers, which are provided by the emergency 911 database, all constituents in unincorporated areas that have registered additional contact information through the AlertOC website will receive the test message via their subscribed channels.

AlertOC is a mass notification system designed to keep Orange County residents and businesses informed about emergencies and certain community events. All residents are encouraged to register to receive these important voice messages, text messages and/or emails from their city (or from the County for those in unincorporated areas). For more information and to register for AlertOC, please visit www.alertoc.com.

Major Italian Opera Festival Coming to South County

The Italian American Opera Foundation (IAOF) has come to an exclusive agreement with the City of Dana Point to bring to life the first ever Italian Opera Festival in Lantern Bay Park in the summer of 2010. This 10 day Italian festival is sure to put Dana Point on the map of major international Opera sites.

The Italian American Opera Foundation and the Dana Point Chamber of Commerce are inviting local businesses to explore the exciting opportunities this Festival will bring, as well as exposure at a national and international level.

On November 21, 2009 the IAOF is hosting the first Founding Members Gala dinner at the St. Regis Monarch Beach Resort in Dana Point to invite the community to become part of the Founding Members Circle of the Italian Opera Festival.

Many local businesses have already joined the Circle. Please visit the IAOF website by clicking here to find out more about how you can get involved and take advantage of this unique opportunity and reserve your ticket for the November 21 event.

For more information, please contact Barbara Manconi at (310) 689-8584.


FIFTH DISTRICT SPOTLIGHT
New South County Chiefs of Police Services

Two South County cities have new Chiefs of Police Services at the helm.

A 23-year veteran of the Orange County Sheriff's Department, Lieutenant Stacey Taylor is Rancho Santa Margarita's new Chief of Police Services. Prior to assuming her new role in Rancho Santa Margarita, Lt. Taylor was the Bureau Commander of the Intake Release Center in Santa Ana and later the Bureau Commander of transportation at the Central Women's Jail. In each of these positions, Lt. Taylor managed 120 to 300 employees and was responsible for budgets of $16 to $40 million. Throughout her service, Lt. Taylor has received such awards as Peacemaker of the Year and Deputy of the Year.

Lt. Douglas Doyle, an employee of the Orange County Sheriff's Department since 1987, is the new Chief of Police Services for the City of Lake Forest. Lt. Doyle has held several leadership positions within the Department, most recently as the Watch Commander and Administrative Lieutenant at the Theo Lacy Jail Facility. He also previously served as Supervisor of a Narcotics Investigations Team. The Orange County Narcotics Officers Association named Lt. Doyle "Supervisor of the Year" two years in a row. Lt. Doyle has been the recipient of OCSD's Medal for Lifesaving and Medal of Courage.

I would like to congratulate both Lt. Taylor and Lt. Doyle on their new positions and wish them much success in their continued efforts toward keeping our communities safe.


HEALTH HERALD
Orange County Stroke-Neurology Program

Recent published medical research has identified new treatment methods that are associated with better outcomes for acute stroke victims. Most of these treatment methods require early identification of stroke with immediate care by stroke experts. Recognizing these advancements, the Orange County medical community requested that the Health Care Agency design a community-wide Stroke-Neurology Program.

The key elements of the Orange County Stroke-Neurology Program include health based initiatives to inform Orange County residents of the causes for stroke and best personal health habits to prevent strokes; health education programs; protocols that allow paramedics to identify a potential stroke victims; and community hospitals that can stabilize and immediately transfer acute stroke patients to specialized Stroke-Neurology Centers.

For the Stroke-Neurology Program to be effective time to treatment must be minimal and expert medical care must always be available. The Orange County Stroke-Neurology System will be dedicated to providing the community with the highest level of stroke care in the shortest period of time 24 hours a day, every day of the year. Six hospitals in Orange County have currently been designated as Stroke-Neurology Receiving Center facilities, including Fountain Valley Regional Medical Center, Hoag Memorial Hospital Presbyterian, Mission Hospital and Medical Center, St. Joseph Hospital of Orange, University of California, Irvine Medical Center and Western Medical Center in Santa Ana.

More information about stroke can be found at http://www.stroke.org


CRITTER CHRONICLES
Meet Your Mature Match

On Saturday, November 21 OC Animal Care invites you to "Meet Your Mature Match". We all know that puppies and kittens are adorable, but if you're looking for a mature pet (3 years or older) to add to your family, then this is the event for you! Free flea treatment, microchipping and other goodies are available. Photos with Santa will also be available with your new pet. The event will take place from 10:00 a.m. to 2:00 p.m. and OC Animal Care located at 561 The City Drive South, Orange. For more information, please visit ocpetinfo.com or call (714) 935-6301.


NOTES FROM THE FIELD
No Water Available at Caspers Park

The water level and pressure is extremely low at Caspers Wilderness Park, which has resulted in no water being available for park visitors. At this time, there will only be dry camping. Park staff is working on increasing the water levels, but they are unsure at this time when water will be available again. To visit the Caspers Park website for more information, click here.


SOUTH COUNTY CALENDAR
Sawdust Winter Fantasy

The world famous Sawdust Art Festival grounds in Laguna Beach will be transformed into a winter paradise for the 19th Annual Winter Fantasy. Every weekend from November 21 through December 13, over 170 fine art and craft exhibitors will create, display and sell original creations. Original artwork to be showcased ranges from jewelry, blown glass, and ceramics to clothing, sculptures and much more. Free and low-cost art projects for children and adults will be available as well as artists' demonstrations, holiday entertainment, community performances and visits with Santa! For more information, please click here.

32nd Annual Turkey Trot in Dana Point

Over 10,000 participants are expected for the 32nd Annual Dana Point Turkey Trot 5k/10k race on Thursday, November 26, 2009! This event includes a children's "Hot to Trot" race, entertainment, costume contest and much more. Proceeds from the Pledge Drive will go to benefit the Second Harvest Food Bank of Orange County to help feed those in need this holiday season. For more information about registering or donating, please click here.

Laguna Niguel's 20th Anniversary Gala Dinner

The City of Laguna Niguel invites community members to attend the City's 20th Anniversary Gala Dinner, which will take place on Thursday, December 10 at El Niguel Country Club. The Gala Ball is one of the many celebrations that will take place throughout the coming year to commemorate the City's 20th anniversary of incorporation. Prepaid reservations are required and seating is limited. So make your reservation early! For more information on how to you can reserve your seat at this very special event, click here.


FIFTH DISTRICT WRAP-UP
In addition to my many meetings, briefings, and other supervisorial activities, I also:

Traveled to Washington D.C. to meet with both Senate and Congressional representatives on issues important to South Orange County
Attended the Corrections Standards Authority November Board Meeting in Los Angeles
My office also:

Attended the San Clemente Chamber of Commerce Legislative and Transportation Committee Meeting
Attended the Laguna Beach Chamber of Commerce Legislative Committee meeting
Attended the OC Fire Authority Board of Directors meeting and made a presentation on the OC Fire Watch Program
Attended the South Orange County Association of Mayors meeting and made a presentation on the OC Fire Watch Program
Held a planning meeting for the OC Fire Watch Community Action Forum to be held in January. More details to follow.
Met with LAFCO and Sheriff's Department staff to discuss Rancho Santa Margarita Sphere of Influence issues
Attended the South Orange County Regional Chamber of Commerce Governmental Affairs Committee meeting
Presented a Certificate of Recognition at the Ribbon Cutting Ceremony Massage Envy in Laguna Niguel
Met with Orange County Transportation Authority staff regarding bus service reductions
Met with Transportation Corridor Agencies staff regarding participation in the OC Fire Watch Red Flag Alert program
Participated in Children's and Family Commission of Orange County Site Visits to San Juan School and Kaiser Mission Viejo
Attended a Mental Health briefing on Proposition 63
Toured the Registrar of Voters during the Special Election for the 72nd Assembly District
Toured vendor operations at John Wayne Airport
Attended the OCTA Measure M2 Environmental Oversight Committee meeting
My staff and I look forward to continually providing you updated information in our Fifth District Newsletter and website.

Please feel free to contact my office with your concerns, comments or questions at (714) 834-3550.

It is an honor and a privilege to serve as your Supervisor for Orange County's Fabulous Fifth District.

For an ADA version of our newsletter, click here.

Follow me on Facebook!