December 10, 2010


Welcome to this edition of the Fifth District Report, an electronic newsletter keeping you updated about the events taking place in Orange County and in the Fifth District. It is my hope that you find this distribution informative and I would encourage you to contact me regarding any thoughts, comments, or concerns you may have.
---
IN THIS ISSUE...
1. HOLIDAY OPEN HOUSE

2. BOARD BULLETIN BOARD

3. TRANSPORTATION INFORMATION

4. SOUTH COUNTY NEWS

5. 'TIS THE SEASON

6. COUNTY CONNECTIONS

7. HEALTH HERALD

8. HARBOR HAPPENINGS

9. RECORDER RECORDINGS

10. AIRPORT ARRIVALS

11. CRITTER CHRONICLES

12. ENVIRONMENTAL MEMOS

13. NOTES FROM THE FIELD

14. SAFETY SENTRY

15. LIBRARY LESSONS & SESSIONS

16. FIFTH DISTRICT SPOTLIGHT

17. SOUTH COUNTY CALENDAR

18. FIFTH DISTRICT WRAP-UP

---
OUR STAFF...
Don Hughes:
Chief of Staff
Kristen Thornton:
Deputy Chief of Staff
Ray Grangoff:
Deputy Chief of Staff
Sergio Prince:
Policy Advisor
Sabrina Ross:
Policy Advisor
Brian Probolsky:
Policy Advisor
Ruth Strachan:
Office Manager
Click here to subscribe.

Click here to unsubscribe

---
HOLIDAY OPEN HOUSE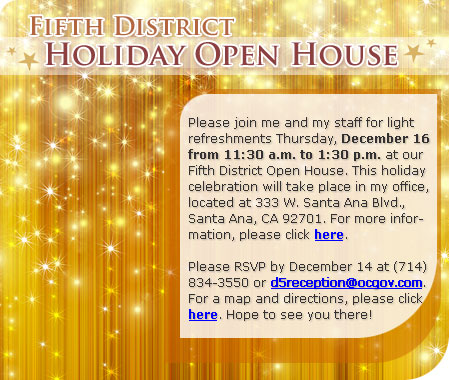 BOARD BULLETIN BOARD
Huntington Beach Water Desalination Facility

The Board unanimously approved a resolution supporting construction and operation of the Huntington Beach Water Desalination Facility. As we continue to be affected by reduced levels of water from the Colorado River and the California Aqueduct, government and private industry have been working together to develop new water sources to meet the needs of the residents of Orange County.

The Huntington Beach Water Desalination Facility is a private seawater desalination project brought forward by Poseidon Resources and supported by several public water districts. The facility is expected to provide 50 million gallons of drinking water per day, enough for 8% of residents and business in Orange County.

To read the resolution approved by the Board, please click here.

While the facility in Huntington Beach is currently moving through the regulatory approval process, in the Fifth District, the South Orange Coastal Ocean Desalination Project is currently being planned. This project will utilize slant well technology to draw water from under the ocean floor and is estimated to provide up to 15 million gallons of drinking water daily to South County.

Partnering in this endeavor are the Cities of San Clemente and San Juan Capistrano, the Municipal Water District of Orange County, South Coast Water District, Moulton Niguel Water District, Metropolitan Water District, and Laguna Beach County Water District.

Much of South County relies on imported water (80% to 100%) to meet current demands. This project, when completed, will be able to offset up to 25% of the participating agencies' potable water supply. For more information, please click here.

Property Exchange to Expedite New OC Animal Care Center

To expedite the acquisition of property for development a new OC Animal Care Center, the Board approved a Memorandum of Understanding (MOU) with the South Orange County Community College District (District) for a property exchange within the former MCAS Tustin, now known as Tustin Legacy.

The District had previously objected to the OC Animal Care Center designated within the County's 10-acre parcel due to its proximity to the District's planned Advanced Technology and Education Park (ATEP). As such, the District proposed a property exchange of the County's 10 acres for 10 acres of adjacent District land.

Per the MOU approved by the Board, the District will transfer its Parcel to the County for use as an OC Animal Care Center and a law enforcement training center. In return, the Board agreed the County Parcel can be transferred to the District to be used as part of its ATEP campus. For more information, please click here.

Public Health Emergency Preparedness

At Tuesday's meeting, the Board renewed the County's annual grant from the California Department of Public Health and the Centers for Disease Control and Prevention for bio-hazard and bio-terrorism disaster planning.

The grant funds planning and support activities for a variety of bio-hazards and bio-terrorism disaster plans and protocols, including the Strategic National Stockpile Annex, Points-of-Dispensing planning program, Chempack Response Plan and the Orange County Health Care Agency's operation center in the National Incident Management System.

The grant also provides funding to assist hospitals and the health care safety net to develop bio-hazards and bio-terrorism response plans, as well as the operation and training of the Medical Reserve Corps Volunteers Program. For more information, please click here.


TRANSPORTATION INFORMATION
I-5 HOV Lane Project Update

On Monday, the Highways Committee of the Orange County Transportation Authority received a PowerPoint presentation on the status of the San Diego Freeway (I-5) High-Occupancy Vehicle (HOV) Lane Project in South County between San Juan Creek Road and Avenida Pico.

The $275 million project, divided into three segments, is currently in the environmental phase. Public review of the environmental documents will take place January through February 2011. To view the presentation, please click here.

Moulton Parkway Traffic Light Synchronization Update

Traffic synchronization of Moulton Parkway is currently underway as part of the Phase II Edinger Avenue / Irvine Center Drive / Moulton Parkway / Street of the Golden Lantern Traffic Light Synchronization Program (TLSP) Project (Edinger TLSP Corridor).

The Edinger TLSP Corridor is the longest of ten TLSP corridors in Orange County, encompassing 23 miles from the SR-55 freeway in Tustin to Pacific Coast Highway in Dana Point. The corridor has 89 traffic signals that will be optimized for inter-jurisdictional synchronized operations.

Agencies participating with the Orange County Transportation Authority in this project include the Fifth District cities of Dana Point, Laguna Hills, Laguna Niguel, and Laguna Woods, along with the County of Orange and Caltrans.

From September through November 2010, data was collected to determine daily traffic counts, peak hours, and intersection directional flow counts, etc. From November 2010 to January 2011, using the newly collected data, the new optimized timing will be developed, finalized and approved by all participating agencies.

In January and February 2011, the newly purchased equipment will arrive and be installed. After the new equipment is installed and inspected, new timing will be implemented at each intersection. The new timing will be refined to be as efficient as possible. Over the months of February and March 2011, motorists will begin to experience the benefits of the newly installed timing.

Oso Parkway Interchange Improvement Update

The I-5 Interchange Improvement Project at Oso Parkway includes the addition of a new southbound auxiliary lane, improvements to the entrance and exit ramps, and widening of the southbound exit ramp to provide improved capacity for traffic exiting the freeway.

As previously reported in my newsletter, Caltrans began construction of the $23 million project in September 2008 and opened all freeway ramp improvements associated with the project in May 2010. The project also includes widening of the westbound Oso Parkway Bridge over the railroad tracks toward Cabot Road.

In January 2010, Caltrans suspended construction of the Oso Parkway Bridge widening to allow time to relocate a Southern California Gas Company (SCG) high pressure natural gas pipeline, which was originally expected to remain in place. The gas pipeline relocation is now expected to be completed by SCG in December 2010, and the remaining Oso Parkway Bridge work will be completed in fall 2011.

Metrolink Unveils New CEM Train Cars

This week, Metrolink rolled out a whistle-stop tour throughout the system to showcase its new fleet of crash energy management (CEM) train cars.

The new Hyundai Rotem train cars include safety features such as energy-absorbing crush zones built in front of the locomotives that minimize impact during potential head-on collisions, essentially preventing major damage or injuries to passengers.


SOUTH COUNTY NEWS
Assisting our Veterans during the Holidays

Veterans facing holiday stress and other issues have a place to go in South County during the holidays, thanks to the South Orange County Vet Center at 26431 Crown Valley Parkway in Mission Viejo. The facility, which opened in January, is reaching out to local veterans to let them know they are not alone.

Vet Centers are a community-based arm of the Department of Veterans Affairs. Their goal is to provide a wide range of counseling, outreach and referral services to veterans to help them make a satisfying post-war readjustment to civilian life.

Veterans from all wars, conflicts and eras are eligible for services at no cost. A discharge paper is all that is needed. For more information, please call (949) 348-6700 or click here.


'TIS THE SEASON
Orange County Armory Emergency Shelter Program

As reported in my newsletter last week, the County's Armory Emergency Shelters opened December 6, while California National Guard Armory locations in Fullerton and Santa Ana open Monday, December 13.

The County of Orange Armory Emergency Shelter Program is possible thanks to help from hundreds of volunteers from County agencies, faith-based organizations and other community groups, and serves as a vital ink in our efforts to provide shelter and essential services to homeless families and individuals.

For more information, please click here.


COUNTY CONNECTIONS
WANTED: Orange County Grand Jury Applicants

The Superior Court urges you to consider applying to serve on the 2011-2012 Grand Jury, as the number of applications received by the Court is significantly less than in previous years.

Serving on the Grand Jury provides a unique opportunity to have an important impact on the lives of Orange County residents, as Grand Jurors make a significant difference by performing a valuable oversight function into the operation of local government.

The deadline to apply is January 14, 2011, so don't delay! For more information, please click here and here.


HEALTH HERALD
Eye on Influenza

Influenza vaccine is recommended annually for all persons 6 months of age and older. With all the holiday parties and gatherings taking place, now is the time to ensure you, your staff and families are protected. To that end, the Orange County Health Care Agency's (HCA) latest edition of Eye on Influenza is now available for viewing.

To see HCA's Influenza Update, please click here.

Expanding Orange County Community Clinics

The Board of Supervisors recently approved $900,000 in funding to improve the County's community clinic system. The onetime allocation of Tobacco Settlement Revenue (TSR) funds will be used to expand direct health care services to unfunded medically indigent patients in Orange County.

As such, the investment of TSR funds is expected to provide improved and expanded access to medical and dental care, decreased use of hospital emergency rooms, and improved overall health for low income uninsured persons.

For more information, please click here.


HARBOR HAPPENINGS
Dana Point Harbor Quarterly Report

OC Dana Point Harbor has released the December 2010 issue of the Dana Point Harbor Quarterly Report. To view the Harbor Report, please click here.


RECORDER RECORDINGS
1 + 1 + 11 = LOVE!

The Orange County Clerk-Recorder Department is doing its part to help couples remember their wedding anniversaries by opening for special hours on Saturday, January 1, 2011… or 1/1/11.

To that end, the Clerk-Recorder's marriage office at the Old County Courthouse, 211 Santa Ana Blvd. in Santa Ana, will be open for civil wedding ceremonies from 10:00 AM to 1:11 PM on 1/1/11. To make an appointment, please call (714) 834-2588. For more information, please click here.


AIRPORT ARRIVALS
John Wayne Airport: Community Focus Program

A selection of paintings by artist Veronica Schmitt will be featured at John Wayne Airport as part of the Community Focus Program, accessible for viewing by both the traveling and non-traveling public through January 10, 2011.

Schmitt's works will be displayed in the departure (upper) level near the security screening areas and on the arrival (lower) level near baggage carousels 1 and 4 and are accessible for viewing by the general public. For more information, please click here and here.


CRITTER CHRONICLES
Holiday Cheer at OC Animal Care!

OC Animal Care is hosting festive pet events this holiday season, including Photo With Santa (Dec. 11, 18, 19) and a Pawliday Adoption Event (Dec. 18). If you're looking for a lovable pet to provide a warm home for in time for the holidays, then the Pawliday Adoption Event is for you!

For more information, please click here.

"Home for the Holidays"

To provide some cuddly cats a nice home for the holidays, Dedicated Animal Welfare Group (DAWG) will cover $100 of the adoption fee for all adult cats adopted through the Mission Viejo Animal Services Center during their "Home for the Holidays" event that kicks off Friday, December 10. Through December 17, adult cats (6 months or older) will be available for a reduced fee of $35 (normally $135). The reduced adoption fee includes spay/neuter surgery, micro-chipping and vaccination.

The Mission Viejo Animal Services Center at 28095 Hillcrest is open for adoptions Monday, Tuesday, Thursday, Friday and Saturday from 11:00 AM to 4:00 PM; Wednesday from noon to 6:00 PM; and Sunday from noon to 3:00 PM. All adoptable cats can be viewed online at www.cmvas.org. For more information, please click here.

Holiday Pet Safety Tips

There's no place like (a safe) home for the holidays. The following are some helpful and useful tips to make sure your pets remain safe and healthy this holiday season:

Holiday lights also mean extra cords and plugs, so take a minute to tape down or cover cords to help prevent shocks, burns or more serious injuries to your pets.
Secure Christmas Trees to keep them from crashing to the ground when a good game of doggie wrestling gets going.
Keep tinsel decorations high on the tree, too.
During holiday parties, provide pets a quiet place to retreat.
Chocolate, even in small quantities, can be toxic to dogs and cats.
Mistletoe, holly berries and poinsettia plants can also be poisonous to pets.
Keep current identification on your pets at all times, including area code and more than one phone number, with ID tags on the outside and a microchip on the inside.
Remind your family and friends to do the same!
For more information, please click here.


ENVIRONMENTAL MEMOS
Orange County Coastal Coalition

The Orange County Coastal Coalition, which I Chair, provides an opportunity to learn about and collaborate on current topics affecting not only our coastal cities, but those inland as well. As such, our December 2 meeting provided a forum to hear about Orange County's 2009 Annual Ocean, Harbor and Bay Water Quality Report as well as Newport Beach's Harbor Area Management Plan.

Mr. Larry Honeybourne, Program Manager for the County of Orange Health Care Agency's Public Health Services Environmental Health Division, had great numbers to report in his presentation on Orange County's 2009 Annual Ocean, Harbor and Bay Water Quality Report. Even more impressive were the 2010 (through 10/31/10) results and comparisons, including:

Total Number of Sewage Spills Reported in Orange County down from nearly 400 in 2002 to 151 in 2010, and
Number of Ocean and Bay Water Closures in Orange County Due to Sewage Spills down from 51 in 2001 to 12 in 2010.
In addition, pipeline blockages were found to be the cause of 63% of ocean and bay water closures.

Mr. Honeybourne also provided an update on a presentation he gave to the group in May on the national pilot for same day beach water quality health warnings conducted at 9 locations at 3 Orange County beaches during the summer of 2010. Positive findings included:

Rapid method was found to be successful for use along the open coastline,
Outstanding Stakeholder cooperation, support and communication,
Project goals were met. Public health notifications occurred usually between Noon and 12:30pm (sometimes earlier),
Positive media response, and
Public Notification enhancements were popular (electronic signage and Twitter).
Mr. Chris Miller, Harbor Resource Manager for the City of Newport Beach, gave a presentation on the recently adopted Newport Beach Harbor Area Management Plan (Plan).

The objective of the Plan is to provide the City with a Resource Management Tool to assist in balancing the economic, social, and environmental issues in the Lower Newport Bay. The final product included technical summaries, implementation strategy schedule, integrated project scoring, and a funding strategy.

The Plan will also assist the City in maintaining beneficial uses for the Lower Newport Bay and the economic value of the Bay; provide a practical framework to meet regulatory requirements; and support a sustainable estuary ecosystem able to be integrated with upstream sustainable watersheds and adjacent coastal area systems.

To view the Plan, please click here. To view the PowerPoint presentations from the meeting, please click here.

Please join me at our next Orange County Coastal Coalition meeting at 9:00 AM on Thursday, January 27, 2011 at the Newport Beach Library. Our program will feature Dr. Jerry Schubel, President of Aquarium of the Pacific, who will present Living on an Urban Ocean, and his staff will present on the Seafood for the Future Program.

With this input, we will continue to use our meetings as an opportunity to learn and discuss important issues related to our coast. To be placed on the email distribution list for Coastal Coalition meetings, please send your email address to betty.ruano@ocpw.ocgov.com.


NOTES FROM THE FIELD
Aliso & Wood Canyons Wilderness Park: Trailside Encounters

There are always new encounters along the trail at Aliso & Wood Canyons Wilderness Park. Come hear the latest wildlife news Saturday, December 11 from 8:30 AM to 10:00 AM, on this easy 1.5 mile hike with an OC Parks Ranger. For more information, please click here.


SAFETY SENTRY
Become an OC Fire Watch Volunteer!

OC Fire Watch is an arm of the OC Parks Adopt-A-Park Program. As such, OC Fire Watch Volunteers are recruited and trained to patrol OC Parks sites during Red Flag or high wind conditions. To that end, the next OC Fire Watch Training Session is scheduled for Saturday, December 18 from 12:00 noon to 3:00 PM.

Lunch will be provided! Please RSVP with Angeline Soto at Angeline.Soto@occr.ocgov.com or (714) 566-3035. For more information, please click here and here.


LIBRARY LESSONS & SESSIONS
Voices & Visions: October Winners

As reported in my newsletter last week, Voices & Visions is a monthly contest sponsored by OC Public Libraries, in which Orange County teens showcase their creative talents in prose, poetry, art and film. The theme for the month of October was "The Future." To view the winning entries for October, please click here.

Voices & Visions' theme for the month of December is "What Moves Me?" For more information, please click here and here.


FIFTH DISTRICT SPOTLIGHT
South County Baseball Team Clinches Tournament in Nevada

The Mission Viejo Halos recently clinched the 2010 Cranberry Classic Tournament Championship in Nevada, beating the undefeated Las Vegas Heat in the championship game. The Halos also stomped the undefeated Easton Elite in the semi-final game. The tournament was played November 26-28 in Las Vegas and Henderson.

Mission Viejo Halos is a non-profit youth baseball program for families who love baseball. Along with a learning commitment, the program focuses on player development and individual sportsmanship. For more information, please click here.


SOUTH COUNTY CALENDAR
Dana Point: Annual Holiday Events


Boat Parade of Lights
"Jingle Bell Rock" is the theme for the 36th Annual Boat Parade of Lights in beautiful Dana Point Harbor, which kicks off Friday and Saturday, December 10 & 11 by the water's edge beginning at 7:30 PM, and concludes December 17 & 18. View the parade for FREE from anywhere in the Harbor and enjoy the sights and sounds of the season! For more information, please click here.

Winter Festival
The City of Dana Point invites you to its Winter Festival on Saturday, December 11 from 12:00 noon to 7:00 PM at La Plaza Park. Enjoy a variety of great family activities, including a children's petting zoo, snow play area, visits with Santa & Mrs. Claus, a tree lighting ceremony, Yuletide carolers, a classic holiday movie, and much more! For more information, please click here.
Laguna Niguel: 2010 Holiday Parade

Families will gather as they have for generations along Crown Valley Parkway on a peaceful and brilliant Saturday morning to watch the Laguna Niguel Holiday Parade, the largest and most creative display of community in the City's history! Taking place December 11 at 10:00 AM, the theme for this year's Holiday Parade is 'Celebrate America!'

For more information, please click here.

Lake Forest: Heritage Hill Historical Holiday

Heritage Hill Historical Park comes alive in Lake Forest with its annual Candlelight Tours on Saturday and Sunday, December 11 & 12 from 5:30 PM to 8:30 PM. Enjoy two enchanting evenings with historic buildings and paths adorned in period décor and aglow with holiday lighting; all the while enjoying Victorian carolers, live entertainment, and storytellers in each historic building.

For more information, please click here and here.

Laguna Beach: 2010 Winter Fantasy

This is the final weekend to enjoy the 2010 Winter Fantasy in Laguna Beach. With this year's theme: A Palette of Holiday Treasures, the annual event at the world famous Sawdust Art Festival grounds features amazing art and crafts from over 170 exhibitors, as well as live entertainment, delectable food & drinks, hands-on art projects and picture-perfect moments.

For more information, please click here.

Aliso Viejo: Soka University Student Music Recital

Come and enjoy a FREE evening of performances by students in the Music Ensemble courses and music clubs on Friday, December 10 from 7:00 PM to 9:30 PM in Soka University's Founders Hall. For more information, please click here.

San Juan Capistrano: Riding Center's Rider Recognition Week

The J.F. Shea Therapeutic Riding Center in the City of San Juan Capistrano is dedicated to improving the lives of people with disabilities and special needs through therapeutic horse-related programs; and it is recognition of accomplishment that keeps their riders of all ages striving for improvement.

To that end, The Shea Center invites you to join them for their Rider Recognition Week, December 14 – 18, to celebrate the accomplishments of their riders and add your applause to the moment. There is no charge for this event. For more information, please click here and here.


FIFTH DISTRICT WRAP-UP
In addition to my many meetings, briefings, and other supervisorial activities, I also:

Presented proclamations in honor of Mission Viejo Councilman Jean Paul Ledesma, who is retiring after 12 years of service to the city; and Lake Forest Councilman Richard Dixon, who is leaving office after 19 years of service to the city.
Attended the swearing-in ceremony for re-elected Laguna Niguel City Council Members Linda Lindholm and Robert Ming.
Attended the swearing-in ceremony for re-elected Mission Viejo City Council Members Trish Kelly and Dave Leckness and newly elected Councilwoman Rhonda Reardon.
Adjourned the Board of Supervisors meeting in memory of Marie Osborne Yeats of San Clemente.
My office also:

Attended the City of Laguna Beach's Hospitality Night event hosted by the Laguna Beach Chamber of Commerce.
Provided a proclamation in honor of Laguna Beach City Manager Ken Frank, who is retiring after 31 years of service to the city.
Presented a proclamation in honor of Gary Macrides upon completion of his term as 2010 President of the Orange County Association of REALTORS®.
Provided certificates of recognition to Deemer's American Grill in honor of their ribbon cutting ceremony in Laguna Niguel; and the Golden Rain Foundation of Laguna Woods in honor of their groundbreaking ceremony for the new "Village Greens" golf building in Laguna Woods Village.
My staff and I look forward to continually providing you updated information in our Fifth District Newsletter and website.

Please feel free to contact my office with your concerns, comments or questions at (714) 834-3550. It is an honor and a privilege to serve as your Supervisor for Orange County's Fabulous Fifth District.

For an ADA version of our newsletter, click here.

Follow me on Facebook!