December 9, 2011

Welcome to this edition of the Fifth District Report, an electronic newsletter keeping you updated about the events taking place in Orange County and in the Fifth District. It is my hope that you find this distribution informative and I would encourage you to contact me regarding any thoughts, comments, or concerns you may have.
---
IN THIS ISSUE...
1. HOLIDAY OPEN HOUSE

2. PAT'S PERSPECTIVE

3. BOARD BULLETIN BOARD

4. TRANSPORTATION INFORMATION

5. TAX COLLECTOR COLLECTIBLES

6. 'TIS THE SEASON

7. SOUTH COUNTY NEWS

8. COUNTY CONNECTIONS

9. CRITTER CHRONICLES

10. FIFTH DISTRICT SPOTLIGHT

11. SOUTH COUNTY CALENDAR

12. FIFTH DISTRICT WRAP-UP

---
OUR STAFF...
Don Hughes:
Chief of Staff
Kristen Thornton:
Deputy Chief of Staff
Ray Grangoff:
Deputy Chief of Staff
Sergio Prince:
Policy Advisor
Sabrina Ross:
Policy Advisor
Brian Probolsky:
Policy Advisor
Ruth Strachan:
Office Manager
Click here to subscribe.

Click here to unsubscribe

---
HOLIDAY OPEN HOUSE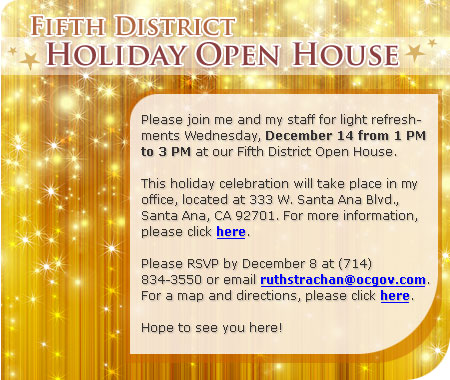 PAT'S PERSPECTIVE

2012 Labor Negotiations

A major focus of your Board of Supervisors in 2012 will be labor negotiations. Several employee contracts are up for renegotiation, and it will be the responsibility of this Board to ensure taxpayers' interests are successfully represented at the bargaining table.

We need to take the opportunity of the 2012 negotiations to explore options for slowing the rapidly rising cost of government. Employees must be compensated fairly; however, the compensation offered to employees must live within means of what the County treasury can afford both in the short-term and long-term.

In the closing months of 2011, the Board has taken actions that signal our intentions for 2012 labor relations and have initiated reforms that will prevent mistakes made in past negotiations.

In my view, a positive step forward for taxpayers was the Board's recent action to reject proposed changes in the Orange County Managers Association (OCMA) contract. If approved as presented to the Board, the OCMA contract, which contained a "Pay for Performance" award program, would have significantly raised the salary range for managers and long-term pension costs.

The accelerated increase in base salaries, which is a byproduct of the Pay for Performance program, is what is threatening the fiscal solvency of our pension plans and the overall cost of government. That is why my colleagues and I rejected the OCMA contract proposal.

Similarly, this week we rejected a proposal that would have increased salary ranges for Law Enforcement Managers. I believe our employees deserve to be paid appropriately; however, we must correct the past that set salary and pension benefits at rates we cannot afford in the long-term.

To correct the record and avoid confusion, I should point out that media reports asserted the Board privately approved retroactive raises for members of OCMA prior to publicly voting down the contract I mentioned above. Such an assertion is inaccurate. The fact is these "raises," or more accurately performance awards, were made in compliance with a previously negotiated contract.

The County began negotiations with OCMA in November 2010, as their employment contract was due to expire January 14, 2011; and as part of the negotiations, the County included in the discussions significant changes to the Pay for Performance award program contained in this existing contract. OCMA agreed to defer the 2010 performance awards that were due to be paid to eligible managers on or around January 5, 2011 until a new contract was hammered-out.

As a result of not reaching agreement on the new contract, it was determined the County was legally bound to fund and award performance increases, as outlined in the previous existing contract. Paying the previously agreed to awards saves the County the costs associated with litigation and avoids the large salary range increases included in the new proposed contract.

The Board has directed staff to continue to work with OCMA to reach an agreement that is fair to the County's managers and awards exceptional performance yet does not significantly increase pay ranges and associated pension benefits.

Going forward, the prospects for taxpayers in the 2012 negotiations are strong. The Board continues to move toward implementing a significant reform: hiring a third party private firm to negotiate our labor contracts.

The negotiators supplied by a private firm will provide the County with the needed skill and expertise. A private, independent firm will also determine short-term and long-term impacts of every major contract component discussed at the bargaining table.

In the past, the County relied on in-house staff to conduct our negotiations. However, we believe a third party will provide for a stronger advocate at the bargaining table.

An additional positive for taxpayers is our recent Performance Audit, which identified over $150 million in savings can be achieved in contract negotiations. As such, the Board has agreed to meet and discuss this list of savings and develop a strategy for making them a reality.

Balancing savings for the taxpayer with salaries that award performance and also retains a superior workforce will continue to be a priority for me throughout my term. Nowhere is the opportunity for savings greater than in our labor contracts.

I value the work our public employees do and the services they provide; and I know Orange County is fortunate to have very competent and diligent public servants. However, the current path is unsustainable. Reversing the trend is the challenge all local officials must take on and one this Orange County Board of Supervisors is ready to meet.


BOARD BULLETIN BOARD

Orange County Impacts of Redistricting

At Tuesday's meeting, the Registrar of Voters walked the Board of Supervisors through a presentation on impacts of the recent redistricting of the County of Orange.

The presentation covers the redistricting outcomes for the Federal, State and County redistricting processes.

To view the presentation click here.

Funding for Musick Jail Expansion

The Board gave approval to the Sheriff to submit a request for application to the State of California for funds in the amount of $100 million for jail construction. Earlier this year the Governor signed legislation, initiating a second round of AB 900 jail construction funding (the first round was initiated in 2007).

For large counties such as Orange County, a maximum funding amount has been established at $100 million. This funding will be used to build 512 new beds at the James Musick County Jail. Although this expansion will increase the amount of inmates held at the Musick facility, the type of inmate held at Musick will remain the same.

Currently, minimum to medium security inmates are held at Musick. According to the Sheriff's Department, that will continue to be the case even after construction for the expansion is completed. Depending on when state funding is received, construction is expected to be completed in 2018.

For more information, please click here.

Sheriff Command Staff Reorganization

The Board approved reorganization of the Sheriff's Command Staff, which included a reallocation of four existing positions to executive management level.

Since the Sheriff took office in June of 2008, her command staff has gone through several revisions. Some changes to the command staff have been for operational reasons, while others have been for cost savings.

The current command staff was put in place in February 2010. Much of the current command staff were placed into their latest position with increased responsibilities on an interim bases without receiving an increase in pay. In bringing the command staff to the Board for approval, the Sheriff is seeking to make these interim promotions permanent.

The Board approved the reorganization and, in doing so, created four new executive positions. New Board policy requires Board approval for all new executive positions. This policy was put in place so the Board could ensure executive positions were created only when a proper study and cost analysis could be done to show justification and a need.

The Sheriff provided the necessary justification and, as a result, won approval from the Board. To that end, I believe the new command structure will assist the Sheriff in continuing to provide a high level of public safety to the people of Orange County.

For more information, please click here.

Senior Non-Emergency Medical Transportation Program

The Senior Non-Emergency Medical Transportation (SNEMT) Program provides transportation to older adults (ages 60 and older) in Orange County who lack other reasonable means or access to medical-related transportation. This program helps older adults maintain their independence and allows them to remain safely in their own homes rather than an institutional setting.

To that end, the Board of Supervisors this week approved additional Federal New Freedom (NF) funding in support of the SNEMT program. Approval of amendments allocating these funds to contracted service providers is on the agenda for our December 13 Board meeting.

The SNEMT program is funded by Tobacco Settlement Revenue, Federal NF transportation funds, and Measure M2 funds in the amount of $3,521,067 for FY 2011-12. The County's Office on Aging administers this program.

The SNEMT program is provided by three contracted service providers in the three service areas of the County. North County (Area 1) is served by St. Anselm's Cross-Cultural Community Center; South County (Area 2) is served by Age Well Senior Services; and Central/West County (Area 3) is served by Abrazar.

Over 8,000 older adults are enrolled in the SNEMT program; and approximately 10,000 one-way trips are provided each month.

For more information, please click here. For more information on SNEMT, as well as other programs and services for older adults in Orange County, please call the Office on Aging toll-free at (800) 510-2020 or click here.

John Wayne Airport Adds Airline with Service to Salt Lake City

The Board approved an operating license with Compass Airlines, LLC, making them the newest airline to operate out of the County's John Wayne Airport. Effective January 1, Compass airlines will operate three flights during 2012 and provide service to Salt Lake City, Utah. Compass Airlines will be operating out of Delta Air Lines space in Terminal A.

For more information, please click here.


TRANSPORTATION INFORMATION

Metrolink Service Canceled This Weekend

Service on Metrolink's Orange County and Inland Empire lines will be canceled December 10 & 11, as San Diego Northern Railroad construction crews work to improve passenger and freight rail services by installing a second main line track and new rail bridges in the corridor. Additionally, Orange County Line Trains 644 & 645 will be canceled Friday, December 9.

Amtrak's schedule will also be affected, so check www.amtrak.com for scheduling and fare information, as Metrolink and Amtrak will not offer alternative transportation during this weekend.

This work is part of the LOSSAN (Los Angeles – San Diego – San Luis Obispo Rail Corridor) Coastal Rail Improvements, a project in which the San Diego Association of Governments, North County Transit District and Amtrak are working to add a second track to the 60-mile LOSSAN coastal rail corridor to improve passenger and freight rail services.

Traffic Light Synchronization Program Project Results

The Orange County Transportation Authority (OCTA) is working to implement multi-agency signal synchronization as part of the Traffic Light Synchronization Program. This program targets 153 miles of arterial roadways and 533 signalized intersections along ten regionally significant corridors throughout Orange County.

Two projects initiated under this program targeted the Orangethorpe Avenue Corridor in North Orange County, and the Edinger Avenue Corridor, stretching from Central Orange County to South County.

The Edinger Avenue project is comprised of 109 signalized intersections and approximately 22 miles of roadway covering eight jurisdictions. The project boundaries are from Edinger Avenue at the intersection of the 55 Freeway in Santa Ana to Del Obispo Street in Dana Point. Along the project route, the street-name changes from Edinger Avenue to Irvine Center Drive, continues south as it becomes Moulton Parkway, and into Street of the Golden Lantern in Dana Point. The route carries daily traffic ranging from over 15,000 vehicles per day to 43,000 vehicles in certain high traffic areas.

Comparisons of the Edinger Avenue corridor before and after studies indicate very good results, showing a reduction of travel time between 4% and 21% depending on the peak period. Project results also indicate a reduction in the average number of stops between 20% and 54% throughout the corridor, and average speeds on the route improved between 6% and 28%.

Additionally, the project is expected to reduce greenhouse gas emissions, amounting to over 34 million pounds and a reduction in fuel consumption by over 1.73 million gallons over a three-year period. At $3.90 per gallon of fuel, consumers could save approximately $6,794,000 over the three-year period.

I would like to thank the Cities of Aliso Viejo, Dana Point, Irvine, Laguna Hills, Laguna Niguel, Laguna Woods and Tustin, as well as Caltrans, for their cooperation with this important project.

Toll Lane Planning and Implementation Principles

On Monday, the Orange County Transportation Authority (OCTA) held a Special Board Meeting to discuss draft principles for toll lane planning and implementation. In recent years, proposals for additional toll facilities have proliferated in the Southern California region.

Projects directly involving Orange County include completion of the State Route 241 (SR-241) toll road in South County; extension of the 91 Express Lanes into Riverside County; direct connection of the 91 Express Lanes and the SR-241 toll road in Orange County; and consideration of express lanes on the I-405 from the SR-55/SR-73 area to the Los Angeles County line.

In neighboring areas, San Diego County plans for tolled lanes on the I-5 to Orange County; Riverside County plans to extend express lanes on SR-91 and I-15; San Bernardino County is studying toll lanes on I-10 and I-15; and LA County is pursuing high-occupancy toll lanes on various routes, some of which may connect directly to Orange, Riverside, and San Bernardino counties.

To respond to the many and varied toll lane and facility proposals, both within and potentially connecting to Orange County, OCTA staff is proposing a set of guiding principles to provide a framework for future Board of Directors decisions and negotiations in regards to the planning and implementation of toll lanes that affect Orange County's highway system and its users. These principles are meant to apply solely to new facilities implemented and/or operated by OCTA.

The meeting began with a presentation by Robert Poole, a nationally recognized expert on the topic of managed/toll lanes. To view his power point presentation, click here.

The presentation was followed by Board discussion on the proposed principles, which are intended to make a clear statement about the role toll lanes should play in Orange County and the region, not as a replacement or an alternative for the highway system, but as an additional tool to address the significant challenges of managing congestion, funding transportation improvements, and preserving the quality of life for Orange County and Southern California residents and travelers.

There were a number of questions raised by OCTA Board members on whether to extend use of toll lanes after the bonds to build them have been repaid in order to maximize corridor throughput through congestion management pricing. A number of edits were requested to the draft principles and the Board will reconsider the item again at its December 12 Board meeting.

To view the staff report and draft principles as presented December 5, please click here.

Measure M Closeout Status and Quarterly Update

In March 2011, the Orange County Transportation Authority (OCTA) approved a set of actions to guide the closeout of the 1990 Measure M Program. Due to uncertainty of the state Prop 1B bond sales, which many OCTA projects depend on for funding, action on the remaining Measure M balance was deferred to allow for maximum flexibility in addressing potential impacts that may result from delay of the bond sale.

There is a balance of approximately $150 million in Measure M revenues, which must be spent in accordance with the approved Traffic Improvement and Growth Management Plan. In early November, the State issued a bond which provided a portion of the funding commitment to Orange County projects.

The state has also indicated its intent to sell additional bonds in the spring of 2012, which would continue to fulfill the funding commitment. With the State's plan to sell additional Prop 1B bonds in the spring of 2012, OCTA will continue to defer action on reallocating the remaining M1 fund balance until the state bond sales are complete and cash to OCTA has been confirmed.

CHP Conducts Inspections on OCTA Bus Fleet

California Highway Patrol (CHP) officials conducted annual inspections on the Orange County Transportation Authority (OCTA) fleet at OCTA's Garden Grove bus base on November 17 and the Santa Ana bus base on November 28.

The inspections included a review of the maintenance program and coach operator records and covered all of the items regulated by Caltrans as well as the California Vehicle Code and California Code of Regulations Title 13.

The CHP has consistently given OCTA high marks in its safety inspections in the past decade. The most recent inspections of OCTA bus bases have shown only one minor defect on a bus out of approximately 80 buses inspected. The operations records review resulted in a satisfactory regulatory compliance.


TAX COLLECTOR COLLECTIBLES

First Installment Property Tax Payment Deadline

The first installment of your 2011-2012 secured property taxes must be paid by Monday, December 12 to avoid late charges. First installment payments received after Monday that don't have a US postal mark of December 12 or earlier will be charged a 10% late fee. For more information, please click here.

To pay by eCheck at no cost, please visit the Treasurer-Tax Collector's website, click the link for "Pay or Review Your Property Taxes," find your parcel number, then select and choose "pay online." For more information, please click here.


'TIS THE SEASON

Volunteer Opportunities: 2011 Holiday Directory

OneOC and 2-1-1 Orange County have partnered to once again produce their annual Holiday Directory. The 2011 Holiday Directory is designed to provide volunteers with an easy-to-use guide of Orange County volunteer opportunities throughout this holiday season.

Please click here to see holiday season volunteer opportunities and make your holiday one of giving back to the community.


SOUTH COUNTY NEWS

Completion of South County's Newest Reservoir

Local officials recently gathered at the Upper Chiquita Reservoir in Rancho Santa Margarita to mark the completion of the 244 million gallon water storage facility – the largest domestic water reservoir built in South County in nearly 45 years.

Santa Margarita Water District, Moulton Niguel Water District, South Coast Water District, and the Cities of San Clemente and San Juan Capistrano partnered to design, construct, operate and maintain the new reservoir, which will be able to provide drinking water to approximately 500,000 South County residents for one week in the event of a service disruption or major emergency.

For more information, please click here.


COUNTY CONNECTIONS

WANTED: Orange County Grand Jurors

Interested in serving your community as an Orange County Grand Juror? Apply now for the July 2012 through June 2013 term!

The Orange County Grand Jury provides an oversight role for local government agencies and districts and participates in the criminal indictment process. Applications are currently being accepted for the 2012-2013 Grand Jury.

Completed applications must be received no later than Friday, January 13, 2012. To be eligible, applicants must be 18 or older, a U.S. Citizen, a resident of Orange County for at least a year, able to communicate in the English language, and of sound judgment and character.

For more information and an application, please visit the Grand Jury website or call the Grand Jury hotline at (714) 834-6747 to have an application packet mailed to you. For more information, please click here and here.


CRITTER CHRONICLES

Photo with Santa!

Bring your pet to OC Animal Care on Saturday, December 10 & 17, and Sunday, December 18 from 10:00 AM to 2:00 PM for a photo with Santa! All participants will receive a festive holiday frame with their pet's photo along with a digital copy to share with friends and family. All donations will benefit the animals at OC Animal Care. For more information, please click here.

Don't have a pet to take a photo with Santa? Just come to OC Animal Care's Pawliday Adoption Event on Saturday, December 17 from 10:00 AM to 2:00 PM and your problem is solved! For more information, please click here.


FIFTH DISTRICT SPOTLIGHT

South County Students Take Top Awards at Film Festival

Laguna Beach students recently swept four major awards at the 7th Annual MY HERO International Film Festival. The festival celebrates the best of humanity through digital media and highlights the people who make the world a better place.

"Don't Blow It," a one-minute short by Laguna Beach High School student Jack Winter, was the first place winner in the high school division.

"Wildlife Waystation," a film by Thurston Middle School student Chad Kanner, took second place in the middle school division.

In the elementary school division, first place went to "Together We Can Create World Peace," by Emily Baker of Top of the World Elementary School.

In addition, Laguna Beach High School alum Shaun MacGillivray won "Best of Fest" for his short film "One World One Ocean."

For more information, please click here. To view the winning films, please click here.


SOUTH COUNTY CALENDAR

Laguna Niguel: Holiday Parade

Families will gather as they have for generations along Crown Valley Parkway to watch the Laguna Niguel Holiday Parade. Taking place Saturday, December 10 at 10:00 AM, the theme for the Holiday Parade is 'Magical Holidays' with this year's Grand Marshal, Earvin "Magic" Johnson! For more information, please click here.

Dana Point: Holidays in the Harbor & Boat Parade of Lights

This weekend and next, Dana Point Harbor will host its 37th annual Holidays in the Harbor, featuring the 2011 Boat Parade of Lights and much more! For more information, including dates and times of this year's festivities, please click here and here.

Laguna Hills: Breakfast with Santa

Santa will be arriving at the Laguna Hills Community Center for a morning full of holiday fun, including a pancake breakfast, photos with Santa, and holiday crafts on Saturday, December 10 from 9:00 AM to 10:30 AM. For more information, please click here.

Lake Forest: Victorian Christmas & Candlelight Tour

Heritage Hill Historical Park's 26th annual Candlelight Tour in Lake Forest will take place Saturday, December 10 and Sunday, December 11 from 5:30 PM to 8:30 PM. For more information, please click here.

Aliso Viejo: Holiday Concert

In celebration of the City of Aliso Viejo's 10th anniversary, the public is invited to attend a special Holiday Concert on Saturday, December 10 from 7:00 PM to 9:00 PM at Soka University's Performing Arts Center. For more information, please click here.

Laguna Beach: 21st Annual Winter Fantasy

The 2011 Winter Fantasy in Laguna Beach will feature the fine art and craft of over 170 exhibitors during this final weekend at the Sawdust Art Festival grounds. For more information, please click here.


FIFTH DISTRICT WRAP-UP

In addition to my many meetings, briefings, and other supervisorial activities, I also:

Participated in the Orange County Transportation Authority (OCTA) Executive Committee meeting and the OCTA Highways Committee meeting.
Adjourned the Board of Supervisors meeting in honor of The Honorable Richard T. Dixon of Lake Forest, and Thomas E. Yott of Rancho Santa Margarita.
Attended memorial services for The Honorable Richard T. Dixon of Lake Forest.
My office also:

Provided a certificate of recognition in honor of the ribbon cutting ceremony for Coastal Consignment & Boutique in San Juan Capistrano.
My staff and I look forward to continually providing you updated information in our Fifth District Newsletter and website.

Please feel free to contact my office with your concerns, comments or questions at (714) 834-3550. It is an honor and a privilege to serve as your Supervisor for Orange County's Fabulous Fifth District.

For an ADA version of our newsletter, click here.

Follow me on Facebook!