November 30, 2012

Welcome to this edition of the Fifth District Report, an electronic newsletter keeping you updated about the events taking place in Orange County and in the Fifth District. It is my hope that you find this distribution informative and I would encourage you to contact me regarding any thoughts, comments, or concerns you may have.
---
IN THIS ISSUE...
1. HOLIDAY HEADLINER

2. BOARD BULLETIN BOARD

3. SOUTH COUNTY NEWS

4. SAFETY SENTRY

5. HEALTH HERALD

6. TRANSPORTATION INFORMATION

7. CRITTER CHRONICLES

8. NOTES FROM THE FIELD

9. HOLIDAY HELPER

10. HOLIDAY HAPPENINGS

11. FIFTH DISTRICT WRAP-UP

---
OUR STAFF...
Don Hughes:
Chief of Staff
Kristen Thornton:
Deputy Chief of Staff
Ray Grangoff:
Deputy Chief of Staff
Sergio Prince:
Policy Advisor
Sabrina Ross:
Policy Advisor
Ruth Strachan:
Office Manager
Click here to subscribe.

Click here to unsubscribe

---
HOLIDAY HEADLINER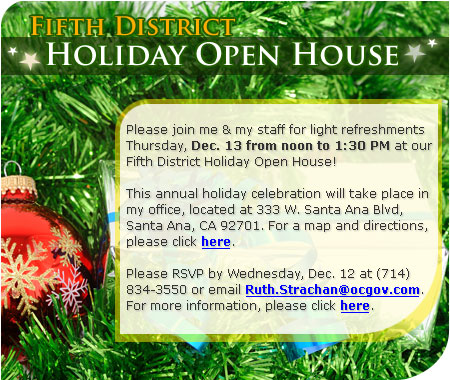 BOARD BULLETIN BOARD

No Board Meeting This Week

There was not a regularly scheduled meeting of the Board of Supervisors this week. To view the Board meeting schedule for 2012, please click here.

Our next Board meeting will be held Tuesday, December 4. Regular Board meetings begin at 9:30 AM in the Hall of Administration. For Agenda & Meeting Information, please click here.

Live Internet broadcasts of Board of Supervisors meetings can be viewed online and are archived as video-on-demand. To view live and/or past Board meetings, please click here.


SOUTH COUNTY NEWS

NRC to Hold Public Meeting Today

The Nuclear Regulatory Commission (NRC) will hold a public meeting Friday, November 30 to discuss Southern California Edison's (SCE) response to the NRC confirmatory action letter concerning actions required to address steam generator tube degradation at San Onofre Nuclear Generating Station (SONGS).

The meeting will be held at the Hills Hotel, 25205 La Paz Road, Laguna Hills, from 6:00 PM to 9:00 PM and will include a presentation by SCE on the unexpected tube wear, the corrective actions taken to address the cause, and the basis for continued safe operation of Unit 2. Parking is complimentary.

The public is invited to observe this meeting and will have an opportunity to communicate with the NRC after the business portion, but before the meeting is adjourned. There is a 400 seat limit at the facility, so the public is encouraged to view the meeting via a webcast at http://video.nrc.gov. A "listen only" teleconference is also offered at (888) 913-9973; enter passcode 9941895 to enter the meeting.

For more information, please click here.


SAFETY SENTRY

DUI Checkpoint in Laguna Niguel Today

The Orange County Sheriff's Department will be conducting a DUI/Driver's License checkpoint on Friday, November 30 in the City of Laguna Niguel at an undisclosed location within the city limits. The hours of the checkpoint will be 6:00 PM to 2:00 AM.

During this DUI enforcement operation, deputies will also verify that drivers have a valid driver's license. When possible, specially trained officers will be available to evaluate those suspected of drug-impaired driving.

For more information, please click here.

High Surf Advisory in Effect for Orange County Beaches

The National Weather Service has issued an advisory for high surf in the coastal Orange County area. Six to nine foot waves with high surf are expected through Saturday, with sets over 12 feet from Laguna Beach southward.

Surf heights will slowly subside Sunday, dropping below 7 feet Monday afternoon. High surf is expected to affect beaches in the advisory areas, producing rip currents and localized beach erosion.

Entrance to harbors will be very dangerous due to waves washing over jetties and breaking waves. Everyone should use extra caution.

For more information, please click here.


HEALTH HERALD

Ocean and Bay Advisory

The Environmental Health Division of the Health Care Agency advises swimmers that levels of bacteria can rise significantly in ocean and bay waters, close to storm drains, and the outlets of creeks and rivers during and after rainstorms.

The elevated bacterial levels in the coastal ocean waters may continue for a period of at least 3 days, depending upon the intensity of the rain and volume of the runoff. Swimmers should avoid Orange County coastal waters during this time, and beach users should avoid contact with any runoff on the beach.

In the event of a sewage spill, the Environmental Health Division will quarantine the affected ocean or bay water area. To report a sewage spill, please call (714) 433-6419.

For more information, please click here and here.


TRANSPORTATION INFORMATION

OCTA Bus Fare Increases Planned for February 2013

The Orange County Transportation Authority (OCTA) Board of Directors approved a bus fare increase after two months of community outreach and public meetings on the proposal. The increase will take effect February 2013, with the standard bus fare rising from $1.50 to $2.00.

California law states that OCTA must collect from passengers a minimum of 20 cents for every dollar spent on bus service. This is called the "farebox recovery" ratio. Without the fare increase to address rising operation costs, the agency is in jeopardy of falling below the "farebox recovery" requirement to receive state funding.

Failure to meet this requirement would jeopardize receiving Transit Development Act funding, which is a major source of revenue for transit operations. Loss of these funds would require a substantial reduction or discontinuance of bus service, which would significantly impact South County transit options. Therefore, the Board's approval of the proposal ensures the agency's eligibility for the state funds, which greatly help in keeping the bus system running.

As part of this item, the OCTA Board approved various discounts for tickets bought in bulk, as well as recommended modifying the discount structure for non-profit agencies to help mitigate the impact on those most affected by the fare adjustment. The Board also tasked staff with working with the County's Social Services Agency to develop ideas to help address the needs of those transit users who have limited income and will be hardest hit by this fare increase.

One of the main comments received from the public was that if there has to be a fare increase, service should also be improved. As part of the February 2013 Service Change, an additional 9,000 Revenue Vehicle Hours will be added to the system and the Board has directed that those additional service hours be put toward addressing overcrowding and on-time performance issues experienced on some of the system's busiest routes.

OCTA will be providing more information about the fare increases before they are scheduled to take effect February 2013. To view an approved fare matrix, click here.

OCTA Selects New CEO

In a Special Meeting, the Orange County Transportation Authority (OCTA) Board of Directors voted to appoint current OCTA Deputy CEO Darrell Johnson to succeed CEO Will Kempton when his resignation becomes effective February 28, 2013.

I did not support the motion because it was lacking in openness and not inclusive of the ten new Board members who will be seated in the coming weeks. With ten new members on the OCTA Board (out of a total of 17), I believe the new Board should have been involved in both the appointment and contract negotiations, since they are the ones who'll work with the new CEO in implement transportation projects approved by the voters.

I-5/Ortega Highway Interchange Improvement Project

The I-5/Ortega Highway Interchange Improvement project is currently underway with the closure and temporary fencing of the former Jack in the Box and Chevron properties at the corner of Ortega Highway and Del Obispo Street in San Juan Capistrano.

Demolition work is expected to occur over the next few weeks; however, actual roadway construction work will not begin until early 2013. Road and highway closure information will be released as promptly as it is received in order to keep the community informed.

For more information, please click here.


CRITTER CHRONICLES

Bomb-Detecting K-9 Teams Begin Patrolling Transit Systems

Two new K-9 teams were introduced this week as part of a joint effort of the Orange County Transportation Authority and Orange County Sheriff's Department to ensure the safety of the County's transportation systems.

Jack (a 3-year old Labrador Retriever mix) and Kori (a 3-year old Hungarian Vizsla) will aid the Transit Police Services unit in protecting transit passengers. The teams will patrol throughout Orange County, sweeping transit centers and Metrolink stations, as well as responding to suspicious packages.

Each dog is paired with a handler and completes a 10-week explosives-detection canine program through the Transportation Security Administration at Lackland Air Force Base in Texas.

The teams are being launched with the help of a $600,000 federal grant to cover the first five years of the K-9 program, furthering the Homeland Security mission in Orange County.

For more information, please click here.

Photo with Santa

Bring your pet to OC Animal Care on Saturdays in December for a Photo with Santa! All participants will receive a festive holiday frame with your pet's photo. You will also receive a digital copy to share with your friends and family! All donations will benefit the animals of OC Animal Care!

For more information, please click here.


NOTES FROM THE FIELD

Trout Season in Laguna Niguel Regional Park

November marked the opening of trout season at Laguna Niguel Lake, with 8,000 lbs. of rainbow trout stocked over four weeks. The 44-acre lake is located inside Laguna Niguel Regional Park, which is stocked each Tuesday with 2,000 lbs. of rainbow trout.

The lake's hours are 6:00 AM to 5:00 PM daily. Boat rentals are available, with hours ending at 4:00 PM. For more information, please click here and here.


HOLIDAY HELPER

Assisting the Needy this Holiday Season

Adding one more gift to your shopping list can make holiday dreams come true for a needy child or teen, an impoverished senior citizen or a low-income family.

For volunteer and donor opportunities available this holiday season, please click here.


HOLIDAY HAPPENINGS

Dana Point: Holiday in the Harbor

Celebrate the holiday season in beautiful Dana Point Harbor! Many fun activities are planned, so bring friends and family down to enjoy the Harbor's Holiday Spirit. The events and parking are FREE! For more information, please click here and here.

San Clemente: Santa's Village by the Sea

The City of San Clemente and Casa Romantica Cultural Center & Gardens proudly present "Santa's Village by the Sea" on Saturday, December 1. Back with holiday delight is the Holly Jolly Hoopla and Christmas at the Casa all in one. For more information, please click here.

San Juan Capistrano: Tree Lighting Celebration

San Juan Capistrano invites you their annual Tree Lighting Celebration on Saturday, December 1 at Historic Town Center Park. Festivities begin at 4:00 PM and the lighting of the Christmas tree takes place at 5:45 PM. For more information, please click here and here.

Aliso Viejo: Winter Holiday Event

Santa Claus will arrive in Grand Park on Sunday, December 2 during Aliso Viejo's Winter Holiday Event. The fun kicks off at 4:30 PM with live entertainment, complimentary cookies and hot chocolate, plus tons of holiday cheer! For more information, please click here.

Laguna Hills: Breakfast with Santa

Santa will be arriving at the Laguna Hills Community Center for a morning full of holiday fun on Saturday, December 8 from 9:00 AM to 10:30 AM. Sign up soon, space is limited! For more information, please click here.

Mission Viejo: Winter Leisure Time

The City of Mission Viejo's winter Leisure Time publication is now available online, offering detailed information about upcoming special events, programs and classes, including holiday events like the 40th annual Holiday Home Lighting Contest and Santa Paws on December 8. For more information, please click here and here.

Laguna Beach: 22nd Annual Winter Fantasy

The 2012 Winter Fantasy in Laguna Beach will feature the fine art and craft of over 170 exhibitors on the weekends through December 9 at the Sawdust Art Festival grounds. For more information, please click here.


FIFTH DISTRICT WRAP-UP

In addition to my many meetings, briefings, and other supervisorial activities, I also:

Met with State Board of Equalization Member Michelle Steele regarding State Responsibility Area Fees for Fire Protection Services.
Installed the officers of the Laguna Niguel Republican Women Federated for 2013.
Participated in a meeting with the presenters for the 2013 South County Senior Summit, taking place February 22. Stay tuned for more information.
Chaired the regular meeting of the Orange County Coastal Coalition. More on this in next week's newsletter.
Presented a County Update to the Laguna Beach Rotary Club.
My office also:

Attended the Orange County Taxpayers Association Luncheon honoring outgoing OCTax President Reed Royalty.
Attended the Orange County Business Council's "Turning Red Tape into Red Carpet" reception.
My staff and I look forward to continually providing you updated information in our Fifth District Newsletter and website.

Please feel free to contact my office with your concerns, comments or questions at (714) 834-3550. It is an honor and a privilege to serve as your Supervisor for Orange County's Fabulous Fifth District.

For an ADA version of our newsletter, click here.

Follow me on Facebook!