November 15, 2013

Welcome to this edition of the Fifth District Report, an electronic newsletter keeping you updated about the events taking place in Orange County and in the Fifth District. It is my hope that you find this distribution informative and I would encourage you to contact me regarding any thoughts, comments, or concerns you may have.
---
IN THIS ISSUE...
1. HOLIDAY HEADLINER

2. BOARD BULLETIN BOARD

3. TRANSPORTATION INFORMATION

4. ENVIRONMENTAL MEMOS

5. TAX COLLECTOR COLLECTIBLES

6. SAFETY SENTRY

7. CRITTER CHRONICLES

8. HARBOR HAPPENINGS

9. HEALTH HERALD

10. RECORDER RECORD

11. SOUTH COUNTY CALENDAR

12. FIFTH DISTRICT WRAP-UP

---
OUR STAFF...
Don Hughes:
Chief of Staff
Kristen Camuglia:
Deputy Chief of Staff
Sergio Prince:
Policy Advisor
Erik Weigand:
Policy Advisor
Emily Osterberg:
Policy Advisor
Veronica Yniguez:
Policy Advisor
Ruth Strachan:
Office Manager
Click here to subscribe.

Click here to unsubscribe

---
HOLIDAY HEADLINER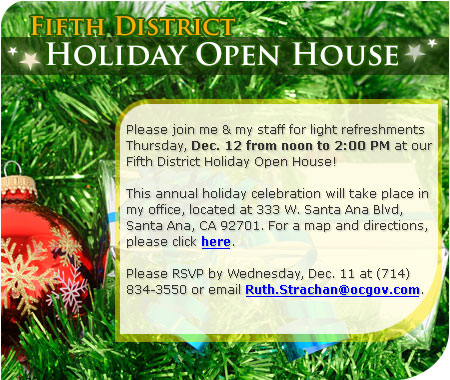 BOARD BULLETIN BOARD

No Board Meeting This Week

There was not a regularly scheduled meeting of the Board of Supervisors this week. To view the Board meeting schedule for 2013, please click here.

Our next Board meeting will be held Tuesday, November 19 at 8:00 AM in the Hall of Administration. For Agenda & Meeting Information, please click here.

Live Internet broadcasts of Board of Supervisors meetings can be viewed online and are archived as video-on-demand. To view live and/or past Board meetings, please click here.


TRANSPORTATION INFORMATION

Metrolink Service Adjustment

On Saturday and Sunday, November 16 & 17, service on Metrolink's Orange County and Inland Empire-Orange County lines will be adjusted to accommodate bridge and track work occurring south of the San Clemente Pier station. As a result, Metrolink trains will not operate past the San Clemente Pier station November 16 & 17.

Passengers are encouraged to plan ahead to take other forms of transit to and from Metrolink's Oceanside Station. There will be no bus service or alternate transportation provided for Metrolink passengers.

During the weekend, the San Diego Association of Governments (SANDAG) will conduct necessary work on the Santa Margarita Bridge Project to improve rider experience. This work will include adding a second main track, which will provide operational flexibility by allowing trains to meet and pass. The second track is expected to greatly improve schedule reliability. This project is expected to be complete in spring 2014.

The tracks will reopen for regularly scheduled Metrolink and other rail service in time for the morning commute Monday, Nov. 18.

Passengers are being notified through conductor announcements onboard trains, postings at stations, via email and social media, and on the Metrolink website.

For more information, please click here.

The Toll Roads: All Electronic Tolling

The Boards of Directors of both the San Joaquin Hills (SJHTCA) and the Foothill/Eastern (F/ETCA) Transportation Corridor Agencies (TCA) received an update on All Electronic Tolling (AET).

Plans are moving forward to convert State Routes 73, 133, 241 and 261 to all-electronic toll collection (FasTrak® and license plate tolling accounts) in summer 2014. With AET, the need to stop and pay at toll booths will be eliminated, allowing users of The Toll Roads to experience non-stop driving and more time savings.

For more information, please click here.


ENVIRONMENTAL MEMOS

Poche Beach gets "A+" Rating

Thanks to a program using trained falcons and hawks to scare away seagulls, Poche Beach has gone from an "F" rating to an "A" from the environmental group Heal the Bay. The organization monitors local health departments' bacteria warnings at beaches throughout California.

Despite efforts from the County to build a runoff treatment facility to convert urban runoff into clean water, bird droppings would still pollute it. Once the falcons and hawks were brought in to fly over Prima Deshecha Landfill, where gulls flock to eat three miles from the beach, the number of seagulls in the area reduced from an estimated 5,000 to about 300 on an average day, dramatically raising Poche's "F" grade to an "A+".

In addition, the County recently placed a pair of fake coyotes at the boundary of San Clemente and Dana Point to aid in the efforts to keep the gulls away. They will be using the props for about a month to see if they will permanently deter the birds.

For more information please click here and here.

Food Grows Where Water Flows

It won't be long before the aroma spreading from kitchens across the nation will signal to hungry family members that the annual Thanksgiving meal will soon be served. For most people, the meal will include turkey, rolls, stuffing, cranberries, sweet potatoes, vegetables, and pumpkin pie for dessert... certainly a feast to be enjoyed by all!

Preparation for the Thanksgiving meal begins long before family and friends sit at the dinner table, as farmers begin raising turkeys and planting other food crops.

About 10,000 gallons of water is needed to raise a 16-pound turkey from birth through its processing stage. The bird only drinks about 30 gallons of water during its lifespan and another 34 gallons are used during processing to clean the turkey. That leaves the bulk of the 10,000 gallons for the growing of feed, such as corn, soybeans and wheat.

So when it becomes time to be thankful, let's be mindful of the farmer and the work put into providing a food supply we all can enjoy. Remember: Food Grows Where Water Flows!

For more information, please click here.

Orange County Coastal Coalition

Please join me Thursday, December 5 for the Orange County Coastal Coalition meeting, featuring presentations from:

Scott Lynch, Water Reuse California Orange County Chapter – "Recycling" Water in Orange County
Larry Honeybourne, Orange County Health Care Agency – Orange County's 2012 Annual Ocean, Harbor and Bay Water Report
Question and Answer sessions will follow each presentation.

The meeting will be held from 9:00 AM to 11:00 AM in the City of Newport Beach Community Room, 100 Civic Center Drive, Newport Beach.

For more information, please click here. To view the OC Coastal Coalition webpage, please click here.


TAX COLLECTOR COLLECTIBLES

Delinquent Unsecured Notices Mailed

The Orange County Treasurer-Tax Collector (TTC) has announced that 21,425 Delinquent Unsecured Notices were mailed in October to the names of Unsecured Property owners shown on the most recent unsecured tax roll.

These personal property taxes on businesses, boats and aircrafts were originally due on or before September 3 and late penalties and fees have now been added. Additional penalties at a rate of 1.5% per month were added November 1. If payment in full was not received by November 1, a tax lien will be filed in November for each delinquent assessment.

The TTC has implemented and enhanced several new customer service features that are now available. Tax payments can be processed by eCheck (no cost) or by credit card using the TTC website. The convenience fee for credit cards was reduced 10% last year, and a lower cost Visa debit card payment option of $3.95 was added. Last year, taxpayers saved over $650,000 from these reduced convenience fees.

Taxpayers can now also scan the QR code on the unsecured tax bill to go to the property tax page on the TTC website to view, print or pay their tax bill. For more information, please e-mail ttcinfo@ocgov.com or call (714) 834-3411 between 9:00 AM and 4:45, or click here.


SAFETY SENTRY

Cooking Safety Tips

The holiday season is upon us, which means lots of cooking and baking. It also means that your risk of having a residential cooking fire increases tremendously! When you are preparing all of your holiday traditions, please use extra caution when using the appliances in your kitchen.

Check cords on appliances, especially ones you don't use very often, and pay attention to where you are putting them. Keep combustibles, such as towels, pot holders, cutting boards, etc., away from heat sources. If you are simmering sauces or keeping things warm on the stove, set a timer to remind you to check on them.

Whatever you do, PLEASE DO NOT USE WATER ON A GREASE FIRE! Water reacts with even the smallest amount of oil/grease. It only takes a split second for a fire to occur. Please make sure your family and friends know the escape plan and your designated meeting place in case there happens to be a fire in the home. Creating a plan can definitely save a life!

For more information, please click here.


CRITTER CHRONICLES

Thanksgiving Safety Tips for Pets

'Tis the season for friends, family and holiday feasts, but also possible distress for our animal companions. Pets won't be so thankful if they munch on undercooked turkey or a pet-unfriendly floral arrangement, or if they stumble upon an unattended alcoholic drink.

To view some safety tips for a fulfilling Thanksgiving our pets can enjoy, too, please click here.


HARBOR HAPPENINGS

Thanksgiving Day Road Closure Advisory

Dana Point Police Services will be implementing the following road closures in and around Dana Point Harbor for the Turkey Trot races held Thanksgiving Day, Thursday, November 28:

12:00 a.m. to 12:00 p.m.
Dana Point Harbor Drive from Golden Lantern to Casitas Place

5:00 a.m. to 12:00 p.m.
S/B Golden Lantern from Lantern Bay Drive to Dana Point Harbor Dr.

This closure should not impact access into the Harbor
Limited access for vendors and gym members
6:30 a.m. to 8:00 a.m.
Dana Point Harbor Drive from Golden Lantern to PCH (eastbound).
This closure will impact access to:

Puerto Place
The Embarcadero Marina/Launch Ramp Area
Mariner's Village and Dana Wharf Parking Lots
Doheny State Beach
6:30 a.m. to 11:30 a.m.
Dana Point Harbor Drive from Island Way to the Ocean Institute.
This closure will impact access to:

The Marina Inn
The Dana Point Harbor OC Sailing & Events Center
The Ocean Institute
Nordhavn
The OC Dana Point Harbor Office and DP Harbor Patrol Office
All yacht club and marina parking lots
Limited, escorted access to and from the island MAY be available after 11:00 a.m.
Anyone planning on visiting Dana Point Harbor on Thanksgiving Day between 6:30 a.m. and 12:00 p.m. should plan their trip accordingly and allow extra time to arrive at their destination.

Questions about how these road closures may impact you should be directed to Deputy Kami Horvath at 949-248-3517 or khorvath@ocsd.org. OC Dana Point Harbor and the marina offices will be closed for Thanksgiving. For more information, please click here.


HEALTH HERALD

Behavioral Health Information & Referral Line

The Orange County Health Care Agency has launched a new Behavioral Health information and referral line to link people and providers to services offered through the Behavioral Health System.

OC Links aims to successfully link children, teens, young adults, adults and seniors directly to County Behavioral Health Services, including mental health, drug and alcohol, and prevention and early intervention services.

Trained staff is available Monday through Friday from 8:00 AM to 6:00 PM via telephone or online. Staff will identify callers' needs and link them or their loved one to services, staying on the line with callers until the connection is successful.

Get linked today by calling 855-OC-Links (855-625-4657). The TDD Number for the deaf and hard-of-hearing is 714-834-2332. For more information, please click here and here.


RECORDER RECORD

Getting Married in OC: Easy as "11-12-13"

Couples in search of symmetry – and an easily remembered anniversary date – flocked to the Orange County Clerk-Recorder Department to be married Nov. 12, 2013 (or 11/12/13). The department issued 107 licenses and performed 103 civil wedding ceremonies, more than double the amount of ceremonies performed on a usual Tuesday.

The marriages were performed at the Old County Courthouse in Santa Ana and the department's two branch offices in Laguna Hills and historic downtown Fullerton. Many couples said consecutive date sequences are magical because of their rare occurrence and the hidden meaning of numbers. Others chose the days because they said it would be easier to remember their anniversary.

The last several years have provided several symmetrical and sequential dates that proved wildly popular for weddings. A record-setting 283 couples were married on Dec. 12 last year (or 12/12/12), which beat the previous record of 250 couples married in civil wedding ceremonies on 8/8/08.

The Clerk-Recorder is already planning for the final big day for marriages, which hits next year on Dec. 13 (or 12/13/14). For more information, please click here.

Saturday Hours in December

Appointments are being taken now for marriage licenses and ceremonies, as well as passport services, for Saturday, Dec. 14, when the offices of the Orange County Clerk-Recorder Department will be open from 10:00 AM to 3:00 PM. The Clerk-Recorder has opened office doors one Saturday each month since June to help customers who are unable to visit during regular weekday hours.

The Old County Courthouse will be open Dec. 14 for marriage licenses, civil wedding ceremonies and passport applications, as well as property research. Property and vital record copies and marriage services will be available at the Laguna Hills and Fullerton branch offices. FREE parking will be available at all three locations.

For more information, please click here.


SOUTH COUNTY CALENDAR

Dana Point: Elephant Parade Closing Ceremony

On Friday, November 15, say goodbye to the Elephant Parade Art Exhibition's precious pachyderms, as a candlelight tribute led by community leaders will be held at Lantern Bay Park at dusk. For more information, please click here, here and here.

CUSD: Conversation with the Superintendent

Parents and community members are invited to participate in a "Conversation with the Superintendent" of the Capistrano Unified School District (CUSD) on Wednesday, Nov. 20 at 7:00 p.m. in the Performing Arts Center at Capistrano Valley High School, located at 26301 Via Escolar, Mission Viejo. For more information, please click here.

Lake Forest: Winter Leisure Times

The City of Lake Forest brings you their new Winter Leisure Times! Registration for winter programs has begun for Lake Forest residents (November 19 for non-residents). For more information, please call (949) 461-3450 or click here.

San Clemente: "La Cristianita" Dedication

Casa Romantica Cultural Center and Gardens and the City of San Clemente is proud to announce the dedication ceremony of the newly restored and relocated "La Cristianita" state historical marker. The ceremony will be held November 21 at 10:30 AM at Casa Romantica Cultural Center and Gardens, 415 Ave. Granada in San Clemente. For more information, please click here.

Aliso Viejo: Santa Claus is Coming to Town

Santa Claus will arrive in Grand Park on Sunday, December 1, during the Aliso Viejo Community Association's Winter Holiday Event. The fun kicks off at 4:30 PM and includes live entertainment; complimentary cookies and hot chocolate; and tons of holiday cheer! For more information, please click here.

Mission Viejo: Visit Santa in his Workshop

Along with enjoying Santa's grand arrival and celebration Sunday, December 1 at the Mission Viejo Civic Center from 3:00 PM to 6:00 PM, make plans to St. Nick in his workshop beginning December 4. With Mrs. Claus and some elves in tow, Santa will greet visitors, spread holiday cheer and pose for photos from 6:00 PM to 8:00 PM at 200 Civic Center. For dates and more information, please click here.


FIFTH DISTRICT WRAP-UP

In addition to my many meetings, briefings, and other supervisorial activities, I also:

Participated in the Laguna Niguel Veteran's Day Celebration
Participated in the Orange County Local Agency Formation Commission meeting.
Attended the 20th anniversary celebration for California Citizens Against Lawsuit Abuse (CALA).
Participated in an interview with three Boy Scouts working to attain their Merit Badge.
Participated in the City of Dana Point's closing ceremonies for "Elephant Parade: Welcome to America."


My staff and I look forward to continually providing you updated information in our Fifth District Newsletter and website.

Please feel free to contact my office with your concerns, comments or questions at (714) 834-3550. It is an honor and a privilege to serve as your Supervisor for Orange County's Fabulous Fifth District.

For an ADA version of our newsletter, click here.

Follow me on Facebook!