November 27, 2013

Welcome to this edition of the Fifth District Report, an electronic newsletter keeping you updated about the events taking place in Orange County and in the Fifth District. It is my hope that you find this distribution informative and I would encourage you to contact me regarding any thoughts, comments, or concerns you may have.
---
IN THIS ISSUE...
1. HOLIDAY HEADLINER

2. BOARD BULLETIN BOARD

3. TRANSPORTATION INFORMATION

4. ENVIRONMENTAL MEMOS

5. AIRPORT ARRIVALS & DEPARTURES

6. SAFETY SENTRY

7. HARBOR HAPPENINGS

8. COUNTY CONNECTIONS

9. TAX COLLECTOR COLLECTIBLES

10. RECORDER RECORD

11. NOTES FROM THE FIELD

12. FIFTH DISTRICT SPOTLIGHT

13. SOUTH COUNTY CALENDAR

14. FIFTH DISTRICT WRAP-UP

---
OUR STAFF...
Don Hughes:
Chief of Staff
Kristen Camuglia:
Deputy Chief of Staff
Sergio Prince:
Policy Advisor
Erik Weigand:
Policy Advisor
Emily Osterberg:
Policy Advisor
Veronica Yniguez:
Policy Advisor
Ruth Strachan:
Office Manager
Click here to subscribe.

Click here to unsubscribe

---
HOLIDAY HEADLINER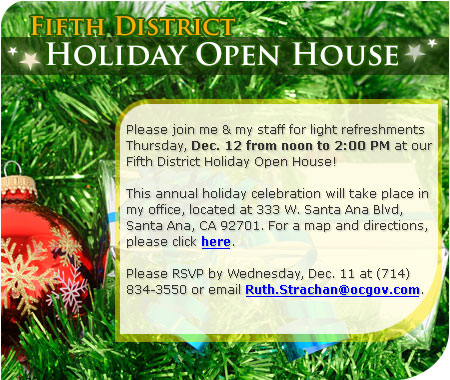 BOARD BULLETIN BOARD

No Board Meeting This Week

There was not a regularly scheduled meeting of the Board of Supervisors this week. To view the Board meeting schedule for 2013, please click here.

Our next Board meeting will be held Tuesday, December 10. Regular Board meetings begin at 9:30 AM in the Hall of Administration. For Agenda & Meeting Information, please click here.

Live Internet broadcasts of Board of Supervisors meetings can be viewed online and are archived as video-on-demand. To view live and/or past Board meetings, please click here.


TRANSPORTATION INFORMATION

OCTA CEO Highlights Progress on Strategic Initiatives

Orange County Transportation Authority (OCTA) CEO Darrell Johnson provided an update to the OCTA Board of Directors on his strategic initiatives for the year. The strategic initiatives support OCTA's goals of mobility, public service, fiscal sustainability, stewardship and organizational excellence.

Some highlights of the initiatives accomplished from July through September include:

OCTA was selected to serve as the managing agency for the rail service along the LOSSAN corridor.
The draft for District 1 and 2 Bikeways Strategy was released for review in an effort to improve bikeways and their connectivity to each other.
More than $39 million was allocated in Proposition 1B Transportation Improvement Funds for the Lakeview Avenue grade separation project.
The OCTA Board approved $2.8 million to Fund 19 projects through the M2 Environmental Cleanup Program.
The strategic initiatives focus on creating services to meet community needs, ensuring sustainability of transit systems and advancing the delivery of Measure M2 projects.

Interactive Map Tracks Orange County Street Improvements

A new interactive map on the Orange County Transportation Authority (OCTA) website makes it simple to track street improvement projects throughout the 34 cities that make up Orange County. Maintaining local streets and roads is a top priority for OCTA to keep residents connected to work, school, shopping, recreation and other activities.

With a few clicks, the map displays planned or in-progress projects along the more than 7,300 miles of roadway that are part of Orange County's continually evolving transportation system. From signal synchronization to street widening, freeway interchanges and intersection improvements, projects within each city and across the County are geographically displayed and explained with concise descriptions.

OCTA is responsible for planning and coordinating County regional transportation, while local agencies typically oversee roadway improvement construction and maintenance. Many cities take advantage of competitive grant programs available for street funding and other projects. Composed primarily of Measure M (M2) funds, these grants are administered by OCTA. The interactive map makes it easy to find how these funds are used.

To view the interactive map, please click here.

Taxpayer Oversight Committee Membership Eligibility

The Orange County Transportation Authority (OCTA) Board of Directors held a public hearing and voted to amend Orange County Local Transportation Authority Ordinance No. 3 (Measure M2 Ordinance) to modify the Taxpayer Oversight Committee (TOC) membership eligibility requirements.

As outlined in the M2 Ordinance, the TOC recruitment process is conducted by the Grand Jurors Association of Orange County (GJAOC), which acts as an independent body. GJAOC appoints a five-member selection panel to conduct the recruitment process and recommend potential candidates for membership on the TOC.

In an effort to assist the GJAOC in avoiding the potential of selecting TOC candidates with conflicts of interest, an amendment to the M2 Ordinance eligibility language was approved to specify that no person who has a financial conflict of interest, with respect to the allocation of Measure M2 revenues, will be eligible to be a member of the TOC.

In addition, while elected and appointed officials are currently ineligible to serve as a member on the TOC, they can still apply. The approved amendment also adds language which will require them to complete an "Intent to Resign" form as part of the application process. If selected to be a TOC member during the new member lottery process, the elected or appointed officer would need to resign their current public entity office.

The amendment is intended to strengthen the selection process to ensure the TOC can successfully fulfill its mission of independently monitoring the expenditure of M2 revenues.


ENVIRONMENTAL MEMOS

Orange County Coastal Coalition

Please join me Thursday, December 5 for the Orange County Coastal Coalition meeting, featuring presentations from:

Scott Lynch, Water Reuse California Orange County Chapter – Recycling Water in Orange County
Larry Honeybourne, Orange County Health Care Agency – Orange County's 2012 Annual Ocean, Harbor and Bay Water Report
Question and Answer sessions will follow each presentation.

The meeting will be held from 9:00 AM to 11:00 AM in the City of Newport Beach Community Room, 100 Civic Center Drive, Newport Beach.

For more information, please click here. To view the OC Coastal Coalition webpage, please click here.


AIRPORT ARRIVALS & DEPARTURES

JWA Thanksgiving Holiday Travel Tips

As reported in my newsletter last week, in anticipation of one of the most heavily traveled holiday periods, John Wayne Airport (JWA) offers travel tips to help passengers prepare for a safe and enjoyable holiday. Due to the Thanksgiving holiday, JWA passengers will experience higher-than-normal passenger traffic due through Monday, December 2.

This season, JWA is thankful for its partnership with KeepOCSafe. Together, they are encouraging travelers to be more aware of their surroundings and report questionable objects or activities. A Giant Red Backpack will be on display in the Riley Terminal throughout the holidays to remind passengers and visitors: "If You See Something, Say Something™."

For more information, please click here.


SAFETY SENTRY

Thanksgiving Holiday Travel & Safety Tips

To ensure a safe and happy Thanksgiving, the Orange County Sheriff's Department offers simple, convenient travel and safety tips to keep your family and home safe for the holidays.

For more information, please click here.

Refund Process for HAZMAT Disclosure Inspections

The Orange County Fire Authority (OCFA) Board of Directors received a follow-up report regarding the refund process for the Unverified Hazardous Materials (HAZMAT) Disclosure Inspections. As directed by the OCFA Board, staff reported that, of the 2,259 affected businesses, only 1,114 have filed claims seeking a refund, leaving 1,145 businesses left to seek reimbursement.

As you may recall, OCFA billed for HAZMAT disclosure inspections for Fiscal Year 2005/06 through 2011/12; however, after an audit of the inspection records, those inspections could not be verified as actually taking place. OCFA staff was thereby directed to circulate notices to the affected businesses so they could claim a refund. Those first notices were sent July 8.

At our Thursday meeting, staff was further directed to process a second mailing to the businesses that have yet to return a claim form. Those letters are scheduled to be mailed around January 15, 2014. Additionally, staff was directed to work closely with the County of Orange Health Care Agency (the HAZMAT program's new administrator), to search for more recent address information relating to those businesses.

Please note the last day to seek a refund for the unverified inspections will be April 30, 2014. After that date, the value of any remaining unclaimed refunds will be transmitted to the County's Health Care Agency, where they will be used to benefit the existing businesses participating in the HAZMAT program.

To check and see if your business was one of those affected, please click here.


HARBOR HAPPENINGS

Thanksgiving Day Road Closure Advisory

Dana Point Police Services will be implementing the following road closures in and around Dana Point Harbor for the Turkey Trot races held Thanksgiving Day, Thursday, November 28:

12:00 a.m. to 12:00 p.m.
Dana Point Harbor Drive from Golden Lantern to Casitas Place

5:00 a.m. to 12:00 p.m.
S/B Golden Lantern from Lantern Bay Drive to Dana Point Harbor Dr.

This closure should not impact access into the Harbor
Limited access for vendors and gym members
6:30 a.m. to 8:00 a.m.
Dana Point Harbor Drive from Golden Lantern to PCH (eastbound).
This closure will impact access to:

Puerto Place
The Embarcadero Marina/Launch Ramp Area
Mariner's Village and Dana Wharf Parking Lots
Doheny State Beach
6:30 a.m. to 11:30 a.m.
Dana Point Harbor Drive from Island Way to the Ocean Institute.
This closure will impact access to:

The Marina Inn
The Dana Point Harbor OC Sailing & Events Center
The Ocean Institute
Nordhavn
The OC Dana Point Harbor Office and DP Harbor Patrol Office
All yacht club and marina parking lots
Limited, escorted access to and from the island MAY be available after 11:00 a.m.
Anyone planning on visiting Dana Point Harbor on Thanksgiving Day between 6:30 a.m. and 12:00 p.m. should plan their trip accordingly and allow extra time to arrive at their destination.

Questions about how these road closures may impact you should be directed to Deputy Kami Horvath at 949-248-3517 or khorvath@ocsd.org. OC Dana Point Harbor and the marina offices will be closed for Thanksgiving. For more information, please click here.


COUNTY CONNECTIONS

County of Orange Armory Emergency Shelters Need You

Every year, the County of Orange contracts with Mercy House Living Centers, Inc. to operate and provide services for the County's Armory Emergency Shelter Program. The shelter at the Fullerton Armory opened last week, and the shelter at the Santa Ana Armory will open Monday, December 2.

The Armory Program provides a safe place to sleep and shelter from the winter weather, along with hot meals, showers, clothing, blankets, and other supportive services to approximately 400 homeless people per night.

The success of the Armory Program is largely due to the collaborative efforts of County agencies, the State of California's Army National Guard, the participating cities of Fullerton, Santa Ana and Anaheim, churches, nonprofit agencies, and dedicated individuals who generously volunteer their time.

Volunteer opportunities include: helping the homeless to sign-in, distributing blankets or clothing, serving food, as well as setting up and/or cleaning up. Individuals interested in volunteering can contact Irene Mendoza of Mercy House at IreneM@mercyhouse.net.

Donations of gently used and new items to the Armory Program can be dropped off Monday through Thursday from 5:00 PM to 8:00 PM from December through March at the two armories:

Fullerton Armory, 400 S. Brookhurst Rd. (Corner of Brookhurst Rd. and Valencia Dr.)
Santa Ana Armory, 612 E. Warner Ave. (Between Main St. and Grand Ave.)
For more information on the Armory Emergency Shelter Program, please visit Mercy House's website at www.mercyhouse.net. For any other questions about homeless issues, please contact OC Community Services Director Karen Roper at (714) 480-2805 or karen.roper@occr.ocgov.com.

Conditions of Children in Orange County

The recently released 19th Annual Report on the Conditions of Children in Orange County provides baseline and trend data on 41 indicators that describe the health, economic, educational and safety status of Orange County's children.

Positive trends highlighted in the report include:

From 2002 to 2011, there was a 31% decrease in the number of infant mortalities, from 216 infant deaths to 160.
Over the past decade, the proportion of births to teens in Orange County has declined from 7.0% in 2002 to 5.8% in 2011, and the teen birth rate has declined from 32.6 per 1,000 to 20.1 per 1,000.
Trends that are concerning include:

From 2003 to 2012, the percentage of kindergarten children with up-to-date immunizations decreased from 92.9% to 89.3%.
The Free and Reduced Lunch indicator is a proxy for children living at or near the poverty level. The proportion of students receiving free and reduced lunch as a percent of the total public school enrollment increased from 38.7% in 2002/03 to 46.4% in 2011/12.
This year, a Special Section in the 19th Annual Report also focuses on the Impact of Military Service on Children and Families. For more information, please click here.

Assisting the Needy this Holiday Season

Adding one more gift to your shopping list can make holiday dreams come true for a needy child or teen, an impoverished senior citizen or a low-income family.

For volunteer and donor opportunities available this holiday season, please click here.


TAX COLLECTOR COLLECTIBLES

Current Property Tax Payments and Deadline Information

The Orange County Treasurer-Tax Collector (TTC) advises that the first installment for the 2013-14 Secured Property Taxes is due by December 10. The TTC hopes taxpayers will save the cost of a stamp and make their tax payments online by eCheck at no cost through a checking or savings account at ocgov.com/octaxbill on or before midnight December 10.

A new feature this year is that you can scan the QR code on your property tax bill to go directly to your parcel tax payment page. In addition, the TTC offers online payment by credit and debit card, but these payment options do have a convenience fee. The convenience fee for credit card payments and non-VISA Consumer Debit cards is 2.3% (with a minimum charge of $3.95). Visa Consumer Debit cards will be charged a flat fee of $3.95.

When using the TTC's online customer service window, please make sure you include your e-mail address to get a copy of your receipt, print the receipt, or write down your payment reference number from the receipt page.

If you are making payment by mail, the envelope must have a United States Post Office postmark on or before December 10 to avoid the 10% late penalty. The TTC recommends having it hand-stamped by the Post Office if it is close to the tax payment deadline.

Taxpayers can also make payments in person at 625 N. Ross Street, Room G-58, in Santa Ana from 8:00 AM to 4:45 PM on Monday, and 8:00 AM to 5:00 PM on Tuesday, but they recommend either coming in early to avoid the last minute rush or paying online by eCheck to save the cost of parking.

Directions, parking options and costs can be found at ttc.ocgov.com.


RECORDER RECORD

Saturday Hours in December

Appointments are being taken now for marriage licenses and ceremonies, as well as passport services, for Saturday, Dec. 14, when the offices of the Orange County Clerk-Recorder Department will be open from 10:00 AM to 3:00 PM. The Clerk-Recorder has opened office doors one Saturday each month since June to help customers who are unable to visit during regular weekday hours.

The Old County Courthouse will be open Dec. 14 for marriage licenses, civil wedding ceremonies and passport applications, as well as property research. Property and vital record copies and marriage services will be available at the Laguna Hills and Fullerton branch offices. FREE parking will be available at all three locations.

For more information, please click here.


NOTES FROM THE FIELD

Public Comments Sought on Recreation Fee Areas

Cleveland National Forest officials are seeking public comments on proposed changes to the Corral Canyon, Holy Jim, Mt. Laguna, Ortega, Tenaja and Wildomar Recreation Fee Areas. The Forest Service is proposing to eliminate or substantially reduce the size of these standard amenity fee areas. These proposed changes result in over 30,000 acres becoming free to the public.

Comments should be submitted by Friday, December 13 to be compiled, analyzed, and shared with the California Recreation Resource Advisory Committee. If adopted, it is anticipated that the proposals for the Cleveland recreation fee areas would be implemented in winter 2014.

For more information, please click here.


FIFTH DISTRICT SPOTLIGHT

South County Marching Band Wins Fifth Straight State Title

For the fifth consecutive year, Capistrano Valley High School's award-winning Black and Gold Brigade marching band has claimed the state title in its division at the Southern California Judging Association's California State Band Championships. With this latest victory, the 88-member marching band and color guard have won six state titles in seven years.

In addition to the state title, the Black and Gold Brigade also took home the award for Most Outstanding Soloist for color guard Mali Nelson's dance performance. This is the first time in the history of the championships a member of the color guard has received this honor.

For more information, please click here. To view a photo, please click here.

South County Singers Reach Contest Finals, Need Votes

Las Flores' Tesoro High School Madrigals from have been honored as one of three finalists in the KUSC Local Vocals Competition for Southern California high schools.

So far, Tesoro has outlasted all Orange County schools and are up against two choral powerhouses: Mira Costa High School from Manhattan Beach and La Cañada High School from La Cañada.

Another round of voting has opened up, and the winning choir will perform at Segerstrom Hall in Costa Mesa for "From the Top" – a national radio program featuring young classical artists.

The deadline to vote is Monday, Dec. 2, so please show your support by visiting www.kusc.org/localvocals today and voting for the Tesoro Madrigals at the bottom of the page.

Aliso Niguel High School Hosts Annual Area Concert

Singers from the entire Aliso Niguel High School family of schools, more than 600 voices strong, will perform in the ninth annual Area Concert on Tuesday, Dec. 3 at 6:30 PM, as choirs from ten South County schools will participate.

Last year, more than 2,000 people attended the concert. Over 600 students from the following schools will perform:

Bergeson Elementary School
Canyon Vista Elementary School
Don Juan Avila Elementary School
Laguna Niguel Elementary School
Moulton Elementary School
Oak Grove Elementary School
Wood Canyon Elementary School
Don Juan Avila Middle School
Aliso Viejo Middle School
Aliso Niguel High School
SOUTH COUNTY CALENDAR

Aliso Viejo: Santa Claus is Coming to Town

Santa Claus will arrive in Grand Park on Sunday, December 1, during Aliso Viejo's Winter Holiday Event. The fun kicks off at 4:30 PM and includes live entertainment; complimentary cookies and hot chocolate; and tons of holiday cheer! For more information, please click here.

Mission Viejo: Visit Santa in his Workshop

Along with enjoying Santa's grand arrival and celebration Sunday, December 1 at the Mission Viejo Civic Center from 3:00 PM to 6:00 PM, make plans to St. Nick in his workshop beginning December 4. With Mrs. Claus and some elves in tow, Santa will greet visitors, spread holiday cheer and pose for photos from 6:00 PM to 8:00 PM at 200 Civic Center. For dates and more information, please click here.

Laguna Niguel: Menorah Lighting and Christmas Tree Lighting

Enjoy a blizzard of holiday fun for the whole family at Laguna Niguel's Chanukah Wonderland & Menorah Lighting on December 1, 3:30 PM at City Hall! For more information, please click here and here.

Mingle with friends, munch on cookies, sip hot chocolate and enjoy the songs of the season Saturday, December 7 at Laguna Niguel's Annual Christmas Tree Lighting at City Hall beginning at 5:00 PM. For more information, please click here.

San Juan Capistrano: Tree Lighting Celebration

Please join the City of San Juan Capistrano for their annual Tree Lighting Celebration and many other wonderful holiday season festivities on Saturday, December 7 at Historic Town Center Park (31852 El Camino Real), beginning at 4:45 PM. For more information, please call (949) 493-5911 or click here.

Laguna Beach: Winter Fantasy

The 2013 Winter Fantasy in Laguna Beach will feature fine art and craft from over 170 exhibitors on weekends through December 14 at the Sawdust Art Festival grounds. For more information, please click here.


FIFTH DISTRICT WRAP-UP

In addition to my many meetings, briefings, and other supervisorial activities, I also:

Participated in the Orange County Transportation Authority (OCTA) Board of Directors meeting.
Met with the Family Action Ministries Executive Director to discuss their outreach efforts.
Met with Rancho Mission Viejo officials to discuss progress on The Ranch Plan.


My staff and I wish you and yours a safe and happy Thanksgiving! Please note that County offices will be closed November 28 and 29 in observance of the Thanksgiving holiday and will reopen Monday, December 2.

My staff and I look forward to continually providing you updated information in our Fifth District Newsletter and website.

Please feel free to contact my office with your concerns, comments or questions at (714) 834-3550. It is an honor and a privilege to serve as your Supervisor for Orange County's Fabulous Fifth District.

For an ADA version of our newsletter, click here.

Follow me on Facebook!