December 6, 2013

Welcome to this edition of the Fifth District Report, an electronic newsletter keeping you updated about the events taking place in Orange County and in the Fifth District. It is my hope that you find this distribution informative and I would encourage you to contact me regarding any thoughts, comments, or concerns you may have.
---
IN THIS ISSUE...
1. HOLIDAY HEADLINER

2. BOARD BULLETIN BOARD

3. SOUTH COUNTY NEWS

4. TRANSPORATION INFORMATION

5. SAFETY SENTRY

6. COUNTY CONNECTIONS

7. TAX COLLECTOR COLLECTIBLES

8. RECORDER RECORD

9. REGISTRAR REGISTER

10. NOTES FROM THE FIELDNOTES FROM THE FIELD

11. SOUTH COUNTY CALENDAR

12. FIFTH DISTRICT WRAP-UP

---
OUR STAFF...
Don Hughes:
Chief of Staff
Kristen Camuglia:
Deputy Chief of Staff
Sergio Prince:
Policy Advisor
Erik Weigand:
Policy Advisor
Emily Osterberg:
Policy Advisor
Veronica Yniguez:
Policy Advisor
Ruth Strachan:
Office Manager
Click here to subscribe.

Click here to unsubscribe

---
HOLIDAY HEADLINER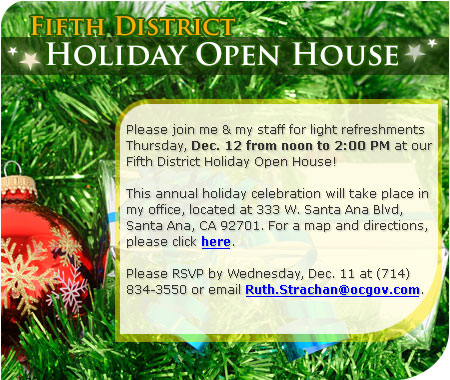 BOARD BULLETIN BOARD

No Board Meeting This Week

There was not a regularly scheduled meeting of the Board of Supervisors this week. To view the Board meeting schedule for 2013, please click here.

Our next Board meeting will be held Tuesday, December 10. Regular Board meetings begin at 9:30 AM in the Hall of Administration. For Agenda & Meeting Information, please click here.

Live Internet broadcasts of Board of Supervisors meetings can be viewed online and are archived as video-on-demand. To view live and/or past Board meetings, please click here.


SOUTH COUNTY NEWS

Holiday Lights in Wagon Wheel

Much media attention was garnered this week after residents in the Fifth District unincorporated community of Wagon Wheel received notices last Friday from OC Public Works that their neighborhood holiday light display, which includes lights strung across two county-owned roadways, was an encroachment violation and needed to be removed. Residents took to media outlets to voice their frustration.

Upon learning of this matter Monday, I met with the OC Public Works Director to determine a solution that would satisfy the Orange County Municipal Code while allowing the residents to keep their lights up.

Though the Code requires a permit to be issued before "installation of any nature" can be constructed "across, upon, in or under" a County roadway, I requested the County work to get the residents the proper permits (after the fact) and expedite the process to do so. To help expedite processing of the permit applications, I also asked that fees be waived and the deadline for the residents to come into compliance be extended.

Going forward, I'll be working with the OC Public Works Department to ensure the unincorporated communities, both residents and homeowners associations, are provided with information regarding required encroachment permits and how to proceed for any and all event activities they hold in their neighborhoods.

Currently, we're working to make the permit application process more user friendly by allowing it to be downloaded online and creating a link to it on our website.

The County will also proactively reach out to unincorporated communities well in advance of the holiday season next year to remind them that they are required to obtain the proper permits for any and all activities that encroach on public property and how to obtain the permits.

At this time, while the County has extended the permit deadline for those residents on the streets with lighting displays in the Wagon Wheel community, we are still awaiting permit applications from many residents. To download an online permit application, please click here.

For any questions related to the County's permit requirements for unincorporated communities, please call (714) 667-8888.


TRANSPORATION INFORMATION

Transit Quarterly Performance Metrics

The OCTA Board received the Transit Division Performance Measurements Report for the first quarter of the 2013-2014 fiscal year. The report provides key performance indicators that gauge the safety, reliability, cost-effectiveness and overall quality of public transit services offered by OCTA.

Highlights of OCTA's transit services performance include:

Ridership for all fixed-route services exceeded the goal of 12.1 million boardings with 12.6 million boardings, a 4.4 percent decrease from this time last year
Safety standards for recorded vehicle accidents per 100,000 miles has improved from the previous year
ACCESS Same-Day Taxi Program Service Model Expanded

The OCTA Board has approved expanding the service model and per-trip subsidy for the ACCESS Same-Day Taxi service to accommodate trips up to five miles based on the results on a two-year pilot program.

In March 2012, the Board of Directors approved an expansion pilot program of the Same-Day Taxi service to increase the OCTA subsidy to accommodate a $14.50 fare, or approximately a five-mile trip. The pilot program was initiated in July 2012 and will continue through June 2014. Trip data analysis and customer survey results indicate the expansion pilot program has been successful.

Increasing the subsidy under the pilot program was intended to encourage ACCESS customers to use the Same-Day Taxi service for trips up to five miles rather than scheduling those trips on regular ACCESS service.

Comparing Same-Day Taxi customer and ridership data from FY 2011-12, prior to the expansion, with data after the expansion in FY 2012-13 shows:

Individual ACCESS customers using the Same-Day Taxi service increased nearly 41 percent
Total Same-Day Taxi trips increased by 62 percent
Same-Day Taxi trips exceeding three miles increased 139 percent, and trips exceeding four miles increased 264 percent
The expansion service model will be incorporated into the scope of work for the new Same-Day Taxi service contract, effective July 1, 2014.


SAFETY SENTRY

Holiday Driving Safety

Are you and your family planning to drive to a holiday get-together this year? Whether you're heading to Grandma's house or a favorite vacation spot to celebrate the holidays or a special event with family or friends, here are some simple tips to help make your drive safer:

Make sure that your vehicle is properly maintained. If maintenance is not up to date, it is really important to have your car serviced and your tires inspected before you take a long drive.
Map your route in advance and be prepared for busy roads. To avoid heavy traffic and provide you with options for alternate routes, consider downloading a mapping/road direction application for your cell phone.
If possible, consider leaving earlier or later to avoid heavy traffic times.
When vacating your vehicle for rest stops or dining, keep anything of value in the trunk or in a covered storage area.
Have roadside assistance contact information on hand, in case an incident occurs on the road.
In case of an emergency, keep a cell phone and charger with you at all times.
For more information, please click here.

Holiday Shopping Safety Tips

The National Crime Prevention Council (NCPC), home of McGruff the Crime Dog, says you need a personal safety and security plan to keep criminals at bay and you from seeing red.

This year many shoppers will be out early to find those big bargains, but the criminals will be out too. NCPC has 10 great tips to help you shop safely while getting those great holiday bargains throughout the shopping season.

Do not buy more than you can carry. Plan ahead by taking a friend with you or ask a store employee to help you carry your packages to the car.
Shop online with companies you know and trust. Check a company's background if you are not familiar with it. Remember, if it sounds too good to be true, it usually is.
Save all receipts. Print and save all confirmations from your online purchases. Start a file folder to keep all receipts together and to help you verify credit card or bank statements as they come in.
Consider alternate options to pay for your merchandise, such as onetime or multiuse disposable credit cards or money orders, at online stores and auction sites.
Wait until asked before taking out your credit card or checkbook. An enterprising thief would love to shoulder surf to get your account information.
Deter pickpockets. Carry your purse close to your body or your wallet inside a coat or front trouser pocket.
Have your keys in hand when approaching your vehicle. Check the back seat and around the car before getting in.
Do not leave packages visible in your car windows. Lock them in the trunk or, if possible, take them directly home.
Tell a security guard or store employee if you see an unattended bag or package. The same applies if you are using mass transit.
If you are shopping with children, make a plan in case you get separated. Select a central meeting place and make sure they know they can ask mall personnel or store security employees if they need help.
For more information, please click here and here.


COUNTY CONNECTIONS

County of Orange Armory Emergency Shelters Need You

Every year, the County of Orange contracts with Mercy House Living Centers, Inc. to operate and provide services for the County's Armory Emergency Shelter Program. To that end, the shelter at the Fullerton Armory and the Santa Ana Armory are now open.

The Armory Program provides a safe place to sleep and shelter from the winter weather, along with hot meals, showers, clothing, blankets, and other supportive services to approximately 400 homeless people per night.

The success of the Armory Program is largely due to the collaborative efforts of County agencies, the State of California's Army National Guard, the participating cities of Fullerton, Santa Ana, and Anaheim, churches, nonprofit agencies, and dedicated individuals who generously volunteer their time.

Volunteer opportunities include: helping the homeless to sign-in, distributing blankets or clothing, serving food, as well as setting up and/or cleaning up. Individuals interested in volunteering can contact Irene Mendoza of Mercy House at IreneM@mercyhouse.net.

Donations of gently used and new items to the Armory Program can be dropped off Monday through Thursday from 5:00 PM to 8:00 PM from December through March at the two armories:

Fullerton Armory, 400 S. Brookhurst Rd. (Corner of Brookhurst Rd. and Valencia Dr.)
Santa Ana Armory, 612 E. Warner Ave. (Between Main St. and Grand Ave.)
For more information on the Armory Emergency Shelter Program, please visit Mercy House's website at www.mercyhouse.net. For any other questions about homeless issues, please contact OC Community Services Director Karen Roper at (714) 480-2805 or karen.roper@occr.ocgov.com.

Assisting the Needy this Holiday Season

Adding one more gift to your shopping list can make holiday dreams come true for a needy child or teen, an impoverished senior citizen or a low-income family.

For volunteer and donor opportunities available this holiday season, please click here.


TAX COLLECTOR COLLECTIBLES

First Installment Property Tax Payment Deadline

The Orange County Treasurer-Tax Collector reports that the first installment of the 2013-2014 secured property taxes must be paid by Tuesday, December 10 to avoid any late charges. Any first installment payments received after December 10 that do not have a U.S. Postal Service (USPS) postmark of the 10th or earlier will be charged a 10% delinquent fee.

The second installment of property taxes is due February 1, 2014 and delinquent after April 10, 2014.

For more information, please click here.


RECORDER RECORD

Saturday Hours in December

Appointments are being taken now for marriage licenses and ceremonies, as well as passport services, for Saturday, Dec. 14, when the offices of the Orange County Clerk-Recorder Department will be open from 10:00 AM to 3:00 PM. The Clerk-Recorder has opened office doors one Saturday each month since June to help customers who are unable to visit during regular weekday hours.

The Old County Courthouse will be open Dec. 14 for marriage licenses, civil wedding ceremonies and passport applications, as well as property research. Property and vital record copies and marriage services will be available at the Laguna Hills and Fullerton branch offices. FREE parking will be available at all three locations.

For more information, please click here.


REGISTRAR REGISTER

June Primary Election Calendar

The Registrar of Voters (ROV) has posted their full 2014 June Primary election calendar online, detailing every critical date, statutory deadlines and requirements. If you're considering running for office, campaigning, holding registration drives, or are just interested in elections in general, you'll want to check out their comprehensive calendar.

The ROV also has full details on required campaign finance disclosure deadlines for 2014. Don't forget, candidate filing opens in just a few weeks on December 27.

For more information, please click here, here and here.


NOTES FROM THE FIELD

Doheny Update

The Doheny State Beach Interpretive Association (DSBIA) has issued their latest edition of DOHENY UPDATE to better inform the public about events and conditions in the State Park.

To view the DSBIA November newsletter, please click here.

Forest Service Seeks Comments on Recreation Fee Areas

Cleveland National Forest officials are seeking public comments on proposed changes to the Corral Canyon, Holy Jim, Mt. Laguna, Ortega, Tenaja and Wildomar Recreation Fee Areas. The forest is proposing to eliminate or substantially reduce the size of these standard amenity fee areas. These proposed changes result in over 30,000 acres becoming free to the public.

Comments should be submitted by Friday, December 13 to compiled, analyzed, and shared with the California Recreation Resource Advisory Committee. If adopted, it is anticipated that the proposals for the Cleveland recreation fee areas would be implemented in winter 2014.

For more information, please click here.


SOUTH COUNTY CALENDAR

Dana Point Harbor: Holiday Happenings

Come down to Dana Point Harbor to enjoy all the festive Holiday Happenings this season, including Holiday in the Harbor (Dec. 6), Boat Rides with Santa (Dec. 7 & 8), the 39th Annual Boat Parade of Lights (Dec. 6, 7, 13 & 14), and Santa Paws (Dec. 14). For more information, please click here.

Laguna Niguel: Christmas Tree Lighting & Holiday Parade

Mingle with friends, munch on cookies, sip hot chocolate and enjoy the songs of the season Saturday, December 7 at Laguna Niguel's Annual Christmas Tree Lighting at City Hall beginning at 5:00 PM. For more information, please click here.

On Saturday, December 14, attend the Laguna Niguel Holiday Parade, titled "Through the Eyes of a Child", beginning at 10:00 AM and featuring over 100 exciting entries, including marching bands, floats, local youth groups, equestrian units, exotic cars, military members, local heroes, fun attractions, and a dazzling entrance by Santa Claus! For more information, please click here and here.

San Juan Capistrano: Tree Lighting Celebration

Please join the City of San Juan Capistrano for their annual Tree Lighting Celebration and many other wonderful holiday season festivities Saturday, December 7 at Historic Town Center Park, 31852 El Camino Real, beginning at 4:45 PM. For more information, please click here and here.

Laguna Beach: Winter Fantasy

The 2013 Winter Fantasy in Laguna Beach will feature fine art and craft from over 170 exhibitors on weekends through December 14 at the Sawdust Art Festival grounds. For more information, please click here.


FIFTH DISTRICT WRAP-UP

In addition to my many meetings, briefings, and other supervisorial activities, I also:

Participated in the Orange County Transportation Authority (OCTA) Board of Directors meeting.
Chaired the Orange County Coastal Coalition meeting. More on this in next week's newsletter.
Attended the Laguna Niguel Historical Society's annual holiday festivity and birthday celebration for the City of Laguna Niguel.
Attended the WTS – Women in Transportation 25th annual awards and scholarship gala.
Attended the California Women's Leadership Association installation and reception.


My staff and I look forward to continually providing you updated information in our Fifth District Newsletter and website.

Please feel free to contact my office with your concerns, comments or questions at (714) 834-3550. It is an honor and a privilege to serve as your Supervisor for Orange County's Fabulous Fifth District.

For an ADA version of our newsletter, click here.

Follow me on Facebook!