BARTLETT BULLETIN

A Welcome Message from Supervisor Lisa Bartlett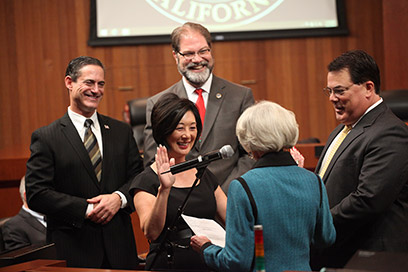 After being overwhelmingly elected November 4 by South County voters as your new 5th District Supervisor, I was honored to be sworn-in Tuesday, December 2 before an overflow audience of supporters at a Special Meeting of the Orange County Board of Supervisors.

Administering the Oath of Office was my dear friend and mentor, the Honorable Marian Bergeson - former State Senator, Secretary of Education, and 5th District Supervisor. I was pleased to take office a month early to fill the unexpired term of Supervisor Patricia Bates, who was chosen by voters in the same election to represent the 36th Senate District.

During my campaign for Supervisor, as I traveled across the 5th District, making my case to residents and humbly asking for their vote, I reflected on the County's mission statement, which is:

"Making Orange County a safe, healthy, and fulfilling place to live, work, and play, today and for generations to come, by providing outstanding, cost-effective regional public services."

As I join a new Board of Supervisors that will lead the County in the coming years, it is important to reflect on this mission and these values. I am enthusiastic to begin this journey and look forward to working with my colleagues on the Board of Supervisors to continue making Orange County an efficient, fiscally responsible, and safe place to live, work, and travel.

Along the campaign trail, I met many wonderful people who care deeply about the future of our county and what we will leave behind for future generations. Now that the long race is over, I will focus my attention to representing the people of 5th District. You have my solemn commitment to continue to strive to achieve the most positive and productive results possible for the residents I serve, much as I did as the former Mayor of the City of Dana Point.

Needless to say, I have extremely big shoes to fill after the well respected and passionate public servants who held this seat before me, including former Supervisors Tom Riley, Marian Bergeson, Tom Wilson, and Patricia Bates, who now represents us in the State Senate. Senator Bates and those before her worked diligently to leave the 5th District better than when they began representing it; and I will endeavor each and every day to do the same.

In closing, I am privileged and humbled to represent the Fabulous 5th District and hope you will join me and my Board colleagues in working to make Orange County, America's 6th largest county, a place all of us can be truly proud of!

Please don't hesitate to contact me at (714) 834-3550 or Lisa.Bartlett@ocgov.com if I can ever be of assistance.

To read a transcript of the speech I delivered after receiving the Oath of Office, please click here. To view photos of my swearing-in ceremony and the reception that followed, please click here. For more information, please click here and here.

FIFTH DISTRICT SPOTLIGHT

Holiday Open House

I cordially invite you to join me and my staff for refreshments and tasty treats at our Holiday Open House on Tuesday, December 16 from 3 PM to 5 PM. This festive holiday celebration will be held jointly with the office of 3rd District Supervisor Todd Spitzer in the Hall of Administration, 5th Floor, Conference Room A. Hope to see you there!

For more information, please click here.

SAFETY SENTRY

DUI Enforcement Operations Planned this Weekend

The Orange County Sheriff's Department's DUI Task Force will deploy this weekend to stop and arrest alcohol and drug-impaired drivers in the department's ongoing traffic safety campaign. DUI Saturation Patrols will deploy on Friday, December 5 at 7:00 pm and continue until Saturday, December 6 at 3:00 AM in the cities of Aliso Viejo, Laguna Hills, Laguna Niguel and Laguna Woods.

For more information, please click here and here.

COUNTY CONNECTIONS

Special Election Date Set for 1st District Vacancy

The Board of Supervisors Chairman has set January 27, 2015, as the date for a winner-take-all special election to fill the vacancy created by the election of former 1st District Supervisor Janet Nguyen to the state Senate.

The County Charter specifies that supervisorial vacancies must be filled by a special election held not less than 56 days or more than 70 days after the date of the vacancy. The date selection requires ratification by the Board of Supervisors.

The 1st District includes the cities of Garden Grove, Santa Ana and Westminster, portions of the City of Fountain Valley and the unincorporated community of Midway City.

For more information, please click here and here.

County Chief Information Officer Selected

Interim Chief Information Officer Christina Koslosky was chosen this week to permanently lead the County's Office of Information Technology.

The CEO Office of Information Technology provides IT solutions across County departments and agencies for voice communications, network and Internet access, as well as server hosting and data center services.

For more information, please click here.

TAX COLLECTOR COLLECTIBLES

First Installment Property Tax Payment Deadline

The Orange County Treasurer-Tax Collector reports the first installment of the 2014-15 secured property taxes must be paid by Wednesday, December 10 to avoid any late charges.

Any first installment payments received after Dec. 10 that do not have a US Postal stamp of the 10th or earlier will be charged a 10% delinquent fee.

The second installment of property taxes is due February 1, 2015 and is delinquent after April 10, 2015.

The Treasurer-Tax Collector encourages taxpayers to save the cost of a stamp and pay your property tax bill on-line by eCheck without any convenience fee by using your bank checking or savings account on the County's secure website.

To further assist taxpayers, payments processed until midnight, Dec. 10, using the Treasurer-Tax Collector's website will be accepted as timely payment of taxes. A taxpayer receives same-day credit for these payments and can either print the payment receipt or receive a payment receipt by email.

If you are paying more than one parcel, feel free to use the convenient online "cart" function so you only have to enter your bank account information once and receive a payment receipt listing each parcel paid.

For more information, please click here.

RECORDER RECORD

Passport Services Now in South County

The OC Clerk-Recorder Department has begun accepting and processing passport applications at its South County branch, another step taken by Clerk-Recorder Hugh Nguyen to increase accessibility to the services offered by his department.

The addition of passport services at the South County branch office creates a one-stop shop for applicants born in Orange County. Applicants can obtain their birth certificate at the downstairs main office, and then apply for a passport at the upstairs office.

I was pleased to participate in a ribbon-cutting ceremony, held Nov. 20. The branch location is 24031 El Toro Rd., Suite 150, in Laguna Hills. Hours are 9 AM to 4:30 PM, Monday through Friday.

For more information, please click here.

CRITTER CHRONICLES

Holiday Pet Tips

There's no place like (a safe) home for the holidays. Below are some helpful and useful tips to make sure your pets stay safe and healthy this holiday season:

Holiday lights also mean extra cords and plugs. Take an extra minute or two during decorating to tape down or cover cords. This will help prevent shocks, burns or more serious injuries to your pets.
Secure Christmas trees to keep them from crashing to the ground when a good game of doggie wrestling gets going. Keep tinsel decorations high on the tree.
During holiday parties, provide pets with a quiet place to retreat.
Chocolate contains the heart stimulant theobromine and in small quantities can be toxic to dogs and cats.
Mistletoe, holly berries, and poinsettia plants can be poisonous to pets.
Holidays and long weekends are a time when many pets are lost. Be cautious about guests, open doors and gates, and the person who cares for your pet while you are away. Be sure to have a secure collar with tags, and a registered microchip, all with more than one phone number.
For more information, please click here.

HARBOR HAPPENINGS

Boater Notice: Boat Parade of Lights, "Fantasea Holiday"

OC Dana Point Harbor expects substantial traffic during the weekends of the 40th Annual Boat Parade of Lights, "Fantasea Holiday", taking place December 5, 6, 12 & 13.

Please plan ahead and come early to the Harbor
Encourage your guests to carpool and use on-street parking
Campers, R.Vs, and trailers are prohibited in the marina lots
If you have any questions or concerns, please contact your marina office directly. For more information, please click here, here and here.

IlluminOcean

Dana Point's IlluminOcean will electrify Dana Point Harbor with holiday lights through January 3. This wonderland by the sea features a brilliant spectacle of 18 oversized lighting sculptures with over 225,000 LED lights and is free to the public for viewing nightly from sundown to 10 PM on weeknights and 11 PM on weekends.

On weekends, roaming street performers entertain crowds, glow merchandise shines and "Whale Eyes" 3D glasses give a must-see holographic look at this holiday spectacle.

Make sure to pick up a FREE pair of the 3D Viewing Glasses. The St. Regis Monarch Beach Resort and some Dana Point Harbor Shops will have these glasses, including:

Coffee Importers and Scoop Deck
Woody Hut
Dana Wharf Sportfishing and Whale Watching
Captain Dave's Dolphin Safari
For more information, please click here and here.

SOUTH COUNTY CALENDAR

Mission Viejo: Santa's Workshop

Santa's Workshop in Mission Viejo gives you the chance to meet St. Nick and pose for photos with the jolly old soul from 6 PM to 8 PM at 200 Civic Center on Wednesdays, Saturdays and Sundays through December 21. For more information, please click here.

Laguna Beach: Hospitality Night

This year's Hospitality Night event is scheduled Friday, December 5, from 5 PM to 10 PM. Hospitality Night is co-sponsored by the City of Laguna Beach and the Laguna Beach Chamber of Commerce to celebrate the beginning of the holiday season. For more information, please click here.

Lake Forest: Victorian Christmas

Heritage Hill's Victorian Christmas in Lake Forest takes place Saturday, December 6 from 11 AM to 3 PM. This annual event features Christmas entertainment, music and performances, children's crafts, historical exhibits, and handicraft vendors. For more information, please click here.

San Clemente: Santa's Village by the Sea

Come on down to San Clemente on Saturday, Sept. 6, beginning at 2 PM for Santa's Village by the Sea, featuring festive holiday activities for the whole family, then celebrate the spirit of the season with them at Casa Romantica. For more information, please click here.

San Juan Capistrano: Tree Lighting Celebration

Come enjoy a holiday tradition Saturday, Dec. 6 at Historic Town Center Park, as the City of San Juan Capistrano hosts its annual Tree Lighting Celebration! Events begin at 4 PM, with the lighting of the tree at 5:30 PM, and much more! For more information, please click here.

Aliso Viejo: Winter Holiday Event

Santa Claus is coming to town Sunday, December 7, during the Aliso Viejo Community Association's Winter Holiday Event. The fun is from 4:30 PM to 7 PM at the Grand Park Town Center Amphitheater. For more information, please click here.

Laguna Niguel: Holiday Parade

Come one, come all to the Laguna Niguel Holiday Parade, "Silver Bells ~ Golden Dreams", Saturday, Dec. 13, beginning at 10:00 AM. This event is a Southern California tradition, with more than 3,000 parade participants and an anticipated crowd of more than 10,000 people. For more information, please click here.

FIFTH DISTRICT FINALE

My staff and I look forward to continually providing you updated information in our 5th District Dispatch and website.

Please feel free to contact my office with your concerns, comments or questions at (714) 834-3550. It is an honor and a privilege to serve as your Supervisor for Orange County's Fabulous Fifth District!