December 19, 2014
Volume 1

Issue 3

BOARD MEETING UPDATE

Improving Traffic Safety in Ladera Ranch

This week, the Board of Supervisors adopted a Resolution to Approve the Orange County Traffic Committee Report. This will establish an intersection control at the intersection of Narrow Canyon Road and Aura Lane which is directly adjacent to Goddard Elementary School in Ladera Ranch, an unincorporated area in the Fifth District.

The Ladera Ranch Civic Council and Goddard Elementary School officials worked with OC Public Works to establish a traffic control measure for this intersection following a traffic collision that occurred this summer.

Following the Board's action, an all-way stop will be implemented at the intersection.

I would like to thank OC Public Works, the community of Ladera Ranch, and Goddard Elementary for working collaboratively.

To learn more please click here.

2015 Legislative Outlook

The Legislative Bulletin provides the Board with analyses of legislative bills pending in Sacramento and Washington that are of interest to the County. Staff provides recommended positions that fall within the range of policies established by the Board. According to the County of Orange Legislative Affairs Procedures adopted by the Board of Supervisors on November 25, 2014, staff recommendations for formal County positions on legislation will be agendized and presented in this document for Board action at regular Board of Supervisors meeting.

On Tuesday, I directed staff to actively monitor legislative bills that would repeal the hidden gas tax in Assembly Bill 32. On January 1, 2015, the California Air Resources Board (CARB) will expand the state's cap-and-trade program to include gasoline and diesel fuels for the first time ever. This expansion could increase the cost of gasoline from significantly, according to CARB. In the coming months, I will keep you updated of these efforts.

ORANGE COUNTY MOBILITY INFORMATION

La Pata Extension Construction Update

Beginning in late December, contractors will begin to import dirt for the grading of the La Pata Extension Project which will connect the communities of San Juan Capistrano and San Clemente.

Crews will import approximately 260,000 cubic yards of dirt with multiple haul trucks on a daily basis. Residents and commuters can expect:

Noise/Vibration: You may experience noise and vibration from haul trucks and other related equipment during this activity.
Dust Mitigation: Street sweepers will be on-site and used to minimize debris during working hours.
Access: Residents, San Juan Hills High School, Prima Deshecha Landfill and emergency services will have access at all times.
Safety is the top priority during the construction of the La Pata Project. Please allow extra time to get to work or school and use caution near the project area. During the morning hours, students and parents from San Juan Hills High School are highly encouraged to use the southbound right lane to enter the school. Please click here for more information.

Demolition of north side of Ortega Highway begins tonight

Both sides of the 5 Freeway will close down tonight and Saturday night for the demolition of the north side of the Ortega Highway Bridge.

The work is part of the I-5/Ortega Highway Interchange Improvement Project.

The bridge is expected to close at 11 p.m., and the freeway will close in both directions at midnight. Both roads are anticipated to reopen at 6 a.m.

Motorists traveling north and south on I-5 will be diverted onto the Ortega Highway off-ramps and back onto I-5 via the Ortega Highway on-ramps.

Motorists who want to drive into San Juan Capistravno from I-5 must use Camino Capistrano or Junipero Serra Road exits.

AIRPORT ADVICE

John Wayne Airport During December Holiday Season

John Wayne Airport (JWA) anticipates a busier-than-normal travel period between December 19, 2014 and January 2, 2015. Last year, more than 350,000 passengers traveled through JWA during this period. To ensure a smooth visit to the Airport, passengers are encouraged to plan ahead and arrive at the Airport 90 minutes to two hours prior to departure time for domestic flights, and three hours in advance for international flights. This year, to add some holiday cheer to the Riley Terminal, John Wayne Airport welcomes the Valley High School clarinet, brass and saxophone ensemble on Sunday, December 21 from 1 p.m. - 3 p.m. and the Santa Ana High School Swingin' Saints Jazz Choir on Tuesday, December 23 from 9 a.m. - 11 a.m. Playing and singing a variety of holiday tunes, the musical groups will be performing on the Arrival (lower) Level near the John Wayne statue.

Tips for Passengers and Visitors:

All passengers flying out of JWA are encouraged to arrive 90 minutes to two hours before the flight departure time for domestic flights and three hours for international flights to find parking, check luggage and go through the security checkpoint. Passengers who are members of TSA Pre-Check can expedite the screening process in Terminals A, B and C.
Passengers are allowed one small carry-on bag plus one personal item as long as the carry-on bag fits airline dimensions. Check with individual airlines for specifics.
Drivers picking up passengers at the Airport are encouraged to utilize two-hour parking spaces, located on the Arrivals (lower) Level of Parking Structures A1, B2 and C.
Snow globes that appear to contain less than 3.4 ounces (approximately tennis ball size) will be permitted in carry-on luggage if the entire snow globe, including the base, is able to fit in the same one clear, plastic, quart-sized, re-sealable bag, as the passenger's other liquids. Larger sizes may be packed in checked baggage.
As a reminder, gifts should not be wrapped as they are subject to search, even if placed in checked baggage.
To view more tips on parking and security please click here.

SAFETY FIRST

Winter Holiday Mobilization Schedule of Operations

This time of year, with all the holiday parties and festive occasions, many partygoers will be drinking. If you are celebrating with alcohol this holiday season, local law enforcement agencies have a message for you: Drive Sober or Get Pulled Over. Due to the increase in drunk-driving-related fatalities around the holidays each year, law enforcement agencies across the country will be out in force December 12, 2014 through January 1, 2015 actively searching for drunk drivers.

The Southern California Avoid DUI Task Force is announcing its upcoming enforcement operations for the Winter Holiday DUI Campaign. The following schedule of operations, dates, and locations are provided for broadcast.

DUI / Driver's License Checkpoint

Friday December 19, 1900-0300, Cities of Fountain Valley, Huntington Beach, Irvine, La Habra, Mission Viejo, Orange & Garden Grove
Saturday December 20, 1900-0300, City of Laguna Beach
Saturday December 27, 1900-0300, Cities of Westminster & Santa Ana
The City of Anaheim will be conducting additional DUI / Driver's License Checkpoints with dates TBD.
DUI Saturation Patrols
Friday, December 19, 2000-0300, Cities of Anaheim & Costa Mesa
Saturday, December 20, 2000-0300, Cities of Anaheim & Irvine
Tuesday, December 23, 2000-0300, City of Anaheim
Saturday, December 27, 2000-0300, Cities of Anaheim, La Habra & Orange
Tuesday, December 30, 2000-0300, City of Anaheim
Wednesday, December 31, 2000-0300, Cities of Anaheim, Irvine, Placentia, Westminster and Brea
The City of Fountain Valley and the Orange County Sheriff's Department will be conducting additional Saturation Patrols with dates to be determined.
Statistical data on the number of DUI arrests and DUI fatal crashes will be released at the end of the winter holiday mobilization. For more information please click here.

HEALTHCARE ADVISORY

Get a Flu Vaccination for a Healthy Holiday Season

Influenza activity has begun to increase in Orange County. The Orange County Health Care Agency reminds people that the best way to prevent the flu is by getting vaccinated. Peak flu season has not yet arrived and it is not too late to vaccinate.

Flu vaccine is widely available from medical providers throughout Orange County or you can find a local flu vaccine provider at www.flushot.healthmap.org. Information about locations and dates of other community sites offering free flu vaccine is available at www.ochealthinfo.com/flu. If a person does not have a medical provider, or does not have health insurance coverage, free flu shots are also available through the Health Care Agency's Family Health Clinic located at 1725 W. 17th Street, Santa Ana on the days listed below. For information about the County's flu shot program, please call the HCA Health Referral Line at 1-800-564-8448 or visit www.ochealthinfo.com/flu.

THE FABULOUS FIFTH HIGHLIGHTS

Laguna Beach Resident's Fine Art Photography on Display at John Wayne Airport

A selection of photographic art by Laguna Beach resident and award winning artist Martha Fuller is now on exhibit in the Thomas F. Riley Terminal as part of John Wayne Airport's (JWA) Community Focus Space Program. The photos, inspired by world travel, can be seen on the Departure (upper) Level near the security screening areas in Terminals A, B and C and on the Arrival (lower) Level adjacent to Baggage Carousels 1 and 4 now through January 15, 2015.

Always on a quest to discover, Fuller's collection synthesizes photographs from her travels to Africa and the Caribbean. Her photo-collages depict cinematic experiences from her visual memory as she selects and compares images frame by frame.

I would like to extend my congratulations to Ms. Fuller on this exciting accomplishment.

To view selections from the exhibition visit www.marthafullerartist.com and to learn more about Martha Fuller, visit www.marthasmuse.com.

OC COMMUNITY RESOURCES

2015 Point in Time Count of the Homeless

A worthwhile event is being planned for late January 2015 that will significantly impact the future of many homeless families and individuals residing in Orange County. Every two years, the County of Orange and its non-profit partners conduct a single day count of the County's sheltered and unsheltered homeless population. The January 2013 count process determined that approximately 12,700 people become homeless in Orange County over the course of a year.

This project is undertaken to preserve over $16 million in annual federal funding for homeless programs and services. The project also serves as a means for leveraging additional funding from other government and private sources for needed homeless services and provides data to inform decision making on better service planning and delivery including Orange County's Ten Year Plan to End Homelessness.

1,500 volunteers are needed to count the homeless throughout Orange County. As Supervisor for the 5th District, I am inviting you to support the 2015 Point-In-Time Count of the Homeless effort. 5th District residents can support the 2015 Point-In-Time Count by contributing a small amount of volunteer time to assist in this effort.

Each of the five County districts will have a deployment center where volunteers will gather on the morning of Saturday, January 24, 2015 to count the homeless from approximately 4:30 am – 9:00 a.m. on the streets throughout the entire county. A short training session is required prior to the day of the count. The location of each volunteer deployment center will be posted on the Point in Time website after December 1, 2014. The location of the 5th District volunteer deployment center is:

5th District - San Clemente
Family Assistance Ministries
1030 Calle Negocio
San Clemente, CA 92673

CRITTER CHRONICLES

Holiday Pet Tips

There's no place like (a safe) home for the holidays. Below are some helpful and useful tips to make sure your pets stay safe and healthy this holiday season:

Holiday lights also mean extra cords and plugs. Take an extra minute or two during decorating to tape down or cover cords. This will help prevent shocks, burns or more serious injuries to your pets.
Secure Christmas trees to keep them from crashing to the ground when a good game of doggie wrestling gets going. Keep tinsel decorations high on the tree.
During holiday parties, provide pets with a quiet place to retreat.
Chocolate contains the heart stimulant theobromine and in small quantities can be toxic to dogs and cats.
Mistletoe, holly berries, and poinsettia plants can be poisonous to pets.
Holidays and long weekends are a time when many pets are lost. Be cautious about guests, open doors and gates, and the person who cares for your pet while you are away. Be sure to have a secure collar with tags, and a registered microchip, all with more than one phone number.
For more information, please click here.

OUT AND ABOUT SOUTH COUNTY

Dana Point IlluminOcean

Date: 11/27/2014 - 1/3/2015
Cost: FREE
Location: Dana Point Harbor
34555 Golden Lantern
Dana Point, California 92629

Dana Point's IlluminOcean, presented by the The Resorts of Dana Point, will electrify the world famous Dana Point Harbor with 40 nights of holiday lights. This wonderland by the sea features a brilliant spectacle of 18 oversized lighting sculptures with over 225,000 LED lights, and is free to the public for viewing nightly from sundown to 10pm on weeknights and 11pm on weekends. From octopus and sharks, starfish and surfers, frolicking fish, leaping dolphins, and enchanted mermaids, the dazzling displays are highlighted by a towering glow-motion tree and light tunnels stretching longer than a football field and over a dozen gigantic lighted sculptures - some so large, visitors can walk through them to include the inside of a glowing 40-foot Blue whale's belly! For additional information, visit www.myDanaPoint.com.

Mission Viejo: Artisan Faire

Saturday, December 13 2014, 8:00 AM - 2:00 PM Artisans will showcase their unique handcrafted gifts and items during the Artisan Faire each month. The family event is from 10 a.m. to 2 p.m. in the Mission Viejo Village Shopping Center at 25402 Marguerite Parkway. The faire will feature a host of art and crafts vendors, art demonstrations, crafts for kids, live entertainment and much more. The event take place the third Saturday of every month. It is sponsored by the City's Cultural Arts Committee, Mission Viejo Friends of the Arts and Saddleback Lanes.

LAST BUT NOT LEAST THIS WEEK I: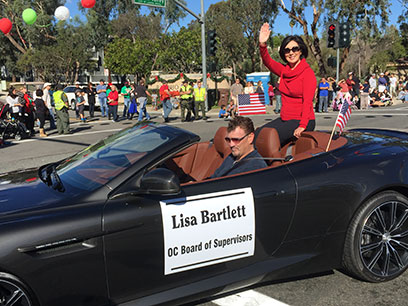 Participated in the 2014 Laguna Niguel Holiday Parade.
Hosted my Fifth District Holiday Open House.
Met with OC Community Resources Director Steve Franks and OC Public Libraries
Met with OC Community Services Director Karen Roper to be briefed on her department's divisions.
Met with the Great Park 100 Acre Development.
Attended the City of Dana Point's Holiday Luncheon.
Toured the Highland and El Toro Developments.

MY STAFF ALSO:

Attended a special meeting of the Laguna Hills City Council to present a proclamation in honor of Councilman Randal Bressette, who retired after 23 years of service to the City of Laguna Hills.
Attended the OC Human Relations WASSAIL Open House to present certificates of recognition in honor of Commission Chair Ken Inouye, 5th District Appointee Bill Wood, and Board Member Francisco Marmolejo for their 20 years of service to the County of Orange.
Presented a certificate of recognition in honor of the grand re-opening of Regus in Rancho Santa Margarita.
Presented a certificate of recognition in honor of the 18th anniversary of Good Choice Sushi in Laguna Niguel.
Presented a certificate of recognition in honor of the grand opening of We Olive in San Juan Capistrano.
Presented a certificate of recognition in honor of the grand opening of Imperio KIA of San Juan Capistrano.
Presented a certificate of recognition in honor of the grand opening of Imperio NISSAN of San Juan Capistrano.



Stay Updated!