Board of Supervisors Update

A New Year and New Board Member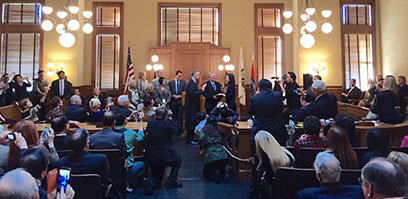 First off, I would like to wish you all a very happy 2015!

This week, the Honorable Michelle Steel was sworn in as Orange County's newest member of the Board of Supervisors, in the historic courtroom of the Old Orange County Courthouse in Santa Ana. Supervisor Michelle Steel will represent the 2nd Supervisorial District in west Orange County.

Next Tuesday, January 13th will mark the first Board of Supervisors meeting of 2015. To view the agenda and meeting location please click here and here.

California Coastal Commission Notes

New Milestone for the Dana Point Harbor Revitalization Project

The California Coastal Commission, this week, voted unanimously, to uphold the Coastal Development Permit (CDP) application for the Harbor Revitalization Commercial Core Project.

By way of background, the Local Coastal Program (LCP) was certified by the California Coastal Commission (Coastal Commission) in 2011. The Commercial Core Project was approved by the Dana Point Planning Commission, upheld by the Dana Point City Council (twice) and has now been verified by the coastal commission, as of this week.

The CDP has been carefully crafted to be in conformance with the policies and regulations in the LCP and provides a comprehensive, well thought out plan for revitalizing the Harbor. This action, taken by the California Coastal Commission, allows the County to proceed with the construction phase of the project.

The local community has waited far too long for this much needed revitalization and now that we have passed this significant milestone, the County is preparing the construction documents. We could see the first ground breaking for street improvements this summer!

I am very excited to proceed to the next phase of this project and would like thank County staff for their hard work and dedication.

To learn more please click here.

Orange County Mobility Information

Pedestrian Safety Workshop: January 26

Join the Orange County Transportation Authority (OCTA) in a roundtable discussion about education, engineering, and enforcement activities to improve pedestrian safety throughout Orange County.

OCTA would like to hear your thoughts and ideas about pedestrian safety and how pedestrian travel on our city and county streets can be safer and more supportive for everyone on foot.

Pedestrian safety expert Paul Zykofsky will facilitating the discussion.

Reserve your spot for this important workshop.

Event Details:
Monday, January 26, 2015
5:00 p.m. - 7:00 p.m.
OCTA Headquarters
600 South Main Street, Room 154
Orange, California

The Toll Roads Extends Online Payment Window to Five Days

The online payment period that allows drivers to pay their toll after their trip on the 73, 133, 241 and 261 Toll Roads in Orange County, has been extended from 48 hours to five days.

Nearly 100 roadway signs were recently updated to inform drivers about the change. Customers who drive The Toll Roads without a pre-established FasTrak or ExpressAccount can pay tolls online using One-Time Toll within five days after their trip at www.thetollroads.com or using The Toll Roads mobile app.

Visitors who travel the 73, 133 and 241 toll roads infrequently, can tune into The Toll Roads Radio to learn about how to pay their toll after their trip. Signs directing drivers to tune in to 1680 AM on the 73 Toll Road and 1690 AM on the 133 and 241 toll roads have also been installed along the routes.

The Toll Roads Radio repeats a 34-second message informing drivers they are in Orange County, what road they are traveling on and information on how to pay online once they have reached their destination.

More than 260,000 people drive The Toll Roads every day as a way to avoid traffic congestion and save time.

Healthcare Advisory

Potential Public Exposure to Measles

The Orange County Health Care Agency has confirmed three cases of measles in Orange County in the last week, in conjunction with the outbreak recently reported affecting multiple counties in California and Utah. These cases raise the possibility that Orange County residents may be exposed to measles since the patients visited public locations while infectious.

The Health Care Agency has been working with the facilities listed below to contact people who may have been exposed to these cases and who are at increased risk of severe illness. The risk of developing infection after brief encounters with persons with measles is low, but as a precaution, people who were in the below locations around the same time as the individuals with measles should:

Review their vaccination history if they have not previously had measles; people who have not had measles or the measles vaccine are at higher risk after an exposure, so they should talk with a health care provider about receiving MMR vaccination.
Monitor themselves for illness with fever and/or an unexplained rash from 7 days to 21 days after their exposure (the time period when symptoms may develop); if symptoms develop, stay at home and call a health care provider immediately.
Potential exposure locations and times:

St. Joseph Hospital, 1100 W. Stewart Drive, Orange


Emergency Department: Tuesday, December 30, 6:00 - 11:30 p.m.

CHOC Children's Hospital, 1201 W. La Veta Avenue, Orange


4th Floor: Thursday, January 1, 3:40 p.m. through Friday, January 2, 12:45 p.m.
Emergency Department: Sunday, January 4, 10:25 a.m. - 12:50 p.m., and Monday, January 5, 8:25 a.m. - 12:40 p.m

Quest Diagnostics Laboratory, 1010 W. La Veta Avenue, Suite 140, Orange


Saturday, January 3, 12:00 - 1:15 p.m.
Measles is a highly contagious and potentially severe disease that causes fever, rash, cough, and red, watery eyes. Measles spreads very easily by air and by direct contact with an infected person. Measles is contagious from approximately four days before the rash appears through four days after the rash appears.

Measles is a rare disease in the United States and in regions of the world where vaccination coverage is high. Maintaining high vaccination rates is vital to preventing outbreaks of disease in our community. Given the recent cases identified here and in other jurisdictions in Southern California, additional cases are expected and vaccination is key in preventing infection from future exposures.

To learn more about measles, visit the Centers for Disease Control and Prevention or the Orange County Health Care Agency

Illness Associated with Rosca de Reyes Bread

Over 30 people from multiple unrelated groups became ill with symptoms including dizziness, palpitations, and numbness after eating Rosca de Reyes Bread distributed by Cholula's Bakery in Santa Ana. The Health Care Agency is investigating the cause of the illnesses, and the bakery is closed pending the outcome of the investigation.

The bread was distributed on January 5 and 6, 2015 to a number of retail outlets in Orange County and Long Beach. Health officials have advised retailers to remove any unsold product from their shelves and consumers who purchased the bread are advised to discard any uneaten product. Anyone who consumed the bread who experiences symptoms similar to those reported should contact their personal physician.

The product was sold at the following 5th District locations to view the other locations please click here:

El Nopal Mercado
31451 Camino Capistrano
San Juan Capistrano, CA 92675
(949) 443-9145

Tony's Liquor
32141 Alipaz Street
San Juan Capistrano, CA 92675 (949) 218-8090

OC Vote

Special Election Scheduled for Jan. 27

A winner-take-all special election will take place January 27 to fill the vacancy created by the election of former 1st District Supervisor Janet Nguyen to the state Senate.

The County Charter specifies that supervisorial vacancies must be filled by a special election held not less than 56 days or more than 70 days after the date of the vacancy. The 1st District includes the cities of Garden Grove, Santa Ana and Westminster, portions of the City of Fountain Valley and the unincorporated community of Midway City.

For more election information please click here.

Exploring Orange County

OC Parks Introduces New Parking Passes

OC Parks is pleased to introduce new parking passes that will allow visitors to use a single card to park at all County regional and wilderness parks and/or beaches.

The new "smart cards" replace the entry cards and stickers that were previously used for annual parking. Unlike the previous OC Parks passes, which were fixed to a calendar year (January through December), these smart cards are valid for 12 months from issue date and can be renewed annually. Moreover, for wilderness and beach locations which previously required a sticker affixed to a visitor's windshield, these passes can be used with any vehicle. The price for the new cards remains the same as 2014.

Three types of cards are available:

County Regional and Wilderness Parks Parking Pass for $55 ($35 for seniors/disabled)
County Beach Parking Pass with Pay and Display Machines for $55 ($35 for seniors, disabled park free)
All County Parks and Beaches Parking Pass for $80 ($50 for seniors)
Distinguished Veterans (per California State Parks) are eligible for a no-fee pass. This applies to veterans with a 50% or higher service-connected disability, or who were held as prisoners of war, or who are recipients of the Congressional Medal of Honor.

OC Parks Parking Passes are available for purchase at an OC Parks facility near you. Visit OC Parks online at our Annual Parking Pass page for more information and a list of convenient locations.

The Fabulous Fifth Highlights

Laguna Beach Resident's Fine Art Photography on Display at John Wayne Airport

A selection of photographic art by Laguna Beach resident and award winning artist Martha Fuller is now on exhibit in the Thomas F. Riley Terminal as part of John Wayne Airport's (JWA) Community Focus Space Program. The photos, inspired by world travel, can be seen on the Departure (upper) Level near the security screening areas in Terminals A, B and C and on the Arrival (lower) Level adjacent to Baggage Carousels 1 and 4 now through January 15, 2015.

Always on a quest to discover, Fuller's collection synthesizes photographs from her travels to Africa and the Caribbean. Her photo-collages depict cinematic experiences from her visual memory as she selects and compares images frame by frame.

I would like to extend my congratulations to Ms. Fuller on this exciting accomplishment.

To view selections from the exhibition visit www.marthafullerartist.com and to learn more about Martha Fuller, visitwww.marthasmuse.com.

OC Community Resources

2015 Point in Time Count of the Homeless

A worthwhile event is being planned for late January 2015 that will significantly impact the future of many homeless families and individuals residing in Orange County. Every two years, the County of Orange and its non-profit partners conduct a single day count of the County's sheltered and unsheltered homeless population. The January 2013 count process determined that approximately 12,700 people become homeless in Orange County over the course of a year.

This project is undertaken to preserve over $16 million in annual federal funding for homeless programs and services. The project also serves as a means for leveraging additional funding from other government and private sources for needed homeless services and provides data to inform decision making on better service planning and delivery including Orange County's Ten Year Plan to End Homelessness.

1,500 volunteers are needed to count the homeless throughout Orange County. As Supervisor for the 5th District, I am inviting you to support the 2015 Point-In-Time Count of the Homeless effort. 5th District residents can support the 2015 Point-In-Time Count by contributing a small amount of volunteer time to assist in this effort.

Each of the five County districts will have a deployment center where volunteers will gather on the morning of Saturday, January 24, 2015 to count the homeless from approximately 4:30 am – 9:00 a.m. on the streets throughout the entire county. A short training session is required prior to the day of the count. The location of each volunteer deployment center will be posted on the Point in Time website after December 1, 2014. The location of the 5th District volunteer deployment center is:

5th District - San Clemente
Family Assistance Ministries
1030 Calle Negocio
San Clemente, CA 92673

Out and About South County

Low-cost Pet & Vet Clinic : Aliso Viejo

In an effort to keep Aliso Viejo pets healthy, the City's Family Resource Center is joining forces with the Society for California Veterinary Vaccine Care to host a low-cost Pet & Vet Clinic on Saturday, January 17.

The cash-only clinic will offer vaccinations and micro-chipping at discounted rates from 9:30 a.m. to 11 a.m. at the Iglesia Park Community Center. Vaccines for cats and dogs will range from $7 to $28. Dogs must be on leashes and cats in carriers.

The Iglesia Park Community Center is located at 24671 Via Iglesia, near Moulton Parkway and Calle Cortez.

For more information, e-mail gduran@cityofalisoviejo.com or call 949-425-2519. Clinic participation requirements are available at http://www.scvvc.com.

Aesop's Fables with the Brown Bag Players: Mission Viejo

Saturday, January 10 2015, 11:30 AM - 1:00 PM, Saddleback Room at City Hall, 200 Civic Center, Mission Viejo

Children are invited to bring their brown bag lunch, enjoy and interact with the cast during and at the end of the play. FREE. All ages. For more information call 949/470-8440

Mariachis at the Mission: San Juan Capistrano

Saturday, January 10, 2015
Second Saturday of Each Month
10:00 a.m. - 11:15 a.m.
Enjoy live mariachi music in the historic Mission from the talented performers of Capistrano Community Mariachi Program. Within walking distance of the San Juan Capistrano Station.
Phone: (949) 234-1300
Learn More About the Performer

Last but not least this week I:

Participated in the swearing-in of 2nd District Supervisor, Michelle Steel.
Met with the Orange County Fire Authority Chief.
Participated in the Foothill Eastern Transportation Corridor Agency Board of Directors Meeting.
Presented to the Orange County Business Council Government Affairs Committee.
Participated in an interview with Saddleback College KSBR Radio.

My staff also:

Attended the Orange County Transportation Authority's Regional Planning and Highways Committee meeting.
Attended the California Coastal Commission meeting.
Attended the 1st District Candidate Forum.
Met with the County's Budget Staff.
Attended the Children and Families Commission Meeting.
Presented a certificate of recognition at the ribbon cutting ceremony for Alta Dermatology in the City of Laguna Niguel.
Presented a certificate of recognition at the ribbon cutting ceremony for Liberty Tax Services in the City of Dana Point.