County Connections

Clerk Recorder Offers Special Saturday Hours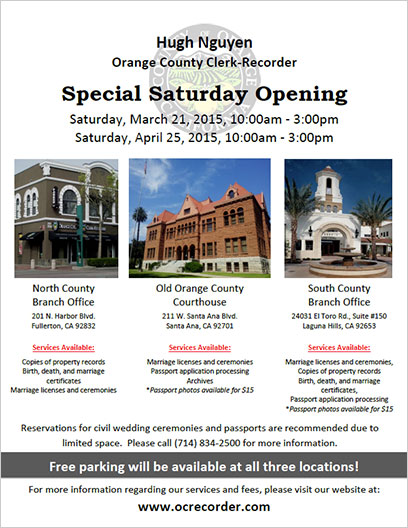 Click on the image above to view a PDF version.

3rd Annual Eco Challenge Poster Contest: Step Up To Bat For Our Planet!

Enter the County of Orange poster contest for the chance to be an Honorary Bat Kid at an Angels baseball game this year!

Just create a poster that clearly demonstrates how you personally 'Take the Eco Challenge'. Show examples of projects or activities that you have developed or engaged in that promote recycling, reusing, or reducing. These programs could be in your school, home or community, but the poster needs to focus on your personal plan of action.

Bring or mail your entry to Discovery Cube or OC Waste & Recycling Headquarters by June 30, 2015, and one lucky winner from each of Orange County's Supervisorial Districts will be awarded the status of Honorary Bat Kid during an Angels home game in 2015.

To read more about rules, eligibility, deadlines, and submission process please click here or contact oc-EcoChallenge@ocwr.ocgov.com

Five winners as determined by a panel of judges will be awarded the status of Honorary Bat Kid for one (1) regular season Angels home game. Each winner will receive four (4) tickets to one (1) of five (5) predetermined Angels home games, complimentary parking, one (1) bat kid jersey, one (1) official baseball for autographs, one (1) on-field credential for dugout access (for bat kid only), recognition on the video board during pre-game activities, and one (1) professional on-field photo.

Extended Park Hours Begins!

The clocks sprung forward early March 8, marking the beginning of Daylight Saving Time and OC Parks' spring-summer operating schedule.

Starting March 8, the spring-summer hours for regional parks are 7 a.m. to 9 p.m. That includes Carbon Canyon, Clark, Craig, Mason, Mile Square and Yorba regional parks. Irvine and Laguna Niguel regional parks open at 6 a.m. and will close at 9 p.m.

Santiago Oaks, Peters Canyon and O'Neill regional parks operate on wilderness park hours, as do the outlying trails around Irvine Regional Park. Wilderness parks are open at 7 a.m. and close at sunset year round. OC Parks' wilderness parks are: Aliso and Wood Canyons, Caspers, Laguna Coast, Limestone Canyon and Whiting Ranch and Riley wilderness parks, as well as Talbert and Upper Newport Bay nature preserves.

Hours for OC Parks' beaches vary, but are generally between 6 a.m. and 12 a.m.

OC Parks facilities will remain on these operating hours until fall. For more information please click here.

Property Owners and Managers are Needed to House OC Veterans

There are at least 446 veterans who are homeless on any given night in Orange County according to the 2013 Orange County "Point in Time Homeless Count". In addition, to this number, there are more than 2,000 veterans with incomes below 50% of the County's median income applied on the Orange County Housing Authority waiting list for housing assistance during a two-week period in February 2012.

To help address the needs of homeless veterans, the Orange County Housing Authority (OCHA) has applied for and received HUD Veterans Affairs Supportive Housing (VASH) vouchers. These Vouchers are reserved exclusively for homeless U.S. Veterans receiving services from the Veterans Affairs (VA) Medical Center in Long Beach. VASH veterans receive extensive case management from the VA and also receive support from the Orange County Veterans Service Office, in combination with housing assistance provided by OCHA.

OCHA recently received its 6th annual VASH Voucher award and can now assist up to a total of 580 homeless veterans. Approximately 70% of the currently assisted VASH veterans are single persons and the remaining 30% are families.

In addition to the OCHA programs, the VA has a program called Supportive Services for Veteran Families (SSVF) which is administered by various service providers in Orange County. SSVF is a housing-stability program, primarily designed to help homeless Veterans and their households. Services may include payment of the move-in deposit and for non-VASH Veterans or payment of their rent for a short period of time. Additionally, for Veteran households who are behind in their rent, SSVF can, in some cases assist Veterans with their arrears. For more information on SSVF, contact Phil Bowers at: 714/615-2279.

Musick Tour

Public Safety is one of my top concerns for the County of Orange and in order to ensure that safety, Orange County Sheriffs along without office are reviewing strategies to improve our jailing facilities. The James A. Musick Facility, located in the unincorporated area of the County near the cities of Irvine and Lake Forest, seeks to promote county safety upgrading facilities and providing more rehabilitation programs. Inmates at the Musick Facility are all considered to be low security risk.

There are numerous programs for inmates including work training programs, substance abuse help, positive parenting skills development, and inmate educational programs.

All of these programs help the inmates quickly integrate back into the community as productive members of society. One of the most popular programs is the COLLAR program which partners inmates with stray dogs from Orange County Animal Shelters. The inmates attend six weeks or classes and then begin training the dogs basic commands. So far 40 inmates and 26 dogs have completed the program. Looking to the future, the Musick Facility will be expanded in two phases. The first phases will provide an additional 512 minimum/medium security inmate beds as well as incorporate services such as video visitation into the infrastructure. Phase two of the expansion will add an additional 384 beds.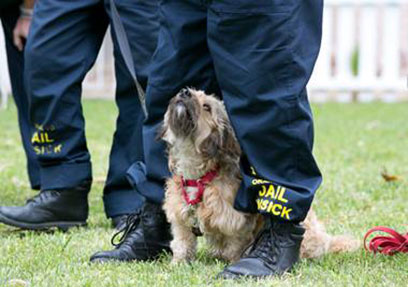 Doing Business with the County-Vendor Information Day

The County of Orange holds a Vendor Information Day on the last Thursday of each month (except holidays). These sessions are to provide vendors with information on how to do business with the County and to answer questions regarding the County of Orange purchasing process. To participate in this event, RSVP is required. If you have any questions, please contact us at vendorinfo@ocgov.com


| | |
| --- | --- |
| When: | Last Thursday of each month (except holidays) |
| Time: | 9:00 a.m. to 11:00 a.m. |
| Where: | County Procurement Office Conference Room B 1300 S. Grand Building A, 2nd Floor Santa Ana, CA 92705 |

Please click here for more information.

OC MOVES

Take Metrolink to the San Juan Capistrano Swallows Day Parade!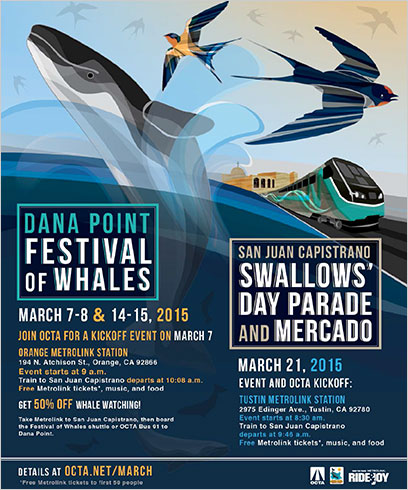 Click on the image above to view a PDF version.
For more information please visit www.octa.net/whales

Furry Friend of the Week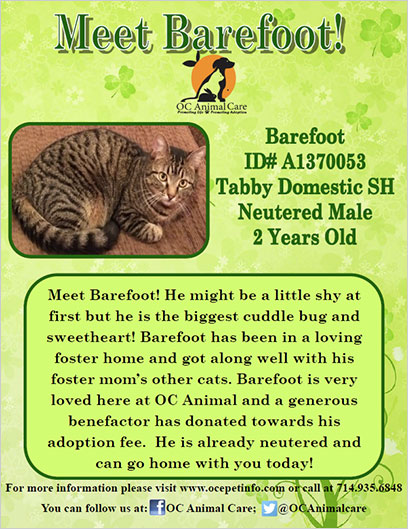 Click on the image above to view a PDF version.

Out and About South County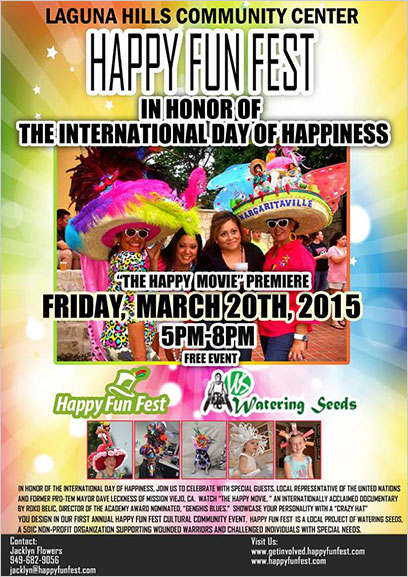 Last but not least this week I:

Presented to the California Women's Leadership Association with Supervisor Michelle Steel.
Attended and presented at the County's Executive Leadership retreat with Chairman Spitzer.
Met with the City of Aliso Viejo's Mayor Pro Tem Mike Munzing.
Met with 5th District cities working group with OC Sheriff Sandra Hutchens.
Toured the Rancho Mission Viejo and received and update on upcoming project milestones.
Met with Orange County Clerk Recorder Hugh Nguyen.
Met with Orange County Assessor Claude Parrish.
Met with Orange County Public Defender.
Met with the Office of Independent Review.
Participated in the LAFCO Strategic Planning Session.
Toured the Orange County Rescue Mission's Village of Hope.

My Staff:

Toured John Wayne Airport.
Took a Restaurant Inspection Tour.