March 27, 2015
Volume 2

Issue 12

County Connections

Legislative Update

On Tuesday, at our regularly scheduled meeting, the Board of Supervisors discussed taking a formal position on Assembly Bill (AB) 1217, authored by Orange County Assemblyman Tom Daly.

The current composition of the Board of Directors of the Orange County Fire Authority (OCFA) is determined by the Joint Powers Agreement that created the authority and under which it operates, as amended. The OCFA Board of Directors has 25 members. Of the members, 23 represent "partner cities." The County is represented by two members of the Orange County Board of Supervisors.

Members of the OCFA Board of Directors hold office until the selection of a successor by the appointing body. Each member also appoints an alternate to act in each director's absence, who must be an elected representative of the governing board of the member. Each director and alternate serves at the pleasure of his or her governing body.

If passed into law, AB 1217 would change the composition, selection method and terms of the OCFA Board of Directors, increasing representation by County supervisors from two members to three while decreasing the representation of city board members from 23 to 10. The bill specifies that the Board of Supervisors will select its three members to serve terms of two years on the OCFA board. City membership would include one member from each of the five supervisorial districts, to be selected by an Orange County Fire Authority City Selection Committee on a population-weighted voting basis. A similar population weighted voting basis is used to determine certain seats on the Orange County Transportation Authority. Finally, one member from each supervisorial district also would be elected by the City Selection Committee based on a "one city, one vote" basis.

My colleagues and I voted to take a "watch," position for the time being. I am highly concerned with regards to the impact AB 1217 will have on the Fifth District's South County cities that are represented on the OCFA Board. I will continue to actively monitor AB 1217 and will be proactively engaging and meeting with South County City Councilmembers to address the potential negative impacts this bill has on the Fifth District, and collaboratively work towards a solution that ensures adequate representation of the Fifth District cities.

To view the AB 1217 analysis please click here.

37th Senate District Special Primary Election Certified

Registrar of Voters Neal Kelley has certified the official results of the 37th Senate District Special Primary Election held on March 17, 2015. Total turnout from the election was 15.7 percent, with 13.6 percent of voters casting their ballot by mail and 2.1 percent of voters voting in their polling place.

I would like to extend a special thank you to all of our Election Day poll workers and to Neal Kelley and his team for their hard work throughout this election season.

Please click here to view the results.

3rd Annual Eco Challenge Angels Baseball Poster Contest: Batting Clean Up For Team Planet!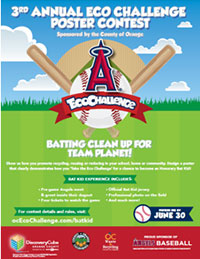 We are excited to announce the 3rd Annual Eco Challenge Poster Contest. Enter the County of Orange poster contest for the chance to be an Honorary Bat Kid at an Angels baseball game this year by creating a poster that clearly demonstrates how you personally 'Take the Eco Challenge'. Design a poster which shows examples of projects or activities that you have developed or engaged in that promote recycling, reusing, or reducing in your school, home or community. The poster should focus on your personal plan of action. Posters will be judged based on originality, visual clarity, relevance to theme, artwork, and effectiveness of message. Winners will be selected by the County of Orange, Discovery Cube of Orange County and Angels Baseball representatives.

Bring or mail your entry to Discovery Cube or OC Waste & Recycling Headquarters by June 30, 2015. One lucky winner from each of Orange County's five Supervisorial Districts will be awarded the status of Honorary Bat Kid during an Angels home game and receive other fabulous prizes. For contest details please visit ocEcoChallenge.com/batkid or by phone at (714) 834-4174.

Large Crowds Expected Easter Weekend

Easter is one of the busiest days of the year at regional parks. Parking lots fill very early in the morning and additional vehicles may not be brought into parks that have reached parking capacity. Parking fees for some regional parks will increase to $7 for Easter Sunday, April 5.

No shelters are available to rent for Easter. All amenities are first come, first served.

Fees for April 5 will be as follows: Laguna Niguel, O'Neill, Clark, Craig, Carbon Canyon, Yorba, Mile Square, Mason, Irvine and Santiago Oaks regional parks will be $7. Caspers Wilderness Park's parking fee will be $5.

Fees for Aliso and Wood Canyons, Laguna Coast, Whiting Ranch and Riley wilderness parks, as well as Peters Canyon Regional Park, will remain at $3.

For more information about OC Parks fees, please visit our fees page.

OC MOVES

Grant Award for Orange County Sidewalk Inventory Project

The Orange County Transportation Authority has been awarded $163,333 in Active Transportation Program grant funds to complete the Orange County Sidewalk Inventory Project.

The grant is from the Southern California Association of Governments, in partnership with the California Department of Transportation. It allows OCTA to establish a countywide inventory of sidewalks that will identify the gaps, obstructions and amenities that may block pedestrian activity and access.

The study will take about 12 months to complete and will cover 1,620 miles of roadways, major transit corridors and sidewalks within a half-mile radius of all 11 Metrolink rail stations and all six transportation centers in Orange County.

Once completed, the study will provide a database of useful, accurate and easily accessible information regarding the locations of countywide sidewalks. It will generate geographically accurate information needed for OCTA and its local agency partners to develop effective active transportation plans. It also will pave the way for the implementing improvements, including the planning and design of complete streets and promoting first- and last-mile transit connections.

The state's Active Transportation Program was created in 2013 to encourage the increased use of active modes of transportation including biking and walking. It merged a variety of transportation programs, including the federal Transportation Alternatives Program, state Bicycle Transportation Account and federal and state Safe Routes to School, into a single program to encourage increased use of active transportation modes.

The grant requires an 11 percent local match contribution – $21,162 – which will come from State Transportation Improvement Program funds set aside by the OCTA board for planning studies. The total project study cost is $184,495.

To view the Staff Report and learn more please click here.

Ride the Angels Express to Home Games Beginning April 2!!


On April 2 and 3, the Angels Express returns to help fans to catch one of baseball's all-time greatest rivalries when the Angels play the Dodgers. With this special Metrolink service, there's no need to take the freeway to the freeway series.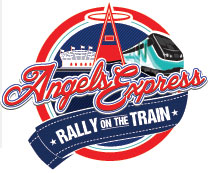 Leave the driving to the Angels Express and score a stress-free ride to and from all Angels weeknight home games starting at 7:05 p.m. Avoid traffic and parking hassles by taking the special Metrolink train that drops you off only a few steps from Angel Stadium at the new ARTIC station. No parking fee!

It's easy to ride the Angels Express. Just take the Orange County (OC) Line to any weeknight game. On Friday nights only, fans from the Inland Empire can catch a ride on the Inland Empire-Orange County (IEOC) Line.

To celebrate the return of this special service, we are giving fans the chance to win some limited-edition Angels Express gear! Enter now for a chance to win special shirts, hats and other fun items that will get you ready for your trip to the game.

Healthcare Advisory

EAT. PLAY. BREATHE.

The County's Health Care Agency recently launched MyHealthOC.Org

The goal is to help residents in Orange County make three small changes in their daily lives that can have a significant impact on overall health and quality of life – eat fresh, play some way, and breathe smoke-free, every day.

The website has compiled the best available resources on the web that provide access to simple tools and information to help people live a healthier lifestyle. You can find:

Information and tips for healthy eating
Fun physical activity ideas and local active events & places
Information and local support for smokers wanting to quit
To view more tips and explore what the website has to offer please click here.

OC Pet of the Week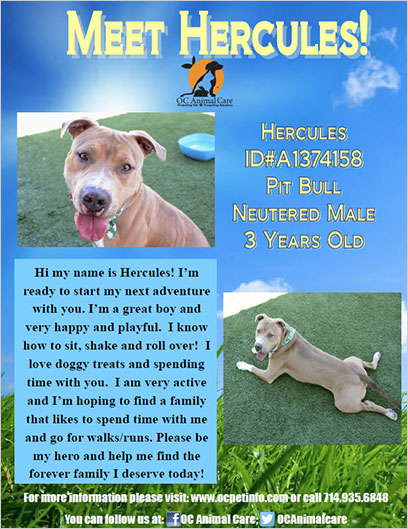 Click on the image above to view a PDF version.

Out and About South County

Free Community Electronic Waste Day


Monarch Bay Plaza is sponsoring a Free Community Electronic Waste Day to safely dispose of old computers, printers, monitors, cell phones, TVs and more!

DATE: Saturday, March 28, 2015
TIME: 9:00am – 2:00pm
LOCATION: Monarch Bay Plaza
Pacific Coast Highway at Crown Valley Parkway

The partner, Goodwill Industries, goes above all EPA regulations and guidelines for handling e-waste and other hazardous materials. Clear the clutter while keeping Dana Point clean!

Visit www.monarchbayplaza.com for more information.

Laguna Niguel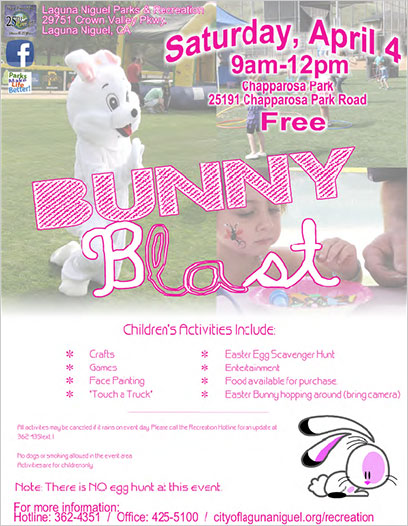 Click on the image above to view a PDF version.

Last but not least this week I:

Participated in the Orange County Transportation Authority's (OCTA) Board of Directors Meeting.
Met with the City of Laguna Beach's Mayor Bob Whalen.
Presented at the Laguna Niguel Republican Women Federated Luncheon.
Met with the County's Health Care Agency Director of Behavioral Health Services, Mary Hale, and received an update on the implementation of Laura's Law.
Met with the OC Professional Firefighters Association.
Participated in OC Sanitation Board Meeting.
Chaired the OC Coastal Coalition Forum.
Presented at the OC Forum Luncheon.
Met with the Transportation Corridor Agencies CEO, Mike Kraman.
Participated in the Orange County Fire Authority Board of Directors meeting.
Toured the Orange County Crime Lab.


DISTRICT

STAFF
Paul Walters
Chief of Staff

Victor Cao
Policy Advisor

Veronica Carpenter
Policy Advisor

James Dinwiddie
Policy Advisor

Kelley Jimenez
Policy Advisor

Sergio Prince
Community Relations Advisor

Tanya Flink
Office Manager



Stay Updated!