April 3, 2015
Volume 2

Issue 13

County Connections

How Will Orange County Address Mandatory Water Restrictions?

On Wednesday, Governor Jerry Brown ordered cities across California to cut water use by 25%. The drought restrictions are first in the State's history. Click here to learn about how water agencies throughout California are addressing water restrictions. As Fifth District Supervisor, I am deeply concerned with the long-term implications of our current drought. I also believe this is an opportunity to educate our neighbors about how to conserve water, diversify our water resources, and enhance our water infrastructure.

As you may know, nearly 90% of the water in South Orange County is imported. In the long term, it is important to explore all available options including desalination, stormwater capture, and alternative water resources. What gives me hope is that there are many innovative solutions being discussed at water agencies across the county.

Many of those innovative solutions are open for discussion at Orange County Coastal Coalition meetings. The Coastal Coalition workshop brings together elected officials, experts, and residents to collaborate on water issues. You are welcome to join us at our next meeting on June 3, 2015, 9:00 A.M. – 11:00 A.M. at the Newport Beach Library.

South Orange County Reliability Enhancement

Last week, I expressed my support of the South Orange County Reliability Enhancement (SOCRE) project before the California Public Utilities Commission. The project retrofits a 50 year-old substation in San Juan Capistrano, which will provide reliable and redundant power to South Orange County homes, businesses, and infrastructure.

Currently, over 300,000 residents are completely dependent on a single substation located in Talega. In the event of a power outage in Talega, the improved substation in San Juan Capistrano will continue to bring power to our communities.

I would like to express my appreciation to local public officials, business owners, and residents who joined me in support of the South Orange County Reliability Enhancement project. To view my support letter please click here.

OC Animal Care Needs Public Assistance Locating Dog and Owner

OC Animal Care is investigating a dog involved in an attack on two horses in O'Neill Regional Park on March 27, 2015. The horses were being ridden on Live Oak Trail at approximately 12:45 pm. The equestrians reported that both horses sustained multiple bites by the dog, which reportedly was being walked off-leash by its owner at the time of the attack.

Anyone with information on the dog, the owner or the attack is encouraged to contact OC Animal Care Operations at (714)796-6460. Please reference case A15-008874. Reporting parties are permitted to remain anonymous if they choose. Pending the results of the investigation, the case file may be referred for additional action to the appropriate law enforcement agency.

Dog Description:

Boxer or Boxer Mix
Brown/White
Large size
Owner Description:

White female
30
Long brown hair
OC Animal Care takes the safety of the public and their pets seriously. Please remember that when visiting OC Parks facilities that allow dogs, they must be on a leash no longer than six feet at all times. Dogs are not permitted on all park trails, please visit www.ocparks.com for individual park rules regarding dogs.

3rd Annual Eco Challenge Angels Baseball Poster Contest: Batting Clean Up For Team Planet!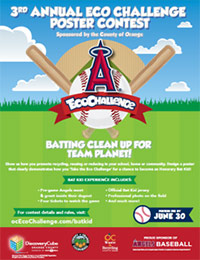 OC Waste and Recycle is excited to announce the 3rd Annual Eco Challenge Poster Contest. Enter the County of Orange poster contest for the chance to be an Honorary Bat Kid at an Angels baseball game this year by creating a poster that clearly demonstrates how you personally 'Take the Eco Challenge'. Design a poster which shows examples of projects or activities that you have developed or engaged in that promote recycling, reusing, or reducing in your school, home or community. The poster should focus on your personal plan of action. Posters will be judged based on originality, visual clarity, relevance to theme, artwork, and effectiveness of message. Winners will be selected by the County of Orange, Discovery Cube of Orange County and Angels Baseball representatives.

Bring or mail your entry to Discovery Cube or OC Waste & Recycling Headquarters by June 30, 2015. One lucky winner from each of Orange County's five Supervisorial Districts will be awarded the status of Honorary Bat Kid during an Angels home game and receive other fabulous prizes. For contest details please visit ocEcoChallenge.com/batkid or by phone at (714) 834-4174.

Large Crowds Expected Easter Weekend

Easter is one of the busiest days of the year at regional parks. Parking lots fill very early in the morning and additional vehicles may not be brought into parks that have reached parking capacity. Parking fees for some regional parks will increase to $7 for Easter Sunday, April 5.

No shelters are available to rent for Easter. All amenities are first come, first served. Fees for April 5 will be as follows: Laguna Niguel, O'Neill, Clark, Craig, Carbon Canyon, Yorba, Mile Square, Mason, Irvine and Santiago Oaks regional parks will be $7. Caspers Wilderness Park's parking fee will be $5.

Fees for Aliso and Wood Canyons, Laguna Coast, Whiting Ranch and Riley wilderness parks, as well as Peters Canyon Regional Park, will remain at $3.

For more information about OC Parks fees, please visit our fees page.

Second Installment of Property Taxes

The second installment of property taxes was due on February 1, 2015 and if not paid by Friday, April 10, 2015, a 10% delinquency penalty plus a $23 fee will be added to the amount due.

Payments by eCheck with Same Day Credit (no cost): To ensure that we receive your payment timely and avoid any late penalties, we encourage you to "Go Green Electronically" and choose the ease and convenience of paying your bill electronically using your bank account at the secure website at ocgov.com/octaxbill. Just enter either your parcel number (APN) or property address in the appropriate field, select the tax bill you want to pay and click on "Pay by eCheck" (no cost), input your bank account information, add your email to receive your receipt by email, review your information, and then submit your payment. Make sure your bank routing number and bank account information are entered correctly. Also, after reviewing your payment information, make sure you complete the payment process by clicking on Submit to receive the message that your payment has been completed successfully! You will then receive a confirmation email that is your payment receipt or print the confirmation page. Your payment can be made on-line up to midnight on April 10.

Payments by Mail: Please note that if you are making payment by mail, the envelope must have a United States Post Office ("USPS") postmark on or before April 10, 2015 to avoid the late penalty and fee. If you plan on mailing your payment on or near the delinquency date, please obtain a hand cancellation or Certificate of Mailing from the USPS, as the USPS may not postmark all mail on the date received. If a postmark is not on a payment envelope, then the date we receive the payment will be used to determine whether a late penalty will be applied. Do not take a chance on your payment being late and make sure to mail it early!

Payments using on-line banking: If you pay using your bank's or other on-line payment site, please make sure the payee is the County of Orange. Please put your parcel number in as the account number field exactly as it is on your property tax bill (e.g. 123-123-12) to ensure proper and timely credit to your account. We recommend making your payment at least five business days before the due date to allow ample time for payment to be received by April 10. Payments not received in our office by April 10 will be charged the delinquent penalty of 10% plus a $23 fee. In addition, payments made to incorrect or incomplete APNs may be rejected and incur the late penalty.

Payment of more than one parcel: If you are paying for more than one parcel, use our on-line cart function so that you only have to put in your bank, credit, or debit card account information once. You will receive a detailed receipt with each property and tax amount listed separately.

We also have a new feature on our website where you can view your parcel on the County's GIS map. Go to ocgov.com/octaxmap (using Chrome or Firefox), and input the parcel number. Alternatively, when you view your parcel information on-line, just click on the map icon to the right of your bill information to view a "Google-type" map for all parcels in Orange County.

If you have any questions, please e-mail us at ttcinfo@ttc.ocgov.com or call (714) 834-3411 (hours are 9:00 AM to 4:45 PM).

The County Treasurer thanks you for "Going Green" and using our on-line resources!

OC MOVES

The Toll Roads Launch Spanish-Language App

The Toll Roads have launched a free Spanish-language app for Android and Apple devices, allowing drivers of the 73, 133, 241 and 261 Toll Roads to manage their accounts or pay tolls using One-Time-Toll® en Español. The Toll Roads app – in both English and Spanish – provides instant access to edit account information, view account balances, add or remove vehicles, request additional FasTrak® transponders, review recent activity and make payments.

Search "The Toll Roads en Español" or "The Toll Roads" in the Apple App or Google Play stores to download The Toll Roads' app. For information about paying tolls on The Toll Roads, visit www.thetollroads.com.

Healthcare Advisory

EAT. PLAY. BREATHE.

The County's Health Care Agency recently launched MyHealthOC.Org

The goal is to help residents in Orange County make three small changes in their daily lives that can have a significant impact on overall health and quality of life – eat fresh, play some way, and breathe smoke-free, every day.

The website has compiled the best available resources on the web that provide access to simple tools and information to help people live a healthier lifestyle. You can find:

Information and tips for healthy eating
Fun physical activity ideas and local active events & places
Information and local support for smokers wanting to quit
To view more tips and explore what the website has to offer please click here.

OC Pet of the Week

Furry Friends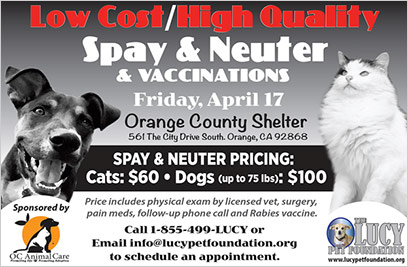 Out and About South County

Dana Point Egg Hunts!

Date: 4/4/2015 9:00 AM - 10:00 AM
Cost: FREE
Location: Pines Park and Sea Canyon Park
Pines -34941 Camino Capistrano Sea Canyon - 33093 Santiago Drive
Capistrano Beach & Dana Point , California 92624 & 92629

Hop on down to Pines Park in Capistrano Beach, or Sea Canyon Park in Dana Point for our annual Egg Hunts! Event begins at 9am with a marionette show, kid's games, petting zoo, and Easter Bunny visits. The Egg Hunt begins promptly at 10:00am for ages up to 10 years. Don't forget to bring an empty basket to collect the plastic eggs and candy! For more information call the City of Dana Point Community Services & Parks Department at 949-248-3530.

Monarch Beach Pancake Breakfast!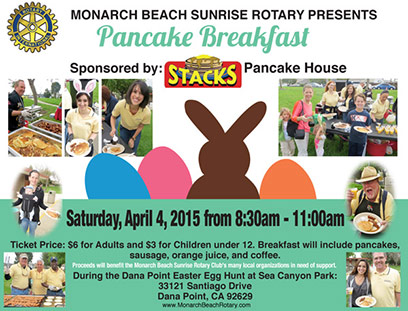 Laguna Niguel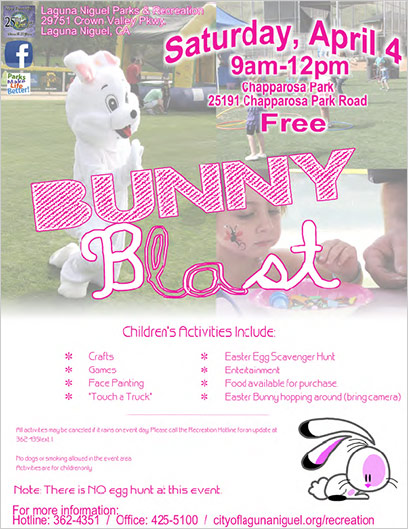 Click on the image above to view a PDF version.

Mission Viejo

Mark your calendar for Saturday, April 4 when Bunny Days returns to the Norman P. Murray Community and Senior Center and Oso Viejo Park.

The family event is from 11 a.m. to 2 p.m. at 24932 Veterans Way.

Visitors to this fun-filled festival will enjoy carnival games; crafts; a spring garden center; photos with the bunny; and an inflatable obstacle course and slide. Bunny Days also features an "Egg-Citing Scavenger Hunt." There are nominal fees for some activities.

Patrons can satisfy their sweet cravings with the annual bake sale outside the Norman P. Murray Community and Senior Center. The sale, which raises money for senior support services, includes a smorgasbord of home-baked goods by the National Charity League.

The Bunny Days event, which is sponsored by the City and hosted by the Saddleback Valley Unified School District's Recreation and Community Services Department, also features entertainment and refreshments. For more information, call 949-460-2713 or visit http://communityservices.svusd.org.

In other Easter news, the Kaleidoscope will also host its 5th Annual Easter Garden Party and Easter Egg Hunt on April 4. The event kicks off with an egg hunt at noon. Children should bring their own baskets to collect eggs. Passport cards will be given to the first 200 kids on scene. The cards will direct them to Kaleidoscope businesses to receive candy-filled eggs. The event ends at 2:30 p.m. For more information, visit http://www.gokaleidoscope.com.

Festival of Arts nominated for USA TODAY 10Best Readers' Choice Awards – cast you vote everyday!

The Festival of Arts happily announced that it was nominated for Best Art Festival in USA TODAY 10Best Reader's Choice Awards. An expert panel selected the Festival of Arts and Pageant of the Masters as one of 20 contenders for the Best Art Festival category.

The public has four weeks to vote for the candidate of their choice. Online voting is open now and runs through April 13, 2015. A person can vote once a day for the run of the contest. Winners will be announced on 10Best on Wednesday, April 15, 2015 then later on the USA TODAY website.

To vote for the Festival of Arts, please visit www.10best.com/awards/travel/best-art-festival/.

10Best, Inc. is a division of USA Today. 10Best.com provides its users with unbiased travel advice through its consumer site 10Best.com on top attractions, things to do, and restaurants for top destinations in the US and around the world. The core of the site's power is its team of local experts, a well-travelled and well-educated group who are not only experts in their fields (and their cities) but discriminating in their tastes.

Last but not least this week I:

Met with OC Probation Department Head, Steve Sentman.
Met with OCTA CEO, Darrell Johnson.
Participated in the Orange County Transportation Agency's Environmental Oversight Committee meeting.
Participated in the OC Sanitation District's Operations Committee Meeting.
Attended and participated in the Age Well South County Mayor's Event.
Met with OC Public Works to discuss upcoming 5th District projects.
Participated in the CalOptima Board of Directors meeting.


My Staff:

Spoke in support of the South Orange County Reliability Enhancement project at the local California Public Utilities Commission hearing in San Clemente.
Participated in Southern California Edison's Executive Customer Briefing.
Attended the Orange County Business Council Workforce Housing Forum at Hoag Hospital, Irvine.
Presented a certificate at the DiMiYa Grand Opening in Lake Forest.
Presented a resolution from the Board of Supervisors, recognizing April as Child Abuse Awareness Month, at the Raise Foundation Blue Ribbon Campaign Kick-Off event held at the Bowers Museum.
Attended the Orange County Sheriff Department's Aviation Support Unit Wings Ceremony.


DISTRICT

STAFF
Paul Walters
Chief of Staff

Victor Cao
Policy Advisor

Veronica Carpenter
Policy Advisor

James Dinwiddie
Policy Advisor

Kelley Jimenez
Policy Advisor

Sergio Prince
Community Relations Advisor

Tanya Flink
Office Manager



Stay Updated!