County Connections

Appointment to California Transportation Commission Statewide Committee

Last month, I was appointed to the Road Usage Charge (RUC) Technical Advisory Committee (TAC) by the California Transportation Commission (CTC).

As you may recall, Senate Bill 1077 (DeSaulnier, 2014) mandated the RUC Technical Advisory Committee be established to study alternatives to the gas tax, a declining revenue source. Senate Bill 1077 also stipulates the California State Transportation Agency must implement a road usage charge pilot program based on the TAC's recommendations by January 2017. A report on the pilot program's findings is due to the Legislature, the TAC and the CTC by June 30, 2018.

Over the last several years, Counties statewide have struggled to fund improvements to local streets and roads. While Orange County receives funding from Federal and State Sources, nearly 50% of funding for major Orange County capital improvement projects stems from our local sales tax Measure M2 (M2). Many counties have followed Orange County's lead and pursued local sales tax measures to offset the declining state and federal revenue resources. With automobiles getting better gas mileage, higher gas prices, more people commuting, and the slow rise of electric cars, state gas tax revenue is not expected to keep pace with statewide transportation needs.

It's a great honor to represent Orange County at the statewide level however I have concerns with regards to implementing an additional "fee" to Orange County taxpayers. As I continue to learn about this pilot program, I will look for innovative ways to the meet needs of our infrastructure while ensuring our taxpayer dollars are valued.

OC Animal Care Needs Public Assistance Locating Dog and Owner

OC Animal Care is investigating a dog involved in an attack on two horses in O'Neill Regional Park on March 27, 2015. The horses were being ridden on Live Oak Trail at approximately 12:45 pm. The equestrians reported that both horses sustained multiple bites by the dog, which reportedly was being walked off-leash by its owner at the time of the attack.

Anyone with information on the dog, the owner or the attack is encouraged to contact OC Animal Care Operations at (714)796-6460. Please reference case A15-008874. Reporting parties are permitted to remain anonymous if they choose. Pending the results of the investigation, the case file may be referred for additional action to the appropriate law enforcement agency.

Dog Description:

Boxer or Boxer Mix
Brown/White
Large size
Owner Description:

White female
30
Long brown hair
OC Animal Care takes the safety of the public and their pets seriously. Please remember that when visiting OC Parks facilities that allow dogs, they must be on a leash no longer than six feet at all times. Dogs are not permitted on all park trails, please visit www.ocparks.com for individual park rules regarding dogs.

3rd Annual Eco Challenge Angels Baseball Poster Contest: Batting Clean Up For Team Planet!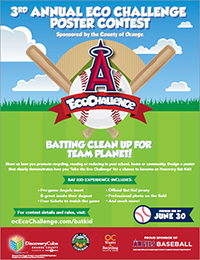 OC Waste and Recycle is excited to announce the 3rd Annual Eco Challenge Poster Contest. Enter the County of Orange poster contest for the chance to be an Honorary Bat Kid at an Angels baseball game this year by creating a poster that clearly demonstrates how you personally 'Take the Eco Challenge'. Design a poster which shows examples of projects or activities that you have developed or engaged in that promote recycling, reusing, or reducing in your school, home or community. The poster should focus on your personal plan of action. Posters will be judged based on originality, visual clarity, relevance to theme, artwork, and effectiveness of message. Winners will be selected by the County of Orange, Discovery Cube of Orange County and Angels Baseball representatives.

Bring or mail your entry to Discovery Cube or OC Waste & Recycling Headquarters by June 30, 2015. One lucky winner from each of Orange County's five Supervisorial Districts will be awarded the status of Honorary Bat Kid during an Angels home game and receive other fabulous prizes. For contest details please visit ocEcoChallenge.com/batkid or by phone at (714) 834-4174.

OC MOVES

F/ETCA TO APPEAL DECISION ON WATER DISCHARGE PERMIT

At Thursday's board meeting, the Foothill Eastern Transportation Corridor Agency Board of Directors unanimously voted in closed session to authorize staff and legal counsel to file a petition to the State Water Board for review of the California Regional Water Quality Control Board waste discharge requirements.

On March 16, the San Diego Regional Water Quality Control Board approved legal findings to support the decision they made in June 2013 in response to the State Water Board's Order. The Order was made in response to TCA's appeal of the Regional Board's decision to deny the Waste Water Discharge Permit without legal findings in June 2013.

The Toll Roads Launch Spanish-Language App

The Toll Roads have launched a free Spanish-language app for Android and Apple devices, allowing drivers of the 73, 133, 241 and 261 Toll Roads to manage their accounts or pay tolls using One-Time-Toll® en Español. The Toll Roads app – in both English and Spanish – provides instant access to edit account information, view account balances, add or remove vehicles, request additional FasTrak® transponders, review recent activity and make payments.

Search "The Toll Roads en Español" or "The Toll Roads" in the Apple App or Google Play stores to download The Toll Roads' app. For information about paying tolls on The Toll Roads, visit www.thetollroads.com.

SAFETY FIRST

Investigators Seeking Public's Assistance Locating Vehicular Manslaughter Suspect

On Saturday, March 22, 2014 at approximately 7:35 p.m., Antolin Brito-Soto, 33, San Juan Capistrano, was involved in a solo-vehicle collision near Camino Capistrano and Junipero Serra Road. Brito-Soto's four (4) children were in the vehicle; three were seriously injured and one, a 5 year-old daughter, died from her injuries resulting from the collision.

The collision occurred as Brito-Soto drove his 2002 Ford Explorer westbound on Junipero Serra Road, through Camino Capistrano into an adjacent parking lot and over an embankment. Based on the preliminary investigation, it was determined Brito-Soto was driving under the influence of alcohol at the time of the collision. Brito-Soto was arrested the night of the collision and posted his $150K bail several weeks later. He has not returned to court since his arraignment on charges of vehicular manslaughter and child abuse.

Brito-Soto is a male, Hispanic, 5'3'', 150 lbs., black hair and brown eyes with a medium build and olive complexion. He is known to frequent the San Juan Capistrano area; however, he has ties to Chicago, Texas and Mexico. Investigators have exhausted resources in those areas and are asking the public for assistance locating Brito-Soto.

Orange County Deputy District Attorney Stephen Cornwell is prosecuting the case.

Anyone with additional information is asked to call Orange County Sheriff's Department's Traffic Bureau at (949) 425-1860. Anonymous tips may also be submitted to Orange County Crime Stoppers at 855-TIP-OCCS (855-847-6227) or at occrimestoppers.org.

Healthcare Advisory

CalOptima Plans for Enhanced Dental Services in OneCare Connect, Pending Approval

Beginning July 1, 2015, OneCare Connect will be available to individuals with both Medicare and Medi-Cal coverage ("dual eligibles" or "Medi-Medis"). OneCare Connect members will receive integrated, coordinated health care under one centralized plan, and CalOptima is working to enhance the dental services available to members as well. CalOptima received Board approval to contract with a dental benefits provider to supplement the Medi-Cal dental benefit known as Denti-Cal. The new arrangement will allow CalOptima to offer members both Denti-Cal covered services and additional supplemental services not currently covered by Denti-Cal, such as porcelain crowns. In addition, the arrangement will improve access by assigning members a primary care dentist and improve the coordination between dental and physical health care. The addition of the enhanced dental benefit is subject to federal and state approval, but the goal is to pursue final implementation in time for OneCare Connect's launch.

OC Pet of the Week

Furry Friends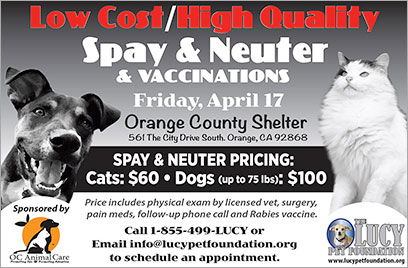 Out and About South County

Aliso Viejo: Creek cleanup effort on tap April 18

Help the Laguna Canyon Foundation clean up trash along Aliso Creek on Saturday, April 18. Restoration crews recently removed large stands of an invasive bamboo-like weed, Arundo. Now that this eyesore is gone, creek visitors will see the stream bed transform into a wooded glade bordering a meandering stream. Your cleanup efforts will help highlight the creek's beauty by removing trash that has accumulated in the weedy Arundo. Residents, groups and organizations are invited to take part in this Earth Day activity and restoration effort.

The group will meet at 7:45 a.m. at the Aliso and Wood Canyons Wilderness Park Ranger's Headquarters at 28373 Alicia Parkway. The cleanup takes place from 8 to 11 a.m. along the portion of Aliso Creek between the Laguna Niguel Skateboard and Soccer Park and Pacific Park Drive.

Laguna Niguel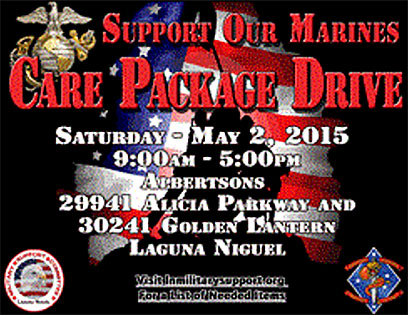 Last but not least this week I:

Attended Supervisor Andrew Do and Supervisor Michelle Steel's Open Houses.
Presented at the Laguna Canyon Conservancy meeting.
Toured the new Post Traumatic Stress Disorder Headquarters.
Met with the Orange County Manager's Association.
Participated in the monthly Orange County Local Agency Formation Commission.
Participated in the Transportation Corridor Agencies Board of Directors Meetings.
Elected as Vice Chair of the Foothill Eastern Transportation Corridor Agency Board of Directors.
Met with the South County Contract Cities Working Group meeting.
Participated in the El Toro Water District Treatment Plant Dedication Ceremony.
Attended the City of San Clemente State of the City.
Met with Senator Patricia C. Bates on South County matters.

My Staff:

Presented a certificate of recognition in honor of the grand opening of Dunkin' Donuts in Laguna Hills.
Presented a certificate of recognition in honor of the grand opening of Shredded Fox in Dana Point.
Presented a certificate of recognition in honor of the grand opening of Endurance House in Laguna Niguel.