May 1, 2015
Volume 2

Issue 17

County Connections

South Orange County Mayors' Transportation Forum

The City of Mission Viejo hosted the South Orange County Mayors and City Managers Wednesday. OCTA Vice Chair Donchak, Director Ury and myself presented updates about projects impacting South County communities. In addition, cities were able to discuss their regional or local transportation priorities. Many of the cities iterated the importance of Measure M funds for local improvements such as: signal synchronization, community circulators and active transportation projects. OCTA CEO Darrell Johnson also spoke to funding opportunities local jurisdictions could pursue this year.

This event provided a prime opportunity to engage in a transportation dialogue with cities in the Fifth District. I would like to thank OCTA staff for organizing this fruitful discussion. I look forward to continuing this discussion at the end of the year.

Special Board of Supervisors Meeting Ambulance RFP Awards

The award of these 9-1-1 Emergency Ambulance Transportation contracts has been a controversial issue for over year now, predating my election to the Board of Supervisors. The Board approved a two week continuance on April 14th. This allowed me – on behalf of the Fifth District cities – to understand exactly how the RFP process was created and executed, to hold a conference call with State EMSA, Senator Bates, HCA and County Counsel, conduct additional research and analysis and also meet with my city elected officials and city staff. A request for an extension of time was sent to state EMSA and we received a response late Monday that the extension was denied.

On Tuesday, the Board of Supervisors approved (4-1 with my dissent) the Health Care Agency's selection of recommended service providers and alternates, and execution of Agreements with the recommended service providers, for provision of 9-1-1 Emergency Ambulance Transportation Services for the period of June 1, 2015 through May 31, 2020.

CARE Ambulance is the new provider for South County. Through the transition, I look forward to working with Fifth District cities, County staff and the new ambulance provider to ensure the seamless transition of service.

I want to sincerely thank the Board for allowing me time to further vet my concerns with Fifth District cities. In addition, HCA staff and County Counsel provided invaluable support throughout this process.

2015 South County Job Fair

On Wednesday, May 13 from 10:00 AM to 1:00 PM, I will be hosting the 2015 South County Job Fair in partnership with the Orange County Workforce Investment Board (OCWIB). The South County Job Fair will take place in the vacant Sears building at the Laguna Hills Mall, 24155 Laguna Hills Mall, Laguna Hills, CA 92653. Well over 600 job seekers are expected to attend to meet employers needing to fill positions in Orange County. Over 50 employers will be accepting resumes, interviewing and hiring job seekers.

Veterans and Orange County One-Stop Center enrolled candidates will have priority admittance to meet and speak with employers before the general public. This VIP hour will be from 9:00 AM to 10:00 AM, with general public admittance beginning at 10:00 AM.

Job seekers should dress professionally and bring plenty of copies of their resumes. Free resume critique and professional coaching will be ongoing throughout the event.

The Orange County One-Stop Centers will be hosting preparation workshops through May 12 to assist in matching job seekers to employment opportunities. Scheduled dates and times can be found at www.oconestop.com. To view the South County Job Fair flyer, please click here.

Superior Court Judge Kelly Served

Some have contacted our office with questions regarding the process of a Recall Election of a Superior Court Judge.

Earlier today, Bryan Scott, Founder of Recall Judge Kelly, and Patricia Wenskunas, Founder/CEO of Crime Survivors, served Orange County Superior Court Judge M. Marc Kelly with an official notice of intent to recall as required by election law. Both Scott and Wenskunas presented the notice with 40 signatures of registered Orange County voters, including my signature along with several of my colleagues'.

As you know the Board of Supervisors passed a resolution admonishing Judge Kelly for his decision to reduce the sentence on a child rapist and we calling on him to resign. The notice of intent to recall serves as the first official filing with the Orange County Registrar of Voters. Judge Kelly has seven days to respond. The Registrar of Voters will certify a petition within in the next several weeks. Once certified proponents of the recall are authorized to gather signatures from voters to qualify the recall for the ballot.

The Registrar of Voters has indicated the proponents will need to collect 90,829 verified registered voters' signatures based upon the official number of voters who cast a ballot in the November 2014 General Election. This number is lower than usual due to lower voter turnout than previous elections. They will have 160 days to gather the required signatures. If qualified, a special election would likely be called by the end of this year for early next year in accordance with state election laws.

For more information regarding Election rules and guidelines please visit www.ocvote.com.

OC MOVES

OCTA's Measure M program will Preserve Land in Laguna Beach

Orange County Transportation Authority officials purchased 151 acres of open space in Laguna Beach, marking the seventh property acquisition under the Measure M Freeway Environmental Mitigation Program – a comprehensive plan that preserves and restores natural habitats and allows for expedited delivery of freeway projects.

The Aliso Canyon property, purchased late last week for $2.2 million, was identified as a priority conservation area because of the diversity of habitat types found there, including chaparral, coastal sage scrub, and native grassland. This is the first time the program has been used to purchase land along the coast.

OCTA's Freeway Environmental Mitigation Program purchases open space from willing sellers and through agreements with state and federal wildlife agencies. It allows for the acceleration of environmental permitting for the 13 freeway improvement projects as part of Measure M.

"The newly purchased land will have a lasting impact on Orange County's environment," said OCTA Chairman Jeff Lalloway, also the mayor pro tem of Irvine. "OCTA is proud to lead a program that conserves our natural habitat and wildlife while planning for future transportation needs,"

The property is adjacent to the 4,500-acre Aliso and Wood Canyons Wilderness Park, a part of the Orange County Parks system, and Moulton Meadows Park, enabling linkage to other key protected wild lands.

In fall 2010, the OCTA board allocated a total of $42 million from Measure M to purchase open space in Orange County.

There are four acquired properties in the Trabuco Canyon area, one in Brea, and one in the Silverado Canyon area. With the Laguna Beach property purchase, a total of more than 1,300 acres will be preserved. Approximately $2.3 million remains for additional purchases.

Since 2010, a total of 11 restoration projects affecting approximately 400 acres have also been funded throughout Orange County. The funds aid in the removal of invasive plant species and the restoration of open space land to its native habitat.

Approximately $300 million will be available over the next 30 years to preserve and restore land throughout the county.

For more information regarding OCTA's environmental program, visit www.octa.net/environmental

SAFETY FIRST

Sheriff's Department Opens New Saddleback Station

Sheriff's Department (OCSD) patrol deputies deployed from the new Saddleback Station in Lake Forest for the first time last month.

Prior to the official opening, department personnel and their families were invited for a sneak preview of the facility, which will be utilized by Southeast Operations. Undersheriff John Scott welcomed attendees while the parents of Sergeant Matt Davis, a motor sergeant who lost his life while on duty in Mission Viejo, raised the flags. Because 10 of the department's 13 contract cities are located in south Orange County, OCSD's South Operations Division has been split into two subdivisions: the Southwest Division and the Southeast Division.

The Southwest station in Aliso Viejo will continue to serve the cities of Aliso Viejo, Dana Point, Laguna Hills, Laguna Niguel, Laguna Woods, San Clemente and San Juan Capistrano. The division's geographic area of responsibility covers more than 97 square miles, is bordered on the west side by 18 miles of Pacific Ocean coastline and provides law enforcement to more than 293,000 residents.

The Southeast Operations Division serves Lake Forest, Mission Viejo, Rancho Santa Margarita and the unincorporated communities of Coto De Caza, Ladera Ranch, Las Flores, Wagon Wheel and Trabuco Canyon. The division's geographic area of responsibility covers more than 273 square miles, including portions of the Santa Ana Mountain range, and provides law enforcement services to more than 271,000 residents.

The new Saddleback Station's location will decrease emergency response times and place the division in closer proximity to the community members it serve.

DUI Enforcement Operations Planned this Weekend

Deputies from the Orange County Sheriff's Department's DUI Task Force will be deploying this weekend to stop and arrest alcohol and drug-impaired drivers in the department's ongoing traffic safety campaign. DUI Saturation Patrols will deploy on Friday, May 1, 2015 at 7:00 p.m. and continue until Saturday, May 2, 2015 at 3:00 a.m. in the cities of Aliso Viejo, Laguna Hills, Laguna Niguel and Laguna Woods.

After falling dramatically for five straight years, state-wide figures for 2012 show an increase to 802 deaths in California because someone failed to designate a sober driver. Over the course of the past three years, DUI collisions in areas contracted by the Orange County Sheriff's Department have claimed 21 lives and resulted in 497 injuries.

A DUI can have economic impacts in addition to the pain and suffering of those immediately affected. Conservatively, a fatality costs $1.4 million, an injury $70,000 and a crash that only damages property averages nearly $9,000.

Funding for this program is from a grant from the California Office of Traffic Safety, through the National Highway Traffic Safety Administration. Report Drunk Drivers, Call 911!

Healthcare Advisory

Each year there are over 100 immersion incidents involving children and adults in Orange County who are injured seriously enough to require medical care in an emergency department and about 35 die. Indeed, between 2011 and 2013, 105 County residents drowned – including 15 children and 90 adults.

Drowning remains one of the top five causes of unintentional injury death across all age groups in Orange County. Drowning consistently remains the leading cause of death among children 1-4 years of age and among the top five leading causes for those under the age of 18, both in California and Orange County. The goal of this report is to better guide prevention efforts aimed at reducing the number of immersions and drowning deaths.

The report and fact sheet can be found at: http://ochealthinfo.com/about/admin/pubs/drowning

OC Pet of the Week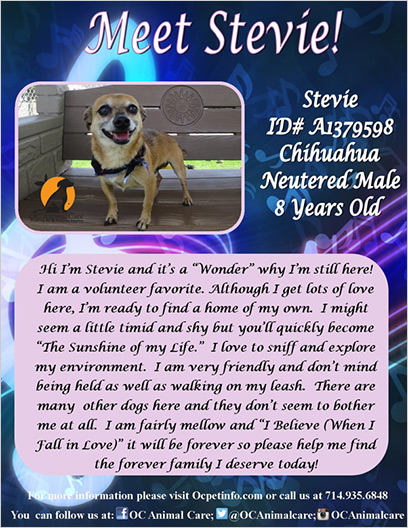 Out and About South County

Aliso Viejo: SOKA International Festival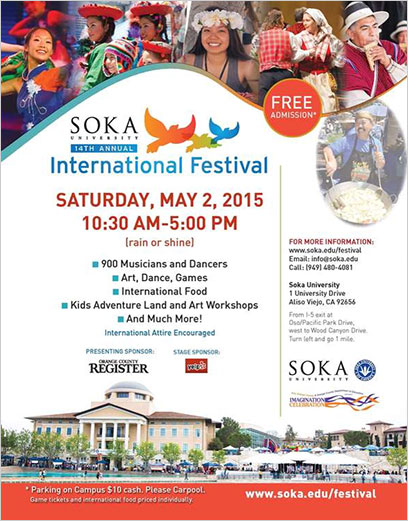 Dana Point Nature Tour

9 a.m.-11:30 a.m. This 1.5-mile, two-hour docent-led walk explores the ecology and natural history of the Headlands area. Tours occur on the first Saturday of each month. Tour capacity is a maximum of 10 people. RSVP required to wqintern@danapoint.org or 949.248.3527. Nature Interpretive Center, 34558 Scenic Drive, Dana Point, www.danapoint.org.

Mission Viejo: Agora Arts District Community Presentation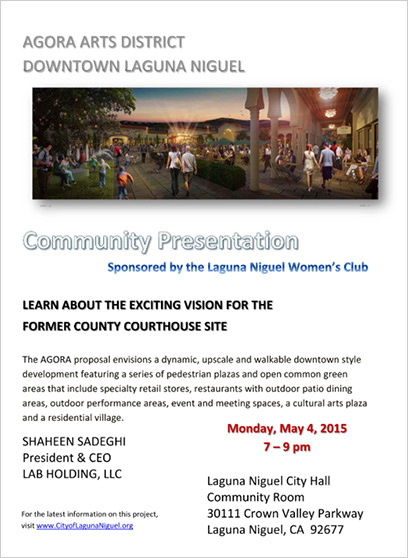 Mission Viejo: Arts Alive & Street Painting Festival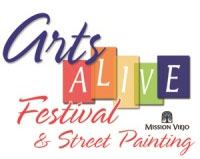 Guests will enjoy art workshops, musical and dance performances and will witness the black top being transformed into amazing works of art.

The fun-filled festival features an array of tasty fare, beer and wine, and arts and crafts available for purchase directly from the artists who created them. Please see the festival program for a complete listing of arts and crafts vendors, food and wine offerings, and schedule of events.

Volunteers Needed! If you are interested in volunteering at this year's festival please see our information page for an application.

The chalk art at the Festival is a favorite for all ages - everyone loves to see the black top come to life with vibrant color. Artists can choose to create artworks that reflect the theme of the 1980s or do a rendition of a masterpiece.

In addition, our office will be having a County Resource booth, so please be sure to stop by and say hi and get all of your questions about the County answered!
San Clemente Farmers Market

9 a.m.–1 p.m. Bundles of flowers, fresh produce and much more every Sunday on Avenida Del Mar. Rain or shine.

Last but not least this week I:

Attended the OC Crime Victims' Monument.
Held a South County Ambulance Contract meeting.
Participated in the Orange County Transportation Authority Board of Directors meeting.
Participated in the Special Board Meeting on the Ambulance RFP.
Participated in the CalOptima Ad hoc Committee on the Pharmacy Benefit Manager RFP.
Delivered a presentation at the Fifth District Mayors' Forum.
Participated in the Coastal Greenbelt Authority meeting.
Met with the Ladera Ranch Civic Council.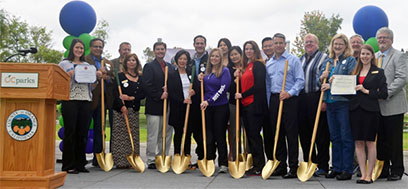 My Staff:

Presented a certificate of recognition in honor of the grand opening of Phenix Salon Suites in Rancho Santa Margarita.
Presented certificates of recognition in honor of the ribbon cutting ceremony in Laguna Niguel for Century 21 Beachside, Teles Properties, Family Assistance Ministries, Office Depot, and Zuri Pet Spa and Resort.
Presented a certificate of recognition in honor of the ribbon cutting ceremony for Sundried Tomato's Plaza de Magdalena in San Juan Capistrano.
Presented a certificate of recognition in honor of the ribbon cutting ceremony for Metro Coast Insurance Services in Lake Forest.
Attended the CalOptima Informational Series.
Supreme Court Leadership Academy week 3 at the Lamoureux Justice Center


DISTRICT

STAFF
Paul Walters
Chief of Staff

Victor Cao
Policy Advisor

James Dinwiddie
Policy Advisor

Kelley Jimenez
Policy Advisor

Sergio Prince
Community Relations Advisor

Tanya Flink
Office Manager



Stay Updated!