May 8, 2015
Volume 2

Issue 18

County Connections

Fifth District Ambulance Transition

On Tuesday April 28, 2015, the Board of Supervisors awarded contracts for 9-1-1 Emergency Ambulance Transport Services for all 5 zones currently subject to the County's RFP. The five exclusive operating areas will now transition service coverage under a County administered contract. CARE Ambulance has already begun to mobilize the necessary resources in order to begin service coverage on June 1, 2015.

For the last few months, the Orange County Emergency Medical Services (OCEMS) has been conducting comprehensive field audits in order to determine company readiness, address operational changes with dispatch systems and closely coordinating with the Orange County Fire Authority Emergency Medical Services Division to affect a seamless transition of service.

The Health Care Agency will co-host a meeting next week with city representatives to discuss the service implementation plan and to introduce the primary OCEMS and ambulance contacts. Fifth District cities will transition to CARE Ambulance as of June 1, 2015. If your city or community organization would like a presentation from CARE Ambulance to discuss your individual needs please contact Bob Barry, Director, Business Development at bobb@careambulance.net.

2015 South County Job Fair

On Wednesday, May 13 from 10:00 AM to 1:00 PM, I will be hosting the 2015 South County Job Fair in partnership with the Orange County Workforce Investment Board (OCWIB). The South County Job Fair will take place in the vacant Sears building at the Laguna Hills Mall, 24155 Laguna Hills Mall, Laguna Hills, CA 92653. Well over 600 job seekers are expected to attend to meet employers needing to fill positions in Orange County. Over 50 employers will be accepting resumes, interviewing and hiring job seekers.

Veterans and Orange County One-Stop Center enrolled candidates will have priority admittance to meet and speak with employers before the general public. This VIP hour will be from 9:00 AM to 10:00 AM, with general public admittance beginning at 10:00 AM.

Job seekers should dress professionally and bring plenty of copies of their resumes. Free resume critique and professional coaching will be ongoing throughout the event.

The Orange County One-Stop Centers will be hosting preparation workshops through May 12 to assist in matching job seekers to employment opportunities. Scheduled dates and times can be found at www.oconestop.com. To view the South County Job Fair flyer, please click here.

OC Human Relations Awards 44 Celebration

This week, I had the pleasure of attending the OC Human Relations Awards 44 celebration, held at the Grove of Anaheim, to present the Distinguished Business Award to PIMCO, one of three recipients of this prestigious award.

OC Human Relations honored PIMCO, U.S. Bank and Union Bank at the AWARDS 44 celebration for their passion to help the community and going above and beyond to embrace diversity.

In addition to the three companies, OC Human Relations honored a diverse array of community leaders and organizations in four categories, including: Distinguished Business, Diverse Community Leaders, Community-Oriented Policing, and Outstanding School.

Forty-four years ago, the Orange County Board of Supervisors created the OC Human Relations Commission to build mutual understanding among our diverse residents. Twenty-four years ago, the Commission created a nonprofit to support that mission by building safe and inclusive schools and communities, developing diverse leaders and mediating conflict.

OC Human Relations hosted this special AWARDS celebration and fundraiser to bring together a diverse collection of people in a beautiful mosaic, to share the stories of unsung heroes who make a difference every day, often one person at a time.

Inclusion and Diversity is a fundamental core value for PIMCO. It is integrated into all aspects of the business. What began as a focus on gender diversity is now much broader. PIMCO's approach to diversity includes culture, business segments, geographical diversity, unconscious bias, cognitive diversity, and inclusive leadership.

In 2014, more than 1,200 PIMCO employee volunteers contributed 27,559 hours of service to 138 organizations around the globe. PIMCO believes in the power of people to do good deeds, both individually and working together. PIMCO also believes in corporate citizenship as a powerful business practice. The company believes that greater engagement, particularly in helping the more vulnerable segments of the population, is an integral part of good business management and a healthier society, stating that through corporate citizenship, business can enable positive change and help provide leadership on social issues.

For more information, please click here.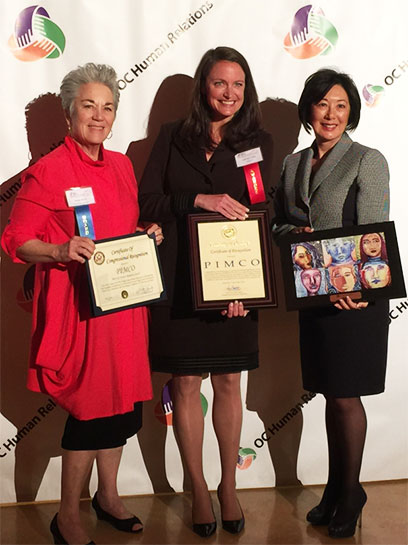 Frank Kim Selected as Incoming OC County Executive Officer

The Orange County Board of Supervisors announced that Chief Financial Officer Frank Kim will assume the duties of County Executive Officer, effective May 12, following the Board's ratification of Mr. Kim's contract.

Kim was named the County's top financial officer in May 2013, and previously served as County Budget Director for more than five years.

The Board today also announced that, on May 12, the Board will consider releasing current County Executive Officer Michael Giancola from his employment agreement. If approved by the Board, this action will permit Giancola to retire after more than 30 years as a County employee, including two years as CEO after rising through the ranks to become Director of OC Waste & Recycling.

Giancola, who assumed the top job in May 2013, restructured County departments and the executive office, including creating a new chief real estate officer. He set a more business-focused vision for agencies and departments, including standardizing County practices, and enhanced formal training for County workers. He began his County career as a park attendant in 1976, leaving only for a five-year stint in the U.S. Navy. During 27 years with OC Waste & Recycling, he served in a number of management positions, including as the first manager of the County's recycling program and as a deputy director.

The unanimous decision by the Board to appoint Kim follows the announcement last month that the CEO intended to retire earlier than planned due to health reasons. Since joining the County in 1995, Kim has served in a number of capacities with agencies including the County Executive Office, Auditor-Controller Department, OC Waste & Recycling and the Probation Department. Before starting his career with the County, Kim worked as an internal auditor for American Restaurant Group and as a tax accountant for Arthur Anderson & Co.

I want to extend my appreciation to Mike Giancola for his tremendous leadership and service. I look forward to continuing this legacy of leadership with Frank Kim.

2015 California Peace Officers' Memorial Ceremony

Monday, May 4, 2015, two members of my staff attend the 2015 California Peace Officers' Memorial Ceremony held in Sacramento. The Memorial Ceremony is hosted by the CA Peace Officer's Memorial Foundation which is a non-profit charitable foundation who seeks to recognize and honor California peace officers who have given their lives 'In The Line of Duty' serving the citizens of our state.

At this year's ceremony 18 officers' names were memorialized in bronze on the Memorial which stands in Capital Park. Of the 18 officers, 13 were individuals who gave their life in 2014 and 5 were peace officers from the distant past. Governor Jerry Brown, California Attorney General Kamala Harris, members of both houses of the Legislature, hundreds of peace officers, and the public came together to mourn the loss of these heroes.

Detective Sergeant Tom A. Smith, Jr., January 21, 2014, BART Police Department
Officer Juan J. Gonzalez, February 17, 2014, CHP – Fresno Area Office
Officer Brian M. Law, February 17, 2014, CHP – Fresno Area Office
Officer Nicholas C. Lee, March 7, 2014, Los Angeles PD
Deputy Ricky P. Del Fiorentino, March 19, 2014, Mendocino County Sheriff's Office
Officer Christopher A. Cortijo, April 9, 2014, Los Angeles PD
Officer Roberto C. Sanchez, May 3, 2014, Los Angeles PD
Officer Scott M. Hewell, June 11, 2014, Stockton PD
Officer Jordan J. Corder, September 30, 2014, Covina PD
Deputy Danny P. Oliver, October 24, 2014, Sacramento County Sheriff's Department
Detective Michael D. Davis, Jr., October 24, 2014, Placer County Sheriff's Office
Detective Yevhen "Eugene" Kostiuchenko, October 28, 2014, Ventura County Sheriff's Office
Officer Shaun R. Diamond, October 29, 2014, Pomona PD
Officer Arthur W. Moyle, May 4, 1953, South San Francisco PD
Officer Clarence A. Bower, December 5, 1944, Los Angeles County Sheriff's Department
Officer Robert B. Ross, September 24, 1921, Los Angeles County Sheriff's Department
Officer Fran Toal, September 2, 1896, Vallejo PD
Deputy George W. Gillis, January 12, 1881, Los Angeles County Sheriff's Department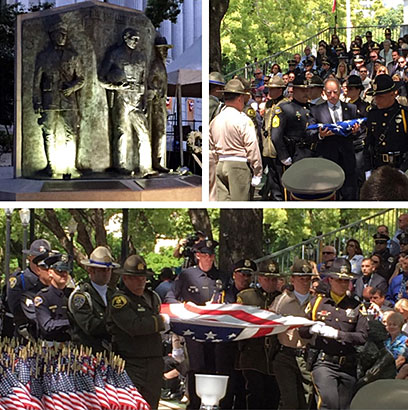 OC MOVES

Bike Month
Bicyclists of all ages can improve their health, help the environment and cut the cost of driving by celebrating Bike Month with the Orange County Transportation Authority.

Bike Month was established nearly 60 years ago to showcase the benefits of bicycling and to encourage more people to try it. Those who pledge to participate in Bike Month in May at www.OCBikeMonth.com will be entered for a chance to win a free bike.

Get ready for Bike Month at OCTA's annual bike festival from 9 a.m. to 1 p.m. April 26 at the Huntington Beach Pier Plaza. Kids can enjoy a safety course led by the Huntington Beach Police Department along with a helmet decorating station and a chance to win a free helmet. There will also be a BMX stunt show, information about bike safety and local vendors and organizations.

Bike Month festivities continue at OCTA's bike rally from 7:30 to 8:45 a.m. May 7. Meet local elected officials, OCTA board members and staff at the Orange Metrolink Station. From there, bike three miles through Old Towne Orange, along the Santiago Creek Trail and end at OCTA headquarters on Main Street. The event serves as a preview for Bike to Work Week, which is May 11-15.

Additional Bike Month events include:

May 11: Kick off Bike to Work Week from 7 to 9 a.m. Meet at the Santa Ana Metrolink Station for a Blessing of the Bikes and a group ride to Santa Ana City Hall.
May 14: Ride to the Downtown Santa Ana Farmers Market at 7 p.m. to watch a free screening of "The Goonies."
May 20: Participate in a ride of silence from 6 to 8 p.m. to honor bicyclists who have been injured or killed and to raise awareness for bike safety. Visit the OC Ride of Silence page for more information on the events in Fullerton, Irvine, San Clemente and Santa Ana.
May 30: Explore the newly opened Jeffrey Open Space Trail from 10 a.m. to 2 p.m. at the Cypress Community Park in Irvine. Join a group ride, learn about bicycle safety and participate in other family-friendly activities like a children's helmet giveaway.
June 4: Have your voice heard at the first OC Foothills Bikeways roundtable from 5:30 to 7:30 p.m. at Irvine's City Hall.
For more information regarding OCTA's Bike Month events, visit www.OCBikeMonth.com.

SAFETY FIRST

DUI/Driver License Checkpoint Planned this Weekend

The Orange County Sheriff's Department DUI Taskforce will be conducting a DUI/Driver License Checkpoint on Friday, May 8, 2015 in the city of Lake Forest between the hours of 6:00 p.m. and 3:00 a.m.

Deputies will be looking for signs of alcohol and/or drug impairment, along with checking drivers for proper licensing. When possible, specially trained deputies will be available to evaluate those suspected of drug-impaired driving. Recent statistics reveal that 30 percent of drivers in fatal crashes had one or more drugs in their systems. A study of active drivers showed more tested positive for drugs that may impair driving (14 percent) than did for alcohol (7.3 percent). Of the drugs, marijuana was most prevalent, at 7.4 percent, slightly more than alcohol.

The deterrent effect of DUI checkpoints is a proven resource in reducing the number of persons killed and injured in alcohol or drug involved crashes. Research shows that crashes involving an impaired driver can be reduced by up to 20 percent when well-publicized DUI checkpoints and proactive DUI patrols are conducted routinely.

"Over the course of the past three years, DUI collisions have claimed 21 lives and resulted in 497 injuries" said Deputy Cruz of the Orange County Sheriff's Department Traffic Bureau.

According to the National Highway Traffic Safety Administration (NHTSA), checkpoints have provided the most effective documented results of any of the DUI enforcement strategies, while also yielding considerable cost savings of $6 for every $1 spent. Nearly 90 percent of California drivers approve of DUI checkpoints.

DUI Checkpoints are placed in locations based on collision statistics and frequency of DUI arrests, affording the greatest opportunity for achieving drunk and drugged driving deterrence. Locations are chosen with safety considerations for the deputies and the public.

Drivers caught driving impaired can expect the impact of a DUI arrest to include jail time, fines, fees, DUI classes and other expenses that can exceed $10,000.

Funding for this checkpoint is provided to the Orange County Sheriff's Department by a grant from the California Office of Traffic Safety, through the National Highway Traffic Safety Administration, reminding everyone to 'Report Drunk Driver – Call 9-1-1'.

Healthcare Advisory

Ocean Bay Rain Advisory

The Environmental Health Division of the Health Care Agency advises swimmers that levels of bacteria can rise significantly in ocean and bay waters, close to storm drains, and the outlets of creeks and rivers during and after rainstorms. The elevated bacterial levels in the coastal ocean waters may continue for a period of at least 3 days depending upon the intensity of the rain and volume of the runoff. Swimmers should avoid Orange County coastal waters during this time, and beach users should avoid contact with any runoff on the beach.

Storm drains, creeks, and rivers carry floodwaters and urban runoff to the ocean. Urban runoff may include fertilizers, road oils, animal wastes, and litter. During and after rain events, discharges may contain large amounts of bacteria from a variety of sources such as animal wastes and decomposing vegetation. Sewage is not normally present in the storm runoff since the sewer system is separate from the storm drain system. In the event of a sewage spill, the Environmental Health Division will quarantine the affected ocean or bay water area.

For information regarding Orange County ocean, bay, or harbor postings and closures, please call (714) 433-6400 or visit the website at ocbeachinfo.com. To report a sewage spill, please call (714) 433-6419.

OC Pet of the Week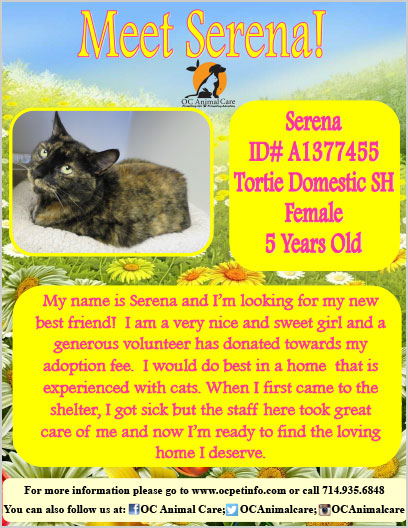 Click on the image above to view a PDF version.

Out and About South County

Dana Point: Whale Walk and Talk

9 a.m.-11 a.m. Learn about the area's largest mammal visitor on this 1.5-mile walk through the Dana Point Headlands conservation area. Offered on the second Saturday of the month, except in October and November. Hear about California gray whale migration patterns, different whale species and learn how to spot, watch and identify whales. Bring binoculars or borrow ours. RSVP to wgintern@danapoint.com or 949.248.3527. Dana Point Nature Interpretive Center, 34558 Scenic Drive, Dana Point, www.danapoint.org.

San Juan Capistrano: Battle of the Mariachis

11 a.m.-4 p.m. Mission San Juan Capistrano hosts the 11th annual Battle of the Mariachis, featuring live performances by Southern California mariachi groups competing for cash prizes before a panel of judges. Tickets $15 for adults and seniors, $6 for children 4-11. 26801 Ortega Highway, San Juan Capistrano, 949.234.1316, www.missionsjc.com.

Laguna Hills: Clerk Recorder Extended Hours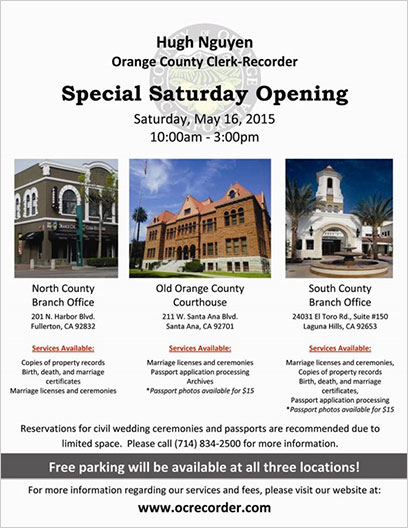 Mission Viejo: Spring Reflections Fine Art Exhibition

The Saddleback Art League presents its 16th annual Juried Fine Art Exhibition through May 22 in the Mission Viejo Library, 100 Civic Center, Mission Viejo. The artists represented in the show are mostly local residents, many with noteworthy reputations for creative styles and subject matter in a variety of media. Much of the artwork on display will be available for sale. For more information, visit www.saddlebackartleague.com.

Last but not least this week I:

Presented at the SOKA University International Festival (pictured below).
Attended the Dana Point Grand Prix
Participated in the Orange County Transportation Authority Regional Planning and Highways meeting.
Participated in the OCTA / TCA Joint Leadership meeting.
Participated in the Special Board Meeting on the Ambulance RFP.
Participated in the Orange County Sanitation District Operations Committee meeting.
Participated in the CalOptima Board meeting.
Toured JSerra Catholic High School.
Attended the Care Ambulance South County City Transition meeting.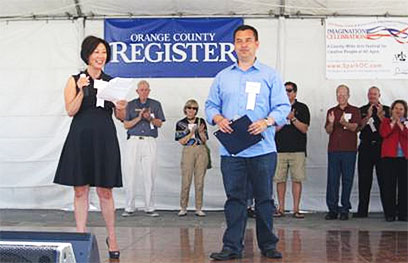 My Staff:

Attended the Laguna Beach "State of the City" event.
Staffed a County Information Booth at the Arts Alive event in Mission Viejo.
Attended the South Orange County Association of Mayors meeting in San Clemente.
Attended the Library Advisory Board meeting.
Attended the Agora Arts District meeting sponsored by the Laguna Niguel Woman's Club
Attended Superior Court Leadership Academy – Week 4
Attended Santa Margarita Water District's Water Awareness Day



DISTRICT

STAFF
Paul Walters
Chief of Staff

Victor Cao
Policy Advisor

James Dinwiddie
Policy Advisor

Kelley Jimenez
Policy Advisor

Sergio Prince
Community Relations Advisor

Tanya Flink
Office Manager



Stay Updated!