County Connections

South County Job Fair Connects Businesses with Job Seekers

This week, I was pleased to host the 2015 South County Job Fair in partnership with the Orange County Workforce Investment Board at the Laguna Hills Mall.

There were more than 500 job seekers connected with 75 companies seeking to hire new workers. I also had the pleasure of visiting with company representatives and thanked them for participating in the Job Fair, as well as all the recruiters for targeting South County residents as potential new employees.

If you are interested in finding out more about Orange County job opportunities, or need help developing a new career path, please visit the Orange County One-Stop Center, located at 125 Technology Avenue West, Suite 200, Irvine, CA 92618, or call (949) 341-8400

Businesses that are expanding their workforce can also contact the One-Stop Center directly. Qualified candidates and special hiring incentives are available throughout the year.

For more information, please visit www.oconestop.com.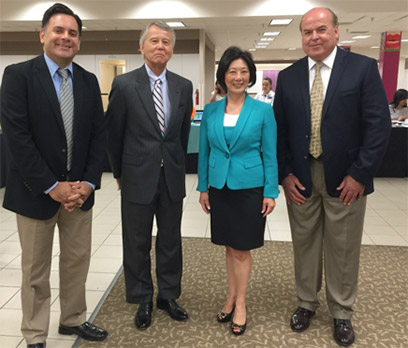 Orange County Unveils FY 2015-16 Recommended Budget

Orange County's Fiscal Year 2015-16 Recommended Budget has been released for review by the Board of Supervisors and the public.

Public budget hearings will begin at 9:30 a.m. on Tuesday, June 9, and Wednesday, June 10 at the Hall of Administration Board Hearing Room, 333 W. Santa Ana Blvd., Santa Ana. The budget is divided into seven sections, or programs: I Public Protection; II Community Services; III Infrastructure and Environmental Resources; IV General Government Services; V Capital Improvements; VI Debt Service; and VII Insurance, Reserves and Miscellaneous.

During the hearings, budget staff will provide highlights of the County's spending plan and discuss specific budget requests for augmentations, as well as answer questions from Board members and the public. Budget documents are available online at http://ocgov.com/gov/ceo/deputy/finance/budget.

Over the last several years and continuing into FY 2015-16, the County has focused on stabilizing the budget, preparing for contingencies, and funding infrastructure needs that were deferred during the Great Recession. Actual revenues and expenses are monitored during the year and reported quarterly to the Board of Supervisors.

FY 2015-16 Recommended Budget Highlights:

Total budget is $5.8 billion, of which $3.2 billion is the General Fund Budget.
Of the $3.2 billion General Fund, $723.1 million is the General Purpose Revenue portion. Last year's General Purpose Revenues were $672 million.
The $723.1 million includes a $15 million payment to the State. This is the second of five escalating payments totaling $150 million ordered as the result of a lawsuit over the distribution of vehicle license fees.
Reflects revenue growth assumptions of 4% in property tax revenues and 3% in Public Safety Sales Tax (Prop. 172) revenues.
Includes $32.3 million to restore and maintain current levels of service, including $29.6 million for Public Safety.
Total budgeted positions are 17,988, a reduction of 65 positions from the current year adopted budget.
The recommended capital improvement budget includes $2.1 million to begin work on a new juvenile multipurpose rehabilitation center funded primarily through a State grant.
I encourage the public to also review these documents and share their thoughts and concerns with my office. I look forward to working with my colleagues to further vet the proposed budget.

OC MOVES

SOUTHWEST AIRLINES® Announces New Nonstop Routes from John Wayne Airport

Southwest Airlines announced new nonstop service from John Wayne Airport (JWA) to St. Louis and Kansas City, Missouri. Southwest routed their specialty plane, Missouri One, through John Wayne Airport yesterday to introduce the new destinations. Service to Kansas City (MCI) and St. Louis (STL), Missouri, will begin on November 22, 2015. Todd Spitzer, Chairman, Orange County Board of Supervisors; Dave Harvey, Southwest Airlines' Senior Director of Network Planning and Performance; and Laura DeSoto, Chair, Orange County Business Council Board of Directors shared their excitement for these new routes during a media event overlooking John Wayne Airport's Thomas F. Riley Terminal and airfield.

The John Wayne Airport continues to offer nonstop flight options to key destinations for travelers. The tourism industry is an integral part of Orange County's economic vitality. Orange County welcomes 42 million visitors, who spend 7.75 billion dollars each year, to our community.

I would like to applaud our staff at John Wayne Airport for their commitment to excellence in the establishment of a world-class airport.

John Wayne Airport Showcases Aliso Viejo Resident's Artwork

A selection of colorful oil paintings by Nina Kolarek-Cullen (Nina K Cullen) is on display in the Thomas F. Riley Terminal as part of John Wayne Airport's (JWA) Community Focus Space Program. The paintings can be viewed on the Departure(upper) Level near the security screening areas in Terminals A, B and C, and on the Arrival (lower) Level adjacent to Baggage Carousels 1 and 4, now through June 15, 2015.

Color, combined with love of design and texture is what attracted Nina K Cullen to painting. She derives her inspiration from the kaleidoscope of colors found in nature: the vivid blue skies, turquoise oceans and majestic orange sunsets. Nina K Cullen harnesses natural beauty to create vibrant and intriguing art.

Nina K Cullen is an award winning fashion designer turned artist. Born in Croatia, Nina K Cullen attended the American College of Design in Switzerland and London, earning a Bachelor of Fine Arts degree. She later moved to New York to pursue a fashion career and soon found herself moving to Southern California to follow her lifelong passion, painting. Nina K Cullen's work has been exhibited in many galleries and countless private collections across the county. For more information about Nina K, visit http://www.ninakcullen.com/.


Healthcare Advisory

CalOptima to Secure Special Funding to Improve Health Outcomes for Medi-Cal Members

Since 2010, CalOptima has partnered with UC Irvine to obtain federal Intergovernmental Transfer (IGT) funds, which are used to address unmet needs for Medi-Cal members in Orange County. In May, the CalOptima Board of Directors authorized agreements necessary to work with UCI to pursue another IGT ("IGT 4"), which is estimated to provide $5.5 million in funds for CalOptima. In addition, the Board approved two general categories for allocation of the eventual IGT 4 funds:

Community health investments that will improve adult and child mental health, reduce childhood obesity, strengthen the safety net, and improve children's health;
Implementation activities for California's Health Homes Program and other projects under California's Medi-Cal 1115 Waiver renewal.
With the Board's action, IGT 4 continues the successful partnership between CalOptima and UC Irvine to support Medi-Cal members with critical unmet needs. Since 2010 this partnership has resulting in an additional $30 million to support Medi-Cal enrollees. I would like to thank UCI for enabling CalOptima to provide better quality services to its members.

OC Pet of the Week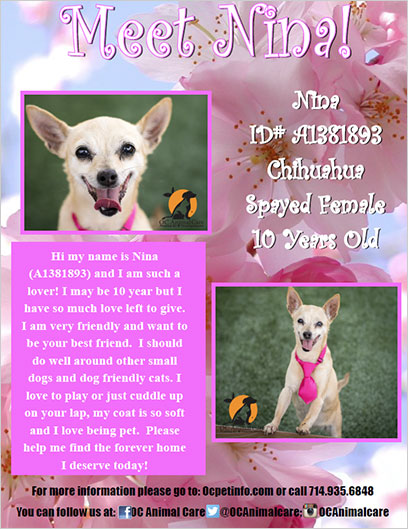 Click on the image above to view a PDF version.

Out and About South County

Dana Point: Doheny Blues Festival

The Annual Blues Festival is the true kick-off to summer with a weekend filled with music, lots of vendors and an International Food Court that features foods from around the world. Be sure you come down to Doheny State Beach and celebrate the beginning of summer with Orange County's Favorite and most anticipated annual summer festival! Doheny State Beach, Dana Point. Ticket Sales & info: (949) 360-7800

Laguna Beach: Robert Henri's California: Realism, Race, and Region, 1914-1925

Bringing together for the first time, the many works that Robert Henri produced during his sojourns in San Diego and Los Angeles. Laguna Art Museum. Address: 307 Cliff Dr. at North Coast Hwy., Laguna Beach, CA 92651

Laguna Hills: Clerk Recorder Extended Hours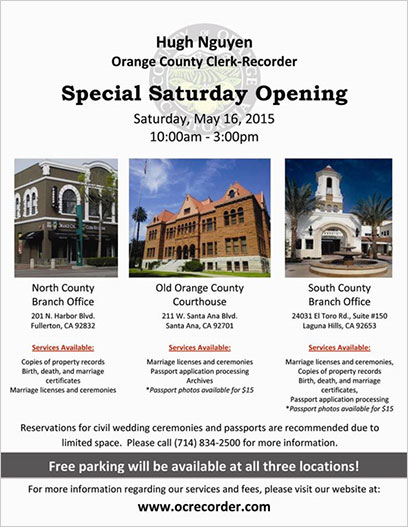 Mission Viejo: Spring Reflections Fine Art Exhibition

The Saddleback Art League presents its 16th annual Juried Fine Art Exhibition through May 22 in the Mission Viejo Library, 100 Civic Center, Mission Viejo. The artists represented in the show are mostly local residents, many with noteworthy reputations for creative styles and subject matter in a variety of media. Much of the artwork on display will be available for sale. For more information, visit www.saddlebackartleague.com.

San Clemente: Orange County Health and Medical Expo

9 am to 5 pm. A day for the community to come together and celebrate rejuvenating mind, body and soul! Join over 50 health professionals from health, fitness, wellness and beauty offering product sampling, educational discussions and engaging demos. There will also be family interactive activities, opportunity drawings, healthy eating and cooking information. San Clemente Events Center 111 W. Avenida Palizada San Clemente, CA 92762

Last but not least this week I:

Participated in the Orange County Transportation Authority Board of Directors meeting.
Participated in the Orange County Board of Supervisors meeting.
Attended the Rancho Santa Margarita Meet the Mayor Event.
Attended the South County Job Fair.
Attended the Saddleback Substation Grand Opening (picture below).
Participated in the Transportation Corridor Agencies San Joaquin Hills and Foothill Eastern Board Meetings.
Attended the Dana Point State of the City.
Attended the Orange County Public Works Open House.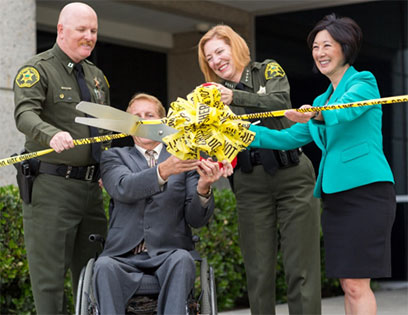 My Staff:

Presented a certificate of recognition in honor of the ribbon cutting ceremony for The Vista Luxury Apartments in Laguna Niguel.
Presented a certificates of recognition in honor of student veterans and those who have contributed to the success of the Saddleback College VETS Program.
Attended the Modjeska Playhouse Ribbon Cutting in Lake Forest.