County Connections

Celebrating Families Event Highlights Reunification of Parents and Children

On Thursday, May 21st, my staff and I attended an evening of triumph, happy tears, and hope at the Annual Celebrating Families Event. This celebration took place within the 5th District at the Mariner's Church in Irvine, and families from the entire County came to participate and share their inspiring journeys. This event is held every year to recognize the parents and their social workers who have partnered to overcome the obstacles in their lives in order to successfully reunite with their children. Many of these parents worked for years to regain custody; they attended parenting classes, sought help with substance and domestic abuse, learned to cope with mental illness, and obtained stable employment and housing.

The joy in the room was infectious. This was a wonderful event that showcased how the work we do at the County positively effects the people we serve. I am so proud of the County's dedicated social workers and equally dedicated parents, and I hope to attend the celebration next year.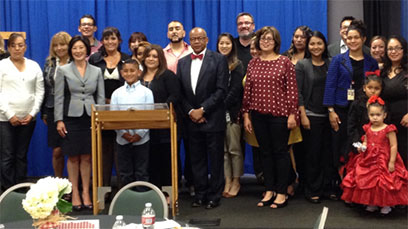 OC MOVES

John Wayne Airport urges travelers to plan ahead for Memorial Day Weekend

Memorial Day weekend is traditionally one of the busiest travel periods of the year. John Wayne Airport (JWA) expects Airport traffic to be heaviest on Thursday and Friday (May 21 - 22) and Tuesday (May 26). In 2014, over 150,000 passengers traveled through JWA between the Thursday before and the Tuesday after Memorial Day.

Travel Tips for Passengers and Visitors:

All passengers flying out of JWA are encouraged to arrive 90 minutes to two hours before the scheduled departure time for domestic flights and three hours for international flights to find parking, check luggage and go through the security checkpoint. Passengers who are members of TSA Pre-Check can expedite the screening process in Terminals A, B and C.
Passengers are allowed one small carry-on bag plus one personal item as long as the carry-on bag fits airline dimensions. Check with individual airlines for specifics.
Drivers picking up passengers at the Airport are encouraged to utilize 2-hour parking spaces, located on the lower level of Parking Structures A1, B2 and C.
Parking at JWA:
Curbside Valet Parking for $30 per day, located on the Departure (upper) Level between Terminals A and B, or in front of Terminal C.
Parking Structures A1, A2, B2 and C are located adjacent to and directly across from the Riley Terminal at a rate of $20 per day and $2 per hour with the first 15 minutes being free for those dropping off and picking up passengers. Access to terminal parking structures is available from the Departure (upper) Level only.
Off-site Main Street Parking Lot located at 1512 Main St., Irvine, for $14 per day with free shuttle service to/from the Riley Terminal every 15 minutes.
For parking availability call 949.252.5200.

PCH Trolley Service Coming to Dana Point This Summer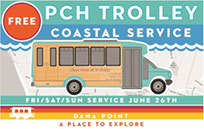 The City of Dana Point will begin Summer Weekend Trolley Service Friday, June 26th and will run Friday/Saturday/Sunday through Labor Day, September 7th. This year limits the shuttle to weekend-only service, with hopes that this year's success will support a summer long, seven day a week service in 2016.

The trolley route will run from Capistrano County Beach at Coast Highway/Beach Road/Palisades Drive in Capistrano Beach to the Ritz Carlton and the Monarch St. Regis, where it will connect with the Laguna Beach trolley. Stops near major hotels, the Lantern District, Strand Beach (Selva), the Harbor, Doheny State Beach, Coast Highway timeshares, and Doheny Village, among other locations are included. This Trolley Route Map link shows the entire route and stops in detail.

During the initial year, leased shuttles will be colorfully wrapped to look like "Woodys" to help attract customers. In order for the City to retain OCTA grant funds to operate the trolleys, each trolley must attain at least 10 boardings per hour. This equates to about 500 boardings per day. Assuming a successful initial year, the trolley provider will purchase new open air trolleys for summer long service thereafter. So we need everyone's help to make this first year successful!

The trolley service is free. All vehicles will be powered by alternative fuels, will be handicap accessible, and have bike racks. In order to offer timely service, 4 trolleys will be used to ensure wait times are 15 minutes or less.

Riders will be able to access real-time trolley locations and wait times on their phones with the use of a website tracker at DPTrolley.com.

Interested in learning more about the Trolley program? Attend an informative forum featuring Brad Fowler, Director of Public Works & Engineering for the City of Dana Point on Thursday, June 11th at the Dana Point Community Center.

Public Agencies Making Every Drop Count

Elected officials, along with transportation and water-district leaders, gathered this morning to launch a multi-agency water conservation campaign in Orange County with the message, "Every Drop Counts," to help raise awareness and address California's severe drought.

A bus wrapped with the conservation messages was unveiled with the help of the Orange County Transportation Authority board of directors outside OCTA's headquarters. Other public agencies participating in the campaign include Caltrans, the County of Orange, Irvine Ranch Water District, Municipal Water District of Orange County and the Transportation Corridor Agencies.

"We all understand that the drought is serious and getting worse," said OCTA Chairman Jeff Lalloway, also the Mayor Pro Tem of Irvine. "I'm proud to say that OCTA is setting a strong example for a public agency doing all it can to cut back and continuing to look for every possible way to help navigate this drought."

Along with wrapped buses, the campaign will include printing and distributing window clings with the conservation message at public events that agencies also will use on their fleets.

"We are pleased to partner with OCTA to deliver the message that the statewide drought is real and we all need to do our part to save water," said Steve LaMar, president of the Irvine Ranch Water District Board of Directors. "Because over 60 percent of water use occurs outdoors, we are encouraging our customers to reduce their outdoor water use by 50 percent." More information can be found at IRWD.com.

Internally, OCTA has embraced the message that every drop counts for many years. The agency has cut back by 21 percent on its water usage by washing buses less frequently, installing drought-resistant landscaping and installing low-flow faucets and toilets at all bases and transit centers.

Prior to 2005, OCTA washed its buses daily. That year, the number was cut to three times a week and was further cut to twice a week. In addition, a treatment system was installed to reclaim and filter the water for reuse, saving about 30 gallons each wash.

Low-water vegetation and artificial turf will continue to be planted when possible and low-flow toilets and faucets will continue to replace the older models on OCTA's properties.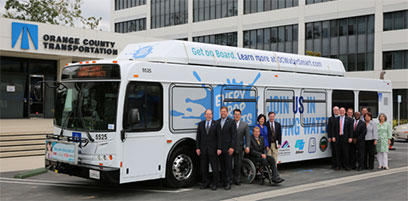 OCTA Seeking 5th District Volunteer for Public Committee

The Orange County Transportation Authority (OCTA) is seeking qualified volunteers to serve on the Special Needs Advisory Committee. The 34-member committee advises OCTA on its special needs transit service for persons with disabilities and senior citizens. SNAC members serve three-year terms. Members are appointed by the Board of Directors, must live in Orange County and demonstrate an interest and involvement with persons with disabilities and/or senior citizens. And must represent large, active constituencies in Orange County with whom regular interface regarding transportation matters is conducted. I encourage individuals interested in a volunteer position to please contact Sergio Prince at (714) 834-5688 immediately.

SAFETY FIRST

Orange County Sheriff's Department Operation Aims to Improve Motorcycle Safety

Deputies from the Orange County Sheriff's Department will be conducting a specialized Motorcycle Safety Enforcement Operation during the Memorial Day weekend in an effort to lower deaths and injuries. Extra officers will be on duty patrolling areas frequented by motorcyclists and where motorcycle crashes occur. Officers will be looking for violations made by drivers and riders alike that can lead to motorcycle crashes, including driving under the influence of drugs or alcohol, speeding, making illegal turns, or any other dangerous infraction.

Motorcycle fatalities saw a phenomenal drop of 37% from 2008 to 2010, but then rose 23% by 2012. These operations are aimed at curbing further rises in motorcycle deaths and sending the numbers back downward.

California collision data reveals that primary causes of motorcycle-involved crashes include speeding, unsafe turning and impairment due to alcohol and other drugs by both riders and drivers alike. The Orange County Sheriff's Department is also reminding all motorists to always be alert and watch out for motorcycles, especially when turning and changing lanes.

Riders can get training through the California Motorcyclist Safety Program. Information and training locations are available at www.CA-msp.org or 1-877 RIDE 411 or 1-877-743-3411.

Funding for this program is provided by a grant from the California Office of Traffic Safety through the National Highway Traffic Safety Administration. Remember, share in the responsibility and do your part by safely "sharing the road."

Click It or Ticket Campaign Starts May 18th

The Orange County Sheriff's Department is reminding motorists to Click It or Ticket. As part of the national seat belt enforcement campaign, law enforcement agencies around the country will be stepping up enforcement May 18, 2015 to May 31, 2015, just prior to one of the busiest travel weekends of the year.

According to the National Highway Traffic Safety Administration, in 2013 nearly half of the 21,132 passenger vehicle occupants killed in crashes were unrestrained. That number rose to 59% between the hours of 6 p.m. and 5:59 a.m., making nighttime enforcement a focus of The Click It or Ticket campaign.

Participating law enforcement agencies will be taking a no-excuses approach to seat belt law enforcement, writing citations day and night. In California, the maximum penalty for a seat belt violation is over $160.00.

For more information on the Click It or Ticket mobilization, please visit www.nhtsa.gov/ciot.

Healthcare Advisory

Exciting New Project to Address Children's Mental Illness with CHOC

During the May 19th Board of Supervisors meeting, the Board unanimously approved a one-year agreement with Children's Hospital Orange County (CHOC) to develop a plan to test the feasibility of offering psychiatric beds to Orange County children ages twelve and under.

Orange County currently has no psychiatric beds for children under 12 even though an estimated 1 in 5 children here – or 150,000 – have a mental illness. Countywide, there are 32 beds available for teens. Currently, children in need of these services are sent to neighboring counties for care. This distance puts unneeded stress on both the children and their families. Children's Hospital of Orange County will create an 18-bed psychiatric unit, expand outpatient mental health services and raise millions of dollars so children will no longer have to leave the county for treatment, officials announced Wednesday.

The inpatient center will open by the end of 2017, with construction expected to start by fall. The 18 beds will be for children 3 to 17, with priority for those under 12. Outpatient services will expand this year, starting with a program focusing on children with chronic illnesses, such as asthma or cancer, who have a greater risk of also having depression or severe anxiety.

This plan will better serve Orange County residents and bring these children closer to home during treatment. This agreement poses great potential, and I am excited to see the progress in the near future. I want to thank CHOC for its commitment to mental health services for our youth.

OC Pet of the Week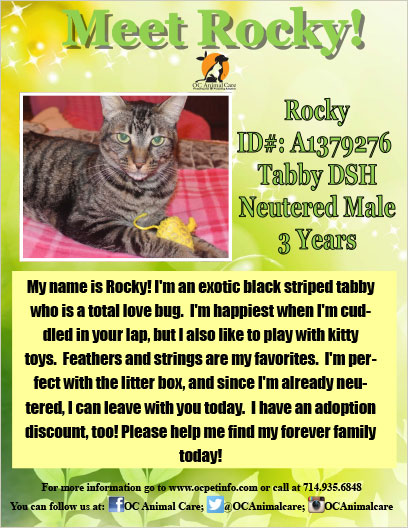 Click on the image above to view a PDF version.

Out and About South County

Dana Point: Memorial Day Weekend Parking Program (Effective 5/23/15 - 5/25/15)

As a result of collaborative planning and the success of OC Dana Point Harbor's parking programs over the last few years, we will be continuing with the program elements for the upcoming holidays. As a reminder, below is the parking program for the Memorial Day weekend.

Depending upon the weather, public parking, the picnic areas and the marina parking lots fill up early so plan accordingly.
Campers, R.V.s and trailers are prohibited in marina lots and may be towed.
5/23/15 through 5/25/15, many Catalina Express customers will be directed to park in the Nordhavn Lot on the island.
Merchant and Restaurant employees will be directed to park at the Embarcadero one acre parcel.
Boaters with appropriate gate cards or windshields passes on their vehicle will have access to the marina lots.
If you are a boater, plan ahead and bring supplies to your boat early.
Marina attendants will be monitoring parking lots throughout the weekend.
If you have guests coming, make plans to meet them at the parking gate; gate attendants will monitor availability and use discretion regarding how many guest vehicles will be admitted to the parking lots.
Please encourage your guests to carpool and use on-street parking where available

Lake Forest: El Toro Memorial Park Tribute

Event will include color guard, wreath and flag ceremonies, a firing salute, musical performances and a speech from Nancy Montgomery, Director of Veterans Services at Irvine Valley College. 11 a.m. 25751 Trabuco Road, Lake Forest. Free. 949-951-8244 oroccemeterydistrict.com

Laguna Hills: Memorial Day Half Marathon, 5K, 10K and Kids Run

Races begin in front of the Saddleback Memorial Medical Center and finish at the Laguna Hills Community Center. In honor of the 3/5 Marine battalion from Camp Pendleton, event features speeches, a beer garden, music, food trucks and carnival attractions. Opening ceremony, 6:50 a.m. 24155 Laguna Hills Mall. 949-975-8506 or lagunahillshalfmarathon.com

Mission Viejo: Memorial Day Observance

The American Heroes Tribute banners will be on display at the Civic Center and the event will feature speeches from Colonel Paul Nugent and Army Air Force pilot, retired 1st Lieutenant David K. Hayward. 8:30-10:30 a.m. 200 Civic Center. Free. 949-470-3061 or missionviejolife.org

San Clemente: Memorial Day Program

This program will include a welcome address by Mayor, Chris Hamm, a presentation of colors by the Sons of the American Revolution and a performance by the San Clemente High School Madrigal choir at the San Clemente Community Center. 11 a.m.-noon. 100 N. Calle Seville. Free. 949-361-8264 or san-clemente.org

Last but not least this week I:

Participated in the Orange County Board of Supervisors meeting.
Attended the Orange County Social Services Agency Celebrating Families Event.
Participated in the Orange County Transportation Authority Legislative and Communications Committee.
Participated in the Transportation Corridor Agencies Joint Marketing, Joint Compensation and Environmental Ad Hocs.
Toured the South County Family Resource Center Tour.
Participated in the Orange County Transportation Authority Board of Directors meeting.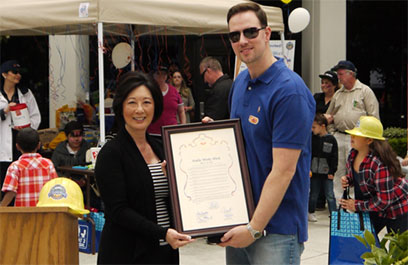 Presenting a resolution to Shane Silsby, Orange County Public Works Director, at their Open House last week.

My Staff:


Attended the Orange County Social Services Agency Celebrating Families Event.
Attended the Orange County Business Council / Association of California Cities Orange County Legislative Advocacy Trip to discuss water infrastructure, transportation, economic development, housing, health care and cyber security with key legislators.