May 29, 2015
Volume 2

Issue 21

County Connections

Memorial Day

This week we had the privilege of honoring those who have fallen in the name of freedom. Memorial Day is time of remembrance for the nation to reflect on our freedoms and the cost at which they come.

The first Memorial Day was held three years after the Civil War ended to honor the soldiers who died fighting, it wasn't until after World War I, that the honor was expanded to all American wars; and in 1971, Memorial Day became a national holiday.

For these service men and women who will never see another Memorial Day celebration we offer our deepest condolences and most sincere thanks. We mourn the losses of the brave, the heroes right in our own backyards who were taken too soon. But we also celebrate the nation we live in, the rights these heroes have allowed us, and the opportunities we still have to make our nation even greater.

As Ronald Reagan said in a Memorial Day speech, "As we honor their memory today, let us pledge that their lives, their sacrifices, their valor shall be justified and remembered for as long as God gives life to this nation. And let us also pledge to do our utmost to carry out what must have been their wish: that no other generation of young men will ever have to share their experiences and repeat their sacrifice."

I am eternally grateful to those who have served and paid the ultimate sacrifice for their country.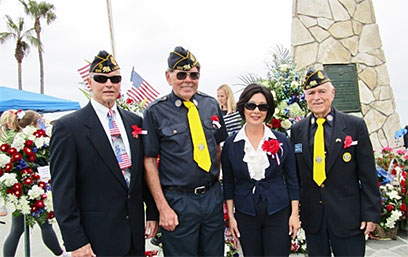 Supervisor Bartlett at the 88th Annual American Legion Post 222 Memorial Day Event

OC MOVES

OCTA Offers 30-Day Youth Summer Pass

The Orange County Transportation Authority is encouraging local teens to "De-Zombify" this summer by getting out into the sunshine and exploring Orange County's many attractions using the OCTA Youth Summer Pass.

For the past 14 years, OCTA has provided a summer bus pass for those 18 and younger as part of a youth ridership program.

For the first time, it's being offered to youth ages 6-18 as a 30-day pass. A pass costs $20 and is valid for unlimited rides for 30 consecutive days between June 1 and Sept. 30.

In addition to unlimited service on OCTA buses, Youth Summer Pass holders will also enjoy discounts on more than 20 entertainment destinations, including the Discovery Cube, Medieval Times and the Aquarium of the Pacific.

The Youth Summer Pass is on sale now through Aug. 31 online and at Orange County Ralphs, Vons and Northgate Gonzalez Market locations and at the OCTA Store.

As part of this year's promotion, OCTA is also offering a $500 scholarship to one lucky recipient who participates in a photo/video contest. Participants are asked to provide the ending to a short video OCTA created on how to "De-Zombify Yourself" this summer.

Find out more about the contest, the OCTA Youth Summer Pass and the many destinations that can be reached via OCTA bus routes at octa.net/endthezombie.

PCH Trolley Service Coming to Dana Point This Summer

The City of Dana Point will begin Summer Weekend Trolley Service Friday, June 26th and will run Friday/Saturday/Sunday through Labor Day, September 7th. This year limits the shuttle to weekend-only service, with hopes that this year's success will support a summer long, seven day a week service in 2016.

The trolley route will run from Capistrano County Beach at Coast Highway/Beach Road/Palisades Drive in Capistrano Beach to the Ritz Carlton and the Monarch St. Regis, where it will connect with the Laguna Beach trolley. Stops near major hotels, the Lantern District, Strand Beach (Selva), the Harbor, Doheny State Beach, Coast Highway timeshares, and Doheny Village, among other locations are included. This Trolley Route Map link shows the entire route and stops in detail.

During the initial year, leased shuttles will be colorfully wrapped to look like "Woodys" to help attract customers. In order for the City to retain OCTA grant funds to operate the trolleys, each trolley must attain at least 10 boardings per hour. This equates to about 500 boardings per day. Assuming a successful initial year, the trolley provider will purchase new open air trolleys for summer long service thereafter. So we need everyone's help to make this first year successful!

The trolley service is free. All vehicles will be powered by alternative fuels, will be handicap accessible, and have bike racks. In order to offer timely service, 4 trolleys will be used to ensure wait times are 15 minutes or less.

Riders will be able to access real-time trolley locations and wait times on their phones with the use of a website tracker at DPTrolley.com.

Interested in learning more about the Trolley program? Attend an informative forum featuring Brad Fowler, Director of Public Works & Engineering for the City of Dana Point on Thursday, June 11th at the Dana Point Community Center.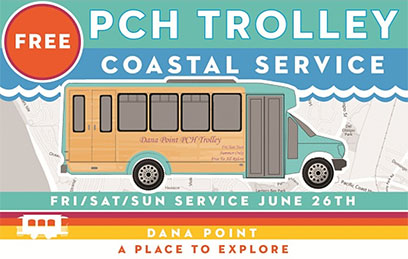 SAFETY FIRST

Orange County Sheriff's Department Operation Aims to Improve Motorcycle Safety

In an effort to lower deaths and injuries, deputies from the Orange County Sheriff's Department will be conducting a specialized Motorcycle Safety Enforcement Operation this weekend beginning Friday, May 29, 2015. Extra officers will be on duty patrolling areas frequented by motorcyclists and where motorcycle crashes occur. Officers will be looking for violations made by drivers and riders alike that can lead to motorcycle crashes, such as driving under the influence of drugs or alcohol, speeding, making illegal turns, or any other dangerous violation.

Motorcycle fatalities saw a phenomenal drop of 37 percent from 2008 to 2010, but then rose 23 percent by 2012. Operations like this are aimed at curbing any further rise in motorcycle deaths and sending the numbers back down.

The Orange County Sheriff's Department is also reminding all motorists to always be alert and watch out for motorcycles, especially when turning and changing lanes.

Riders can get training through the California Motorcyclist Safety Program. Information and training locations are available at www.CA-msp.org or 1-877- RIDE 411 (1-877-743-3411).

Funding for this program is provided by a grant from the California Office of Traffic Safety through the National Highway Traffic Safety Administration. The Orange County Sheriff's Department would like to remind all drivers and motorcyclists to share in the responsibility and do your part by safely "sharing the road."

Healthcare Advisory

New Wellness Website Focuses on Health Information and Data

Orange County has a new interactive and easy to navigate website OCHealthierTogether.org that allows anyone to find data and information about health and wellness in Orange County. The website is administered by the Orange County Health Care Agency and co-sponsored by, Orange County United Way, and the Children and Families Commission of Orange County, as well as the Health Care Agency.

The website presents more than 170 indicators related to the health of Orange County organized by topics such as maternal, child health; exercise, nutrition and weight; diabetes; heart disease and cancer. In addition, indicators related to critical needs such as housing, transportation, and income are included, as is a database of approximately 150 additional demographic items. Most indicators can be broken down to see how Orange County has trended over time, if there are differences based on sex, race/ethnicity or age and in many cases geographic location.

Examples of information that can be found on the site include:

Between 2011-2013, nearly 14 of every 10,000 residents were hospitalized for diabetes; but the rate for Latinos was 22 per 10,000 and African Americans was 35 per 10,000;
11.9% of Orange County's Medicare population was treated for depression in 2012, up from 10.5% in 2009; and
28.8% of Orange County households experience severe housing problems like overcrowding, high housing costs, lack of kitchen, or lack of plumbing facilities. This puts Orange County in the bottom quartile of all U.S. counties.
The website has several other features as well, such as tools for data analysis and report writing, a database of more than 2,000 promising practices for improving health, links to related health resources through a live connection with 211 OC and links to related Orange County reports and plans.

The website also features the Orange County Health Improvement Plan, which highlights county-wide collaborative efforts to address key community health priorities like obesity and diabetes, infant and child health, older adult health and mental health and substance abuse issues. These efforts are driven by the new Orange County's Healthier Together Health Improvement Partnership.

Two upcoming trainings scheduled to take place in June will be available for providers, planners and community members to learn more about the website and its tools. Save the date for June 9, 2015 from 2-4 p.m. or June 11, 2015 from 9-11 a.m. Both trainings will be held at the Health Care Agency Public Health Training Center located at 1725 W. 17th Street, Building 1729E in Santa Ana. Please contact OCHIP@ochca.com by June 3, 2015 to RSVP for the training or for more information about the website.

OC Pet of the Week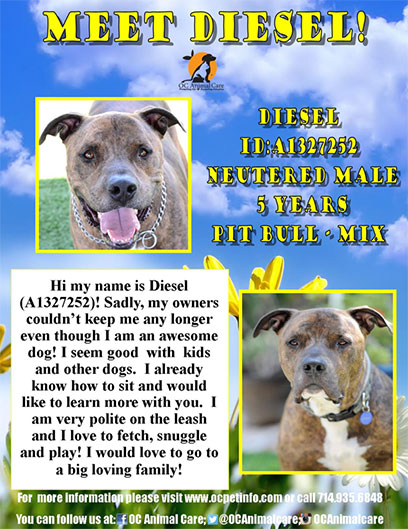 Click on the image above to view a PDF version.

Out and About South County

Aliso Viejo: Southern California Association of Governments RTP/SCS Open House

Give your thoughts on important issues in the region such as traffic and congestion, housing, air quality, open spaces, public health and the economy. Help guide the development of the 2016-2040 Regional Transportation Plan/Sustainable Communities Strategy (RTP/SCS), a long-range vision for Southern California, including the counties of Imperial, Los Angeles, Orange, Riverside, San Bernardino and Ventura. The open houses will be held at various locations in each of the six counties, from May 26 to June 29, 2015, and will provide context of the 2016 RTP/SCS and provide opportunities for input. There will be no formal presentation and topics can be explored at your own pace. For more information about the 2016 RTP/SCS, visit http://scagrtpscs.net. A downloadable PDF schedule of all open house locations is also available here.

Dana Point: Dana Point Harbor Boater Notice

New regulations regarding potable water usage were approved by California's State Water Resources Control Board. The new regulations prohibit: the use of a hose that dispenses potable water to wash a motor vehicle (or vessel), except where the hose is fitted with a shut-off nozzle or device attached to it that causes it to cease dispensing water immediately when not in use.

As part of our ongoing water quality and water conservation efforts, and in cooperation with South Coast Water District, OC Dana Point Harbor is pleased to provide complimentary water-saving hose nozzles to Boat Slip Licensees.

Boaters may pick up a nozzle at the East & West Basin Marina Offices. Supplies are limited so please call in advance to check availability. Only one nozzle will be given to each Boat Slip Licensee on a first-come, first-served basis.

For additional information or questions, please contact the Marina office:
Dana Point Marina Company (949) 496-6137
Dana West Marina (949) 493-6222

Dana Point Symphony: Music of France

Saturday, May 30th at 7 p.m. The Dana Point Symphony Orchestra continues its 2015 "One World" season with conductor Dean Anderson and featuring Yang Bartolotti on violin. Program includes Ravel, Bolero; Ravel, Tzigane; Debussy, La Mer. Tickets are $20 for adults, $15 for students, seniors and military. Buy tickets online or at the door on a first come, first served basis. St. Edward's Church, 33926 Calle La Primavera, Dana Point, www.danapointsymphony.com.

Rancho Santa Margarita: RanchoFest

Annual RanchoFest to be held at Rancho Santa Margarita's Central Park at 30842 La Miranda on Friday June 5th from 6 pm – 10 pm and Saturday June 6th from 12 noon – 10 pm and again on Sunday June 7th from 12 noon – 8 pm. This is a family fun event for everyone!

The event has many inflatables, Rock Climbing Wall and Bunging jumping, Business Vendors to shop from, Restaurants to sample from and a Beer & Wine service area. Our live entertainment is from open to close featuring local talented bands, such as Five South, Hollywood Blonde, Hero For Today, Eclectric and community wide known bands such as the Tijuana Dogs, The Reflexx, Queen Nation, Pickleback Shine and some great tribute bands such as Double Vision (Foreigner), Steel Imagination (little bit of hard Rock).

For more information visit rsmchamber.com.

Last but not least this week I:

Attended the American Legion Post 222 Memorial Day Event in Laguna Beach.
Participated in the California State Association of Counties Conference.
Participated in the California Transportation Commission Road Usage Charge Technical Advisory Committee.

My Staff:

Toured the San Onofre Nuclear Generating Station facility.
Attended the Orange County Police Officer Memorial Service.
Staffed a County Information Booth at the Memorial Day Half-Marathon and Family Expo in the City of Laguna Hills.
Presented a certificate of recognition in honor of the grand opening of Donut Star in the City of Dana Point.
Presented a certificate of recognition in honor of the grand opening of Cookie Connection in the City of Irvine.
Presented a certificate of recognition in honor of the grand opening of the law office of attorney Susie Hattan in the City of San Clemente.
Presented a certificate of recognition in honor of the grand opening of Talega Coast Dentistry in the City of San Clemente.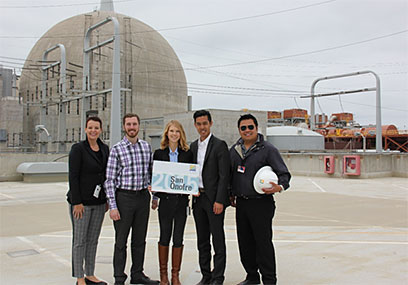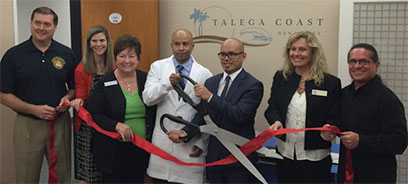 DISTRICT

STAFF
Paul Walters
Chief of Staff

Victor Cao
Policy Advisor

James Dinwiddie
Policy Advisor

Kelley Jimenez
Policy Advisor

Sergio Prince
Community Relations Advisor

Tanya Flink
Office Manager



Stay Updated!