June 5, 2015
Volume 2

Issue 22

County Connections

Supporting Quality of Life and Business at OC Dana Point Harbor

Orange County's Dana Point Harbor is one of the most important community resources of the Fifth District and the County. I wanted to highlight why the Board of Supervisors took action to enhance quality of life and businesses at the Harbor at no cost to taxpayers. Since, 1976 the County has shared in the cost of community outreach efforts to promote community events and business. The Association is made up of the merchants and restaurants who are all required to participate in the Association per their lease agreements.

Recently, I facilitated a collaborative discussion with OC Dana Point Harbor staff and the Dana Point Harbor Association about a community outreach effort to keep businesses and restaurants open during Revitalization work that is scheduled to occur later this year. Here is a comparison of the various options for community outreach:


Percentage Cost-Sharing
Entity
1976 Agreement
Proposed Agreement
Final Agreement*
County of Orange
75.9%
79%
75%
Harbor Association
24.1%
21%
25%
Dollar Amount Cost-Sharing
Entity
1976 Agreement
Proposed Agreement
Final Agreement*
County of Orange
$76,545
$99,652
$90,000
Harbor Association
$24,300
$23,107
$30,000
Total Community Effort
$100,845
$120,000
$120,000
Taxpayer Dollars
$0
$0
$0
*Board Approved this option on May 19, 2015

I led the effort for the Final Agreement because it was:

Equitable – It maintains a similar level of cost-sharing since 1976. Everyone shares in both the cost and benefits of community outreach.
Efficient – It allows small business owners to use more of their dollars to make an investment that benefit the entire community at OC Dana Point Harbor. The Harbor Association had volunteered to increase their contribution in proportion to the County.
Effective – Community Outreach will directly address temporary construction impacts and make sure the Harbor doesn't suffer from long-term consequences.
Protective - Zero taxpayer dollars have been spent on community outreach in OC Dana Point Harbor. Revenue from OC Dana Point Harbor (Fund 108) is derived from rents, slip fees, and sources unrelated to taxes.
When construction begins, you can have the confidence that OC Dana Point Harbor will be open for you to enjoy.

OC MOVES

OCTA Teen Council

OCTA is looking for new members to serve on its Teen Council during the 2015-2016 school year. Students members will have the opportunity to give input and work together on projects that will impact the way that OCTA promotes services, specifically for teens. Teen Council Applications and flyers are available on OCTA's website. The application period is now open, and will close on July 31, 2015. High school students between the ages of 13-18 are invited to apply. More information about the OCTA Teen Council can be found online at: www.octa.net/teencouncil.

John Wayne Airport Annual Report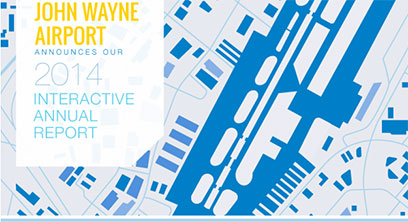 To launch the web version click here. To download the pdf click here.

SAFETY FIRST

DUI/Driver License Checkpoint Planned this Weekend

The Orange County Sheriff's Department DUI Taskforce will be conducting a DUI/Driver License Checkpoint on Friday, June 5, 2015 in the city of Laguna Niguel between the hours of 6:00 p.m. and 3:00 a.m. Deputies will be looking for signs of alcohol and/or drug impairment along with checking drivers for proper licensing. When possible, specially trained deputies will be available to evaluate those suspected of drug-impaired driving.

In California, this deadly crime led to 802 deaths in 2012 because someone failed to designate a sober driver. Nationally, the latest data shows nearly 10,000 were killed by an impaired driver. Drivers caught driving impaired can expect the impact of a DUI arrest to include jail time, fines, fees, DUI classes, other expenses that can exceed $10,000.

DUI Checkpoints are placed in locations based on collision statistics and frequency of DUI arrests affording the greatest opportunity for achieving drunk and drugged driving deterrence. Locations are chosen with safety considerations for the deputies and the public.

According to the National Highway Traffic Safety Administration (NHTSA), checkpoints have provided the most effective documented results of any of the DUI enforcement strategies while also yielding considerable cost savings of $6 for every $1 spent. Research shows that crashes involving an impaired driver can be reduced by up to 20 percent when well-publicized DUI checkpoints and proactive DUI patrols are conducted routinely. Nearly 90 percent of California drivers approve of DUI checkpoints.

Funding for this checkpoint is provided to the Orange County Sheriff's Department by a grant from the California Office of Traffic Safety, through the National Highway Traffic Safety Administration, reminding everyone to 'Report Drunk Drivers – Call 9-1-1'.

OC Pet of the Week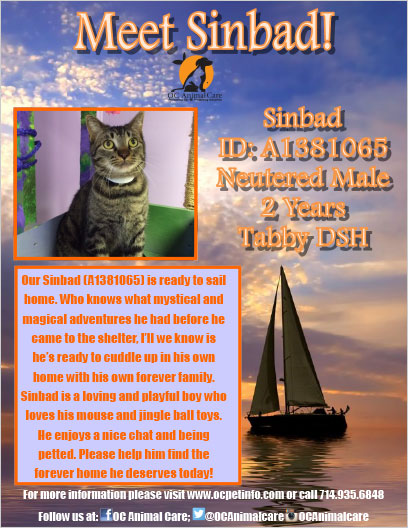 Click on the image above to view a PDF version.

Out and About South County

Aliso Viejo: Southern California Association of Governments RTP/SCS Open House

June 18th from 6-8 p.m. Give your thoughts on important issues in the region such as traffic and congestion, housing, air quality, open spaces, public health and the economy. Help guide the development of the 2016-2040 Regional Transportation Plan/Sustainable Communities Strategy (RTP/SCS), a long-range vision for Southern California, including the counties of Imperial, Los Angeles, Orange, Riverside, San Bernardino and Ventura. The open houses will be held at various locations in each of the six counties, from May 26 to June 29, 2015, and will provide context of the 2016 RTP/SCS and provide opportunities for input. There will be no formal presentation and topics can be explored at your own pace. For more information about the 2016 RTP/SCS, visit http://scagrtpscs.net. A downloadable PDF schedule of all open house locations is also available here.

Dana Point: Dana Point Nature Tour

9 a.m.-11:30 a.m. This 1.5-mile, two-hour docent-led walk explores the ecology and natural history of the Headlands area. Tours occur on the first Saturday of each month. Tour capacity is a maximum of 10 people. RSVP required to wqintern@danapoint.org or 949.248.3527. Nature Interpretive Center, 34558 Scenic Drive, Dana Point, www.danapoint.org.

Mission Viejo: Equestrian Show Jumping Competition - Blenheim June Classic Series

June 03, 2015 - June 28, 2015 at Rancho Mission Viejo Riding Park. Events range from Olympic caliber show jumping to rodeos. Address: 30753 La Pata Road, San Juan Capistrano, CA 92675 from 8:00 AM to 5:00 PM. Admission is FREE. Recurrence: (Every Sunday, Wednesday, Thursday, Friday, Saturday). 949-489-8825. www.danapointsymphony.com.

Rancho Santa Margarita: RanchoFest

Annual RanchoFest to be held at Rancho Santa Margarita's Central Park at 30842 La Miranda on Friday June 5th from 6 pm – 10 pm and Saturday June 6th from 12 noon – 10 pm and again on Sunday June 7th from 12 noon – 8 pm. This is a family fun event for everyone!

The event has many inflatables, Rock Climbing Wall and Bunging jumping, Business Vendors to shop from, Restaurants to sample from and a Beer & Wine service area. Our live entertainment is from open to close featuring local talented bands, such as Five South, Hollywood Blonde, Hero For Today, Eclectric and community wide known bands such as the Tijuana Dogs, The Reflexx, Queen Nation, Pickleback Shine and some great tribute bands such as Double Vision (Foreigner), Steel Imagination (little bit of hard Rock). For more information visit rsmchamber.com.

Last but not least this week I:

Participated in the Orange County Transportation Authority Regional Planning & Highways Committee.
Participated in the Orange County Board of Supervisors meeting.
Participated in the Orange County Coastal Coalition meeting.
Participated in the Transportation Corridor Agencies Joint Operations and Finance Committee.
Participated in the Orange County Sanitation District Operations Committee.
Presented at the Irvine Chamber of Commerce Government Affairs Committee.
Participated in the CalOptima Board Meeting.

My Staff:

Attended the Orange County Coastal Coalition meeting.
Attended the South Orange County Water Management Area Executive Committee.
Attended the OCTA OC Foothills Bikeways Collaborative.
Attended the memorial service for Louise Buckley of Laguna Beach to present an Adjournment in Memoriam to her family.
Presented a certificate of recognition in honor of the ribbon cutting ceremony for KAYA Street Kitchen in Aliso Viejo.
Attended the Junior League of Orange County Annual Meeting at the Costa Mesa Hilton.
Attended the Mission Viejo Annual Chamber Breakfast to present certificates of recognition to their Small Business of the Year, FocalPoint Business Coaching and Large Business of the Year, High Park Tap House.
Presented a certificate of recognition in honor of the ground breaking ceremony for the world headquarters of MicroVention in Aliso Viejo.
Presented a certificate of recognition in honor of the ribbon cutting ceremony for Orange Theory in San Clemente. (picture below)
Attended the Laguna Niguel Chamber of Commerce Government Affairs Committee meeting.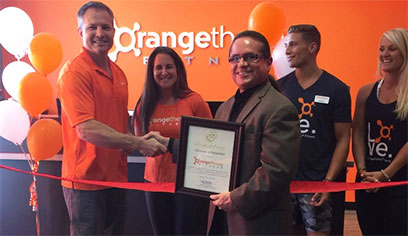 DISTRICT

STAFF
Paul Walters
Chief of Staff

Victor Cao
Policy Advisor

James Dinwiddie
Policy Advisor

Kelley Jimenez
Policy Advisor

Sergio Prince
Community Relations Advisor

Tanya Flink
Office Manager



Stay Updated!