June 12, 2015
Volume 2

Issue 23

County Connections

Ten County Programs Receive NACo Achievement Awards

Ten County of Orange programs were selected to receive a 2015 Achievement Award by the National Association of Counties (NACo). Founded in 1935, NACo represents the nation's 3,069 County governments on support of the pursuit of excellence in public service.

The County of Orange award-winning agency programs for 2015 are:


| | | |
| --- | --- | --- |
| AGENCY/DEPT. | AWARD-WINNING PROGRAM | NACo CATEGORY |
| Clerk Recorder | "Special Saturday Hours - Increasing Access to Better Serve the Public" | County Administration and Management |
| Health Care Agency | "Waste Not OC" | Health |
| Health Care Agency/Probation | "Providing Effective Behavioral Health Treatment and Resources in a Probation Setting" | Criminal Justice and Public Safety |
| John Wayne Airport | "2013 Annual Report – Impressive from all Angles" | Civic Education and Public Information |
| OC Public Works | "OC Public Works Department Operations Center Redesign and Enhancement Program" | Emergency Management and Response |
| OC Public Works | "Environmental Resources Data Portal" | Information Technology |
| OC Waste & Recycling | "Landfill Good Neighbor Policy" | Civic Education and Public Information |
| OC Public Libraries | "OC Stories - An Online Digital History" | Arts and Historic Preservation |
| OC Community Services | "Veterans Resource Directory" | Human Services |
| OC Parks | "OC Parks Archery Program" | Parks and Recreation |

I would like to congratulate the County staff who contributed to this noteworthy recognition on a job well done!

Property Tax Collection Rates Soar – Help is Available for Delinquent Taxpayers

The collection rate for secured property taxes for FY 2014-15 is at 98.25%, making this the highest collection rate in the last 20 years, Orange County Treasurer-Tax Collector Shari Freidenrich announced. Incoming receipts for the second installment are $133 million or 5.4% higher than the same time last year. Electronic payments represent 55% of all incoming payments, up 2% from last year. Steps taken to streamline the payment process also has reduced wait times at our public counter, as taxpayers generally waited less than 10 minutes to pay in person.

Treasurer Freidenrich said her office has mailed approximately 30,000 delinquent notices to taxpayers who did not pay their property taxes in full for the FY 2014-15 tax year, down 7% from the previous year and 20% from three years ago. Delinquent taxes from FY 2014-15 will be considered defaulted if full payment is not received or postmarked on or before June 30, 2015. After that date, the Treasurer adds a $15 administrative cost and a penalty of 1.5% per month (18% per year) to the amount due until the tax bill is fully paid. After going five years unpaid, the Treasurer-Tax Collector will sell the parcel at an annual property tax auction sale.

For taxpayers who are unable to pay their secured property taxes in full, the Treasurer offers a five-year installment payment plan for delinquent secured taxes starting on July 1, 2015. Taxpayers must qualify to enter into an installment plan by meeting certain criteria. The plan allows for installment payments of at least 20% per year for five years, usually reducing the overall penalties charged by allowing partial payments of the outstanding property taxes. Otherwise, the Treasurer can only accept payment in full if a payment plan is not established or if the property has been delinquent for five or more years. For more information on the payment plan option, go to "Payment Plans" under the "Property Tax" tab on at ocgov.com/octaxbill.

Taxpayers can view and print duplicate copies of their tax bills for the last five years online at ocgov.com/octaxbill as well as pay the outstanding balance of any tax bill. To avoid missing due dates in the future, taxpayers can sign up to receive a reminder email of the due dates at ocgov.com/taxreminder.

OC MOVES

Transportation Corridor Agencies Approve 2016 Budgets

The Boards of Directors of the San Joaquin Hills (SJHCTA) and Foothill/Eastern (F/ETCA) Transportation Corridor Agencies approved Fiscal Year 2016 (FY16) budgets totaling $285.3 million; comprised of $124.3 million for the SJHTCA and $161 million for the F/ETCA.

Both agencies are on solid financial ground after refinancing nearly $4 billion of bonds issued to build the 73, 133, 241 and 261 Toll Roads. By restructuring the agencies' debt profile, the Transportation Corridor Agencies (TCA) improved its credit ratings, created future flexibility for capital improvement projects and restored toll setting authority to the Boards of Directors.

FY16 initiatives include:

Enhance website and customer service call center to provide customers with a great experience and continually maintain TCA's strong and lasting relationship with drivers
Advance the planning and construction of the 241/91 Direct Express Lanes Connector
Explore transportation planning concepts that involve sustainable community strategies and active transportation mandates to complete the vision of the 241 Toll Road
Strengthen regional partnerships to pursue solutions to Southern California's mobility challenges
Implement comprehensive outreach plan for visitors, tourism industry and rental car agencies
Ensure accountability of TCA's robust environmental program by addressing land conservation; wildlife protection; and air and water quality management
With the continued recovery of Southern California's economy, FY15 combined transactions are up by more than 2 percent and combined transactional toll revenue is expected to be up nearly 8 eight percent over FY14. The Toll Roads record nearly 280,000 transactions per day.

FY16 transactional toll revenues for both SJHTCA and F/ETCA are projected to grow by 3 percent per corridor through a 2 percent inflationary toll rate increase at all locations. The toll rate increase ranges from 1 cent to 13 cents depending on the location and time of the day. Changes in toll rates will go into effect at 12:01 a.m. on Wednesday, July 1, 2015.

OCTA Teen Council

OCTA is looking for new members to serve on its Teen Council during the 2015-2016 school year. Students members will have the opportunity to give input and work together on projects that will impact the way that OCTA promotes services, specifically for teens. Teen Council Applications and flyers are available on OCTA's website. The application period is now open, and will close on July 31, 2015. High school students between the ages of 13-18 are invited to apply. More information about the OCTA Teen Council can be found online at: www.octa.net/teencouncil.

Federal Aviation Administration's Southern California Metroplex Initiative:

A Metroplex is a region with multiple airports serving major metropolitan areas where heavy airport activity and environmental constraints combine to hinder the efficient movement of air traffic. Metroplex initiatives are completed, under way or planned in more than a dozen metropolitan areas across the country, including Northern California, Houston, Washington, D.C., Atlanta and Charlotte.

Many of the current air traffic procedures in Southern California are decades old. While they are all safe, some are inefficient because they rely on ground-based navigation aids, which limit available flight paths.

Some procedures are longer than necessary, while others converge and occupy the same airspace. As a result, air traffic controllers issue a series of instructions to pilots to vector aircraft onto more direct routes and to keep aircraft safely separated from each other. Vectoring, in turn, results in irregular and less predictable flight paths and increases pilot-controller communications and workload.

Satellite-based procedures, by contrast, allow for more direct routing with fixed routes, altitudes and speeds. Their precise flight tracks help keep routes automatically separated. This in turn reduces the need for vectoring and reduces controller-pilot communications.

In all, the proposed Southern California Metroplex project includes 109 new satellite-based procedures – 50 departures, 37 arrivals and 22 approach procedures that guide aircraft down until they're very close to their destination airports. The project also expands the number of entry and exit points into and out of the Southern California airspace, which is like creating more on- and off-ramps in the sky.

Additional information on the Metroplex Program can also be found at http://www.metroplexenvironmental.com/.

The public workshop dates and locations are as follows. The public can attend workshops anytime between 4 p.m. and 7 p.m.

June 16: Santa Ana. McFadden Intermediate School, 2701 S. Raitt St., Santa Ana, CA 92704
June 17: Santa Monica. Santa Monica Public Library – Main Branch, 601 Santa Monica Blvd., Santa Monica, CA 90401
June 18: Los Angeles. Proud Bird Restaurant, 11022 Aviation Boulevard, Los Angeles, CA 90045
June 22: San Diego. Logan Heights Library, 567 S. 28th St., San Diego, CA 92113
June 23: Palm Desert. Palm Desert Library, 73-300 Fred Waring Drive, Palm Desert, CA 92260
June 24: Torrance. Ken Miller Auditorium, 3341 Torrance Blvd., Torrance, CA 90503
June 25: Long Beach. Beach High School, 3701 E. Willow St., Long Beach, CA 90815
June 26: Ontario. Ontario International Airport Administration Building, 1923 East Avion Street, Ontario, CA 91761
June 29: Ventura. E.P. Foster Library, 651 E. Main St., Ventura, CA 93001
June 30: Santa Barbara. The Westside Neighborhood Center, 423 W. Victoria St., Santa Barbara, CA 93101
July 1: Burbank. Burbank Community Services Building, 150 N 3rd St., Burbank, CA 91502

Healthcare Advisory

World Elder Abuse Day: WORKING TOGETHER TO RAISE AWARENESS IN ORANGE COUNTY

The Orange County Social Services Agency's Adult Protective Services Program (APS), in conjunction with numerous community partners through the Ageless Alliance, is commemorating World Elder Abuse Awareness Day (WEAAD) by participating in a series of events from June 13-14, 2015. Experts and survivors will educate the Orange County community on issues related to elder abuse and celebrate those working everyday toward improving the lives of older adults. The Agency will also participate in a town hall meeting, sponsored by the California Department of Insurance, on June 15, 2015.

In 2014, Orange County APS social workers investigated over 9,000 reports of abuse and neglect to elder and dependent adults; a 14% increase from 2013. WEAAD serves as a call-to-action for individuals, organizations and communities to raise awareness about abuse, neglect and exploitation of elders. The International Network for the Prevention of Elder Abuse and the World Health Organization at the United Nations (UN) launched the first World Elder Abuse Awareness Day on June 15, 2006 in an effort to unite communities around the world in raising awareness about elder abuse.

The Ageless Alliance brings together private and public community partners including Orange County Social Services Agency's Adult Protective Services, the University of California Irvine Medical Center, the Office of Aging, Human Options, the National Center on Elder Abuse, and the Council on Aging Orange County. Together, Ageless Alliance's goal is to eliminate elder abuse, neglect, and exploitation. Orange County is ground zero for the elder justice movement, uniting people to take action to ensure the dignity of Americans at every age.

Community members are welcomed and encouraged to attend any of the events below to become motivated and learn how to actively make a difference in their communities.


Sunday, June 14th
Laguna Woods Village
Club House 3
23822 Avenida Sevilla
Laguna Woods 92637
1:30-3:00 p.m.
RSVP: (949) 527-6885
Find more information at: www.agelessalliance.org
Monday, June 15th
Laguna Woods Village
Club House 3
23822 Avenida Sevilla
Laguna Woods 92637
2-3:30 p.m.
RSVP: (916) 492-3588
Request additional information at: Lindsey.Hart@insurance.ca.gov

CalOptima FY 2015–16 Budget Reflects Membership Growth

I am proud to be on the Board of CalOptima, the County's Medi-Cal provider, As of June 1, more than 732,000 individuals are enrolled in CalOptima's Medi-Cal program. This marks an increase in membership of more than 55 percent in the past 18 months. CalOptima's unprecedented growth is tied directly to the expansion of the Medi-Cal program to include individuals with incomes between 100 percent and 138 percent of the Federal Poverty Level (FPL).

To support this growth, the Board of Directors approved CalOptima's FY 2015–16 operating budget of $3.6 billion. Revenue by CalOptima's four major lines of business is:

Medi-Cal: $3.2 billion
OneCare Connect: $343.2 million
OneCare: $97.1 million
Program of All-Inclusive Care for the Elderly (PACE): $9.2 million
Despite this unprecedented increase in membership, CalOptima remains an excellent steward of public funds, as the budget projects to spend more than 95 cents of every dollar on patient care.

OC Pet of the Week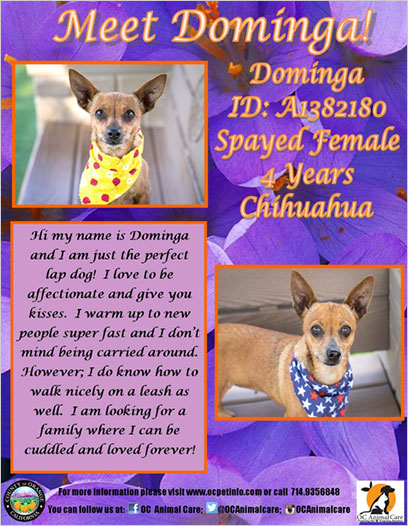 Click on the image above to view a PDF version.

Out and About South County

Aliso Viejo: Southern California Association of Governments RTP/SCS Open House

June 18th from 6-8 p.m. Give your thoughts on important issues in the region such as traffic and congestion, housing, air quality, open spaces, public health and the economy. Help guide the development of the 2016-2040 Regional Transportation Plan/Sustainable Communities Strategy (RTP/SCS), a long-range vision for Southern California, including the counties of Imperial, Los Angeles, Orange, Riverside, San Bernardino and Ventura. The open houses will be held at various locations in each of the six counties, from May 26 to June 29, 2015, and will provide context of the 2016 RTP/SCS and provide opportunities for input. There will be no formal presentation and topics can be explored at your own pace. For more information about the 2016 RTP/SCS, visit http://scagrtpscs.net. A downloadable PDF schedule of all open house locations is also available here.

Dana Point: Whale Walk and Talk

9 a.m.-11 a.m. Learn about the area's largest mammal visitor on this 1.5-mile walk through the Dana Point Headlands conservation area. Offered on the second Saturday of the month, except in October and November. Hear about California gray whale migration patterns, different whale species and learn how to spot, watch and identify whales. Bring binoculars or borrow ours. RSVP to wgintern@danapoint.com or 949.248.3527. Dana Point Nature Interpretive Center, 34558 Scenic Drive, Dana Point, www.danapoint.org.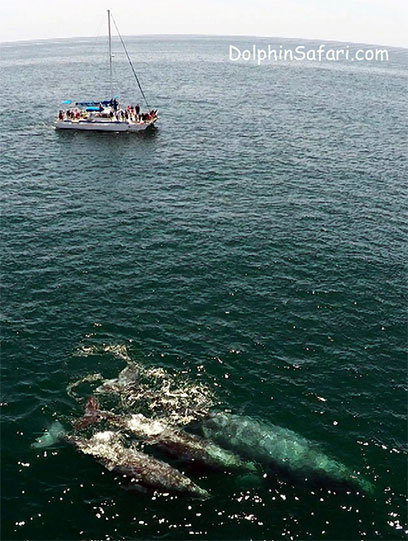 Dolphin Safari located in Dana Point Harbor shared the photo documenting the rare sighting of a gray whale mother with two calves in tow.

Mission Viejo: Equestrian Show Jumping Competition - Blenheim June Classic Series

June 03, 2015 - June 28, 2015 at Rancho Mission Viejo Riding Park. Events range from Olympic caliber show jumping to rodeos. Address: 30753 La Pata Road, San Juan Capistrano, CA 92675 from 8:00 AM to 5:00 PM. Admission is FREE. Recurrence: (Every Sunday, Wednesday, Thursday, Friday, Saturday). 949-489-8825.

Last but not least this week I:

Participated in the Orange County Transportation Authority Board Meeting.
Participated in the Orange County Board of Supervisors Budget Hearing.
Participated in the Transportation Corridor Agencies Joint Executive Committee.
Participated in the Transportation Corridor Agencies Board Meetings.
Delivered a presentation on transportation at the Dana Point Government Affairs Forum.
Toured Kaiser Medical Center in Irvine.

My Staff:

Participated in the Federal Aviation Administration's Southern California Metropolex Informational Briefing.
Attended the ACC-OC Infrastructure Summit.
Participated in the OC Public Works Alternative Project Delivery Methods workshop.
Presented a certificate at the Regency Vintage Senior Living Ribbon Cutting.
Discovery Cube Expansion Grand Opening
Attended the OC Veterans Summit.
Presented a certificate at the Carolyn Rife Photography ribbon cutting in Aliso Viejo.
Attended the Senior Citizens Advisory Council meeting.
Presented a certificate at Casual (clothing store) ribbon cutting in Laguna Beach.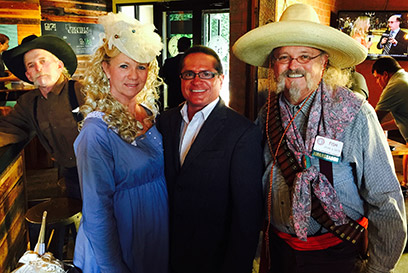 DISTRICT

STAFF
Paul Walters
Chief of Staff

Victor Cao
Policy Advisor

James Dinwiddie
Policy Advisor

Kelley Jimenez
Policy Advisor

Sergio Prince
Community Relations Advisor

Tanya Flink
Office Manager



Stay Updated!