County Connections

South Orange County Beaches Earn an A+ Average by Heal the Bay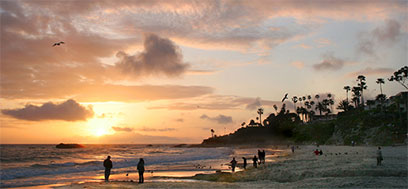 As you and your family enjoy the summer, you can be assured that our beaches are safe and clean. With more than half of the coastline in Orange County, South Orange County beaches earned an A+ average by Heal the Bay. Of the four Orange County beaches that made the Honor Roll, three South County beaches were highlighted (Treasure Island, Dana Point Harbor Guest Dock, and Laguna Lido). Over 95% of our beaches had a letter grade of A+or A.

I would like to thank Fifth District cities, OC Parks, OC Flood Control District, OC Environmental Resources, and Health the Bay for their work in improving water quality. To view the 2015 Beach Report Card, please visit: http://www.healthebay.org/beach-report-card

Supervisor Honors Lake Forest Deputy

I was honored to join with the City of Lake Forest in memorial services this past week to remember the passing of Deputy Brad Riches who was killed in the line of duty on June 12th, 1999. The American flag from the Supervisors offices was delivered graveside at El Toro Memorial Cemetery to mark the 16th anniversary of this tragedy from the people of Orange County who will never forget the ultimate sacrifice by Deputy Riches.

I extend my prayers and condolences to his family and friends at the OCSD as we remember the passing of one of OC's Bravest.

Pelagic Red Crabs

Beachgoers were seeing red this weekend as scores of pelagic red crabs washed ashore at Salt Creek, Strands and other south OC beaches. The crustaceans have not been seen in the area for decades, but with the recent rise in water temperatures off of the coast of Southern California, the crabs made their way to Orange County.

The animals move with ocean currents, and occasionally inshore. Once the Pleuroncodes planipes, also known as pelagic red crabs or tuna crabs, get close to shore, they cannot go anywhere and just wash in. The tiny crabs range in size from 1 to 3 inches, and once washed ashore, are not strong enough swimmers to make their way back out.

The pelagic red crabs are the latest in a year of odd sightings along the coast. Recently, small bright blue jellyfish-like creatures known as "by-the-wind sailors" have been spotted. These occurrences are being attributed to a huge patch of warm water that has been parked off the West Coast for months, which scientists have named "The Blob."

OC Parks staff are currently observing the phenomenon but not interfering. Any attempt to clean up the beach at this point might result in harm to the living crabs.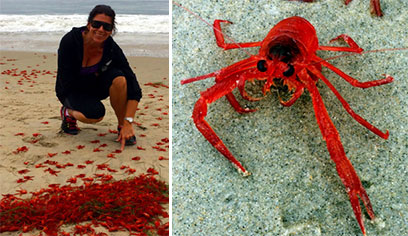 Photos courtesy of Donna Kalez of Dana Wharf Sportfishing & Whale Watching

Fifth District Artist's Abstract Paintings Displayed at John Wayne Airport

John Wayne Airport (JWA) features a collection of abstract paintings by Laguna Beach artist, Paul Gardner, in the Thomas F. Riley Terminal as part of the Airport's Community Focus Space Program. The paintings can be viewed on the Departure (upper) Level near the security screening areas in Terminals A, B and C, and on the Arrival (lower) Level adjacent to Baggage Carousels 1 and 4, now through July 15, 2015.

I am proud to represent Paul and thank him for his contribution to travelers worldwide through the museum-quality art exhibit at JWA.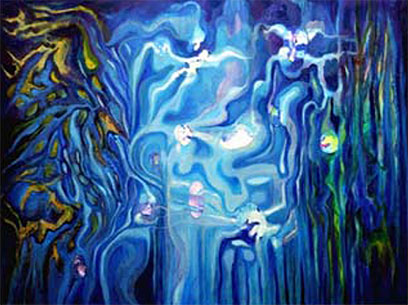 Light on Water by Paul Gardner

Clerk-Recorder to Offer Extended Summer Hours on Wednesdays

Beginning Wednesday, July 1 through Wednesday, September 30, 2015, Clerk-Recorder Hugh Nguyen will be keeping his offices open for an additional hour every Wednesday. The extended Wednesday hours will be offered at all locations with the exception of the department's office inside the County Community Service Center in Westminster.

The department will extend its closing hours every Wednesday from 4:30 pm to 5:30 pm. This will give busy individuals and families an opportunity during the summer to obtain important services such as passports, marriage ceremonies and licenses, birth, death and marriage certificates, fictitious business names and notary registrations. The Orange County Archives will also be open to the public during these extended hours. Please note that real property recording will not be available during the extended Wednesday hours.

Since taking the helm, Clerk-Recorder Hugh Nguyen has been committed to making his department's services more accessible to the public. He has opened his offices one Saturday per month for the past two years offering limited services such as marriage ceremonies and licenses, passport services and vital and official records. The response from the public has been phenomenal. Clerk-Recorder Hugh Nguyen is looking forward to having the same response from the public for these extended Wednesday hours.

For more information regarding the services offered by the department, special Saturday hours and extended Wednesday hours, please visit us at www.ocrecorder.com.

OC MOVES

OCTA Board Approves $1 Billion Balanced Budget

The Orange County Transportation Authority Board of Directors approved a balanced $1 billion budget for the upcoming year during its meeting last week.

The 2015-16 budget encompasses all services, projects and programs that are administered by OCTA. Major initiatives for the budget include sustaining bus service levels without raising fares, continuing Measure M improvements and operating the 91 Express Lanes.

This balanced budget is a result of OCTA's mission to deliver long-term sustainable transportation solutions for the residents of Orange County. Funding allocations for the budget include:

$371 million to support bus operating and capital expenditures
$202 million for streets and roads improvements
$132 million to support rail operating and capital expenditures
$136 million for freeway projects
OCTA is the county's transportation agency, responsible for planning, financing and coordinating Orange County's freeway, street and rail development, as well as managing the countywide bus and rail service, the 91 Express Lanes and Orange County's Taxi Administration.

OCTA Teen Council

OCTA is looking for new members to serve on its Teen Council during the 2015-2016 school year. Students members will have the opportunity to give input and work together on projects that will impact the way that OCTA promotes services, specifically for teens. Teen Council Applications and flyers are available on OCTA's website. The application period is now open, and will close on July 31, 2015. High school students between the ages of 13-18 are invited to apply. More information about the OCTA Teen Council can be found online at: www.octa.net/teencouncil.

Healthcare Advisory

Mental Illness Linked to Shorter Life Spans in OC

Consistent with previous studies, the Orange County Health Care Agency (HCA) has found that Orange County residents with a severe mental illness tend to die earlier, about 18 years earlier, than the general population. Specifically, the average age at death for residents with a documented mental illness was 58.5 years, compared to 76.2 years among deaths to residents without any mention of a mental illness on their death certificate.

Nearly 8 in 10 residents with a mental illness died prematurely (before age 75) compared to only 36% of all deaths to County residents without any mention of mental illness. While unnatural causes like accidental overdose and suicide were indeed a part of the reason, this increased mortality is largely thought to be due to treatable medical conditions caused by modifiable risk factors such as smoking, obesity, substance abuse, psychotropic medication side effects, and inadequate access to medical care as indicated by the top five leading causes of premature death to mentally ill residents:

Accidental (e.g., unintentional overdose)
Heart Disease
Suicide
Cancer
Chronic Lower Respiratory Disease (e.g., emphysema, COPD)
Seventy percent of all deaths to people with a mental illness were due to preventable causes. Efforts aimed at enabling the mentally ill to better manage chronic physical health conditions and promoting more healthful behaviors will help improve the quality and years of life for this population in Orange County.

If you know someone who needs help please call:



OC Pet Adoption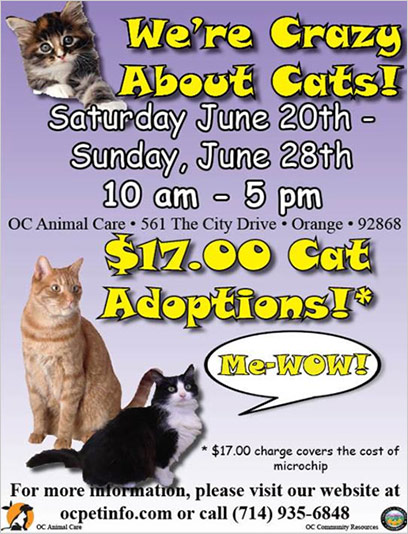 Click on the image above to view a PDF version.

Out and About South County

Dana Point: Food, Wine and Music Festival

Saturday, June 27th from 12-7 pm at Terrace Park, Dana Point. There is free admission and free trolley / shuttles. Dogs are okay on a leash. For more information visit www.foodwineandmusicfestival.com.

Laguna Beach: Pantry Palooza

Friday, June 19th Happy Hour from 5:30-7 pm at the Marine Room Tavern, 214 Ocean Avenue to raise money for Laguna Food Pantry. Come listen to live music by the Blues Offenders, eat tacos from La Sirena Grill, drink specialty cocktails and enter an opportunity drawing. Tickets are $50 at the door. Bring non-perishable food items.

Laguna Hills:

Volunteers needed for South County Outreach, non-profit. Individuals will assist with food pantry, thrift store, computer lab and office. Help also needed for those seeking assistance and to sort donations. For more information contact Johanna Stickles (949)380-8144 ext. 217 or jstickles@sco-oc.org

Lake Forest: Hazardous Waste Collection Days

Saturday, June 27 from 8:00 a.m. to 4:00 p.m. or on Sunday, June 28 from 8:00 a.m. to 3:00 p.m. at El Toro High School (25255 Toledo Way, student parking lot at the corner of Ridge Route and Serrano) to drop off your hazardous waste.

For more information regarding acceptable items, items not accepted, and information on a year household hazardous waste program

Mission Viejo: Equestrian Show Jumping Competition - Blenheim June Classic Series

June 03, 2015 - June 28, 2015 at Rancho Mission Viejo Riding Park. Events range from Olympic caliber show jumping to rodeos. Address: 30753 La Pata Road, San Juan Capistrano, CA 92675 from 8:00 AM to 5:00 PM. Admission is FREE. Recurrence: (Every Sunday, Wednesday, Thursday, Friday, Saturday). 949-489-8825.

Last but not least this week I:

Participated in World Elder Abuse Day event in Laguna Woods.
Participated in the Orange County Board of Supervisors Budget meeting.
Participated in the Orange County Local Agency Formation Commission meeting.
Attended the Orange County Building Industry Association Gala.
Participated in the Orange County Transportation Authority Legislative and Communications Committee meeting.
Delivered the commencement speech at the Arts Institute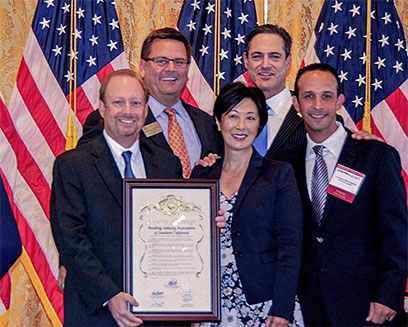 Chairman Todd Spitzer and Vice-Chair Lisa Bartlett present a resolution honoring the Building Industry Association's work to build the American Dream for Orange County residents.

Front-left to right: Tom Grable (TRI Pointe Homes), The Honorable Lisa Bartlett, The Honorable Mitchell Englander

Back: Michael Battaglia (Standard Pacific Homes/BIASC President), The Honorable Todd Spitzer
Photo by: Garland West, Inflection Studio

My Staff:

Attended the LAFCO Community Workshop.
Attended the Southern California Association Council of Governments Open House.
Attended the Coto de Caza Equestrian Open House.
Staffed a County Information Booth at RanchoFest in Rancho Santa Margarita.
Presented a certificate of recognition in honor of the ribbon cutting ceremony for the American Cancer Society Discovery Shop in Laguna Niguel.
Presented a certificate of recognition in honor of the ribbon cutting ceremony for the San Juan Capistrano Trolley.
Presented a certificate of recognition in honor of the ribbon cutting ceremony for Amazing Lash Studio in Rancho Santa Margarita.
Staffed a County Information Booth at the Classic Car Show in San Clemente.
Presented a certificate of recognition in honor of the ribbon cutting ceremony for Bone Yard Café at Doheny State Beach.
Presented a certificate of recognition in honor of the ribbon cutting ceremony for the Dana Point Trolley.
Presented a certificate of recognition in honor of the San Juan Capistrano ribbon cutting ceremony for Courtesy Chrysler Dodge Jeep Ram of Orange County.

South County Elected Officials in the Community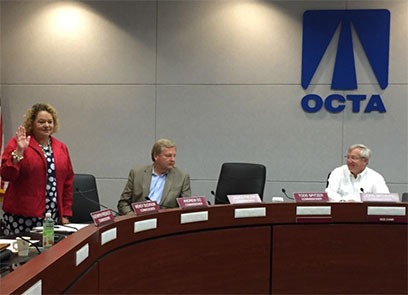 Mission Viejo Council Member Wendy Bucknum taking oath of office as LAFCO alternate city member.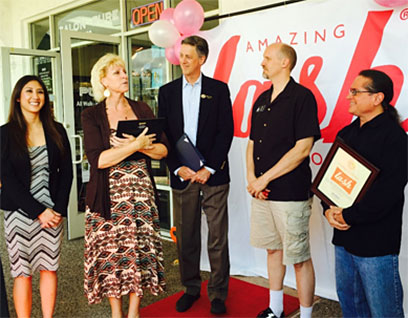 Mayor Brad McGirr at the ribbon cutting ceremony for Amazing Lash Studio in Rancho Santa Margarita.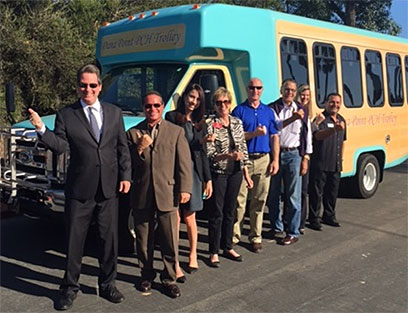 Councilman Scott Schoeffel, Councilman Richard Viczorek and Mayor Carlos Olvera at the ribbon cutting ceremony the Dana Point Trolley.