County Connections

Don't Miss The 2015 South County Senior Summit!

You are cordially invited to attend the 2015 South County Senior Summit. This enormously popular annual event will take place Friday, July 24 at Laguna Woods Village, Clubhouse 3.

The 2015 Senior Summit will begin at 8:00 AM with a complimentary continental breakfast and vendor fair, followed by an informative and exciting program that will begin at 9:00 AM. The program will also feature a panel of highly renowned experts presenting diverse issues related to our theme: "The State of Aging in Orange County".

Speakers include:

Michael Schrader, CEO, CalOptima
Jim McAleer, President/CEO, Alzheimer's Association OC
Dr. Claudia Kawas, Professor, Department of Neurology, UC Irvine
Dr. Kerry Burnight, Professor, Geriatric Medicine, UC Irvine
Dr. Marilyn Ditty, CEO, Age Well Senior Services.
Over 1,000 older adults are expected to attend the 2015 Senior Summit, which will be televised to thousands of households throughout South County. At the close of the program, complimentary lunch will be provided for all attendees.

Space is limited and reservations are required, so please don't delay, RSVP today at (800) 510-2020. For more information, please click here.

Filing of Annual Assessment Appeals

The Orange County Clerk of the Board reminds residents that the NEW Annual Filing Period for filing an assessment appeal is July 2, 2015 through November 30, 2015. If you believe the value of your property was less than the assessed value established by the Assessor for the January 1, 2015 lien date, you can challenge your assessment by filing an assessment appeal and have it heard by a three member appeals board or a single hearing officer under certain circumstances.

You are not required to use a tax agent to file an appeal and Orange County does not charge a processing fee to file assessment appeals.

The Clerk of the Board encourages those filing an appeal to use the online e-file program that provides step-by-step assistance in completing your appeal form. You can locate the Online Appeal Application at assessmentappeals.ocgov.com/aa/.

Workshops are held at various locations throughout the County to provide the public with information on the appeal process and how to prepare for their hearing. Workshop schedules can be found at ocgov.com/gov/cob/apa/workshops.

OC WASTE & RECYCLING EXEMPLIFIES PUBLIC ENGAGEMENT

The Association of California Cities-Orange County last week awarded the Golden Hub of Innovation to OC Waste & Recycling (OCWR) for two of its programs:

Community Outreach Ambassador Program
Landfill Good Neighbor Policy
All Orange County cities, special districts and public agencies are eligible for the awards, which are given annually in several categories. OC Waste & Recycling garnered two awards in the category of Public Engagement. "OC Waste & Recycling works hard to be a good neighbor when it comes to solid waste management. That includes implementing best management practices in operations and pro-active engagement with landfill neighbors," said Chairman of the Board of Supervisors, Todd Spitzer upon hearing of the awards.

The Community Outreach Ambassador Program also reflects OCWR's core values of collaboration, competency, challenge and variety.

OC Waste & Recycling's Community Outreach Ambassador Program increased the reach of their recycling message by training and deploying employees to serve at public events. OCWR's Ambassadors can be seen working at events all around the County—using their knowledge and experience to inform and educate the public to reduce, reuse and recycle. Information about upcoming events is available at www.ocecochallenge.com.

Since 2012 a strategic Good Neighbor Policy at Orange County landfills has created good will to ensure continued operations and responsiveness to community concerns. Information about Orange County's landfills can be found at oclandfills.com/landfill/.

OC MOVES

Rapid Bus Service Gets Boost from State Grant Funds

A planned rapid bus service along one of the most heavily used routes in the county will become a reality thanks to a state grant awarded today to the Orange County Transportation Authority.

OCTA will receive $2.3 million from the Transit and Intercity Rail Program, part of the state's cap and trade funding program. The program was created to fund capital improvements that cut greenhouse gases by reducing the number of miles that people drive.

The grant will allow OCTA to buy cleaner-burning compressed natural-gas buses to launch a rapid bus service between the Santa Ana Regional Transportation Center and the VA Hospital in Long Beach.

The service, called Bravo! Route 560, will operate every 12 minutes during rush hour and every 18 minutes midday between SARTC and Goldenwest Boulevard in Westminster. Every other trip will serve Long Beach. Route 560 will travel 17th Street and Westminster Boulevard along the same route with fewer stops than OCTA's existing Route 60. It's expected that the rapid bus service will provide riders a travel time savings of 25 percent over the existing service, which currently takes more than 90 minutes from Santa Ana to Long Beach.

OCTA anticipates the service will begin operating in September 2016.

A transit-oriented development planned for Santa Ana also received grant funding through the state's program. A 70-unit project to be built by a private developer directly across the street from SARTC, called The Depot at Santiago, received a $3.9 million grant.

The housing project will improve the intersections of Santa Ana Boulevard/Lacy Street and Santa Ana Boulevard/Garfield Street to increase the visibility of pedestrians, decrease the crossing distance for pedestrians and notify drivers when pedestrians are crossing. As part of this project, the city also plans to install curb extensions, high-visibility crosswalks, rectangular rapid flashing beacons and signs.

Healthcare Advisory

CalOptima Program of All-Inclusive Care for the Elderly Meets Key Performance Indicators

CalOptima's Program of All-Inclusive Care for the Elderly (PACE), a unique model of managed care service delivery for frail older adults with chronic illnesses and functional impairments, has achieved key performance indicators in its first Quality Assessment and Performance Improvement Plan (QAPI). These indicators are annually reviewed by the PACE governing body, CalPace, and include surpassing the immunization goals required by the Centers for Medicare and Medicaid Services (CMS), member satisfaction, quality of care and services and more.

CalOptima PACE received an overall member satisfaction score of 90 percent, the second highest in the state, which speaks to the overall success of the program. Studies have shown the participants in PACE programs have lower utilization rates, including 30-day all cause readmissions. In 2014, CalOptima PACE had a significantly lower rate of readmissions than the average of all PACE programs in California as reported by CalPACE. Lastly, overall satisfaction with medical care ranked at 94 percent, the second highest rate in California.

CMS also requires that 80 percent of PACE program members across the country are required to receive their annual pneumococcal and influenza vaccinations. The CalOptima PACE program has a vaccination rate of 100 percent.

CalOptima PACE is currently working on its 2015 QAPI Plan and will share the results in 2016. For additional information about the program, visit caloptima.org.

SAFETY FIRST

Have a Happy and Safe Fourth of July

As a Board Member of the Orange County Fire Authority, I want to wish you a happy and safe Fourth of July. Each year in the United States, more than 10,000 people suffer injuries and burns from fireworks. Fireworks are only legal in the cities of Anaheim, Buena Park, Costa Mesa, Fullerton, Garden Grove, Huntington Beach, Stanton, Villa Park, and Westminster. South Orange County residents have access to several professional public fireworks shows. To find the nearest show, please download the flyer or visit ocfa.org.

OC Pet of the Week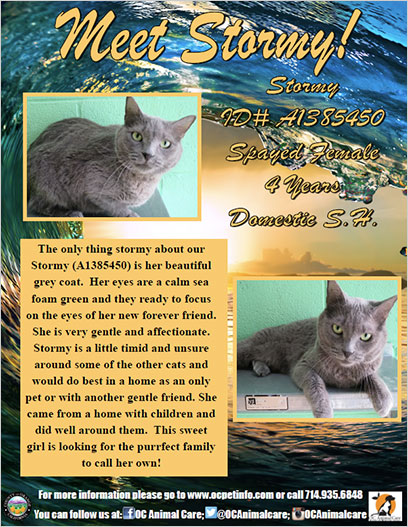 Click on the image above to view a PDF version.

Impact of Fireworks on Animals

OC Animal Care expects an increased intake of dogs during 4th of July each year. In 2014, OC Animal Care took in 31 dogs on July 4th and 48 dogs on July 5th. These numbers are nearly double and triple an average daily dog intake.

During 4th of July festivities, even the most docile dog can become panicked and stressed. Dogs left outdoors may jump, dig or break through fences to escape the noise. It is recommended that pet owners keep their pets indoors during the festivities and keep them calm by providing favorite toys and bedding and blocking out sounds with TV or radio. Pet owners may also want to discuss options for medication if their pet experiences extreme stress.

OC Animal Care hosted a free pet tag event in June to encourage pet owners to place an identification tag on their pet. This was done in hopes that more pet owners would help their pets find their way home should they get loose and be brought into the shelter.

Out and About South County

Aliso Viejo

10 am – 6 pm: Aliso Viejo Aquatic Center $3 admission for swimming, music & food
6 pm – 9:30 pm: Aliso Viejo Town Center free admission for live music, bounce houses, face painting, games, food (for purchase), and fireworks.

Dana Point

9 am – 2 pm: Free Arts & Crafts Fair at La Plaza Park.
9 pm: Free Fourth of July Fireworks Extravanganza at Doheny State Beach. Free shuttle buses.

Synchronized musical score on 88.5 FM

Ladera Ranch

9th Annual 5K / 10K Run Legendary Competitor 5K & 1K Little Firecrackers Dash: Benefiting the Laura's House & the Ladera Ranch Education Foundation

6:00AM Registration Opens
7:00AM 10K Start
7:45 - 11:30AM Pancake Breakfast
8:30AM 5K Start
8:35AM Legendary Competitor 5K
9:45AM 1K (Firecracker) Start
10:30AM Ladera Community Parade
3:00 - 8:00PM Founders Park Entertainment & Activities
Dark - Fireworks

Laguna Beach

10 am – 6 pm: Fourth of July at Art-A-Fair, free admission.
10:30 am onwards: Fourth of July Concert by Laguna Concert Band at the Sawdust Arts Festival, free with admission to the festival. Children 5 & under are free. Adults $8.50.
9 pm: Free Fireworks show at Heisler Park.
Please Note: The free trolley will run from 9:30 am-7:30 pm on limited service.

Laguna Hills

4 pm – 9:30 pm: free admission at Laguna Hill Community Center for Carnival rides and games, live music, patriotic crafts and face painting
9:10 pm: Fireworks

Laguna Niguel

37th Annual Run In the Parks at Crown Valley Park

6 am: Registration opens
7:30 am: 5K walk & 10 run begin
9:30 am: Children's races begin

7:30 – 11 am: 33rd Annual Pancake Breakfast
6 pm: Free summer concert series kickoff at Crown Valley Park Amphitheater
9 pm: Free fireworks spectacular at Laguna Niguel Regional Park

Lake Forest (UPDATED)

7 – 10 am: Kiwanis Pancake Breakfast, $6 / person in front of El Toro High School gym
7:30 am: El Toro High School PSTO CHARGERS 5K Run/Walk www.lakeforest5k.org
10 am: "Lake Forest Sports Town USA!" 4th of July Parade

Mission Viejo

12 pm: Olympiad Road Festival & Street Fair with food & games. Music, dance, and comedy acts will be entertainment.
9 pm: Fireworks display

San Clemente

9 pm: Fireworks show at the pier, free.

San Juan Capistrano

3 – 9:30 pm: San Juan Capistrano Sports Park with food, games, drinks, vendors, etc.
6:30: Live performance by Family Style
9 pm: Fireworks display

Last but not least this week I:

Attended the Gloria Dei groundbreaking ceremony.
Toured the Groundwater Replenishment System.
Participated in the Orange County Board of Supervisors Special Board meeting.
Participated in the Transportation Corridor Agencies Special Board meeting.
Participated in the Transportation Corridor Agencies Mobility Ad Hoc.
Participated in the Transportation Corridor Executive Committee.
Toured the CalOptima Pace Center
Participated in the Urban Counties Caucus Board meeting.
Participated in the Orange County Fire Authority Special Board meeting.
Delivered a presentation at the Laguna Chamber of Commerce Government Affairs meeting.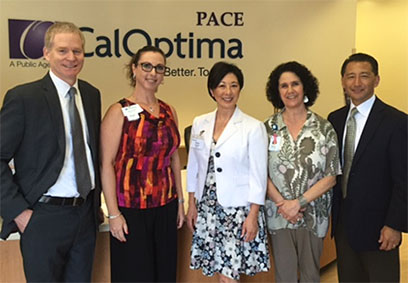 My Staff:

Attended the MECCA Multi-Ethnic Arts & Family Festival
Toured the Theo Lacy Jail Facility