County Connections

2015 South County Senior Summit Update

You are cordially invited to attend the 2015 South County Senior Summit, which I'm pleased to host this year in partnership with Senator Pat Bates, Age Well Senior Services, Inc., and the Orange County Office on Aging. This enormously popular annual County event will take place Friday, July 24 at Laguna Woods Village, Clubhouse 3.

The 2015 Senior Summit will begin at 8:00 AM with a complimentary continental breakfast and vendor fair, followed by an informative and exciting program that will begin at 9:00 AM. The program will also feature a panel of highly renowned experts, presenting diverse issues related to our theme: "The State of Aging in Orange County".

Speakers include:

Michael Schrader, CEO, CalOptima
Jim McAleer, President/CEO, Alzheimer's Association OC
Dr. Claudia Kawas, Professor, Department of Neurology, UC Irvine
Dr. Kerry Burnight, Professor, Geriatric Medicine, UC Irvine
Dr. Marilyn Ditty, CEO, Age Well Senior Services
Karen Roper, Director, OC Community Services
Over 1,000 older adults are expected to attend the 2015 Senior Summit, which will be televised to thousands of households throughout South County. At the close of the program, complimentary lunch will be provided for all attendees. I want to thank CalOptima for serving as our Title Sponsor for the 2015 South County Senior Summit.

Space is limited and reservations are required, so please don't delay, RSVP today at (800) 510-2020. For more information, please click here and here.

OC MOVES

Northbound I-5 Ramp Closure

Orange County Transportation Authority's I-5 Improvement Project extends from Avenida Pico in San Clemente to San Juan Creek Road in San Juan Capistrano for 5.7-miles. All three segments are under construction.

The project will:

Extends carpool lane in both directions on I-5 from San Juan Creek Road to Avenida Pico
Improves sight distance on the southbound curve north of PCH
Reconstructs Avenida Pico interchange

Dual left-turn lanes to on-ramps
Widens northbound on-ramp to three lanes
Dedicated bike lanes
Adds soundwalls where needed
There will be a nine day continuous ramp closure beginning 10 p.m., Friday, July 17 to 5 a.m., Monday, July 27 at the northbound I-5 off-ramp to Camino Las Ramblas. For detour information click here. Please sign up for email project alerts at octa.net/I5South.

Healthcare Advisory

CalOptima Seeks OneCare Connect Cal MediConnect Plan Member Advisory Committee 2015–16 Candidates

The OneCare Connect Cal MediConnect Plan (Medicare-Medicaid Plan), hereafter "OneCare Connect", combines Medicare and Medi-Cal, including long-term services and supports, into a single health plan.

The CalOptima Board of Directors welcomes input and recommendations from its members and the community regarding CalOptima programs, including OneCare Connect. For this reason, CalOptima encourages members and community advocates to become involved in the OneCare Connect Member Advisory Committee (OCC MAC).

The OCC MAC will be composed of 10 voting members representing the various communities that OneCare Connect serves. The committee will report to the Board and will be asked to:

Provide input and recommendations to the Board and staff on issues concerning OneCare Connect as directed by the Board and as permitted under the law.
Take part in study, research and analysis of issues assigned by the Board or generated by staff or the OCC MAC.
Serve as liaison between interested parties and the Board. Assist the Board and staff in obtaining public opinion on issues related to OneCare Connect.
Create recommendations on issues for study to the CalOptima Board for its approval and consideration, as well as facilitate community outreach for OneCare Connect and the Board.
At this time, CalOptima is seeking OneCare Connect members and family members of OneCare Connect members to participate on its OCC MAC. Service on the OCC MAC is voluntary and with no salary. The following one- or two-year seats are available:

OneCare Connect member or family member of a OneCare Connect member (three seats)

One seat will serve a one-year term
Two seats will serve two-year terms
The committee encourages interested individuals with knowledge of or experience with OneCare Connect, Medicare, Medi-Cal and dual eligible populations to apply.

If you have any questions, please call 1-714-246-8635. To apply, please mail or email the Member application by August 14, 2015, along with a biography or résumé and the CalOptima Authorization Disclosure form to:

CalOptima
Attn: Becki Melli
505 City Parkway West
Orange, CA 92868
Email: bmelli@caloptima.org

OC Pet of the Week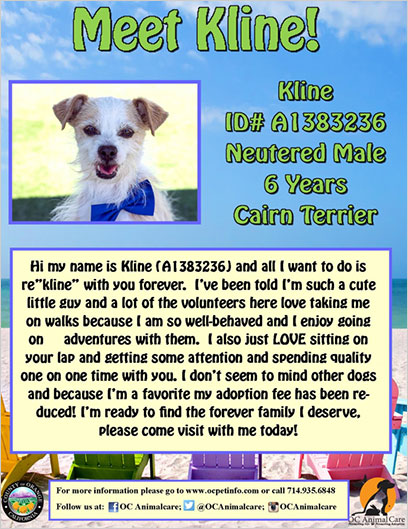 Out and About South County

Aliso Viejo: Movie, Concert in the Park

Aliso Viejo will kick off its movie in the park series this Friday, July 10 at Grand Park by showing the PG-rated "Lego Movie." The movie begins at dusk. Then on Sunday, July 12, the first summer concert of the year takes place from 5:30 p.m. to 7:30 p.m. at the Town Center/Grand Park amphitheater. Common Sense will rock the crowd with Surf/Reggae. For more information, please click here.

Dana Point: Summer Concert Series

On Sunday, July 12, Dana Point's first summer concert takes place from 2:30 p.m. to 6:00 p.m. at Lantern Bay Park, featuring Sapadilla (Calypso, Reggae) & Surf's Up (Beach Boy Tribute). For more information, please click here.

Laguna Niguel: Summer Concert Series

Come join Laguna Niguel for their annual Summer Concert Series located in the newly renovated Crown Valley Park Amphitheater on Friday, July 17, featuring The Reflexx from 6:30 p.m. to 8:30 p.m. For more information, please click here.

Mission Viejo: Symphony in the Cities

Come join Mission Viejo for Symphony in the Cities, featuring Pacific Symphony at Village Green at Oso Viejo Park on Saturday, July 18, 4:00 PM - 9:00 PM. For more information, please click here.

Rancho Santa Margarita: Summer Concert Series

On Sunday, July 12, bring your blankets and chairs to Central Park, located at the Civic Plaza, for the Rancho Santa Margarita Summer Concert Series, featuring The Springsteen Experience from 6:00 p.m. to 8:00 p.m. For more information, please click here.

San Clemente: Ocean Festival

The San Clemente Ocean Festival is celebrating 39 years of "The Greatest Show on Surf!" on July 18 & 19. For more information, please click here.

San Juan Capistrano: San Juan Summer Nites

Enjoy the San Juan Summer Nites concert series Wednesday, July 15, as Soul and R&B band Family Style takes to the stage at Historic Town Center Park, located at 31852 El Camino Real in San Juan Capistrano, starting at 6:00 p.m. For more information, please click here.

Last but not least this week I:

Participated in the Lake Forest Fourth of July parade.
Participated in the OCTA Regional Planning & Highways Committee meeting.
Participated in the July 8, 2015 Orange County Local Agency Formation Commission meeting.
Toured the Orange County Emergency Operations Center.
Met with Irvine Ranch Water District Board of Directors and staff.
Presented a proclamation to the Trabuco Canyon Water District for their work on the Shadow Rock Detention Basin Urban Water Recovery Project.
Hosted a Water Workshop Planning Meeting among various public agencies.
Participated in the Transportation Corridor Agencies Board meetings.
Met with OCTA CEO Darrell Johnson.
Met with City of Laguna Beach regarding San Onofre Nuclear Generating Station (SONGS).
Attended the San Juan Capistrano Chamber of Commerce Board Installation.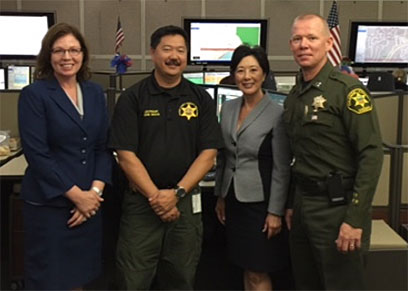 My Staff:

Attended the Orange County Islamic Foundation's Annual Iftar Dinner at the Mission Viejo Mosque, featuring special guest speaker Pastor Rick Warren of Saddleback Church.
Presented a certificate of recognition in honor of the ribbon cutting ceremony for Cost Plus World Market in Mission Viejo.
Presented a certificate of recognition in honor of the ribbon cutting ceremony for Sensitive Sweets at the San Clemente Chamber of Commerce.

South County Elected Officials in the Community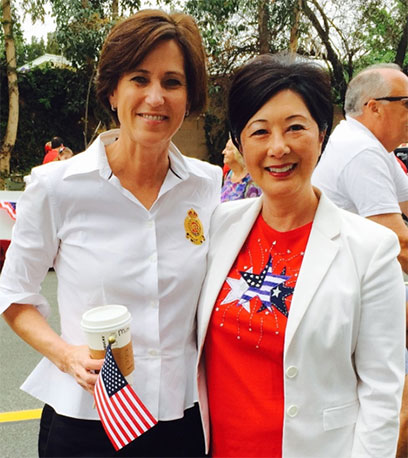 Congresswoman Mimi Walters at the Lake Forest Fourth of July Parade. For more pictures click here.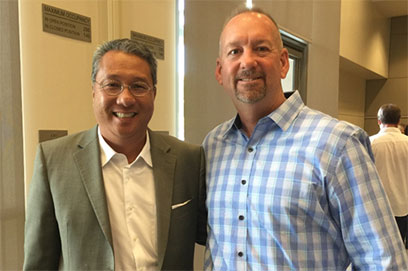 Aliso Viejo Councilmen Ross Chun and Dave Harrington at the Laguna Niguel Chamber Government Affairs Committee.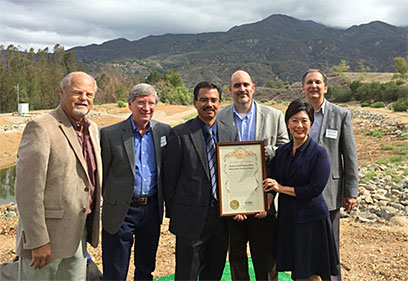 Presenting a County of Orange proclamation to Trabuco Canyon Water District for the dedication of Shadow Rock Detention Basin Urban Water Recovery Project
L-R: Director Jim Haselton, Director Michael Safranski, General Manager Hector Ruiz, Board President Stephen Dopudja, Director Ed Mandich, and Supervisor Lisa Bartlett