County Connections

County Board of Supervisors Addresses Public Health Concerns

On Tuesday, July 21st, the Board of Supervisors approved (3-2) the Health Care Agency's recommendation to adjust Environmental Health Fees in order to provide more frequent and consistent restaurant inspections, as well as to more fairly distribute the fee schedule for other businesses that fall under the County's Environmental Health inspection.

A number of services are subject to these inspections, including all food facilities, pools, body art businesses, and businesses that manage hazardous material and process solid waste. The focal point of the Board discussion revolved around increasing the restaurant fees to provide for additional inspections per year.

Since January of 2015, the Health Care Agency has averaged 1.6 inspections of complex food facilities per year, falling short of the FDA recommendation of 3 per year. Research has shown a correlation between the decreased number of inspections, and an increase in major violations and noncompliance. The environmental health fees have not been adjusted since 2008, and the department has scaled back operations to meet their budget. Environmental health involves the prevention of hazardous materials from contaminating ground water and other water sources and public swimming pools, in addition to protecting bathers from public health risks and ensuring that drowning prevention equipment is in place. The Health Care Agency staff recommended a 5.47%, 6.11%, and 4.05% increase of environmental health fees over the next three years, respectively, to meet FDA recommendations. My support for the fee adjustment stems from my concern to safeguard public health.

In addition, both the Food Safety Advisory Council, as well as restauranteurs ranging from corporate to individual ownership, supported this increase. Additional inspections will serve as an educational tool for business owners to ensure their compliance with the law and provide quality service to their customers.

The second major discussion of this item revolved around the restaurant public notification system. Although the Board was asked to consider adopting a letter grading system, the majority voted to maintain the current placard system.

Research has been conducted to evaluate the effectiveness of both systems, and neither have shown to be more successful than the other. In fact, many of the neighboring counties who operate under the grading method have run into substantive issues. For instance, an "A" grade in Los Angeles may pass for a "B" in San Diego, as there is no consistent point scale across the counties. Further, restaurants with a major violation (improper cooling temperatures, rodents, etc) may still qualify for an "A" under some point systems.

Until a more unified grading system has been established, I decided, along with the majority of the Board, to maintain the current system of Pass, Pass/Reinspection Due, and Closure placards.

The Health Care Agency strives to protect the public to the best of their ability; therefore, transparency is a priority. Anyone can ask an establishment for their inspection report, as well as access the information online at ocfood.com. There is also a new iPhone and Android App which allows access to all inspection reports and lists nearby restaurants based on current location. The app is available through the ocfood.com website.

Orange County Sanitation District Received Grant to Conduct a Water Reuse Study

The Bureau of Reclamation recently announced that the Orange County Sanitation District (OCSD) will receive a $450,000 grant from the 2015 WaterSMART: Title XVI Feasibility Studies Program. The grant will help fund a $2 million effluent reuse study that explores ways to expand the Ground Water Replenishment System (GWRS). The GWRS is a water recycling project jointly sponsored by OCSD and the Orange County Water District (OCWD) that supplements existing water supplies by providing a new, reliable, high-quality source of water to recharge the Orange County Groundwater Basin and to protect it from seawater intrusion.

Operational since January 2008, GWRS is the world's largest advanced water purification system for potable reuse and currently produces 70 million gallons per day (MGD) of purified recycled water that meets or exceeds drinking water standards. GWRS takes the treated wastewater that otherwise would be sent to the Pacific Ocean and purifies it using a three-step advanced process consisting of microfiltration, reverse osmosis, and ultraviolet disinfection/advanced oxidation.

The goal of the study will be to identify operational and treatment plant improvements to see how OCSD can best support the GWRS final expansion and achieve 100 percent water recycling. Currently, more than half of the secondary effluent, 100 MGD, is reused as source water for the GWRS. Initial expansion of GWRS is currently underway and will reuse up to an additional 40 MGD of OCSD highly treated wastewater. The remaining wastewater will be sent to the ocean. Modifications of OCSD's facilities are needed to serve the expansion of the GWRS. OCSD and OCWD are anticipating the final expansion will produce 130 MGD of purified recycled water.

I recently toured both the OCWD GWRS and the OCSD plant in Fountain Valley. I am extremely proud of the partnership between both public agencies and their continual efforts to increase efficiencies. I applaud the OCSD for their goal of 100 percent recycling. The award of this federal grant brings OCSD one step closer to their noteworthy goal.

OC MOVES

OC Fair Express Bus Service

The Orange County Transportation Authority is getting people to the OC Fair quicker than ever with more frequent OC Fair Express bus service and an additional stop in Anaheim this year.

The OC Fair Express will provide non-stop weekend service from nine locations to the OC Fair from July 17 to Aug. 16. Buses will run every 20 minutes from Fullerton and Huntington Beach, every 30 minutes from Santa Ana and every 40 minutes from the two Anaheim stops, Irvine, Laguna Hills, Orange and San Juan Capistrano. Service runs between noon and midnight on Fridays and 10 a.m. and midnight on Saturdays and Sundays.

The bus service costs $2 each way and riders will receive a coupon valid for $3 admission to the fair — a savings of $9 off the regular ticket price.

In 2014, the OC Fair Express, which ran hourly, recorded nearly 77,000 boardings, a 31 percent increase in ridership over the previous year.

To purchase tickets in advance, riders can download the OC Fair Express app, which also provides bus service schedules and routes.

Riders can catch an OC Fair Express from nine locations:

Anaheim: Anaheim Regional Transportation Intermodal Center, 2626 E. Katella Ave.
Anaheim Canyon: Anaheim Canyon Metrolink Station, 1039 N. Pacificenter Drive
Fullerton: Fullerton Park-and-Ride, 3000 W. Orangethorpe Ave.
Huntington Beach: Goldenwest Transportation Center, 7301 Center Ave.
Irvine: Irvine Metrolink Station, 15215 Barranca Parkway
Laguna Hills: Laguna Hills Transportation Center, 24282 Calle de los Caballeros
Orange: The Village at Orange, 1500 E. Village Way
Santa Ana: The Depot at Santa Ana, 1000 E. Santa Ana Blvd.
San Juan Capistrano: Junipero Serra Park-and-Ride, I-5 Freeway and Junipero Serra Road
The OC Fair Express is made possible in part by a grant provided by the Mobile Source Air Pollution Reduction Review Committee. The committee provides subsidies for cleaner transportation alternatives.

For more information, visit www.octa.net/ocfairexpress.

I want to thank OCTA staff for their dedication in continually improving the OC Fair Express service year after year since 2006. The implementation of a mobile app and additional locations to serve fair-goers county-wide further enhanced mobility for this highly anticipated annual event.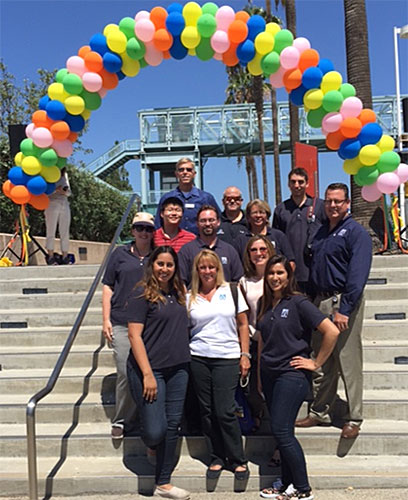 OCTA Staff at Kick-off Event at Irvine Metrolink Station

OC Pet of the Week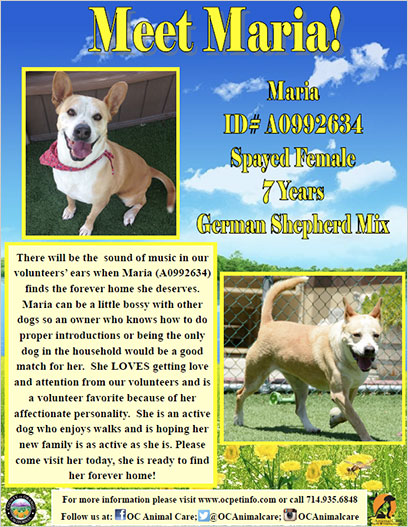 Click on the image above to view a PDF version.

Take the Summer ECO challenge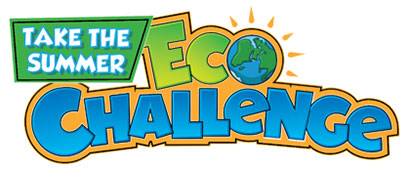 The County of Orange and Discovery Cube OC are excited to announce our Summer Educational Eco Challenge Promotion. We encourage Orange County residents to "Take the Summer Eco Challenge" for a chance to win a free one-year Family Membership to Discovery Cube OC and the chance to win an iPad Mini with the County's Race to Recycle app download!

Taking the Eco Challenge is as easy as 1-2-3. Visit http://www.ocEcoChallenge.com to download your official scorecard. Then, earn your stamps by completing the three challenges below. Mail your completed scorecard to Discovery Cube OC postmarked by September 7 to be eligible to win!


Dispose of Household Hazardous Waste at one of the County's HHW Centers
Bring items for recycling to ONE Eco Challenge Recycling Event on July 25 or August 22, 2015
Use your free child admission coupon to visit the Eco Challenge exhibits at Discovery Cube

Out and About South County

Aliso Viejo: City Annual Summer Walking Program

The program, which takes place on Monday, July 27, is meant to promote healthy lifestyles and Aliso Viejo's "walkable" community. The walk takes folks on the 3-mile Aliso Viejo Loop Trail, which essentially loops around Town Center. Participants meet at 5:50 p.m. in front of Walgreens at 26531 Aliso Creek Road before taking off at 6 p.m. Sponsored by the city and Walgreens, the program is a great opportunity for people to exercise and make new friends. For more information, contact 949-425-2519 or gduran@cityofalisoviejo.com or please click here.

Dana Point: Summer Concert Series

On Sunday, July 26th, Dana Point's third summer concert takes place from 2:30 p.m. to 6:00 p.m. at Sea Terrace Park, featuring The Petty Breakers (Tom Petty Tribute) & Turn the Page (Bob Seger Tribute). For more information, please click here.

Irvine: Sizzlin' Summer Concerts

The Sizzlin' Summer Concerts is a series of free, family-friendly concerts. Gourmet food trucks and a children's play area will also be available. A portion of the proceeds from food sales will benefit Irvine nonprofit organizations. On Sunday, July 26th, the series will feature Savor (Santana Tribute Band) at 5:30PM at the Mike Ward Community Park. For more information, please click here.
Laguna Hills: National Night Out

All residents are invited to partake in the National Night Out crime and drug prevention event. Laguna Hills Police Services will host an interactive community safety fair to provide residents with a variety of important information on home, child, teen, senior, personal and animal safety. Come partner with local law enforcement and celebrate safety and crime prevention. The event takes place on Tuesday, August 4th from 5:00PM to 8:00PM at the Community Center & Sports Complex. For more information, please click here.

Laguna Niguel: Rule the Pool

Enjoy a night of water volleyball, inter-tube races, diving board contests and music provided by a D.J. (Sorry, adults not invited!). The event takes place on Friday, July 24 from 8:00PM to 10:00PM at the Crown Valley Park Pool. There is a $5 admission fee at the pool. For more information, please click here.

Mission Viejo: Bagpiper John McLean Allan

Enjoy an interactive musical program that introduces the unique rhythm and sounds of Scotland's most famous instrument, the bagpipes. Kids will clap along and learn traditional Scottish dances. This event takes place on Saturday, July 25th from 2:00PM to 3:00PM and 3:30PM to 4:30PM at City Hall. For more information, please click here.

Rancho Santa Margarita: Summer Concert Series

The Series presents Stone Soul on Sunday, July 26, 6:00PM – 8:00PM. A "groovy" band that re-creates the look, feel, and sound of classic 60's Soul & Motown with retro suits and skinny ties. Stone Soul performs dead-on renditions of songs from The Temptations, James Brown, Stevie Wonder and more. Join us at Central Park for music, food vendors, community organizations and more! For more information, please click here.

Last but not least this week I:

Hosted the 2015 South County Senior Summit.
Hosted a roundtable discussion to address homelessness.
Delivered a presentation at the Niguel Shores Mens Club
Participated in the Orange County Board of Supervisors meeting.
Attended Nick Chrisos', County Counsel, Retirement Party.
Participated in the Orange County Sanitation District board meeting.
Participated in the Community Engagement Panel for the Decommissioning of San Onofre Nuclear Generating Station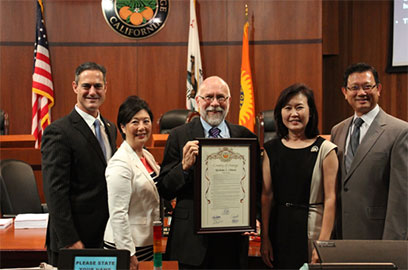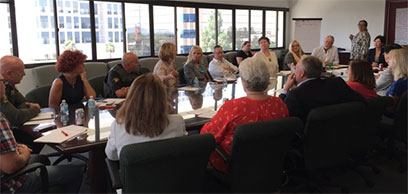 South County Homeless Roundtable (more information next week)

My Staff:

Attended the California Road Charge Pilot Program Technical Advisory Committee.
Participated on the Drought Response Ad Hoc Committee at Santa Margarita Water District
Attended the South Orange County Economic Coalition Meeting
Provided a certificate of recognition in honor of the ribbon cutting ceremony for Poche Burger & Kitchen in San Clemente.
Provided a certificate of recognition in honor of the ribbon cutting ceremony for The Foundation in Laguna Beach.
Attended the 7th Veteran Business Networking Mixer in Mission Viejo.
Attended the OC Fair Special Olympics Welcome Ceremony.
Provided a certificate of recognition in honor of the ribbon cutting ceremony for Atria del Sol in Mission Viejo.