County Connections

2015 South County Senior Summit a Huge Success!

Last week, I was pleased to host the 2015 South County Senior Summit in partnership with Senator Pat Bates, Age Well Senior Services, Inc., and the Orange County Office on Aging. This enormously popular annual County event, attended by well over 1,000 people, took place Friday, July 24 at Laguna Woods Village.

The 2015 Senior Summit began at 8:00 AM with a complimentary continental breakfast and vendor fair, followed by an informative and exciting program at 9:00 AM. The program also feature a panel of highly renowned experts, presenting diverse issues related to our theme: "The State of Aging in Orange County."

Speakers included:

Michael Schrader, CEO, CalOptima
Jim McAleer, President/CEO, Alzheimer's Association OC
Dr. Claudia Kawas, Professor, Department of Neurology, UC Irvine
Dr. Kerry Burnight, Professor, Geriatric Medicine, UC Irvine
Dr. Marilyn Ditty, CEO, Age Well Senior Services
Karen Roper, Director, OC Community Services
At the close of the program, complimentary lunch was provided for all attendees. I want to thank CalOptima for once again serving as our Title Sponsor for the South County Senior Summit.

Those who were unable to attend the Senior Summit will be able to view it in its entirety beginning September 1, as it will televised On Demand by COX Communications to thousands of households throughout South County. For more information, please click here. To view photos of the Senior Summit, please click here.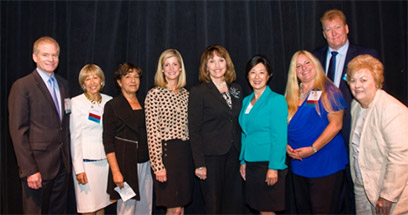 San Clemente Library and Bookstore Expansion

I am pleased to announce that the long-awaited expansion of the San Clemente Library is now complete. Construction began in June 2014 to expand the library into the space vacated by the Senior Center across the building lobby. With this expansion, the library has grown to approximately 15,000 square feet, including the new Friends of the Library Bookstore.

The expansion brings much more than just added space to the library. Librarians are now be able to provide more programming to the public with the addition of the new Community Room. The 500 sq. foot area, with a retractable wall and separate entry, will comfortably accommodate up to 75 people.

All aspects of the expansion project have included thoughtful attention to the diverse needs of library users. Entry doors throughout have been replaced, allowing for push button access if needed. All exterior ramps, railings and entryway areas have been upgraded. Aisles throughout have been widened, and all seating and service areas are wheelchair accessible.

The "new" library will also be more energy efficient, with a new heating and air conditioning system, as well as provide consistent, energy efficient lighting throughout. Bookshelves have been redesigned to make better use of natural light as well.

Shelving and space are not the only visible changes, as library patrons will notice quite a few differences, all designed to enhance customer service. A Single Service Desk will provide assistance and answers to questions in one convenient location. Additional Self-Checkout and public internet stations will allow for even more efficient use of time. There will be distinct spaces for preschoolers, school-aged children, teens, adults, and laptop users. All of these changes will be capped off by new carpeting and furniture, creating a beautiful, cohesive and inviting look.

The library's literacy partner, READ/OC, will finally have a long-awaited private space for adults learning to read as well as their tutors. The room will also house literacy materials and training resources.

We are grateful to the San Clemente Friends of the Library for their very generous support and contribution to this project. The majority of funds raised by the Friends of the Library came from the sales generated in the Friends of the Library Bookstore. The Friends are also happy their new bookstore will be on Avenida Del Mar, creating better visibility and a larger, more open space for shoppers. They anticipate the new location will help increase sales and allow them to provide even more support for library materials, programs and services.

I applaud the outstanding work, dedication and cooperation of the community, the City of San Clemente and the County of Orange that created, developed and built this beautiful library, which will provide library services now and for the future. To that end, I cordially invite the public to join us at the official grand opening ceremony for the new and improved San Clemente Library on August 29 at 9:30 a.m. Hope to see you there!

Waste Not OC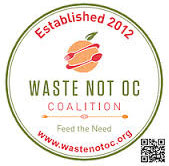 Last week I met with Dr. Handler, Orange County's Public Health Officer, to hear about the program he created to address hunger in Orange County. Waste Not OC (WNOC) is a public-private coalition that is working to solve food insecurity and reduce food waste in Orange County.

The coalition identifies sources of recoverable food from a variety of facilities, such as hospitals, restaurants, schools, and businesses, and facilitates the donation of this excess food to the community in need. WNOC partners with Food Finders to transport the surplus food to pantries that are located throughout the County.

In an effort to pinpoint and serve the community in need, WNOC has worked with community clinics to implement a food security screening tool into their electronic health records. Clinicians can show their patients how to utilize WNOC's interactive Google map tool to locate the nearest pantry.

Since it was created in 2012, Waste Not OC has helped to increase the visibility of food pantries and raise awareness for the need of donations. Environmental Health inspectors play an integral role in educating businesses on how to safely donate food without fear of liability. Participating businesses receive a window seal containing Waste Not OC's partnership emblem.

To get involved, visit http://www.wastenotoc.org/#!get_involved/c8k2. I look forward to collaborating with WNOC to enhance the public-private partnerships, reduce food waste, and feed those in need in South Orange County.

OC MOVES

OCTA Youth Summer Bus Pass

Looking for a fun safe way to get around this summer? OCTA is offering a 30-day Youth Summer Bus Pass valid until September 30, 2015. The pass is available to kids ages 6-18 and for just $20 offers unlimited rides. Passes are available online, at the OCTA store, Ralphs, Vons, and Northgate locations in Orange County. The last day to buy passes is August 31st! Look up routes, more information and find out about a fun contest at http://octa.net/zombie_youth.aspx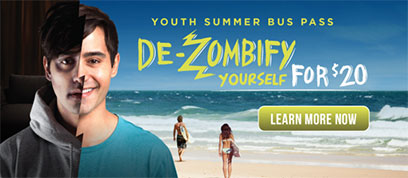 OCTA Teen Council

OCTA is looking for new members to serve on its Teen Council during the 2015-2016 school year. Students members will have the opportunity to give input and work together on projects that will impact the way that OCTA promotes services, specifically for teens. Teen Council Applications and flyers are available on OCTA's website. The application period is now open, and will close today. High school students between the ages of 13-18 are invited to apply. More information about the OCTA Teen Council can be found online at: www.octa.net/teencouncil.

Purchase on Pico Will Support San Clemente Businesses during Construction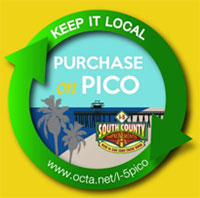 OCTA is launching a discount program for businesses along the Avenida Pico corridor as part of its commitment to assist local businesses during reconstruction of the I-5 / Avenida Pico Interchange in San Clemente.

The interchange improvements are part of a $230 million project that also extends the carpool lane in each direction from San Juan Creek Road in San Juan Capistrano to Avenida Pico in San Clemente. In addition, Avenida Pico is being widened, and on- and off-ramps are being improved throughout the project area.

Businesses along the Avenida Pico corridor are being invited to participate in the Purchase on Pico Program. The program will feature discounts to corridor shops, restaurants and other retailers every Wednesday while construction is ongoing.

OCTA will promote participating businesses on its website, through social media and in email blasts to community members. Businesses will receive a 5-by-5-inch window decal to display, informing shoppers of their participation in the program. Businesses interested in participating may visit octa.net/PurchaseonPico to complete an application. Discounts are expected to be available to the public beginning August 10.

For more information on the I-5 South County Improvements Project, visit octa.net/I5South.

OC Pet of the Week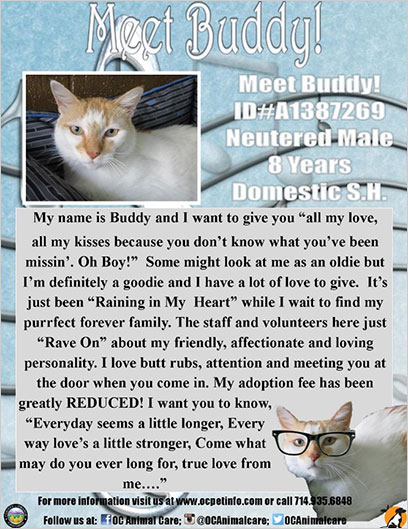 Click on the image above to view a PDF version.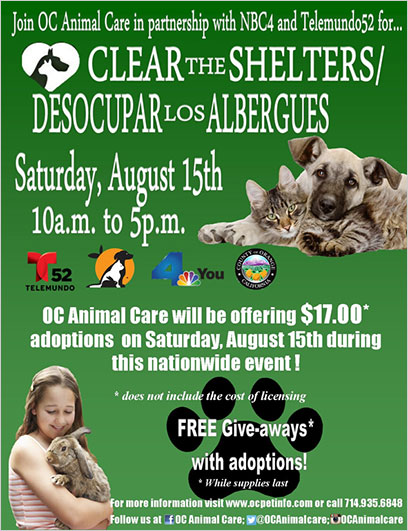 Click on the image above to view a PDF version.

Out and About South County

Dana Point: Summer Concert Series

On Sunday, August 2nd, Dana Point's summer concert takes place from 1:30 p.m. to 6:00 p.m. at Sea Terrace Park, featuring The Broken Records (Rock), Keston & The Rhythm Killers (Rock) & Cetera's Chicago Experience (Chicago Tribute). For more information, please click here.

Irvine: Sizzlin' Summer Concerts

The Sizzlin' Summer Concerts is a series of free, family-friendly concerts. Gourmet food trucks and a children's play area will also be available. A portion of the proceeds from food sales will benefit Irvine nonprofit organizations. On Sunday, July 26th, the series will feature King Kruk as Elvis at 5:30PM at the Mike Ward Community Park. For more information, please click here.

Laguna Beach: Discover Art-A-Fair

Discover one of Southern California's best kept secrets–Art-A-Fair–a journey into world class art. Increasingly popular among artists and visitors alike as a showcase of emerging talent, Art-A-Fair has become one of Laguna's must-see summer affairs. For more information, please click here.

Laguna Hills: National Night Out

All residents are invited to partake in the National Night Out crime and drug prevention event. Laguna Hills Police Services will host an interactive community safety fair to provide residents with a variety of important information on home, child, teen, senior, personal and animal safety. Come partner with local law enforcement and celebrate safety and crime prevention. The event takes place on Tuesday, August 4th from 5:00PM to 8:00PM at the Community Center & Sports Complex. For more information, please click here.

Laguna Niguel: Free Summer Concert Series

Come join the annual Summer Concert Series this Friday, July 31st, located in the newly renovated Crown Valley Park Amphitheater. Don't forget your dancing shoes! The Series will feature River Road (Country/Pop) from 6:30PM to 8:30PM. For more information, please click here.

Lake Forest: 2015 National Night Out

Join us for National Night Out – a fun and interactive day to generate support and participation in crime prevention efforts, strengthen neighborhood spirit, and let criminals know that neighborhoods are organized and fighting back! The event will take place on Tuesday, August 4th from 4:00PM to 8:00PM at the Lake Forest Sports Park. For more information, please click here.

Rancho Santa Margarita: Summer Concert Series

The Series presents The Silverados on Sunday, August 2, 6:00PM – 8:00PM. The Silverados are a talented, high energy, up tempo band that will appeal to a wide variety of music lovers. Join us at Central Park for music, food vendors, community organizations and more! For more information, please click here.

San Clemente: Beach Concert Series

Fortunate Son, a tribute to Creedence Clearwater Revival, will be performing on Thursday, August 6th from 6:00PM to 7:45PM just north of the San Clemente pier. Bring your beach chairs or blanket, set your toes in the sand and get ready for an evening of fun. The Program is free, and features music suitable for the whole family. Come early for blanket space and parking! For more information, please click here.

San Juan Capistrano: Public Safety Open House

On Saturday, August 1st, there will be a Public Safety Open House from 11:00AM to 3:00PM at the Descanso Park. For more information, please click here.

Last but not least this week I:

Participated in the Orange County Transportation Authority Board meeting.
Toured the Niguel Botanical Preserve Tour.
Participated in the Transportation Corridor Agencies Foothill Eastern Special Board meeting.

My Staff:

Toured the Orange County Animal Shelter.
Toured the Orange County Transportation Authority Aliso Canyon environmental mitigation property.
Attended the Waste Not OC food recovery task force.
Attended the Celebration Recovery Picnic for mental health.
Attended the Water Policy Forum hosted by Municipal Water District of Orange County.
Toured East Orange County Water District.
Presented certificates of recognition in honor of the ribbon cutting ceremony for multiple new Laguna Niguel Chamber of Commerce member businesses, including Coldwell Banker Residential Brokerage, RedNight Consulting, AA Accident Attorneys, and imortgage. To view a photo, please click here.
Presented a certificate of recognition in honor of the ribbon cutting ceremony for Salon Serenity in the City of Dana Point. To view a photo, please click here.
Presented a certificate of recognition in honor of the ribbon cutting ceremony for The Gratitude Garden Preschool in the City of San Clemente. To view a photo, please click here.

South County Elected Officials in the Community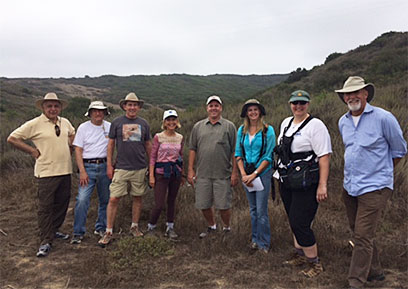 OCTA Vice Chair Lori Donchak, Laguna Beach Mayor Bob Whalen, Aliso Viejo City Manager David Doyle and OCTA staff touring the Aliso Canyon property in Laguna Beach.