County Connections

South County Homeless Roundtable

On July 23, I was pleased to host my first South County Homeless Roundtable. In attendance were a number of key South County nonprofits, faith-based organizations, and other stakeholders that work in their respective capacities to address the issue of homelessness in the Fifth District.

Roundtable topics of discussion included:

Major items to tackle
Partnering with the private sector
Establishing a long term comprehensive solution
Developing a plan of action
Scott Larson, Chair of the Orange County Commission to End Homelessness, presented an overview of the County's 10-Year Plan.

Karen Roper, Director of OC Community Services and Executive Director of the Commission to End Homelessness, provided background on the effort to establish a Year-Round Emergency Shelter in Orange County.

The County is very committed to solving the issue long-term, as multi-pronged efforts are needed. To that end, the Roundtable discussion highlighted 6 major issues including:

Lack of Affordable Housing
Transportation
Emergency Year-Round Shelter
Congregation of Services/Navigation of Services
Lack of Accessible Mental Health & Medical Services
Engagement of Private Sector
I'm pleased to report that, as a result of my inaugural South County Homeless Roundtable, the participants agreed to form a Fifth District Homelessness Working Group, which will meet quarterly to continue work collaboratively to address the issue of homelessness in South County.

I wish to thank the all the participants of the Roundtable and look forward to providing you with more information on our progress, as we continue to work together to address this ever growing concern in South County.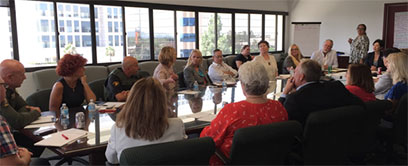 Dana Point Celebrates Namesake

Last Saturday, August 1st, marked what would be the 200th Birthday of Dana Point's namesake, Richard Henry Dana Jr. His Bicentennial was celebrated at Dana Point Harbor through a salute on the Pilgrim – a replica of the ship that Richard Henry Dana Jr. served on in 1834. The celebration's success can be attributed to the collaboration between the Dana Point Historical Society, the Ocean Institute, the City of Dana Point, Orange County Dana Point Harbor, and a number of volunteers.

Richard Henry Dana Jr. penned "Two Years Before the Mast," a book chronicling his voyage to Dana Point, "the only romantic spot in California." A plaque will be placed in his honor on the statue of Richard Henry Dana Jr. at OC Dana Point Harbor. Whenever you are out at the harbor please take a moment to visit the statue to appreciate the namesake of the City of Dana Point.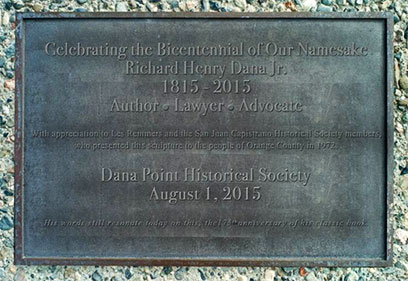 OC MOVES

OC Fair Express Bus Service Wraps Up Aug. 16

Tens of thousands of fairgoers have discovered that The Orange County Transportation Authority's OC Fair Express bus service is a quick, reliable and affordable way to reach the OC Fair, and there are still two weekends left to hop aboard.

The OC Fair Express provides non-stop weekend service from nine locations to the OC Fair through Aug. 16. Buses run every 20 minutes from Fullerton and Huntington Beach, every 30 minutes from Santa Ana and every 40 minutes from the two Anaheim stops, Irvine, Laguna Hills, Orange and San Juan Capistrano. Service runs between noon and midnight on Fridays and 10 a.m. and midnight on Saturdays and Sundays.

The bus service costs $2 each way and riders receive a coupon valid for $3 admission to the fair — a savings of $9 off the regular ticket price.

In 2014, the OC Fair Express, which ran hourly, recorded nearly 77,000 boardings, a 31 percent increase in ridership over the previous year.

So far, 43,608 people have used the service this season – a 7.5 percent increase over this time last year.

To purchase tickets in advance, riders can download the OC Fair Express app, which also provides bus service schedules and routes.

Riders can catch an OC Fair Express from nine locations:

Anaheim: Anaheim Regional Transportation Intermodal Center, 2626 E. Katella Ave.
Anaheim Canyon: Anaheim Canyon Metrolink Station, 1039 N. Pacificenter Drive
Fullerton: Fullerton Park-and-Ride, 3000 W. Orangethorpe Ave.
Huntington Beach: Goldenwest Transportation Center, 7301 Center Ave.
Irvine: Irvine Metrolink Station, 15215 Barranca Parkway
Laguna Hills: Laguna Hills Transportation Center, 24282 Calle de los Caballeros
Orange: The Village at Orange, 1500 E. Village Way
Santa Ana: The Depot at Santa Ana, 1000 E. Santa Ana Blvd.
San Juan Capistrano: Junipero Serra Park-and-Ride, I-5 Freeway and Junipero Serra Road
The OC Fair Express is made possible in part by a grant provided by the Mobile Source Air Pollution Reduction Review Committee. The committee provides subsidies for cleaner transportation alternatives.

For more information, visit www.octa.net/ocfairexpress.

Healthcare Advisory

ORANGE COUNTY REPORTS FIRST HUMAN WEST NILE VIRUS CASE OF 2015

A 51 year-old resident of the city of Orange tested positive this week for West Nile Virus (WNV) infection, becoming the County's first human WNV infection in 2015. This is the 19th human case of WNV reported in California this year. The man experienced symptoms during the third week of July and has completely recovered.

In 2014, there were 280 reported human infections of West Nile Virus and 9 WNV related deaths reported in Orange County.

Recommended WNV precautions include:

Emptying all standing water on your property to reduce areas in which mosquitoes may breed, including flower pots and pet bowls
Making sure your window and door screens are in good condition
Using insect repellent containing DEET, picaridin, oil of lemon eucalyptus, or products containing IR3535, always following label directions
Limiting outdoor activity at dawn and dusk, when mosquitoes are most active
Wearing long-sleeved shirts and long pants when outdoors.
Most people who become infected with West Nile Virus do not experience symptoms, but about 20% will develop fever and may have headache, body aches, nausea, tiredness and sometimes a skin rash. More serious symptoms, such as severe headaches, neck stiffness, confusion, muscle weakness or paralysis, occur more rarely, but people who develop these symptoms should seek medical care immediately. People over 50 years of age and those with certain medical conditions are at increased risk of serious complications from WNV infection.

Information on mosquito control is available on the Orange County Mosquito and Vector Control District's website at www.ocvcd.org. Other websites with helpful information about West Nile Virus include:


OC Pet of the Week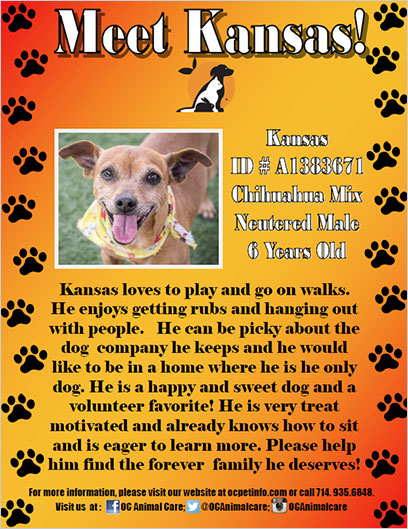 Click on the image above to view a PDF version.

Out and About South County

Dana Point: Summer Concert Series

On Sunday, August 9th, Dana Point's free summer concert takes place from 2:30 p.m. to 6:00 p.m. at Sea Terrace Park, featuring The Who Show (Who Tribute) & Led Zepagain (Led Zeppelin Tribute). For more information, please click here.

Irvine: Sizzlin' Summer Concerts

The Sizzlin' Summer Concerts is a series of free, family-friendly concerts. Gourmet food trucks and a children's play area will also be available. A portion of the proceeds from food sales will benefit Irvine nonprofit organizations. On Sunday, August 9th, the series will feature Hot August Night: A Tribute to Neil Diamond at 5:30PM at the Mike Ward Community Park. For more information, please click here.

Laguna Beach: Discover Art-A-Fair

Discover one of Southern California's best kept secrets–Art-A-Fair–a journey into world class art. Increasingly popular among artists and visitors alike as a showcase of emerging talent, Art-A-Fair has become one of Laguna's must-see summer affairs. For more information, please click here.

Laguna Niguel: "Rule the Pool" Fridays

Enjoy a night of water volleyball, inter-tube races, diving board contest and music provided by a D.J. (Sorry, adults not invited) on Friday, August 7th from 8:00PM to 10AM at Crown Valley Park Pool. For more information, please click here.

Lake Forest: Movies in the Park "Monsters University"

This event will take place on Friday, August 7th from 7:30PM to 9:30PM at Mountain View Park. For more information, please click here.

Rancho Santa Margarita: Summer Concert Series Finale

The Series finale will feature Identity Theft on Sunday, August 9th from 6:00PM – 8:00PM. Identity Theft is a professional, high-energy 80's cover band. Join us at Central Park for music, food vendors, community organizations and more! For more information, please click here.

San Clemente: Fiesta Music Festival

This event will take place on Sunday, August 9th, from 9AM to 7PM. For more information, please click here.

San Juan Capistrano: Friends of the Library 1st Film Friday

This event will take place Friday, August 7th from 7PM to 9PM. Join us at the SJC Regional Library in the Salsa Room for a screening of "Unbroken." For more information, please click here.

My Staff:

Attended the Orange County Transportation Authority Executive and Regional Planning and Highways Committees.
Attending the Transportation Corridor Agencies Joint Legislative and Mobility Ad Hoc committees.
Toured the Orange County Sheriff Department Coroner's office.
Participated in the Ethics Committee.
Attended the CalOptima Board meeting.
Attended the Water Advisory Committee of Orange County.
Presented a certificate of recognition in honor of the dedication ceremony for the Crown Valley Park improvements in Laguna Niguel.
Presented an Award of Appreciation to the Laguna Woods Village Golden Rain Foundation Board of Directors for their participation in the 2015 South County Senior Summit.
Participated in the Orange County Veterans & Military Families Collaborative bimonthly meeting.
Presented certificate of recognition in honor of the one-year anniversary celebration for Belo Blow Dry Bar in Laguna Beach.
Presented a certificate of recognition in honor of the ribbon cutting ceremony for Shine Bodyworks in San Clemente.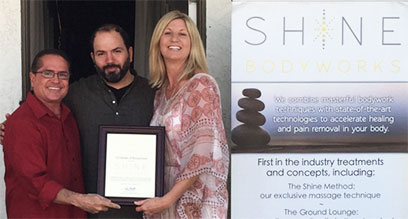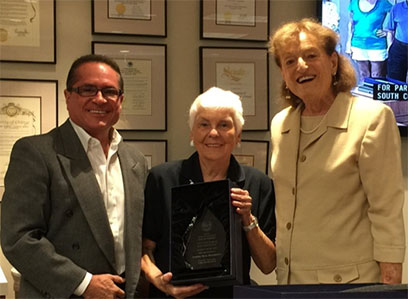 South County Elected Officials in the Community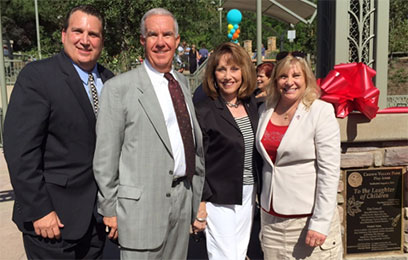 Laguna Niguel Council Member Jerry Slusiewicz, Former Mayor Gary Capata, Senator Pat Bates and Orange County Board of Education Trustee Linda Lindholm at the Crown Valley Park Dedication.