County Department Highlights

Sheriff's Department Economic Crimes Detail

The Orange County Sheriff's Department is responsible for maintaining a high level of public safety in Orange County. The Department continually works to identify threats and educate the public on crime prevention strategies. One area of recent concern is the prevalence of economic crimes.

The Sheriff Department's Economic Crimes Detail is tasked with investigating these crimes, which include identity theft, scams, grand theft, theft of public funds, embezzlement, computer crimes, consumer fraud, a variety of business fraud, real estate fraud and elder financial abuse. Such crimes can be devastating for victims and their families. Phone scams and identity theft are two common forms of economic crime.

The Economic Crimes Detail advises the public to be aware of phone scams involving subjects pretending to be law enforcement personnel. Several instances of this type of fraud continue to occur throughout Orange County. Suspects fraudulently identifying themselves as law enforcement officers call victims claiming they have a warrant for their arrest. The reasons for the warrants vary, among the most recent being failing to appear for jury duty or unpaid tickets. The victim is told they can resolve the issue by obtaining a prepaid money card and calling back with the card number. Once the number is obtained, the funds can be accessed from anywhere in the world.

The scammers are using names of actual Orange County Sheriff's Department personnel and have voicemails using the officers' names and "spoof" caller identification, so the numbers of actual law enforcement agencies will appear on the victim's phone. The public is advised that the Orange County Sheriff's Department DOES NOT solicit by phone and will never restrict the form of payment. In addition, payments related to warrants and/or citations are handled directly through the Court. If you receive one of these calls, please contact the Sheriff's Department at 949-770-6011. Please click here to view a recent public service announcement on phone scams.

Approximately 15 million Americans are victims of identity theft each year. The Sheriff's Department has had some recent success in combating identity theft. On August 13, Orange County Sheriff's Department investigators arrested five individuals in connection with several burglaries and thefts that have occurred over the last several months. During searches connected with these crimes, investigators found fraudulently obtained credit and access cards, card readers, identity theft profiles, credit card blanks, multiple computers, card readers, data storage devices and several cell phones related to the investigation.

Investigators believe the suspects are involved in an extensive identity theft ring operating throughout the State of California, and the potential number of additional victims may reach into the hundreds. The investigation is ongoing, as investigators continue to review evidence and attempt to identify additional victims through financial information recovered during the searches.

While arrests like these are an important step in eliminating identity theft, it is also critical for citizens to remain vigilant in guarding their personal information from those who seek to use it for nefarious purposes. Please click here for more information on how to prevent identity theft.

County Connections

Unsecured Property Tax Deadline Monday, Aug. 31:

The 2015-16 Unsecured Property Tax bills which cover business personal property, leased equipment, boats and aircraft assessments are due on or before August 31. Payments received at any time after this date will be charged a 10% late penalty and a $75 delinquent processing fee. If your mailing address has changed and if you did not receive an unsecured property tax bill, you can view/print/pay your property tax bill on our website at ocgov.com/octaxbill by entering your Tax Collector Reference Number (TC Ref) or Tax Year and Assessment Number.

If you have not yet paid your unsecured property tax, try our online payment option with same day credit and an emailed receipt to avoid the late penalties:

PAY ONLINE at ocgov.com/octaxbill

Payments completed through our website on August 31 before midnight (as evidenced by a confirmation number) will be considered timely.

E-check using your checking or savings account (no cost)
Credit Card (a 2.3% convenience fee with a minimum charge of $3.95 applies)
Visa Personal Debit Card (a flat fee of $3.95 applies)
If you pay your bill online and enter your email address, you will receive your payment receipt by email just like a receipt received in person. Online payments receive same day credit to your bill, but may take 2-3 business days to be actually deducted from your bank account.

Other Payment Options:

PAY BY PHONE by calling our automated payment line at (714) 834-3411

Credit Cards only (a 2.3% convenience fee with a minimum charge of $3.95 applies)

PAY IN PERSON at our offices located at 625 N. Ross Street, Building 11, Room G-58 in Santa Ana. Our offices are open Monday through Friday, 8 am to 4:45 pm and will remain open until 5:00 pm on August 31. Parking and Directions are available on our website at ocgov.com/octaxbill under Contact Us.

PAY BY MAIL by sending a check payable to the "County of Orange" along with your property tax bill remittance stub to:

County of Orange
Attn: Treasurer-Tax Collector
P.O. Box 1438
Santa Ana, CA 92702-1438

Payments must be postmarked with a U.S. Post Office postmark on or before August 31 to be considered paid timely. Office machine cancellation marks will not be accepted. If you wait until August 31 to mail your payment, you should ensure your envelope is hand stamped with a USPS postmark as mail may not be postmarked on the same day it is received. All payments received without a USPS postmark or received with a USPS postmark that is dated after August 31 will be charged the 10% late fee and a $75 delinquent processing fee (no exceptions).

If you have questions regarding the assessed value on the property tax bill, please contact the Office of the Assessor at (714) 834-2930. If you have any other questions, please e-mail us at ttcinfo@ttc.ocgov.com or call (714) 834-3411. NEW: Assessment appeals can now be filed until November 30, 2015 at ocgov.com/cob, but full payment of the current property tax bill is still required by August 31. If there is a reduction in assessed value, a refund check would be sent to the taxpayer.

SMWD Goes Solar at Headquarters

Santa Margarita Water District (SMWD) this month flipped the switch on solar panel system that will provide power for its Rancho Santa Margarita headquarters. The project cost is about $1.3 million. SMWD dipped into reserves to pay for the project, which is expected to pay for itself in about four years. The panels will save SMWD and its ratepayers $3.7 million over 20 years. The Board of Directors approved the project in 2014. The work was done almost completely in-house with District staff.

The project included installing 300 panels in the first phase and a second installation of 1,260 panels. The panels flank SMWD's Antonio Parkway headquarters and sit on the roof of the District warehouse. SMWD met with neighbors before the project to ensure it would not have any negative impacts.

The panels were installed five days before the deadline for a utility rebate returning $500,000 to SMWD and went live on August 12.

The first day SMWD flipped the switch, the system generated 2,754 kilowatts an hour. According to the United States Energy Information Administration, the average residential electrical use in the United States is about 909 kilowatts an hour. In one day, the district generates the average of what three residences use in one month.

This system is designed to produce enough energy over the year to provide all of the power for the headquarters facility. Electricity is one of the District's top expenses. Saving money with the solar project gives the District more control over its water rates.

SMWD plans to continue moving ahead with solar. The next project in the works is installing solar panels on the Chiquita Water Reclamation Plant, which recycles 6 million gallons a day that SMWD uses for irrigation. Using recycled water for irrigation saves drinking water.

Disneyland Resort Celebrates 60th Anniversary

Sixty years ago, Walt Disney dedicated his dream project: Disneyland – a land beyond the boundaries of the motion pictures with which he'd made his reputation, a park where families and guests of all ages could be immersed in worlds of fantasy and adventure.

As part of the Disneyland Resort Diamond Celebration, they will honor 60 years of Walt's dream with the Million Dollar Dazzle program. Each month during the Disneyland Resort Diamond Celebration, the Million Dollar Dazzle Crew will surprise one or more Southern California nonprofits with a $60,000 gift, totaling more than $1 million. Girl Scouts of Orange County was surprised with the first gift at the ceremony in July.

Social Services Agency's No Wrong Door Policy

Orange County's Social Services Agency (SSA) has developed the "No Wrong Door Service Delivery Model," which aims to connect the community with the services and resources that they need. Any individual or family that enters a county facility to seek help will be served regardless of which door they entered. To ensure that those seeking help have a supportive and quality experience, SSA utilizes the 3Cs of the customer service delivery model: Collaboration; Coordination; and Communication.

SSA staff has developed a "No Wrong Door" logo, a poster to be placed in SSA regional and satellite Offices, and an intranet resource page so staff can easily access other agency and outside information. With the implementation of the No Wrong Door Service Delivery Model, SSA staff will be able to properly assist the community and link them to the resources they need.


OC Pet of the Week


Click on the image above to view a PDF version.

Out and About South County

Dana Point: Free Summer Concert Series

The concert will feature DC Babylon & The Hanging Gardens Band (Jazz to Rock) & Springsteen- The Ultimate Tribute to the Boss on Saturday August 30th from 2:30PM to 6:00PM at the Heritage Park. For more information, please click here.

Irvine: Saturday Family Park Play

Learn about the Great Park through themed crafts for children this Saturday, August 29th at the Orange County Great Park from 10AM to 2PM. For more information, please click here.

Laguna Beach: Discover Art-A-Fair

Discover one of Southern California's best kept secrets–Art-A-Fair–a journey into world class art. Increasingly popular among artists and visitors alike as a showcase of emerging talent, Art-A-Fair has become one of Laguna's must-see summer affairs. For more information, please click here.

Laguna Niguel: Summer Concert Series

Come join the annual Summer Concert Series locate in the newly renovated Crown Valley Park Amphitheater! Don't forget you dancing shoes! This Friday, August 28th the series will feature Springsteen the Premier Tribute to the Boss from 6:30PM to 8:30PM. For more information, please click here.

Mission Viejo: PAW Readathon with Roxy

Read aloud to Roxy, a beautiful trained therapy dog. Bring your favorite book or grab one from the library on Saturday August 29th at the Mission Viejo library from 2PM to 2:30PM. For more information, please click here.

Last but not least, this week I:

Attended the Laguna Niguel Relay for Life ceremony.
Attended the RMV Rodeo.
Participated in the Orange County Transportation Authority Board meeting.
Participated in the Orange County Transportation Board of Supervisors Board meeting.
Participated in the California Transportation Committee Road Charge Technical Advisory Committee.
Participated in the Orange County Fire Authority Board meeting.
Participated in the Mobility 21 Summit.
Met with the Rancho Colinas Board of Directors (Coto de Caza)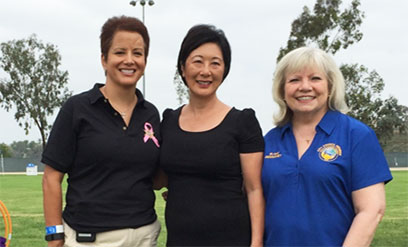 Supervisor Bartlett with Councilwoman Elaine Gennawey (right) and Orange County Assistant Sheriff Linda Solarza (left) at the Laguna Niguel Relay for Life ceremony.

My Staff:

Toured Orangewood Children's Foundation.
Toured Tustin Family Campus.
Met with the Illumination Foundation.
Presented a certificate of recognition in honor of the ribbon cutting ceremony for Cecilia's Tortilla Grill in Laguna Hills.
Presented a certificate of recognition in honor of the ribbon cutting ceremony for O'Reilly Parts in Lake Forest.
Presented a certificate of recognition to Shelly and Don Kindred in honor of the 20th anniversary celebration for the San Clemente Journal.
Staffed a County Information Booth at the RMV Rodeo in San Juan Capistrano.
Attended the Santa Margarita Water District's presentation on El Nino and the Drought.
Attended a legislative update with State Senator Patricia Bates.
Presented a certificate of recognition in honor of the Harmony Tea ribbon cutting in Mission Viejo.
Presented a certificate of recognition in honor of Zachary Orthodontics 20th anniversary ribbon cutting.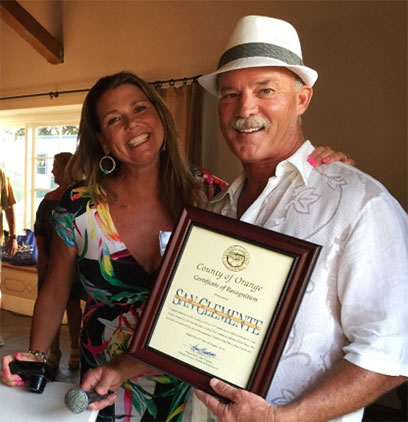 Shelly and Don Kindred at 20th anniversary celebration of the San Clemente Journal.




Grand opening of Casano's Pizza in San Clemente.

South County Elected Officials in the Community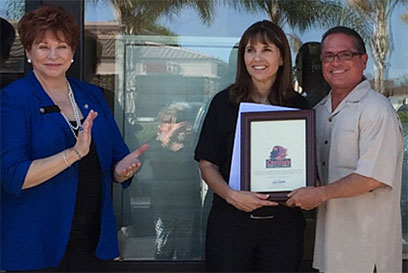 Laguna Hills Mayor Pro Tem Barbara Kogerman (left) at grand opening of Cecilia's Tortilla Grill.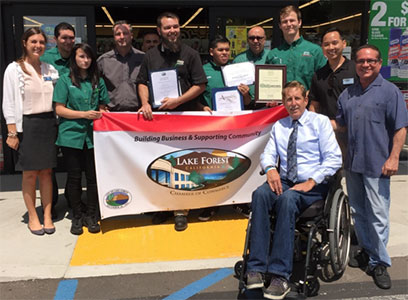 Lake Forest Mayor Scott Voigts at the O'Reilly Parts ribbon cutting.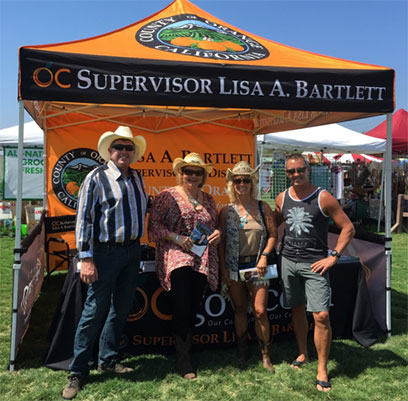 Mission Viejo Council Member Wendy Bucknum at the RMV Rodeo.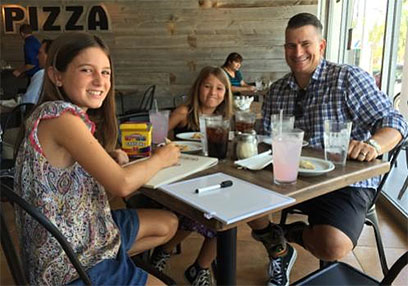 San Clemente Councilman Tim Brown and family at grand opening of Casano's Pizza.

For questions or comments regarding Supervisor Bartlett's E-Newsletter please contact the Supervisor's office staff at: (714) 834-3550 or Kelley.Jimenez@ocgov.com.