County Connections

Patriot Day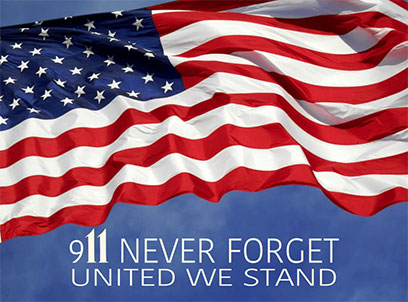 Today marks the 14th anniversary of the September 11th Terror Attacks. It is with heavy hearts we remember the 3,000 people who lost their lives on this somber day.

As Rudolph W. Giuliani said, "The attacks of September 11th were intended to break our spirit. Instead we have emerged stronger and more unified. We feel renewed devotion to the principles of political, economic and religious freedom, the rule of law and respect for human life. We are more determined than ever to live our lives in freedom". This freedom can be seen all over the nation and the County in remembrance events to memorialize our fallen friends, families, and heroes. September 11th is also a time of service to those in our community. This year OneOC will be serving veterans and those in need through food drives, clothing drives and other patriotic events.

We must remember to come to together as a community in this time of mourning and be thankful not only for our country but for those around us and the freedom we live in.

"One of the worst days in America's history saw some of the bravest acts in Americans' history. We'll always honor the heroes of 9/11. And here at this hallowed place, we pledge that we will never forget their sacrifice."—George W. Bush.

Camp Pendleton Evening Colors Ceremony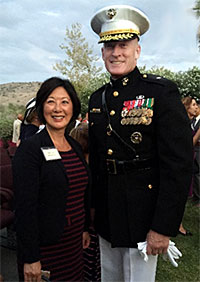 On Wednesday, September 9th, several members of my staff and I attended the retiring of the evening colors at Marine Corps Base, Camp Pendleton in commemoration of the 73rd Anniversary of the Base. Prior to the lowering of colors a reception was held at the Santa Margarita Ranch House which was the home of Pio Pico, the last governor of Mexican California, as well as other important families from the region including Don Juan Forster, the Floods, the O'Neills, and the Baumgartners.

The ceremony began by a brief concert by the 1st Marine Division Band followed by remarks by Brigadier General Banta, Commanding General of MCIWEST-MCB Camp Pendleton. Following the remarks the colors were retired and the ceremony concluded.

Camp Pendleton has a unique history in Southern California and serves as the premier amphibious training base for the Marine Corps. Camp Pendleton was officially dedicated on September 25, 1942 by President Franklin D. Roosevelt and was named after General Joseph H. Pendleton who was an advocate for a permanent west coast training base. The 9th Marine Regiment was the first unit to inhabit the newly acquired base, as they marched from Camp Kearny in San Diego to Camp Pendleton essentially marks the beginning of the transformation of the base from a cattle ranch to the great installation that we know today.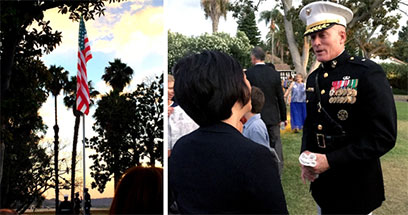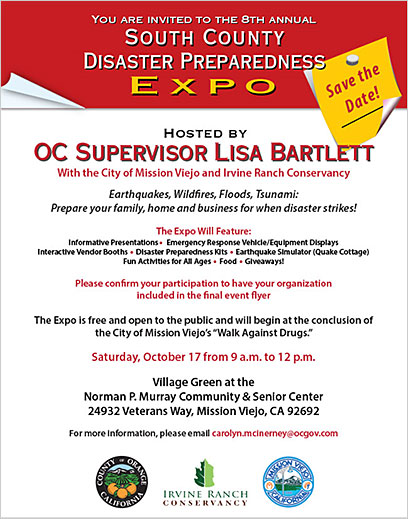 3rd Annual Eco Challenge Poster Contest Winners Awarded at Angel Stadium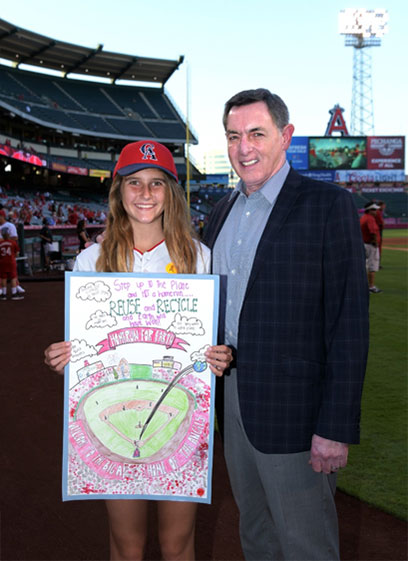 Last Friday my Chief of Staff, Paul Walters, participated in the 3rd Annual Eco Challenge Poster Contest Ceremony at Angel Stadium. Fifth district winner, Cara Adams, was honored at the ceremony. She is the third member of her family to win the Eco Challenge Poster Contest. Click here for photos.

Only five winning posters were selected from a total of 300 entries submitted by contestants throughout Orange County. Posters were judged based on originality, visual clarity, relevance to theme, artwork, and effectiveness of message.

One winner was selected from each of the County's five supervisorial districts.

Congratulations to all the winners!

2015 Eco Challenge Poster Contest Winners are:

Alex Hawley, Garden Grove – First District
Andrew Han, Cypress – Second District
Elena Sherrill, Irvine – Third District
Kianna De La Torre, Anaheim – Fourth District
Cara Adams, Ladera Ranch – Fifth District

OC Moves

Free Traveler Information Service 511

Southern California 511 is a free traveler information service that gives you live traffic reports, transit planning, commuter service information, motorist aid, or FasTrak information in the Southern California area through a toll-free phone number, website and mobile application. Call 511, visit Go511.com, or download the Go511 mobile app to retrieve all the information for your traveling needs. 511 will help improve your commute and keep you informed before leaving the house and while on the go.

511 provides information about:

Traffic - 511 gives you freeway travel times and freeway speeds along your route and will also tell you if there is road construction, a traffic alert or an accident ahead. Incidents, SigAlerts, accidents, road closures, lane closures, real-time live traffic cameras, travel times and traffic speeds can all be viewed on the interactive live Traffic Map.


Buses and Trains (Public Transit) - 511 is your one-stop source for bus, subway and train information in Southern California. Use our Trip Planner to find the best route for your trip or the Find a Transit Provider tool to find bus or train service near you. Or, simply call 511 to connect to a transit provider.


Carpool and Vanpool (Commuter Services) - Find the best way to commute to work with Commutesmart.info and 511. Find a carpool or vanpool partner in your area, locate a Park & Ride lot near your home and even help your employer organize a rideshare program at your workplace.


Motorist Aid – If your vehicle needs assistance on the freeway, you can call 511 and request assistance from the Freeway Service Patrol or an auto club.


FasTrak – FasTrak ® is an electronic toll collection system used on tollways in California that allows drivers to drive through designated "FasTrak ® Only" lanes without stopping. There will be no toll booths and all tolls will be collected electronically.


Extras - Learn about the new Go511 mobile app and link to your app store to download. Find Southern California bike maps, learn how to take your bike on buses and trains, get information on bike safety and more. Also link to area airports and taxi services.


Weather - check the weather in your neighborhood or any other city in Southern California

Ortega Highway Interchange Open to Traffic

Improvements to the Ortega Highway Interchange at the San Diego (I-5) Freeway in San Juan Capistrano totaling more than $81 million are complete and have been open to traffic since last week.

The opening of the Ortega Highway Interchange will help ease traffic delays through the heavily traveled interchange, especially during the peak morning and evening commutes.

Caltrans, the Orange County Transportation Authority, the city of San Juan Capistrano, residents, businesses, and the contractor collaborated to alleviate major traffic congestion along the I-5 and Ortega Highway (SR-74) interchange. "At Caltrans we are working to not only preserve our investments in the state highway system, but are also investing in projects that enhance bike and pedestrian access and safety," said District Director Ryan Chamberlain.

Improvements to the interchange began in February 2013 and include the following:

A reconstructed Ortega Highway bridge over the I-5 freeway, widened with additional turn lanes and through lanes
Widening of the existing north & south I-5 on- and off-ramps to improve traffic flow
Construction of a new northbound loop on-ramp to the I-5 freeway
Realignment of Ortega Highway west of the I-5 interchange, curving the road into Del Obispo instead of continuing straight into Camino Capistrano
Del Obispo street west of the interchange was realigned, eliminating the need for two intersections & streamlining it with one intersection & one traffic signal
The majority of funding was provided by the State of California, with additional funding from Measure M, the county's half-cent sales tax for transportation, and the city of San Juan Capistrano.

I want to acknowledge the great partnership involved in bringing $81.3 million worth of improvements to South Orange County. The improved safety and reduced congestion will benefit commuters immeasurably.

Healthcare Advisory

Tips on How to Beat the Heat

Prolonged exposure to excessive temperatures may cause serious conditions like heat exhaustion or heat stroke and can even be fatal. Symptoms of heat exhaustion may include heavy sweating, muscle cramps, weakness, headache, nausea or vomiting and dizziness. Warning signs of heat stroke may include an extremely high body temperature, unconsciousness, confusion, hot and dry skin (no sweating), a rapid, strong pulse, and a throbbing headache. If symptoms of heat stroke occur, immediately call for medical assistance. Move the person to a shady area and begin cooling their body with water.

Recommended precautions to prevent heat related illnesses include:

Drink plenty of water; don't wait until you are thirsty.
Wear light, loose-fitting clothing. Stay out of the sun if possible, and when in the sun wear a hat, preferably with a wide brim, and use sunscreen.
Avoid strenuous activities if you are outside or in non-air conditioned buildings. If you are working outdoors, take frequent rest and refreshment breaks in a shaded area.
Never leave children, elderly people or pets unattended in closed cars or other vehicles.
Check on those who are at high risk to make sure they are staying cool – including seniors who live alone, people with heart or lung disease, and young children.
Stay cool indoors – if your home is not air conditioned, visit public facilities such as shopping malls and libraries to stay cool.
For more information on heat related illnesses, visit the Centers for Disease Control and Prevention website at http://emergency.cdc.gov/disasters/extremeheat/.

OC Pet of the Week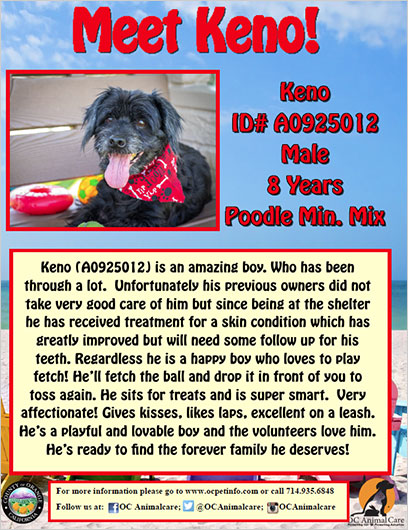 Click on the image above to view a PDF version.

Out and About South County

Dana Point: 31st Toshiba Tall Ships Festival

This weekend come and explore the majesty and wonder of tall ships through the smells, sounds and sights of these amazing vessels. The festival will take place at the Ocean Institute from 10AM to 5PM on Saturday and Sunday. For more information, please click here.

Laguna Hills: Tip-A-Cop

This Tuesday, September 15th, California Pizza Kitchen at the Laguna Hills Mall is teaming up with the OC Sheriff's Department-Laguna Hills Police Services to collect tips to benefit the Special Olympics of Southern California. In addition, CPK will donate 20% of the sales to support the effort when you dine in or order takeout on between 11AM and 10PM. For more information, please click here.

Laguna Niguel: Family Dive-In Movie

We are celebrating 25 years in Laguna Niguel with family "Dive-In" movie at the Crown Valley Pool. Families with children, 5 years and up will enjoy free admittance to this event. Bring your favorite float and a chair to kick back and enjoy our Disney's cartoon movie, "Tarzan," 1999, rated G. For more information, please click here.

Rancho Santa Margarita: Patriot Day

This Friday, the city of Rancho Santa Margarita invites the community to join together for a Patriot Day commemoration. This sunset ceremony will honor those who lost their lives during the terrorist attacks on the US on 9/11 and pay tribute to those who rose to service in response to the tragedy. For more information, please click here.
San Juan Capistrano: Summer Nites Concert Series

This Wednesday, September 16th enjoy a free summer concert in the Historic Town Center Park. There will be live music from BUB Band(Pop rock), dancing, free activities for kids in the youth zone. Bring your lawn chair, blankets and enjoy an entertaining evening with your friends, family or neighbors. For more information, please click here.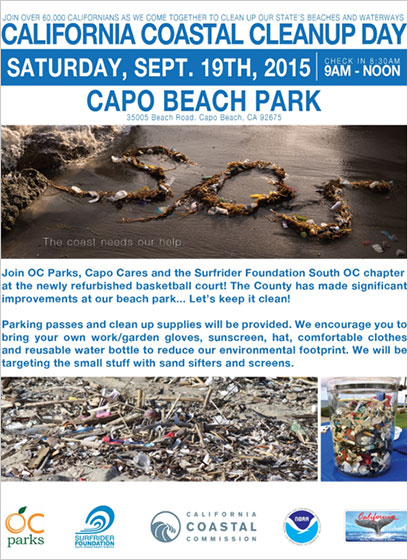 Last but not least this week I:

Toured the 91 Express Lanes Control Center.
Participated in the LAFCO Board meeting.
Participated in the TCA Joint Executive Committee meeting.
Attended Camp Pendleton's 73 Anniversary event.
Participated in the San Joaquin Hills and Foothill/Eastern TCA Board meetings.
Participated in the OCTA Regional Planning and Highways Committee.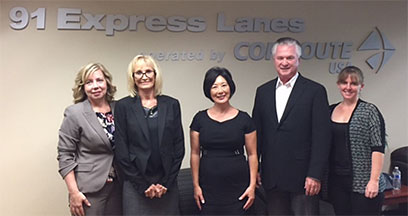 My Staff:

Presented a certificate of recognition in honor of the ribbon cutting ceremony for 'Smart & Final Extra!' in the City of Mission Viejo.
Attended the Orange County Veterans Advisory Council meeting in Dana Point.
Attended the CalOptima Community Alliances Forum.
Met with Debbie Fragner of Children's Cerebral Palsy Movement. For more information, please click here.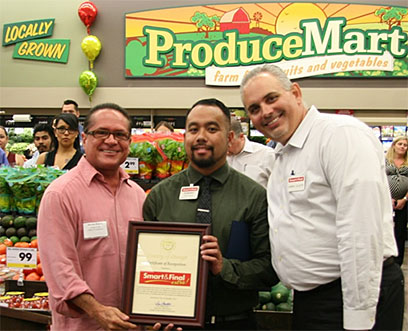 Smart & Final Extra! ribbon cutting ceremony in Mission Viejo.

South County Elected Officials in the Community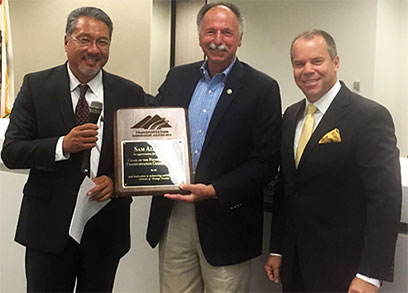 San Joaquin Hills TCA Chair Ross Chun and Foothill/Eastern TCA Chair Craig Young recognizing San Juan Capistrano Councilman Sam Allevato for his service on the TCA Board.

For questions or comments regarding Supervisor Bartlett's E-Newsletter please contact the Supervisor's office staff at: (714) 834-3550 or Kelley.Jimenez@ocgov.com.