County Connections

Upcoming Fifth District Events

As your Fifth District Representative, I want to keep you apprised of a couple of events I'm hosting in South County.

National Preparedness Month implores all of us to be actively engaged in planning how to stay safe and communicate during the disasters that can affect our community. I encourage you to attend the South County Disaster Preparedness Expo on Saturday, October 17th from 9 am – 2 pm at the Norman Murray Community and Senior Center in Mission Viejo. There will be informative presentations, vendors and emergency vehicles on display.

In tribute to our veterans, I am hosting the 2015 South County Veterans Summit Friday, November 6th from 9 am – 2 pm at Saddleback College in partnership with Orange County Community Services, 2-1-1 Orange County, Saddleback College and OC Veterans Advisory Council. The Summit will include: a "South County Veterans Research Study" presentation delivered by Dr. Wallace Walrod, Chief Economic Advisor, Orange County Business Council, breakout sessions on VA Benefits, Employment and Education and a resource fair hosted by local non-profits, businesses and public agencies. There will be a complimentary breakfast before the presentation in McKinney Theatre. Please RSVP by October 30th.

I look forward to seeing you there!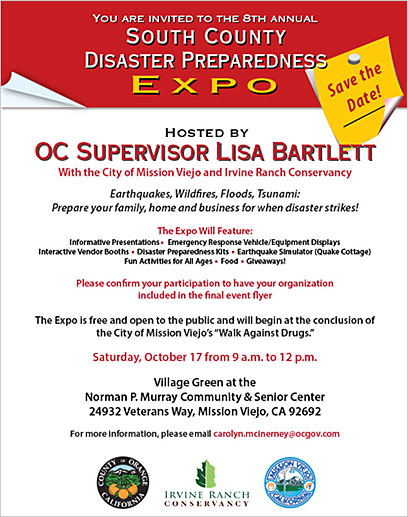 Click on the image above to view a PDF version.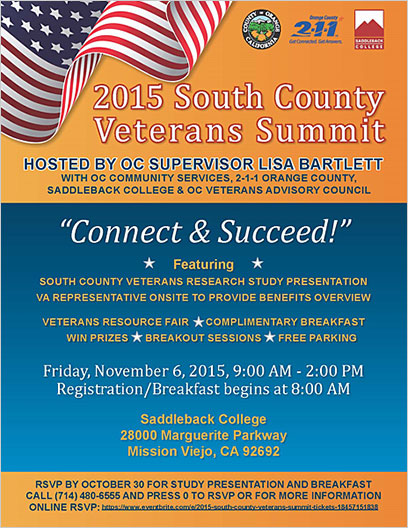 Click on the image above to view a PDF version.

OC Moves

John Wayne Airport Opens Cell Phone Lot

John Wayne Airport (JWA) recently opened a new Cell Phone Waiting Lot. Located on the south end of Airport Way, near the corner of Campus Drive and MacArthur Boulevard, the lot features free parking where visitors picking up passengers can conveniently park for up to two hours to wait for arriving friends or family.

JWA estimates that roughly half of all passengers arriving at the Airport are picked up at the curb by a private party. Because the Cell Phone Waiting Lot is located so close to the Riley Terminal, meters and greeters will be able to pick up their party within minutes of their arrival at one of the color-coded and numbered columns along the Arrival (lower) Level roadway.

In addition to providing a convenient new parking option for customers, the Cell Phone Waiting Lot is expected to reduce traffic and vehicle emissions from drivers who would otherwise be circling the Airport roadways waiting for their party to arrive.

For more information on parking options at JWA, check out the "Parking & Transportation" section of our website, ocair.com, or call (949) 252-5200.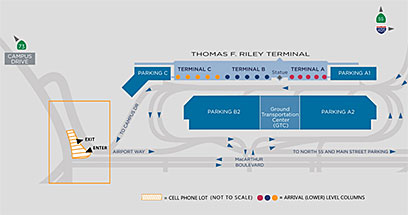 I-5 South Improvement Project Update

Pile driving is set to begin in early October for the new portion of the Avenida Pico bridge on the southbound side of I-5 in San Clemente.

Reconstruction of the Avenida Pico interchange is part of the $230 million I-5 South County Improvements Project, which also extends the carpool lane from San Juan Creek Road in San Juan Capistrano to Avenida Pico in San Clemente.

Before pile driving can begin, crews have to excavate the massive piles of dirt where the new portion of the bridge is being built. The dirt, known as surcharge, ensures the ground beneath it is completely compacted and will fully support the new bridge.

Crews also will install temporary shoring adjacent to southbound lanes to support the existing freeway while the bridge is being built.

Meanwhile, work continues on other segments of the project. Retaining walls and sound walls are being constructed between PCH and Avenida Vista Hermosa to accommodate widening the freeway. Further north, near the PCH connector to I-5, efforts continue to widen three bridges and finish constructing retaining walls.

For the latest project and detour information, and to sign up for weekly construction alerts, please visit www.octa.net/I5South.

PLANS TO IMPROVE WIRELESS CELL COVERAGE ON 73 TOLL ROAD

In August 2014, the San Joaquin Hills TCA Board of Directors authorized 5 Bars, LLC to conduct a wireless reception study along the 73 Toll Road and develop a plan to enhance the coverage for toll road drivers. Since the original construction of the 73 Toll Road in the late nineties, the demand for wireless cellular service has grown significantly. While improvements have been made in the wireless coverage over the past two decades, reliable service still remains an issue for drivers along the 15-mile route because drivers pass through multiple cellular zones where calls may be dropped.

At last week's board meeting a plan on how to improve wireless reception was presented. A new wireless system designed to focus signal strength specifically along the 73 Toll Road right-of-way was reviewed, it is designed to improve coverage with the four primary cellular providers. An antenna node system is anticipated to be installed along the toll road in order to enhance the wireless coverage and reduce dropped calls. Work will be coordinated with Caltrans who owns the right-of-way, and must agree to an encroachment permit. I will keep the community apprised as the project progresses.

Healthcare Advisory

September is National Preparedness Month

Earthquakes can occur suddenly and be deadly. Most earthquake-related casualties result from collapsing walls, flying glass, and falling objects. For more information on how to prepare for an earthquake, download the How to Prepare for an Earthquake Guide which provides the basics of earthquakes, explains how to protect yourself and your property and details the steps to take now so you can act quickly in the event of an earthquake.

How to Prepare for an Earthquake

This hazard-specific guide provides information on the basics of each hazard, how to protect yourself and your property, and what steps to take now.

Earthquake Playbook

This Prepare Your Organization for an Earthquake Playbook provides tools and resources to help you conduct an America's PrepareAthon! Day of Action by holding a preparedness discussion and conducting a tabletop exercise.

Resources in Other Languages

America's PrepareAthon! offers several of the major campaign resources in languages other than English.

Be Smart. Take Part. Create Your Family Emergency Communication Plan

This document outlines three steps to take to create your Family Emergency Communication Plan: collect contact information for your family and other important contacts; make sure everyone carries a copy of this information with them; and have regular household meetings to review and practice your plan. This document also includes fillable wallet-sized cards—simply type in your information for your family and other important contacts and then print them.

Be Smart-Protect Critical Documents and Valuables

The checklist helps you to take an inventory of your household documents (e.g., financial and medical records), contacts, and valuables.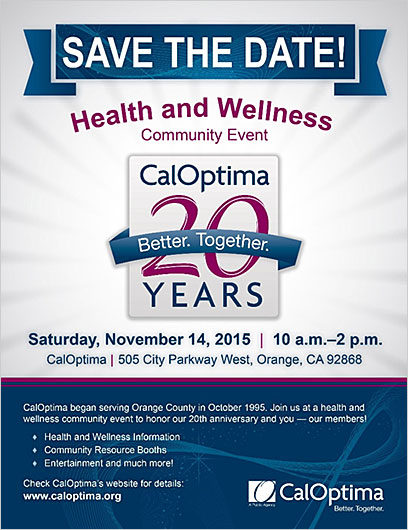 OC Pet of the Week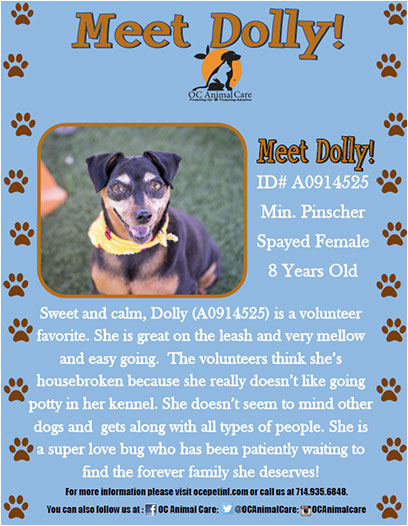 Click on the image above to view a PDF version.

Out and About South County

Aliso Viejo: Aliso Viejo Trails and Creek Clean Up

You are invited to participate in the City of Aliso Viejo's event to help make our creek and trails more usable and beautiful by removing trash and debris on Saturday, September 19 from 8:00 a.m. -12:00 noon. We will meet at the Aliso Viejo Ranch site, 100 Park Avenue. Please wear appropriate clothes and close-toed shoes or hiking boots (no sandals or open-toed shoes, please!). Also, if you have them, please bring gardening or work gloves as well as a hat and sunscreen. Complimentary bottled water and refreshments will be provided for participants. For more information click here.

Dana Point: Coastal Cleanup Day

Please join us this Saturday at one of many clean-up sites in recognition of Annual Coast Cleanup Day! Clean-ups generally starts at 9:00am and go until about noon. Sites in Dana Point include: Dana Point Harbor Underwater Cleanup, Ocean Institute/Dana Point Marine Protected Area, Dana Point Yacht Club on the water kayak clean up, Doheny State beach and San Juan Creek, Salt Creek/Strand Beach, Dana Point Harbor Cigarette Butt Round Up and Capistrano Beach. For more information click here.

Laguna Beach: Family Fun Day/Taste of Halloween

Celebrate the life of fallen Laguna Beach Motor Officer, Jon Coutchie, on Sunday, September 20 from 10 AM to 3 PM, featuring a costume contest, face painting, games, food, live music, silent auction and much more! For more information, please click here.

Laguna Niguel: Fall Flick: Big Hero 6

Don't want summer to end? Well not it doesn't have to. Bring the whole family out for a night of fun under the stars, Seating is on a grassy hill. Bring a blanket or low chair so you don't obstruct viewing. Dress warm as it may cool down once the sun sets. Please no pets, smoking or alcohol allowed in the event. Snacks will be available for purchase. Parents, please make sure your children are able to sit through a movie so that the audience is not disrupted. Event will be cancelled if it is raining. For more information click here.
Laguna Hills: 19th Annual Inner-Coastal Watershed Cleanup Day

Join us for a day to help clean our local creeks, watersheds, and trails and preserve the beauty of our community. Come with your family and join your neighbors to learn more about regional water quality issues and pick up trash to improve water quality within the watershed. For more information click here.

Mission Viejo: Inner Coastal Clean-up Day

The City is looking for volunteers to collect trash and debris in and around Oso Creek, as well as at the commercial center next to Oso Creek. For more information click here.

San Juan Capistrano: Movies in the Park: McFarland USA

Bring a blanket or beach chair and enjoy McFarland USA with free admission. For more information click here.

Last but not least this week I:

Participated in the OCTA Board meeting.
Participated in the CTC Road Charge TAC meeting.
Met with California State Association of Counties Executives.
Participated in an interview for the Dawn Kamber Radio Show.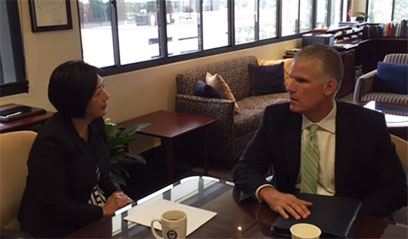 My Staff:

Attended the Samueli Academy Reception.
Orange County's Inaugural BILY (Because I Love You) Meeting in San Clemente. For more information about BILY, click here.
Presented a certificate of recognition at the kick off reception for the Saguaro affordable housing units in Lake Forest, a Families Forward project.
Presented a certificate of recognition in honor of the ribbon cutting ceremony for Spinal Vitality in San Clemente.
Presented a certificate of recognition in honor of the ribbon cutting ceremony for Grace + Zen in San Juan Capistrano.
Presented a certificate of recognition in honor of the ribbon cutting ceremony for Chapman, DeLesk & Emge, LLP in Laguna Niguel.
Staffed a County Information Booth at the 2015 Tall Ships Festival in Dana Point Harbor. To view photos, please click here.
Toured the Tustin Wellness Center.
Attended OCTA Legislation and Communications Committee.
Attended TCA Joint Capital Programs & Projects Committee.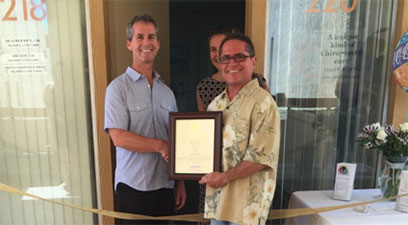 Spinal Vitality ribbon cutting ceremony in San Clemente.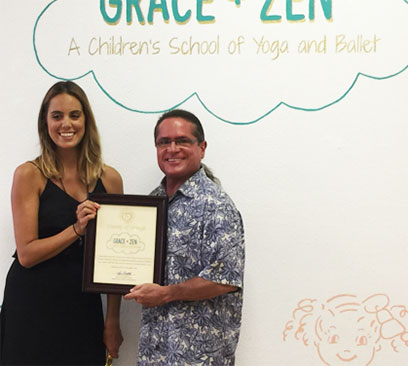 Grace + Zen ribbon cutting ceremony in San Juan Capistrano.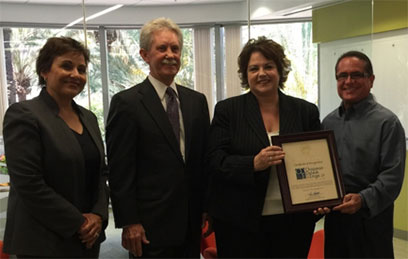 Chapman, DeLesk & Emge, LLP ribbon cutting ceremony in Laguna Niguel.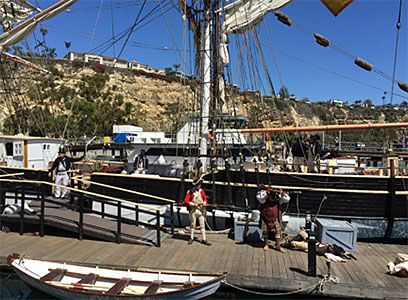 2015 Tall Ships Festival

South County Elected Officials in the Community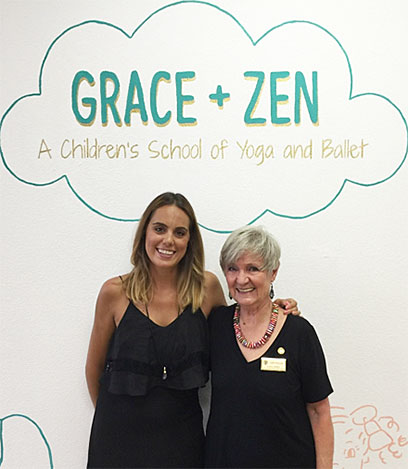 San Juan Capistrano Councilwoman Kerry Ferguson at Grace + Zen ribbon cutting.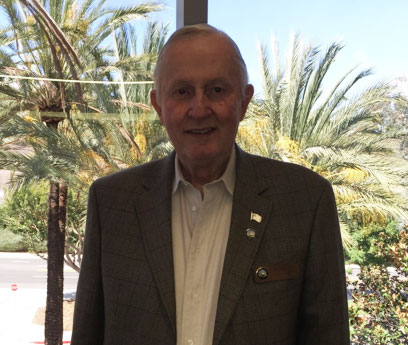 Laguna Niguel Mayor Jerry McCloskey at Chapman, DeLesk & Emge, LLP ribbon cutting.

For questions or comments regarding Supervisor Bartlett's E-Newsletter please contact the Supervisor's office staff at: (714) 834-3550 or Kelley.Jimenez@ocgov.com.