County Connections

Judge Overturns Ruling Allowing Karma to Live in North Carolina

I am pleased to announce that Karma will be placed with Full Moon Farm, a non-profit animal welfare and rescue sanctuary in North Carolina. At a special board meeting this week, the Board of Supervisors (with Chairman Todd Spitzer, Vice Chair Lisa Bartlett, and Supervisor Michelle Steel) to request Superior Court Judge Corey Cramin to reconsider his previous decision to euthanize Karma.

On Wednesday, Judge Cramin modified his previous judgement based on the receipt of new information. Judge Cramin then ordered Karma's ownership to be transferred to live at Full Moon Farm in Black Mountain, North Carolina.

I received several emails and calls for updates about the fate of Karma. Thank you for your engagement on Karma's well-being. I encourage you to continue to provide input on County issues in the future. Please join me in wishing Karma well in her new home.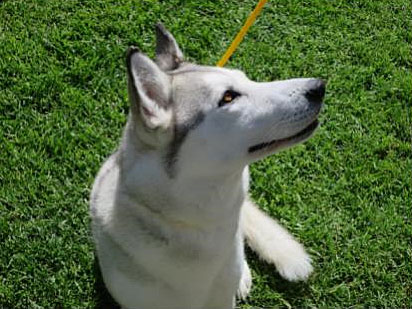 2015 South County Disaster Preparedness Expo: Get Prepared… Learn How!

In addition to serving as your Orange County Supervisor, and current Vice Chair of the Orange County Board of Supervisors, I also have the privilege of serving on 18 other County boards, committees and commissions, including the Orange County Fire Authority Board of Directors.

September was National Preparedness Month, and as we enter high-risk wildfire season in the midst of our record drought, it is extremely important that we prepare our families, homes and businesses now for the event of a natural disaster or major emergency.

This year, we have already experienced a rash of wildfires and even a recent tsunami warning. We can also expect the inevitable red flag conditions associated with Santa Ana winds, high heat and low humidity, increasing the risk of wildfire exponentially. And with the El Niño weather conditions that are also anticipated, which could produce devastating flooding and landslides, we must take action now to protect against potential loss of life and property.

As your Orange County Supervisor, your safety is among my highest priorities. To that end, I'm pleased to announce I will be hosting the 2015 South County Disaster Preparedness Expo in partnership with the City of Mission Viejo and the Irvine Ranch Conservancy.

This enormously popular 8th annual event will be held Saturday, October 17 in the Village Green at the Norman P. Murray Community Center, 24932 Veterans Way, in Mission Viejo. Attended by thousands of South County residents, the Disaster Preparedness Expo is a free event and open to the public, taking place from 9:00 AM to 12:00 PM.

With the participation of the Orange County Fire Authority and Orange County Sheriff's Department, the Disaster Preparedness Expo will feature the largest array of state-of-the-art disaster preparedness and emergency response vehicles and equipment demonstrations in Orange County, all in one location.

As always, the Expo will provide valuable information from a host of agencies and organizations to residents and businesses on how to be prepared before, during and after a major emergency or natural disaster. The event will also feature an earthquake simulator, interactive booths, food, music and fun for all ages, free giveaways, in addition to a wealth of practical advice on preparing your family, home and business.

As we've learned all too well, natural and man-made disasters are ever present threats in Southern California. We can't predict when the next disaster will strike, but we can certainly be prepared. As such, I urge you to attend the 2015 South County Disaster Preparedness Expo!

Get Prepared… Learn How! For more information about the South County Disaster Preparedness Expo, please contact my office at (714) 834-3550. For more information on how to be better prepared in the event of a disaster or major emergency, please visit www.OCFA.org. I look forward to seeing you at the South County Disaster Preparedness Expo!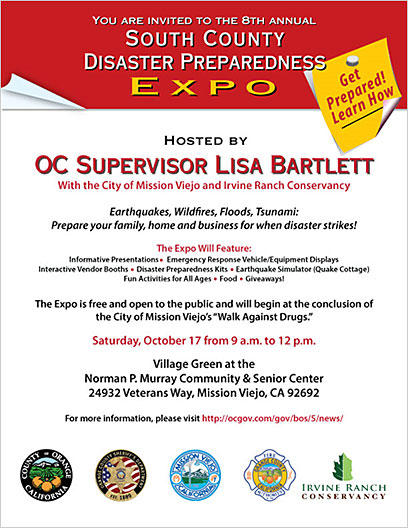 Click on the image above to view a PDF version.

Apply Now to Serve on the Next Orange County Grand Jury

The Orange County Superior Court encourages Orange County residents to apply to serve on the next Grand Jury. A new 19-member Grand Jury will be empaneled for a one year term that begins July 1, 2016.

What does the Grand Jury do?

Investigates the performance of county, city, and other local agencies
Analyzes data and writes reports with recommendations for improvement
Verifies that local tax dollars are spent wisely
Examines conditions at local jails
Decides on indictments for some criminal cases
Looks into citizen complaints about local government agencies
At the beginning of the term, members of the Grand Jury attend tours and briefings to increase their knowledge of the workings of county agencies to help them assess potential problems. Grand Jury reports from past civil investigations are posted online at http://www.ocgrandjury.org/reports.asp.

Superior Court judges review applications and interview qualified applicants. The Orange County Sheriff's Department conducts background investigations on top candidates. Selection of the 19-member Grand Jury is achieved by a random drawing of the top 25 to 30 candidates nominated for service to equally represent each of the five Orange County Supervisorial Districts, as required by law.

What are the requirements to serve?

At least 18 years old
United States citizen
Resident of Orange County for at least one year
Sufficient knowledge of English
In possession of sound judgment, good character, and a sense of fairness
An application form and more information are available online at http://www.ocgrandjury.org, by calling the Grand Jury Hotline at 657-622-6747, or at the Jury Commissioner's Office, 700 Civic Center Drive West, Santa Ana, 92701. The current stipend for Grand Jury service is $50 per day plus mileage reimbursement.

Individuals meeting the above requirements are encouraged to apply. Completed applications must be received by Friday, January 22, 2016.

OC Moves

Transportation Officials Dedicate Rebuilt and Redesigned Interstate 5 – Ortega Highway (SR-74) Interchange Project

Caltrans, the Orange County Transportation Authority (OCTA), and the city of San Juan Capistrano on Thursday, October 1, marked the completion of the $77.2 million I-5/Ortega Highway Interchange Improvement project, which makes the new bridge transition seamless for daily commuters, lessens vehicle emissions, and gets people where they need to go sooner.

The 2 ½ year project to modernize the interchange includes:

A reconstructed Ortega Highway bridge over the I-5 freeway, increasing the number of lanes on the bridge from four to eight, including turn lanes and through lanes
Realignment of Ortega Highway west of the I-5 through the downtown area of San Juan Capistrano
A new northbound loop on-ramp; widened north and south I-5 on- and off-ramps to improve traffic flow.
The interchange is a major connection between Orange, San Diego, and Riverside Counties.

This project highlights a "bridging of history," as San Juan Capistrano's Spanish architectural style is reflected in colored concrete on the new bridge and textured retaining walls that were hand painted. The city of San Juan Capistrano also played a key role in the project's initiation by preparing the environmental document, from which the City Council approved the selected alternative in January 2009.

The $77.2 million project was primarily funded with $42.7 million from State Transportation Improvement Program, $24.1 million from Corridor Mobility Improvement Act, and $2.8 million from Regional Improvement Program – Proposition 1B, a 2006 voter-approved bond. An additional $2.5 million was provided by Measure M, Orange County's half-cent sales tax for transportation improvements, $3.2 million was received from the County of Orange and $1.8 million from the city of San Juan Capistrano. To date, more than $18 billion in Proposition 1B funds have been put to work statewide for transportation purposes.

I was proud to attend this event and to thank the City of San Juan Capistrano, Caltrans, OCTA and the business community for coming together to deliver this world-class project.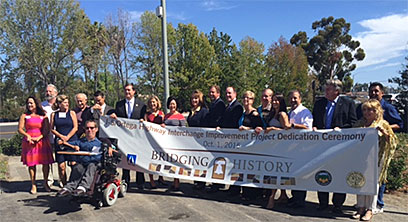 Healthcare Advisory

CalOptima Celebrates 20 Years of Quality Health Care for Orange County

Twenty years ago, on October 1, 1995, 180,000 low-income Orange County residents became the first members of CalOptima, a new managed care system for Medi-Cal. At the time, CalOptima was created as a local solution to fix the crisis in access to Medi-Cal services that was causing overcrowded emergency rooms and unnecessary costs.

Two decades have transformed CalOptima into a statewide model of quality and efficiency for a membership of more than 750,000. This past month, CalOptima received an overall quality rating of 4 out of 5 in the National Committee for Quality Assurance's Medicaid Health Insurance Plan Ratings 2015–2016. This is the second year in a row that CalOptima is the leader in California among NCQA-reviewed plans. CalOptima also leads in cost-effectiveness, with an administrative cost ratio of 3.98 percent, the lowest among county organized health systems in California for 2014. Keeping administrative costs low means CalOptima can spend more money on health care services for members.

In recognition of the 20th anniversary, CalOptima plans a yearlong celebration. The main event will be a Health and Wellness Community Event next month at CalOptima's offices in Orange. Members and the community are invited to attend to receive health screenings, wellness information, family resources and more. The event will also feature cultural entertainment that reflects CalOptima's diversity.


CalOptima Health and Wellness Community Event
Saturday, November 14, 2015 10 a.m. to 2 p.m.
505 City Parkway West, Orange, CA 92868

CalOptima's mission is "to provide members with access to quality health care services delivered in a cost-effective and compassionate manner." The member-centered mission has been a steady guidepost, pointing the way forward amid the changing health care environment.

To learn more about CalOptima's anniversary celebration, please visit www.caloptima.org.

OC Pet of the Week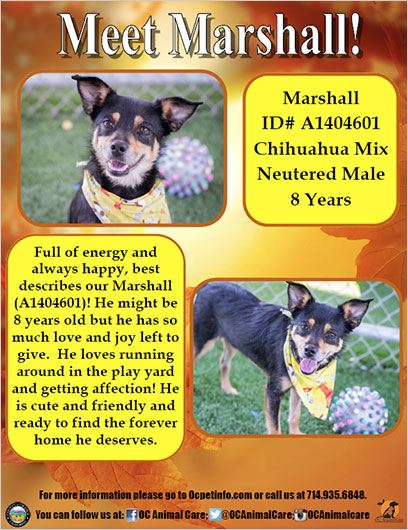 Click on the image above to view a PDF version.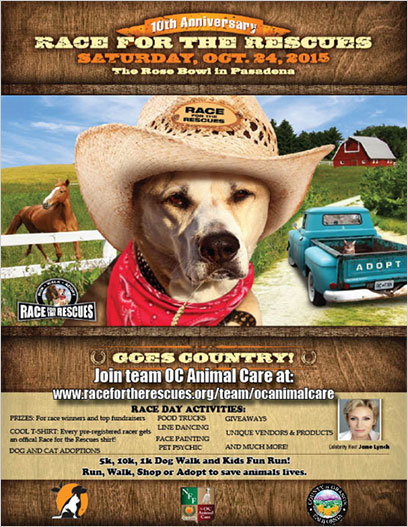 Click on the image above to view a PDF version.

Out and About South County

Aliso Viejo: Founder's Day Fair

This Saturday, October 3, the city of Aliso Viejo is gearing up for its annual Founder's Day Fair from 3:00 PM to 8:00 PM at the Aliso Viejo Ranch. This fun-filled family event boasts old-fashioned games and mechanical rides, food and local entertainment along with relics of Aliso Viejo's past. There will be a petting zoo, bounce houses, a children's carousel and more. There will also be live music by rock singer Jared Gulland and many more performers. For more information, please click here.

Dana Point: Farmer's Market

Each Saturday, California farmers bring fresh produce to sell at the Dana Point Farmers Market from 9:00 AM to 1:00 PM. The Dana Point Farmers Market is located in La Plaza Park on Pacific Coast Highway near the Clock Tower. The first Saturday of each month features a Craft Fair that runs until 3:00 PM. For more information click here.

Laguna Beach: Health in Balance Open House

This Saturday, October 3, Health in Balance is having an exciting and educational open house party that includes live music by Love Tribe, free massages and amazing food from neighboring Laguna Beach eateries. Come join the fun! For more information, please click here.

Laguna Niguel: Fall Boutique & Crafts Fair

This Saturday, October 3, more than 75 vendors will be selling unique, handcrafted items. A great opportunity to buy gifts, home décor, jewelry and a variety of beautifully crafted items. Free admission! Food will be available for purchase. The fair will be at the Sea Country Center from 10:00 AM to 3:00 PM. For more information, please click here.
Mission Viejo: BBQ Picnic

This Sunday, October 4, join the Senior Citizens Activities Committee for a traditional BBQ celebrating 26 years of Norman P. Murray nostalgia with summer entertainment by The Mad Platter, games and prizes. This is a family affair for all ages. For more information, please click here.

San Clemente: Pet Project Foundation 14th Annual Tail of Two Cities Gala

This Sunday, October 4, take a walk down memory lane with Pet Project Foundation, the non-profit rescue partner with the San Clemente-Dana Point Animal Shelter, to celebrate 30+ years of animal rescue and over 30,000 animals saved. The gala promises a fun-filled evening of cocktails, dinner, music, live and silent auctions–and a few surprises. Tickets cost $135. For more information, please click here.

Last but not least this week I:

Participated in National Association of Corporate Directors Global Leadership Summit.
Attended the I-5 / Ortega Interchange Improvement Project Dedication ceremony.
Participated in the CalOptima Board meeting.
Attended the CUSD Foundation Dinner.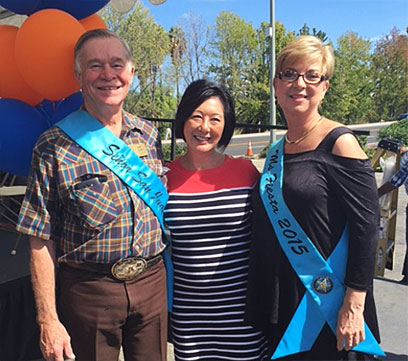 Supervisor Lisa Bartlett with Tom Scott (left) and Beverly Blake (right), 2015 Señor San Juan and Ms. Fiesta, at the I-5/Ortega Interchange Improvement Project Dedication.

My Staff:

Attended Orange County Transportation Authority Board meeting.
Presented a certificate of recognition in honor of the ribbon cutting ceremony for Advance Beauty College in Laguna Hills.
Presented a certificate of recognition to Carol Allen upon being named Worker of the Month by the Orange County Federation of Republican Women (OCFRW).
Attended the San Juan Basin Authority Workshop.
Attended the Water Advisory Committee of Orange County.
Attended the Orange County Business Council Government Affairs Meeting.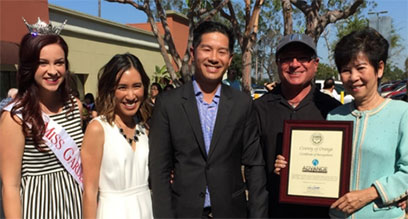 Advance Beauty College ribbon cutting ceremony in Laguna Hills.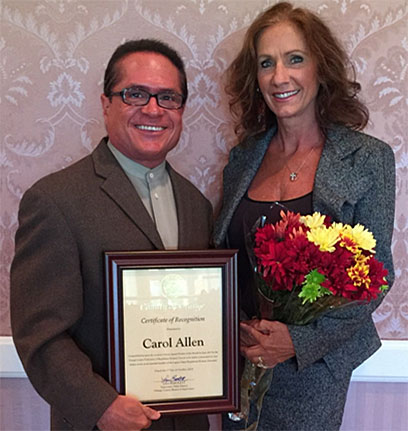 Presentation to Carol Allen upon being named Worker of the Month by OCFRW.

South County Elected Officials in the Community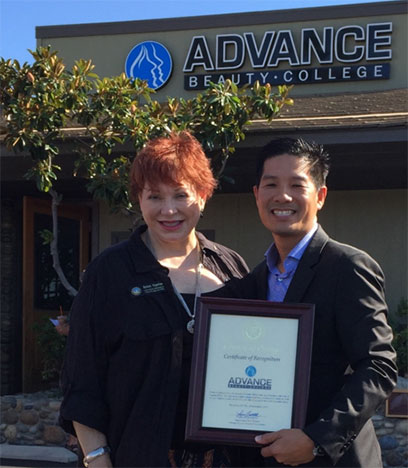 Laguna Hills Mayor Pro Tem Barbara Kogerman (left) at Advance Beauty College ribbon cutting ceremony.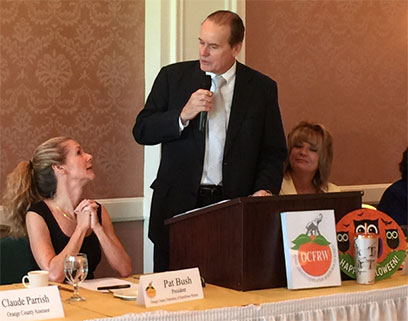 Orange County Assessor Claude Parrish (center) at OCFRW event.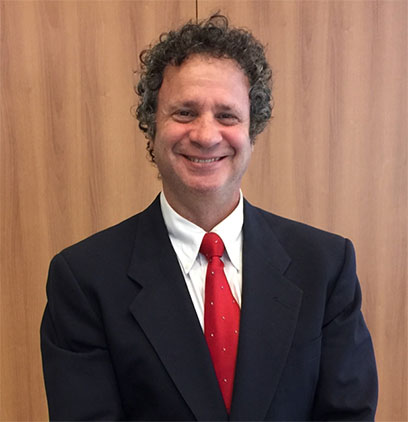 Laguna Beach Mayor Pro Tem Steve Dicterow at Laguna Niguel Chamber of Commerce Government Affairs Committee meeting.

For questions or comments regarding Supervisor Bartlett's E-Newsletter please contact the Supervisor's office staff at: (714) 834-3550 or Kelley.Jimenez@ocgov.com.