County Connections

Volunteers Needed for the California Road Charge Pilot

In 2014, the Legislature passed Senate Bill 1077 which directed the California Transportation Commission (CTC) to establish a Technical Advisory Committee (TAC) to develop a pilot program to study the feasibility of a road charge as a replacement for the gas tax to pay for road maintenance and repairs. The gas tax is an ineffective mechanism for meeting California's long-term transportation needs because as gas consumption decreases so does the amount of money available to maintain existing roadway infrastructure.

This year I was appointed to the 15-member Road Charge TAC which is tasked with outlining the parameters of the pilot program. This program will ultimately be approved by the Legislature and implemented by the California State Transportation Agency.

5,000 volunteers are needed statewide to vet the program and provide feedback. The live pilot program will be launched no later than January 1, 2017.

If you are a Californian interested in making history, please complete the volunteer application here. I also invite you to sign up on the Interest List to automatically receive updates and the most current information about the road charge pilot program.

OC Moves

Annual Rideshare Week Urges Commuters to Share the Ride, Take the Bus

Rideshare Week encourages commuters to give up the solo commute and save time and money by sharing the ride today through Friday.

Rideshare Week is presented by the Orange County Transportation Authority to promote alternative transportation options. OCTA, which joins with other transportation agencies for the week's events, will promote ridesharing throughout the entire month of October.

This year, commuters accustomed to traveling in a car alone to work are encouraged to ride a train, carpool, vanpool, walk or cycle to work – and especially to consider taking an OC Bus. There are more than 550 OC Buses that provide convenient and affordable trips to nearly every part of Orange County, and OCTA is encouraging new riders to give an OC Bus a try by following three simple steps: plan, pay and ride.

To highlight all that the public bus service offers, OCTA has launched a new website called myOCbus.com. The website includes a video showing how easy it easy to plan your trip, to purchase single-day or multiple-day passes online or at a local supermarket, and then to sit back, relax and enjoy the ride.

Simplified ride guides, with bus information for each region of Orange County, have also been printed in English, Spanish, Chinese, Korean and Vietnamese to inform all riders about service options.

First-time riders who try an OC Bus during Ride Share Week can go to myOCbus.com to request a ride guide and receive a free one-day pass to ride. Existing riders can also enter to win a free 30-day pass.

Commuters are also encouraged to consider sharing the ride by setting up a vanpool.

Rideshare saves time, money and helps improve the environment. A carpool or vanpool reduces transportation costs by 50 to 75 percent, lowers greenhouse gas emissions by 1,600 pounds per year, and provides more time at home, instead of on the road.

Commuters who contact OCTA to set up a vanpool between now and Oct. 30 can receive a $100 gift card and $100 off the vanpool lease per month for the first three months. People who join an existing vanpool by Oct. 30 also will be entered into a drawing to win a $100 gift card. For more information about vanpools, visit octa.net/vanpool.

Health Advisory

HCA Provides Outreach and Services to Civic Center Homeless Population

HCA's Behavioral Health Services Outreach and Engagement (BHS O&E) Program and Public Health's Comprehensive Health Assessment Team Homeless (CHAT-H) provide expanded outreach and services to the Civic Center homeless population on Monday through Friday, from 8:30 a.m. to 5 p.m. and Saturdays, from 9 a.m. to 3 p.m.

BHS O&E provide services to homeless and those individuals at risk of homelessness who are dealing with a behavioral health issue. Services are provided throughout Orange County to all ages which include: street outreach, coping skill psychoeducational groups, case management, and wellness screenings. The primary goal of BHS O&E is to link individuals to behavioral health and other supportive services by addressing participant's barriers to accessing these services. This occurs by building trusting relationships with the homeless community and collaborating with other service providers.

CHAT-H Public Health Nurses are experts in specialized resources to meet socioeconomic and psychosocial needs. Face to face education, support, linkages, and case management are provided for clients who need assistance managing serious health conditions.

The BHS O&E and CHAT-H teams also coordinate services with the Santa Ana Police Department, various community homeless services providers, and other HCA Behavioral Health programs in these efforts.

Referrals to the BHS O&E program can be made by calling the toll-free line at (800) 364-2221. The referral number is in operation Monday through Friday from 8:30 a.m. to 5 p.m. and is staffed by a clinician who screens calls, offers referrals and linkages and assigns the referral to team members to follow-up with a field visit.

Safety First

Orange County Sheriff's Department Receives Traffic Enforcement Grant

The Orange County Sheriff's Department has been awarded a $424,328.00 grant from the California Office of Traffic Safety (OTS) for a year-long program of special enforcements and public awareness efforts to prevent traffic-related deaths and injuries. The Orange County Sheriff's Department will use the funding as part of the Department's ongoing commitment to keep our roadways safe and improve the quality of life through both enforcement and education.

After falling dramatically between 2006 and 2010, the number of persons killed and injured in traffic collisions has been slowly rising. Particularly alarming are recent increases in pedestrian and bicycle fatalities, the growing dangers of distracting technologies, and the emergence of drug-impaired driving as a major problem. This grant funding will provide opportunities to combat these and other devastating problems such as drunk driving, speeding, and crashes at intersections.

Activities that the grant will fund include:

Educational presentations
DUI checkpoints
DUI saturation patrols
Motorcycle safety enforcement
Distracted driving enforcement
Seat belt and child safety seat enforcement
Bicycle and pedestrian safety enforcement
Speed, red light, and stop sign enforcement
Warrant service operations targeting multiple DUI offenders
Compilation of DUI "Hot Sheets" identifying worst-of-the-worst DUI offenders
Specialized DUI and drugged driving training such as Standardized Field Sobriety Testing (SFST),
Advanced Roadside Impaired Driving Enforcement (ARIDE), and Drug Recognition Evaluator (DRE)
Court "sting" operations to cite individuals driving from DUI court after ignoring their license suspension or revocation
Stakeout operations to observe the "worst-of-the-worst" repeat DUI offender probationers with suspended or revoked driver licenses
Funding for this program is from the California Office of Traffic Safety through the National Highway Traffic Safety Administration.

OC Pet of the Week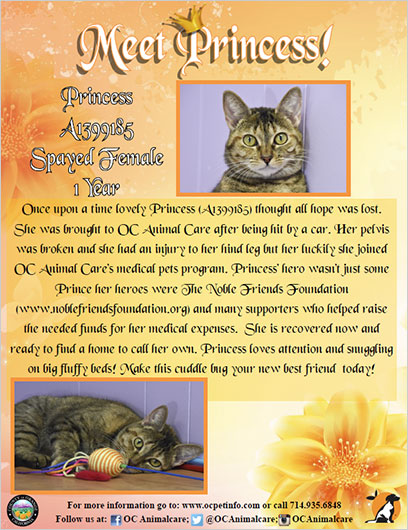 Click on the image above to view a PDF version.



Click on the image above to view a PDF version.

Out and About South County

The Canyons, Coto De Caza and Ladera Ranch: Canyon Fair

The 45th annual Silverado Country Fair will be held this weekend at the Silverado Community Center, 27641 Silverado Canyon Road, with an emphasis on the area's Old West culture. The fair kicks off 9 a.m. Saturday with the parade on Silverado canyon Road.

Dana Point: Bioluminescence Cruise

The Ocean Institute will host a night cruise for sea-gazing at the ocean's glow-in-the-dark sea creatures at 7:30 p.m. Saturday. It will be the last such cruise until April 2016! Tickets are $35 for adults and $22 for children. For more information click here.

Oktoberfest: Free admission. For more information click here.

OC Fire Authority Open House: Admission Free! Bring your friends and family to meet your local firefighters, try on firefighter turnouts, and discover life and fire safety information in a fun-filled environment. For more information click here.

Irvine: Heartstrings and Harmony Benefit Concert

Saturday, October 17th, Shanti Orange County will host a benefit concert to raise funds to support their organization. Shanti OC is based in Laguna Hills, and offers a plethora of services for those living with HIV, AIDS, and/or co-occuring mental health issues. For tickets and to see the featured line-up, click here.

Mission Viejo: Vintage Market

This month's Driving Miz. Daisy Vintage Market will be held Sunday, featuring over 200 vendors and a Military Appreciation Day. Participants are encouraged to donate goods to Patriots and Paws. The market is 8 a.m. to 3 p.m. at Saddleback College, 28000 Marguerite Parkway. For more information click here.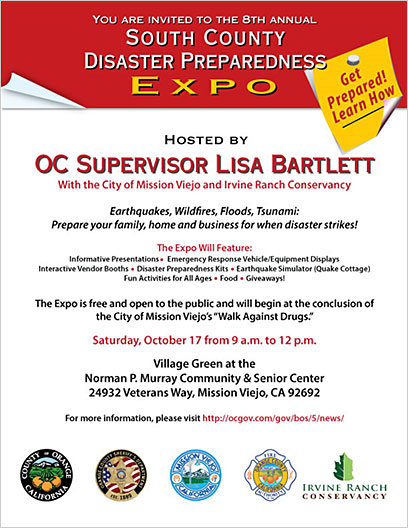 Rancho Santa Margarita: FallFest

This weekend (October 9, 10 & 11) FallFest features live music and entertainment, kids and adult fun zones, food booths, beer and wine, local business vendors, and much more! This community event is hosted by the RSM Chamber of Commerce in cooperation with the City of Rancho Santa Margarita. For more information click here.

Last but not least this week I:

Attended the Hispanic 100 Annual Lifetime Achievement Award Gala
Attended UCI Festival of Discovery.
Participated in Orange County Transportation Authority (OCTA) Regional Planning and Highways Committee.
Participated in Transportation Corridor Agencies Foothill / Eastern Mobility Ad hoc.
Participated in Transportation Corridor Agencies Executive Committee.
Participated in Orange County Sanitation District Operations Committee.
Participated in Transportation Corridor Agencies Foothill / Eastern and San Joaquin Hills Board meetings.
Taped a recording to be played at John Wayne Airport.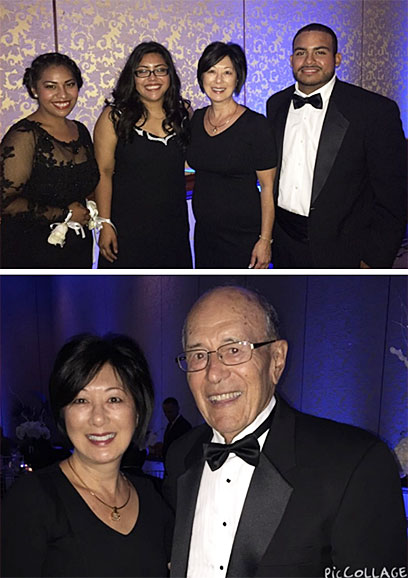 Hispanic 100 Gala with a few Scholarship recipients and Manny Padilla.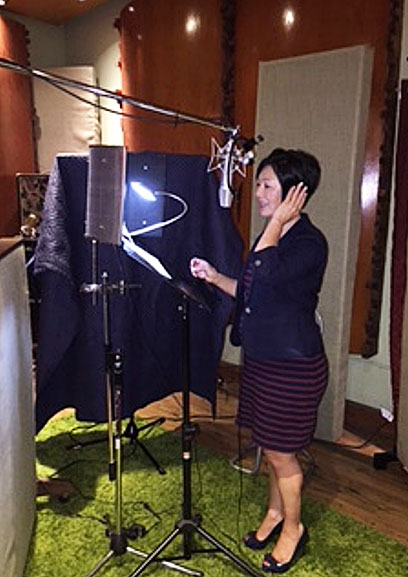 Recording an announcement for John Wayne Airport.

My Staff:

Staffed a County Information Booth at the 2015 Aliso Viejo Founders Day Fair. To see photos of this annual city event, please click here.
Presented a certificate of recognition in honor of the ribbon cutting ceremony for Tutor Doctor in Irvine.
Presented certificates of recognition in honor of the ribbon cutting ceremonies for Dana Point Physical Therapy and for Amy Elder Fitness in Dana Point.
Presented a certificate of recognition in honor of the ribbon cutting ceremony for Working Wardrobes Outlet in Laguna Hills.
Attended OCTA Environmental Oversight Committee.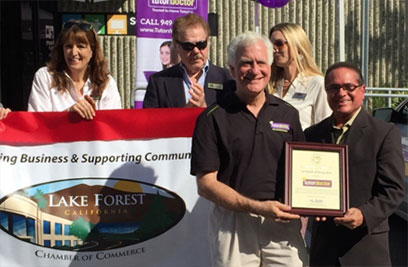 Tutor Doctor ribbon cutting in Irvine.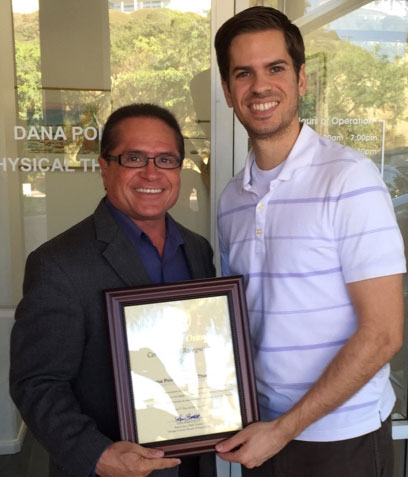 Dana Point Physical Therapy ribbon cutting.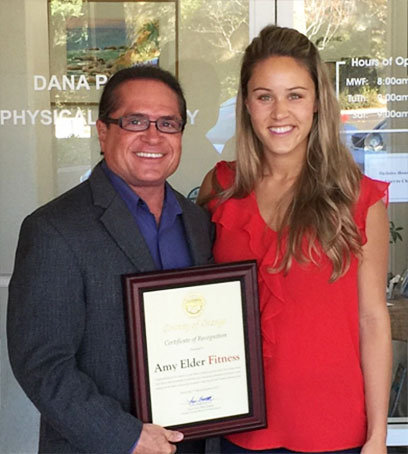 Amy Elder Fitness ribbon cutting in Dana Point.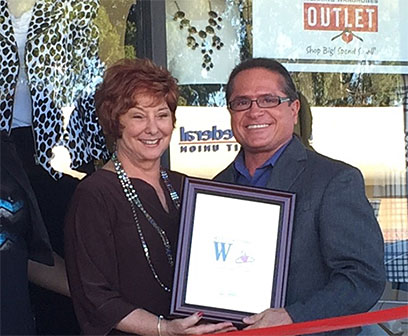 Working Wardrobes Outlet ribbon cutting in Laguna Hills.



South County Elected Officials in the Community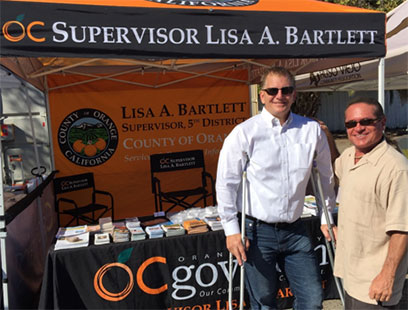 Aliso Viejo Mayor Pro Tem Mike Munzing (left) at Founders Day Fair.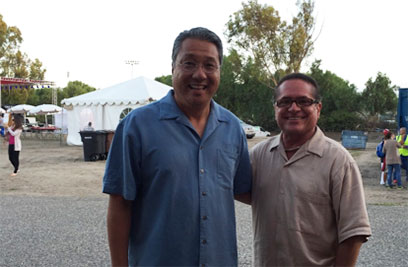 Aliso Viejo Councilman Ross Chun (left) at Founders Day Fair.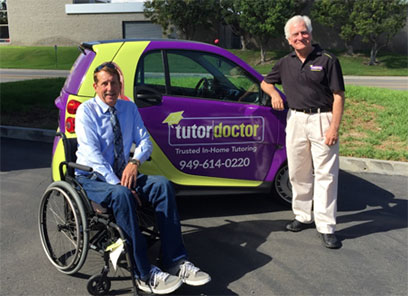 Lake Forest Mayor Scott Voigts (left) at Tutor Doctor ribbon cutting.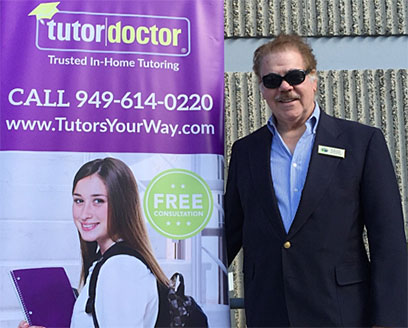 Lake Forest Councilman Jim Gardner at Tutor Doctor ribbon cutting.

For questions or comments regarding Supervisor Bartlett's E-Newsletter please contact the Supervisor's office staff at: (714) 834-3550 or Kelley.Jimenez@ocgov.com.